If you're a creator who wants to build your own podcast, there are many free and paid options available. But what if you want more options to see if they are better or cost-effective alternatives? What services are out there that allow you to do just that? This post will explore the best and free Riverside.fm alternatives for creators.
I have tried and tested all this software myself. I know all the intricacies of how these products work. I actually was one of their early users, which means that I was there during all the bugs usually present during the initial stages. 
To aid you in your decision making, I'll tell you all about each product's:-
Features

Dependability

Quality

Usability

Creator friendly functions
Hopefully, this article will help you save the time and effort you would have otherwise needed to spend on looking up each of these alternatives. 
If you are in a rush and really cannot spend any time reading the entire article, skip to the end to see a table comparing all the Riverside.fm alternatives talked about in the article.
Without further ado, let's get started with the blog post!
Now, before I go into details about the Riverside.fm alternatives, I want to share some features I consider absolutely essential for all good podcast software to have:-
Video recording ability

– The capacity to record video interviews or video podcasts

Great audio quality

– Possessing an audio quality on local file that is much better than that of Zoom

Superior video resolution

– Along with great audio quality, the video quality should also be top-notch, such as 4K HD resolution. Many podcasters today use Skype or Zoom for this.

Sharing via links –

The platform must have the option to invite guests using unique links.

No downloads –

You should not need to download and install any software to get access to the product.

Works with any device –

The platform should work with most of your devices.
What are the limitations of Riverside.fm?
I could only guess that you're looking for Riverside.fm alternatives for the following reasons:
You're looking for free or cheaper alternatives.

You're looking for an advanced alternative, something that could just do a bit more.
I'll cover all of these aspects so you can make a better decision.
However, to me, Riverside is the best podcast recording and video software. I've written a detailed review about them.
But it has its limitations. So, here are some limitations of Riverside.fm:
When using Riverside.fm as a podcaster and creator, I wished for more podcasting-related features. These are some of the things I wish Riverside.fm had:-
Analytics:

I would love to see some data on things like how much of the time I spoke, how much my guests spoke, etc. Maybe they could have a feature to analyze my tone with to see how I come across when speaking about certain things. There is so much audio analytics they could incorporate.

Automatic transcription

: I find transcribing podcasts manually quite bothersome and inefficient. I wish Riverside.fm either integrated or created transcripts automatically so that I hadn't needed to invest in some other tool for this,

Calendar app integrations

: Having my calendar integrated with that of my guest would really help us both. Riverside.fm should at least provide the option to integrate with Gcal for reminders. Who wants the hassle of having to manually remind their guests about the podcasts scheduled? 

Automatic thank you email:

They could send an automatic email to the guests for coming on the podcast. It would serve as a simple yet nice gesture.

Chat options for a live audience or hosts

: I would love a way to chat with my guests on the platform, rather than only through email. If something goes wrong, I want to be able to inform my guests right away instead of having to wait and hope that they would check their email right at that moment. 
Having said all this, I would still recommend Riverside.fm over any other software any day. It's the best video podcasting software, in my opinion, if you are looking for video podcasting software to upgrade your content game.
Here's a comparative analysis by Riverside itself:
However, I'll still talk about a few Riverside.fm alternatives so that you can better understand the differences.
Note: I've written about Squadcast below but I believe Squadcast is now the best alternative for Riverside.fm.
I tried Welder right after I tried Zoom. I have always wanted to record videos in order to repurpose them sometime later. 
Welder's UX and ease of use are honestly praiseworthy. I was one of Welder's early users, which is why I had the chance to see how hardworking and responsive the team behind Welder is.
Let me tell you some more about Welder.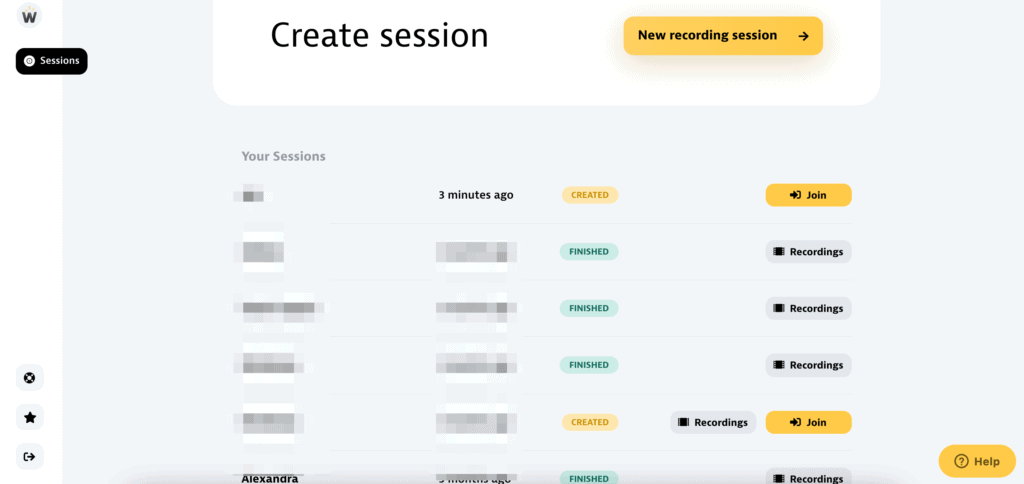 What I love about Welder
Great UX:

Welder's UX is very easy to understand. My experience getting started with Welder was seamless. I figured out how to navigate the platform in just 5 minutes. Yes, it really was that intuitive.

Video and audio quality:

Welder provided great quality in both audio and video.  I get 4K HD resolution and 48kHz/OPUS audio quality, which is just amazing!

Screen sharing feature:

I love the fact that I can easily share my screen and show my guests and audience anything I need to.

Mobile video recording:

They have an option to record using your mobile phone's camera to achieve a higher quality video, too.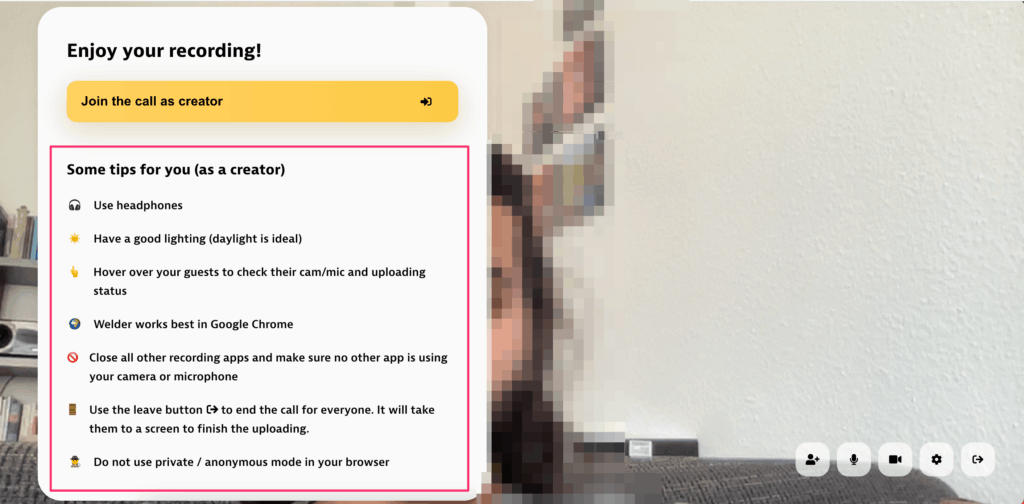 Educational tips via UX:

I like how Welder educates me in UX about how to get the most out of the platform.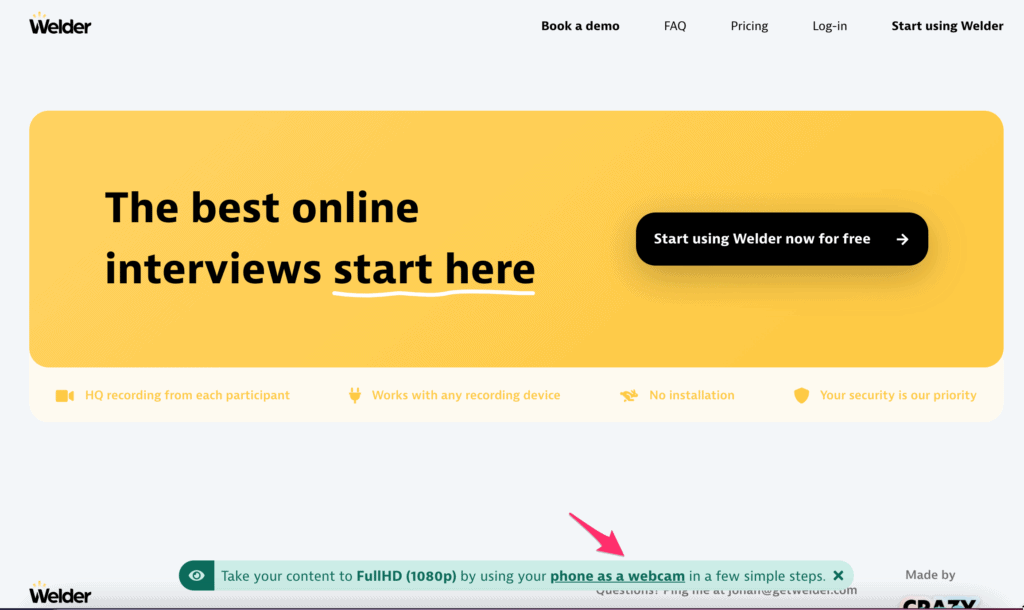 What I didn't love about Welder
Scheduling:

Welder does not give me any way to schedule my podcast, whereas Riverside.fm gave some features.

Uploading issue:

This one time, one of my guests left immediately, and uploads were found in the backup servers. You better be careful with it. Uploading does take a while if your internet is slow.

Not cost-effective for hobbyists:

$25/month is kind of expensive for a hobbyist like me. This is not a problem for solid-sponsored-based podcasts, though.

File-size:

Welder will download your files in GBs instead of MBs, which is both a blessing and a curse. The quality of the recording is high, but the large file size will quickly eat up space on your hard disk.

No flexibility in terms of types of audio and video recordings:

There is no option for recording different types of audio and video. Welder does not ask you about this like Riverside.fm does. So, all recordings end up being high quality and having a large file size.
Things I wish I had
Apart from analytics, transcription, and integrations, I do have some other important features that I think Welder could have.
Mix content:

There could be an option to mix video and audio, so I don't have to mix it myself. At present, Welder provides separate files that I would have to mix myself. Squadcast has an option to mix the audio type feature.

Chat feature:

I wish there was a chat feature so that I could directly engage with my audience via chat.
Getwelder has a superior UX but lacks the kind of in-depth feature set that Riverside has. Overall, I do believe Welder is the second in the market and one of the finest Riverside.fm alternatives out there.
Remotely.fm is a newbie that focuses on creators. What I really love about them is their "scheduling feature" that nobody else does well. Since Remotely.fm is new to the market, it offers a wide range of features at a pretty affordable rate, making it one of the best Riverside.fm alternatives on my list.
They have all the rudimentary features that a podcaster needs in video podcasting software.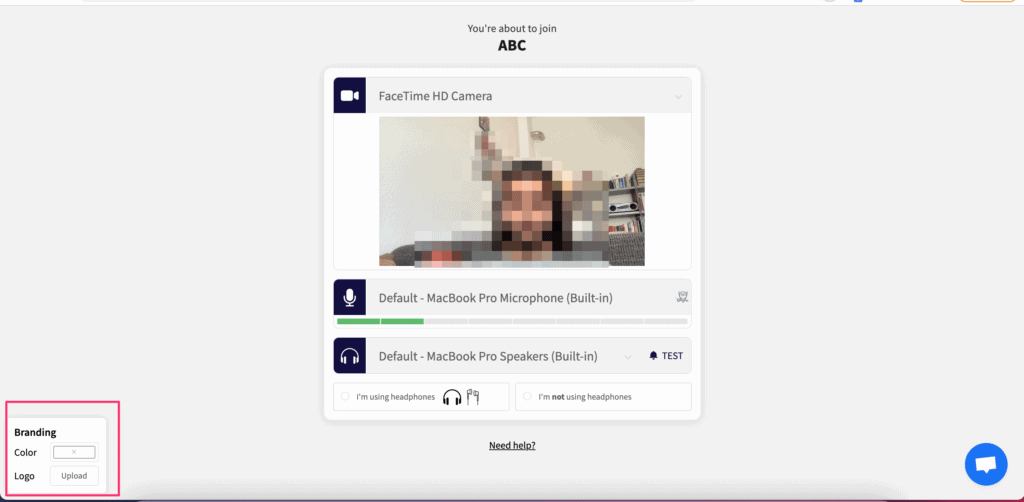 What I love about Remotely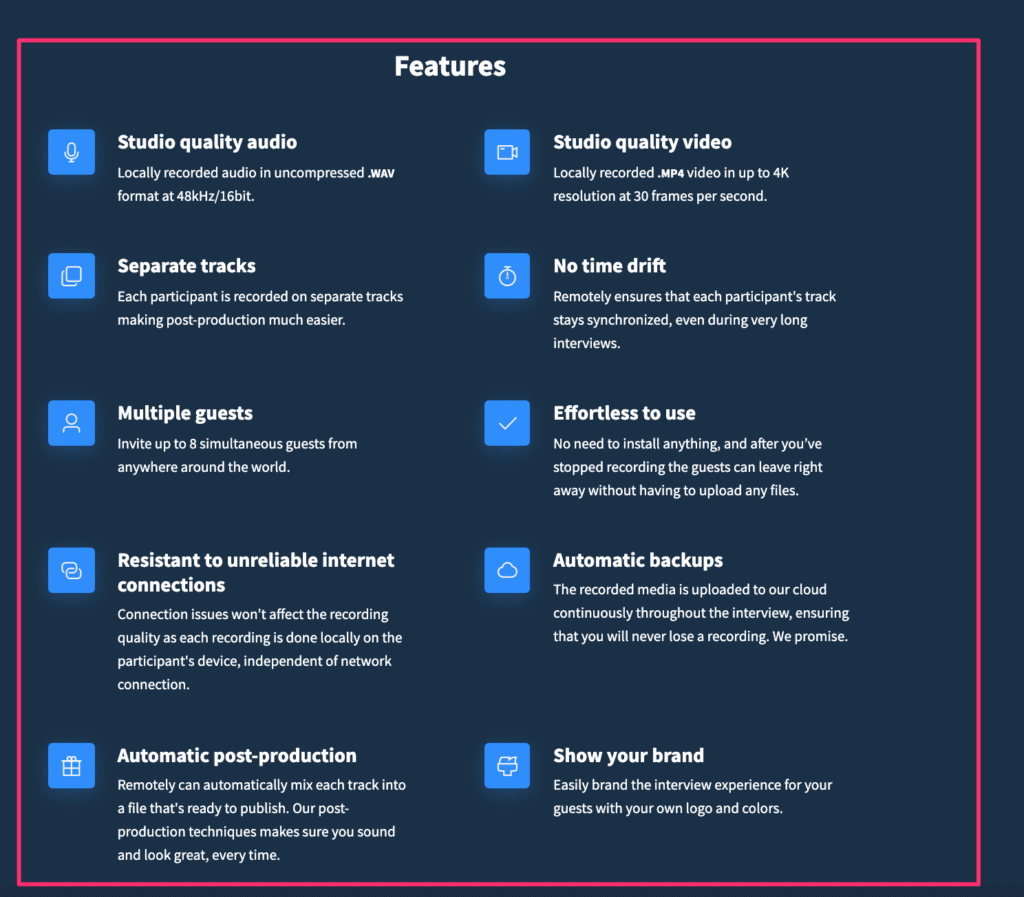 Custom branding:

You can embed your logo and branding on the podcast to further promote yourself.

No lag in recording:

Unlike Riverside.fm and Welder, there is no recording lag during long interviews in Remotely.fm.

Scheduling:

Scheduling is easy using Remotely.fm. I would call scheduling their superpower.

Dependability:

Even though Remotely.fm is new, they are very dependable. Unreliable internet will never be an issue with Remotely.fm.

Fast audio recording:

Recording turnaround was lightning fast.
Quite friendly pricing –

Remotely's pricing is in between Riverside and Welder's, which I appreciate.
What I didn't love about Remotely
Relatively new platform:

Because Remotely is quite new, there must be bugs.

Knowledge-base

is not well set up 

UX:

The UX was initially a little confusing 
Things I wish Remotely.fm had are the same as the ones for Riverside.fm and Welder.
If you want streaming, video, and audio podcasting, all for maximum distribution, then I would recommend Streamyard. But you would need to start with a pricing of $20 per month. 
What I love about Streamyard:
Overlays

: You can display your custom branding while presenting.

Live streaming

: If you love live streaming and aren't very keen on post-production editing, then Streamyard would be perfect for you.

Basic package:

You get to record 4 hours a month, and 3 destinations in Streamyard's basic package

Invite more guests

: You can invite over 8 guests. Proper conversing with multiple people on live is possible using Streamyard.

Multi-destination

– You have over 3 destinations in the best package. This is particularly useful if you're big on distribution.

Chat feature:

You can receive quick feedback as your audience and guests would be able to chat.
What I didn't love about Streamyard:
You need to display Streamward's branding if you're using the free version

Using the free version does not allow you to record video

Streamyard has most of the relevant features but actually is not meant for podcasters.
If you're serious about podcasts and not worried about making a tiny hole in your pocket, SquadCast is undoubtedly one of the most suitable Riverside.fm alternatives for you.
Like Riverside.fm, SquadCast will record both your audio and video in the background. This means you don't have to finish your recording for your upload to start. But that's not all. It also means in case of a sudden crash, your podcast will already be saved.
SquadCast offers a 7-day free trial. If you want to start with audio recording only, you'll have to pay $20/month, while both audio and video recording will charge you $40/month.
What do I love about SquadCast?
UX: SquadCast has a super user-friendly UX.
WAV and MP4 format: You can record audio and video for each participant separately.
Quality: I have to admit – SquadCast ensures high-quality recording.
Video tutorials: The SquadCast team offers really useful video tutorials.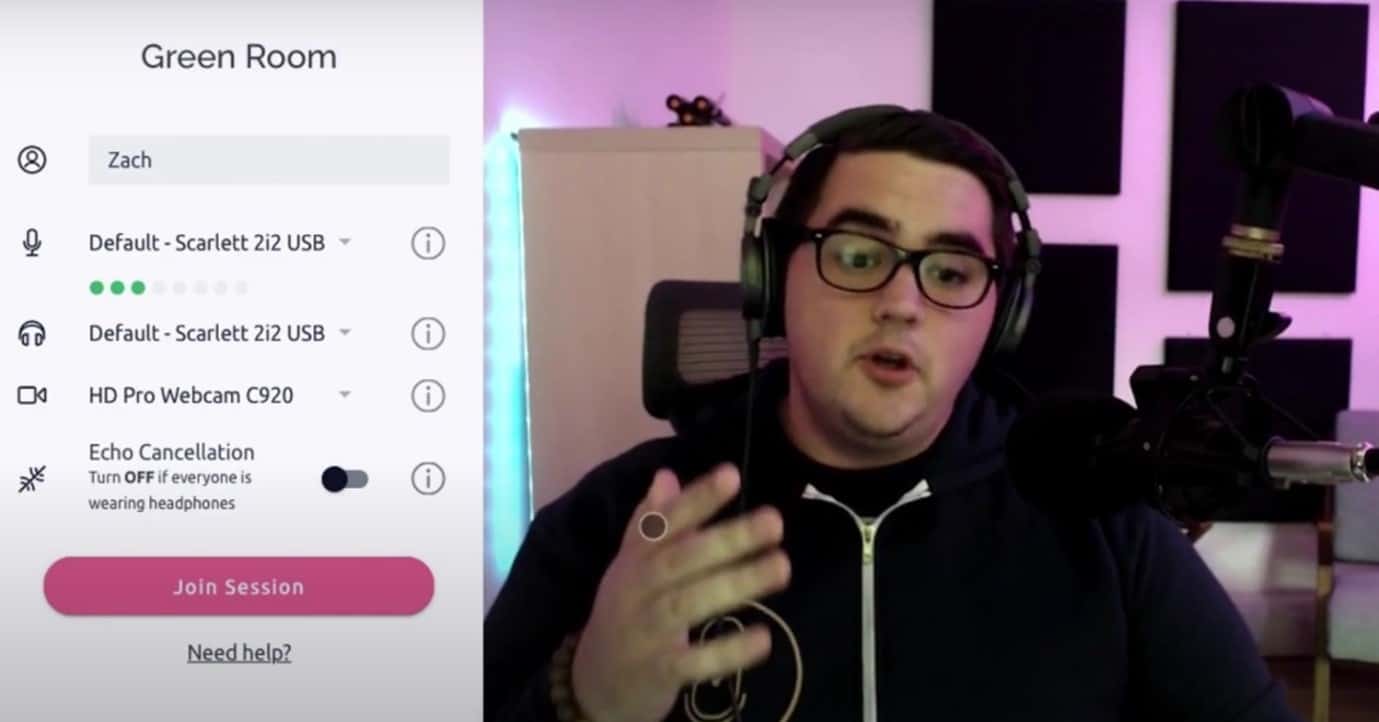 What do I not love about SquadCast?
Pricing: SquadCast has a relatively high pricing plan, making it pretty difficult for beginners and hobbyists to afford.
3-guest limitation: You can only invite a maximum of 3 guests, which I find pretty restrictive.
Things I wish I had
Affordable pricing plan: I wish they had an affordable plan for beginners and hobbyists.
Interested to learn more about other podcasting tools? Give this blog a read!
Conclusion
If you're looking for a software platform that offers more features than the competition, Riverside is your best bet. But if you're looking for suitable Riverside.fm alternatives, Welder excels in ease of use, and Streamyard is great if you want to build an audience on social media. To find out which one suits your needs best, try them all with our free trial!
If I have to move away from Riverside, I would consider Welder or Remotely purely from a podcaster standpoint. But if I want an audience, I'll look for Streamyard as an option.
Hope you find this blog post useful to make a decision!
Disclaimer: Please note, I may receive affiliate compensation for some of the links below at no cost to you if you decide to purchase a paid plan. However, these are the best tools I have tested for launching and running a podcast. I just want to be real with you. You can read my affiliate disclosure in my privacy policy.