If you are frustrated with the lack of some critical features in Zencastr and looking for some Zencastr alternatives and competitors, this article is for you.
I have personally tried and tested Zencastr and each of these alternatives. So, I know the ins and outs, as well as which one is the most suitable for certain types of podcasters. To identify the best tool for you and find out which one I found the best suited for me and perhaps for you too, keep on reading!
This blog will also help you understand the main difference between Zencastr vs Squadcast vs Riverside.
Full transparency time: I may get some commission if you click on these links but it won't cost you anything. Also, these tools not paid me to write this review. I use it every day and I support these projects regardless.
Table of Content
If you don't have time, then here is a comparison for your Zencastr alternatives.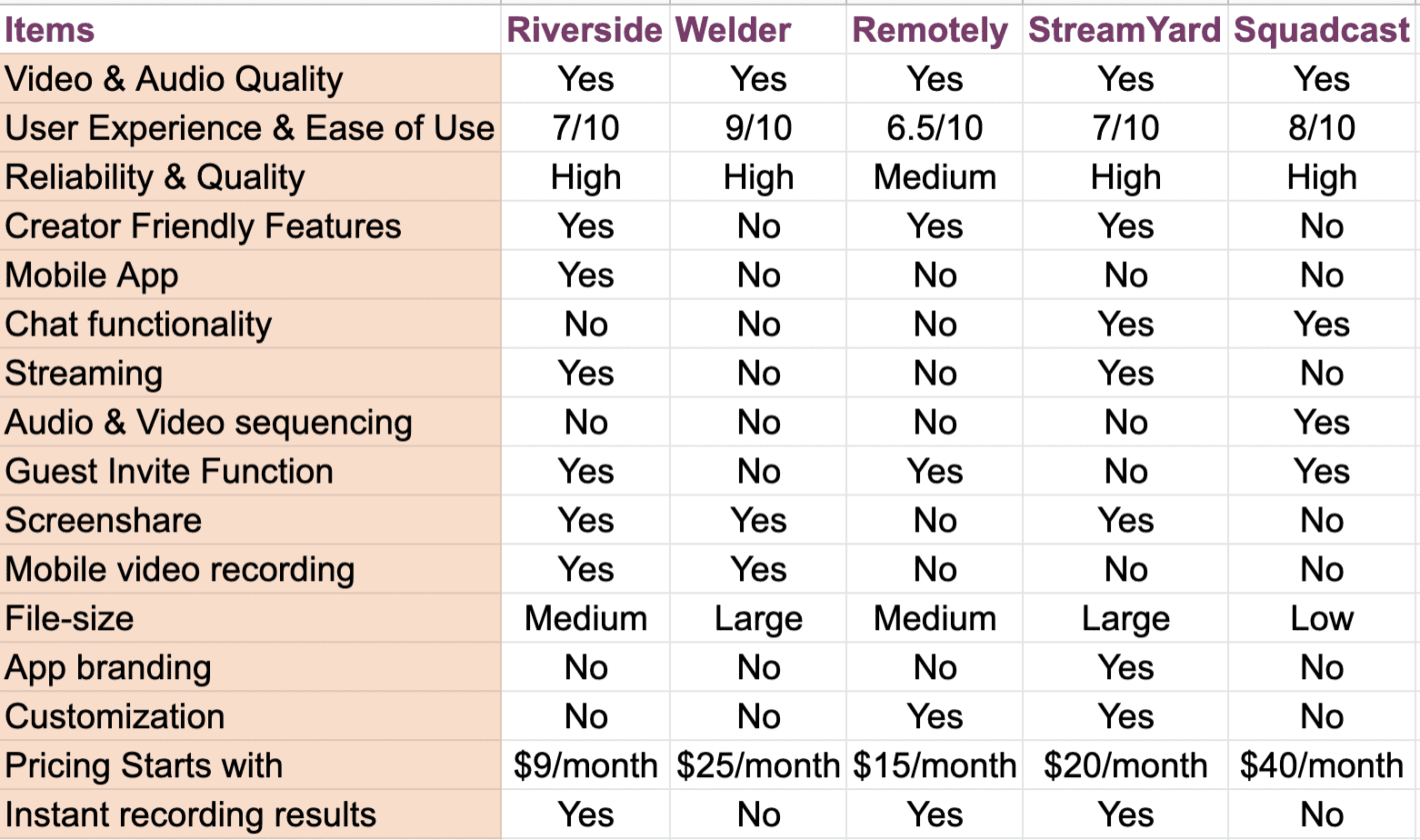 (My choice would be Riverside out of all)
About Zencastr & its issues
As a podcasting software, Zencastr has its pros. It allows you to record separately for each guest and does so regardless of how strong or weak their internet connection is. Its cloud-based soundboard also gives you the option to edit on Zencast. However, the cons are just as many, if not more.
The most common user complaint about Zencastr is that it is very unreliable. Users have complained about the platform frequently being down, but no prompt clarification from Zencastr support being available.

There are also, as per real users, several technical requirements for incoming guests. This means that until your guests have joined the call, there is no way to know if Zencastr would be able to record. 
Moreover, because of the lack of a mobile app, the only way you can connect to Zencastr is through a computer. There is also the issue of audio drift. This means that when you record your podcast with multiple guests, chances are the audio tracks will start drifting and fall out of sync at some point.
Using Zencastr can also lead to some awkwardness because both you and your guest would need to stay online until the upload is completed. This can especially be a hassle when you or your guest have commitments scheduled afterward.
Moreover, you cannot test sound levels or see any indication that the other person is speaking so that you can wait for the right time to speak.
There have also been complaints about the support taking too long to get back to customer queries or complaints.

Lastly, first-time users have been known to get confused because of the complicated UX. A simpler UX would have made the experience so much more pleasant.
So, what Zencastr alternatives and competitors are there for you to consider instead? 
In this article, I chose the 5 best Zencastr alternatives and competitors to help you decide. I compared their prices, pros, and cons, alongside real user reviews. 
Let's dive in!
Riverside is a great alternative that provides podcasts of incredible quality. If you have to choose Zencastr vs Riverside.fm (choose Riverside) and let me tell you why.

Pros
Riverside.fm has the most amazing feature where it records both audio and video locally. By contrast, Zencastr records only the audio locally, which leaves the quality of the video dependent on the quality of the internet connection.
Thus, using Riverside ensures studio quality for both your audio recording and your video recording.
The video quality is incredible at up to 4k video resolution. To get an idea about just how better that is, look at the image below comparing Riverside.fm to the popular live video recording alternative Zoom.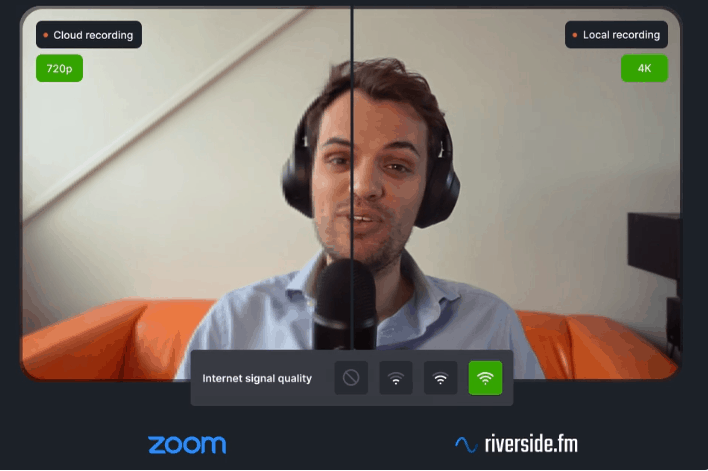 Riverside.fm also lets you live-stream your podcast, which Zencastr does not allow.
Unlike Zencastr, Riverside.fm also has a mobile app for iOS. Having a mobile app adds portability to your podcasting capacity as you can record from anywhere you go.
Staying home with all your equipment set up is not strictly necessary to record a high-quality podcast your viewers will love.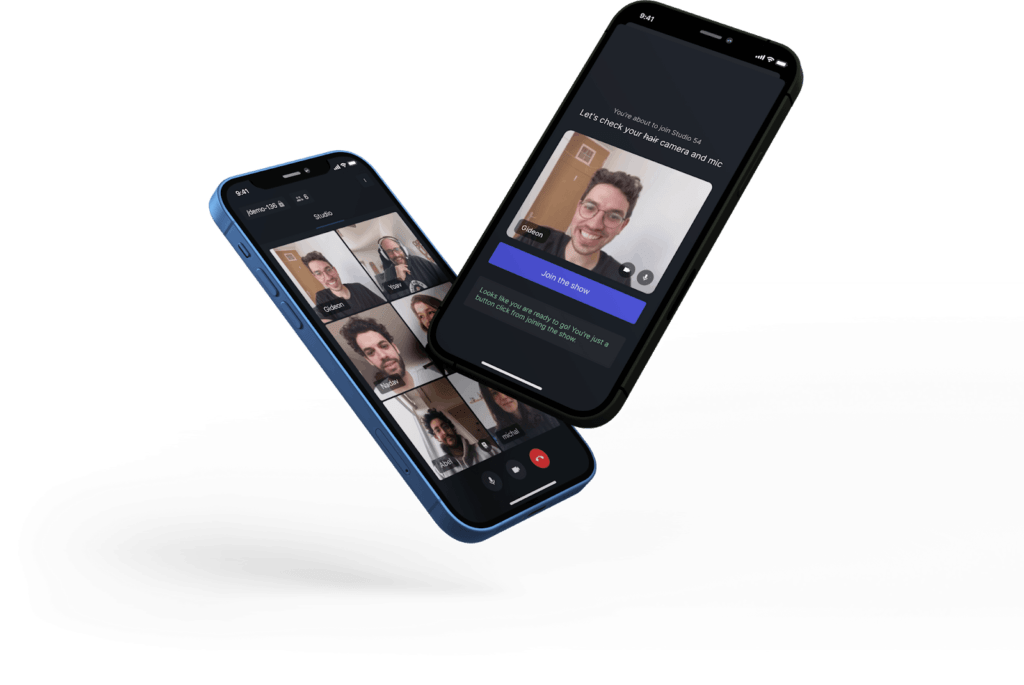 Moreover, Zencastr has two cloud integrations: Dropbox and Google Drive. Riverside.fm's integrations are for platforms that allow live streaming, such as Youtube, Twitch, and Facebook. 
Riverside.fm has another exciting feature: Audience Room. Podcasters can invite their audience on a live call and have them on a split-screen for up to 8 people.
This allows podcasters to have real-time, interactive sessions with their audience, which your fans will love.
You can also view the locally saved recordings on your dashboard.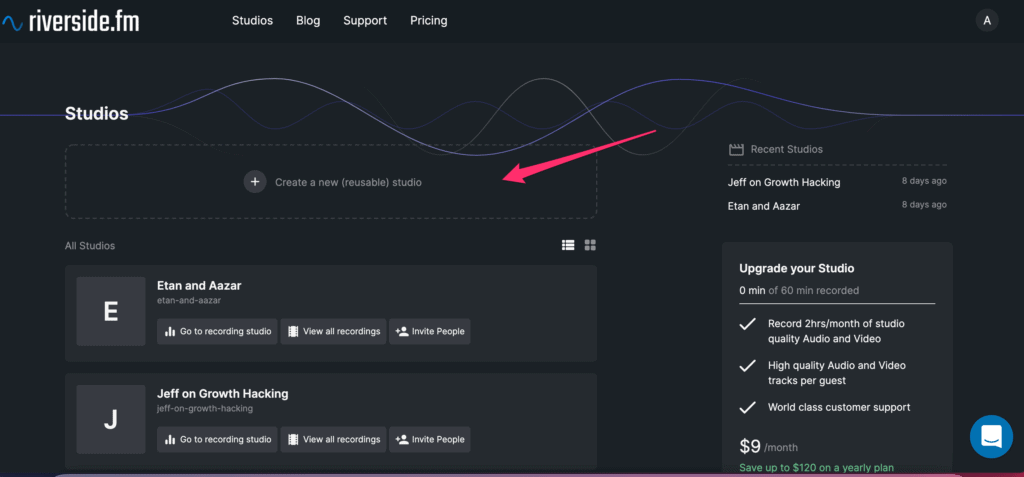 Two other features I love:-
Audio quality

: Riverside.fm's audio recordings are WAV 48 kHz 16-bit format.

Easy sharing:

Guests can join the call simply using invite links. They do not have to download anything.
Screen sharing

: You can share your screen with your guests and audience.
Cons
Riverside.fm works only on Chrome, which I find quite limiting as there are other well-known browsers that many are comfortable with.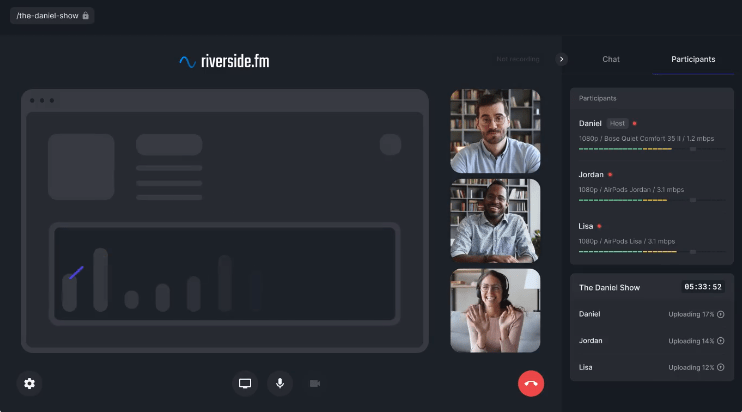 However, Zencastr works on Google Chrome, Microsoft Edge, and Brave, which gives users much more flexibility.
Best suited for
Riverside.fm is best suited for professionals or people who are serious about podcasting – people who are likely to have multiple guests and are looking for good ways to interact with and build their audience.
Pricing
Riverside.fm allows up to 60 minutes of free recording. Paid plans start at $7.5 per month (if billed annually) for 2 hours of recording.
An enterprise plan is also available, which includes all the Pro plan features and additional customizations.
Things I wish they had
Calendar scheduling: I am missing this feature since I have manually invite folks for each link. Or it should have a dynamic feature based on the calendar invite.
Analytics:

Some data that lets me get to know a bit more about my audience would be really helpful. Data such as who listens to my podcasts, which platform they use to listen, or how much I spoke compared to how much my guest spoke, etc. would help me improve.
An honest review from users
Product Hunt rating: 4.5/5 (based on 4 reviews)
Users appreciated features such as the local recording of video and audio and the video quality. One user mentioned on g2 that they found the price a bit high but felt that the software was worth it.

You are in luck – Here's a Riverside discount code for you to try. 25% off for the first 3 months: Aazar25
Squadcast is a podcast recording software well known for its ease of use. It has recently added video recording in its wide range of features.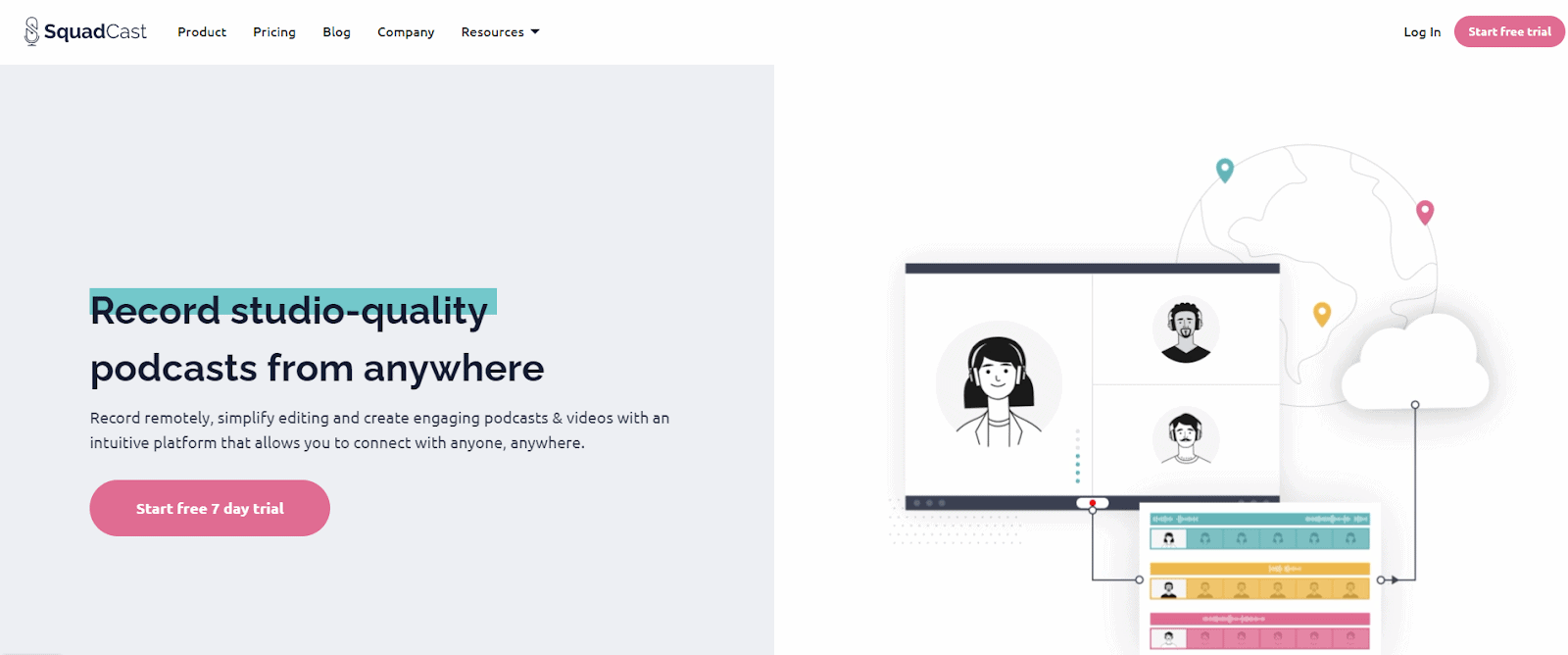 Pros
Like Riverside.fm, Squadcast also offers progressive uploading. This means that your podcast is saved as you record it. So, in case of sudden crashes, your content is safe. 
Also, in case a participant's internet connectivity is poor and their video gets stuck, their audio and video will still continue to be recorded from their side. 
It is also really easy to schedule podcasts and invite guests on Squadcats by simply providing their email addresses.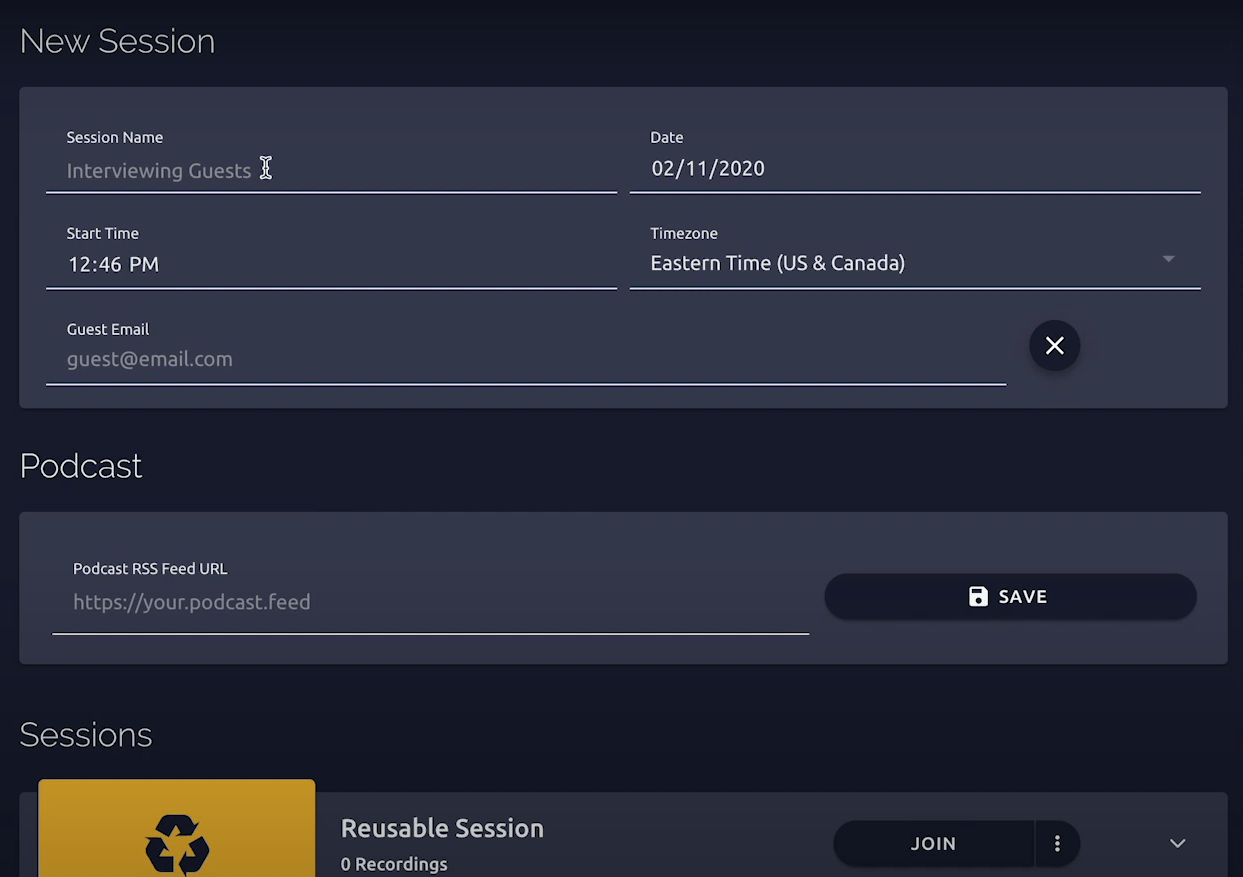 Squadcast helps you keep things neat and organized.
Squadcast also uploads the file to the cloud in real-time. After you're done recording, you can download the file in WAV, mp4, WebM, and mp3 formats.
Zencastr, on the other hand, offers mp3, MOV, and WAV formats. The 16-bit 48k WAV audio recording for Zencastr is available only if you are a paid subscriber, though.
Users have mentioned they prefer Squadcast's audio quality over that of Zencastr. As per user reviews, the audio drifts present in Zencastr audio recordings are nowhere to be found on Squadcastr.
The team behind Squadcast also provides video tutorials, which help new users get acquainted with the software.
Lastly, Squadcast also works on Android mobile phones from browser apps, which is an added advantage that Zencastr cannot provide. 
Cons
Squadcast allows you to invite up to only 3 guests, which can be an issue for many podcasters. Their high pricing makes it seem like they are targeting professionals, which makes this limit even irksome.
Best suited for
Squadcast is best suited for bigger podcasts by very serious established brands.
Pricing
Squadcast has a 7-day free trial. Paid plans start from $220 a year for audio podcasts.
If you want to record both audio and video, paid plans start from $440 a year. 
Things I wish they had
A paid plan for hobbyists

: Their steep pricing means very few to no hobbyists would opt for Squadcast.

Streaming

: Squadcast does not offer any feature where you can live stream your podcast to social media sites. This could have been very helpful to many podcasters.
An honest review from users
Product Hunt rating: 4.7/5 (based on 26 reviews)
Users have appreciated "cleaner" audio recording and improved efficiency in editing Squadcast helped them achieve.
A user has also mentioned how Squadcast makes it easy for his guests who are not used to getting interviewed because of its ease of use and lack of glitches. 
Some old users mentioned the lack of access from browsers other than Chrome, which Squadcast has worked on. You can now work on Squadcast from the latest versions of  Chrome, Firefox, Brave, Opera, and Edge.
You can read my full review of Squadcast and its alternatives here.
If you want streaming, video, and audio podcasting all for maximum distribution, then I'd recommend Streamyard. But you need to start with a $20/month pricing.
What I love about Streamyard:
It's FREE: Isn't that the best reason to try?
Intros: You can add a podcast intro while streaming and recording it. No need to add additional intros. Quick and easy!
Overlays:

You can use your custom branding to present.

Streaming live –

If you're big on streaming, and less on post-production editing, then Streamyard would the best for all world

Basic

– You get 4 hours/month recording, and 3 destinations on the basic package 

Invite more: More than 8 participants to have a proper conversation with multiple folks live

Multi-destination –

You have more than 3 destinations in the best package that is useful if you're big on distribution.

Chat feature:

Audience and guests can chat, so you get quick feedback.

Colors: It has your colors and supports greenscreen
What I didn't love about Streamyard:
It's built for streamers first, then podcasters.

You need to give

them branding if you're using free

The free option does not have a video recording feature

Not meant for podcasters but has most of the features 

You might need an additional storage fee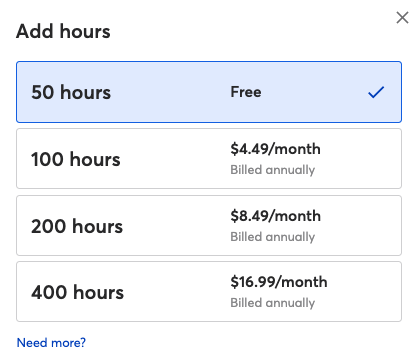 Zencastr Alternatives and Competitors #4 – Welder
Welder is a good and easy-to-use software for podcasting.
Pros
The interface is bright and intuitive, so users get the hang of this software quite fast.
You can also keep echo cancellation on, which can be especially helpful for hobbyists or beginners who do not have a professional setup, or turn it off when naming a new session.
It also allows you to do a test recording for up to 10 seconds with all your guests. You can see the recording right away afterward to make sure that everything is okay.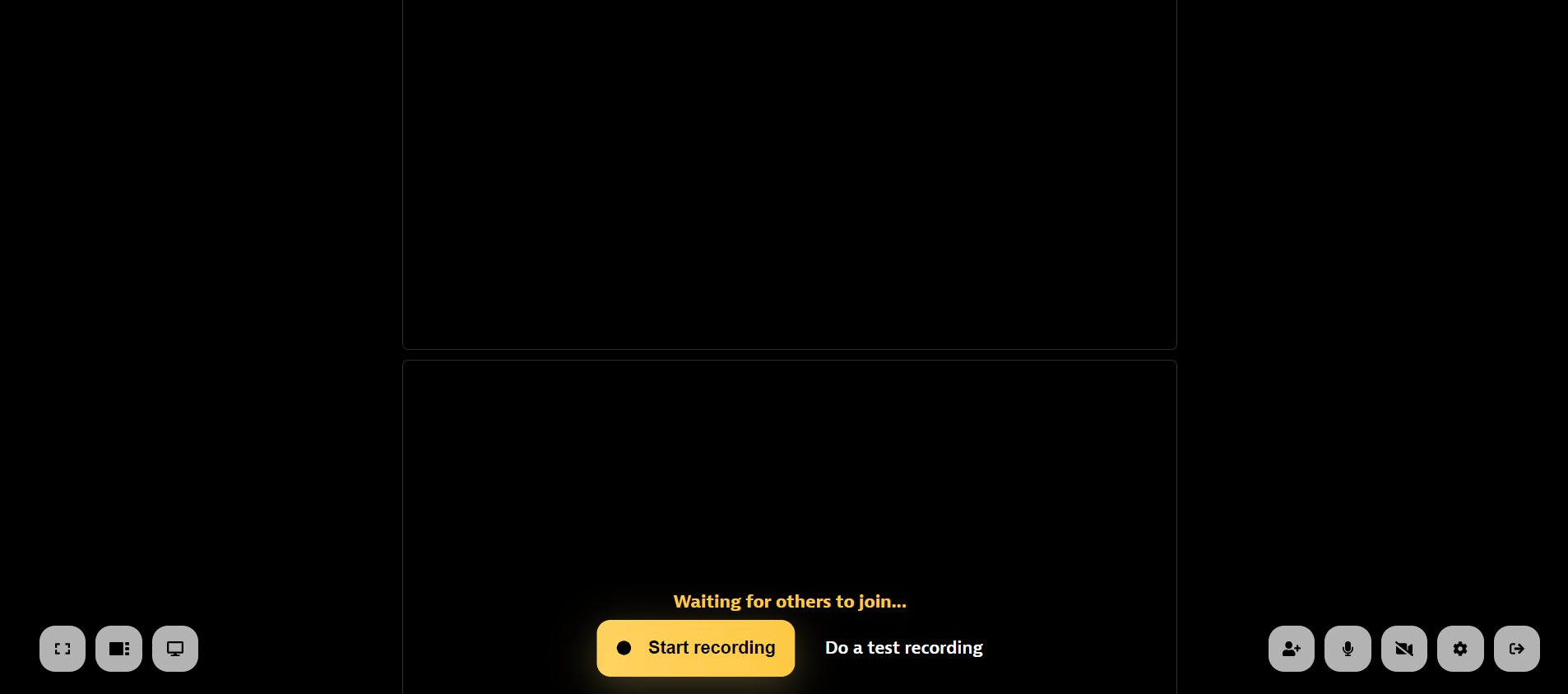 Welder's video quality is nothing short of incredible. It records videos up to 4k resolution. Below is a comparison of videos recorded by Welder and the popular software Zoom.
Video quality of Welder vs. Zoom
While Zencastr's video recording is still in beta, Welder offers high-quality audio and video recordings. It also locally records separate tracks of video and audio to make life easier for podcasters.
Like Zencastr, Welder records separate tracks for you and your guests.
Welder has in-platform tips that advise podcasters on how to get the most out of this software. 
You can also record on Welder using any recording device connected to your computer.
Welder does not offer audio recording in WAV as Zencastr does as of yet, but promises to do so in the future. 
Cons
No way to schedule:

There isn't an option to schedule podcasts with Welder as there is with Riverside.fm and Squadcast. Zencastr doesn't have an option to schedule interviews either, although you can send your guests the invite link in advance.

Large file size:

Files are downloaded in GBs rather than MBs. Although this shows that quality is ensured, it also means that you're going to run out of space quickly.
Best suited for
I think there are slightly better alternatives for professional podcasters, although Welder is not a bad option. Their upcoming features, as revealed by one of their founders on a Reddit thread, hold much promise. Hobbyists can use this tool if they are okay with the pricing.
Pricing
Welder offers thirty minutes of recording with a maximum of 8 participants for free. Paid plans start from $25 a month for 5 hours of high-quality recordings. 
Welder also has a Business plan with unlimited hours of recording.
Things I wish they had
Automatic transcription

: I think avoiding the trouble of manually transcribing audio would be really helpful. However,

Welder is looking forward

to including it.

Chat:

Being able to chat with my audience would've helped me provide an interactive experience.
An honest review from users
Product Hunt rating: 5/5
Users have appreciated the quality brought on by local recording. 
They have also found Welder quite easy to use.
Another user mentioned it might be a handy tool for journalists.
You can read my full review of Welder here.
Remotely.fm is the new kid on the block with some excellent features. 
Pros
The feature that I am most excited about is the ability to send calendar invites. Remotely.fm allows you to schedule interviews and send calendar invites to your guests, which keeps things neat and organized for both you and your guests.
Remotely.fm locally records audio in uncompressed 16 bit .WAV format at 48kHz. For videos, it locally records up to 4k in resolution at 30 frames per second in MP4 format.
You can ensure your branding shines even in audio recordings by customizing the color and adding a logo.

You can also do a short test recording that you can instantly preview once your test recording is over.
Like Riverside.fm, you can also track how much has been uploaded in real-time using Remotely.fm. 
It also does not have any audio drift as Zencastr does.
Moreover, Remotely.fm allows you to invite up to 8 guests, whereas Zencastr allows you a maximum of only 4.
Another excellent feature is that guests can leave right away after you have stopped recording; they do not have to wait around for the upload to be completed like they would with Zencastr or Riverside.fm.  
Remotely.fm also records separate tracks for each guest and uploads content to the cloud while the podcast is being recorded.
Cons
As of yet, Remotely.fm does not support iPhone or iPad devices. Also, I found their knowledge base slightly underprepared as compared to the other podcasting tools. 
Best suited for
Remotely.fm is more suitable for hobbyists. Its price starts low enough for hobbyists to invest in. Professionals can definitely use it, too, but they might prefer using older and more established podcasting tools.
Pricing
Remotely.fm offers 60 minutes of free recordings. Paid plans start from $15 (if billed annually) for audio podcasts. No enterprise plans are available.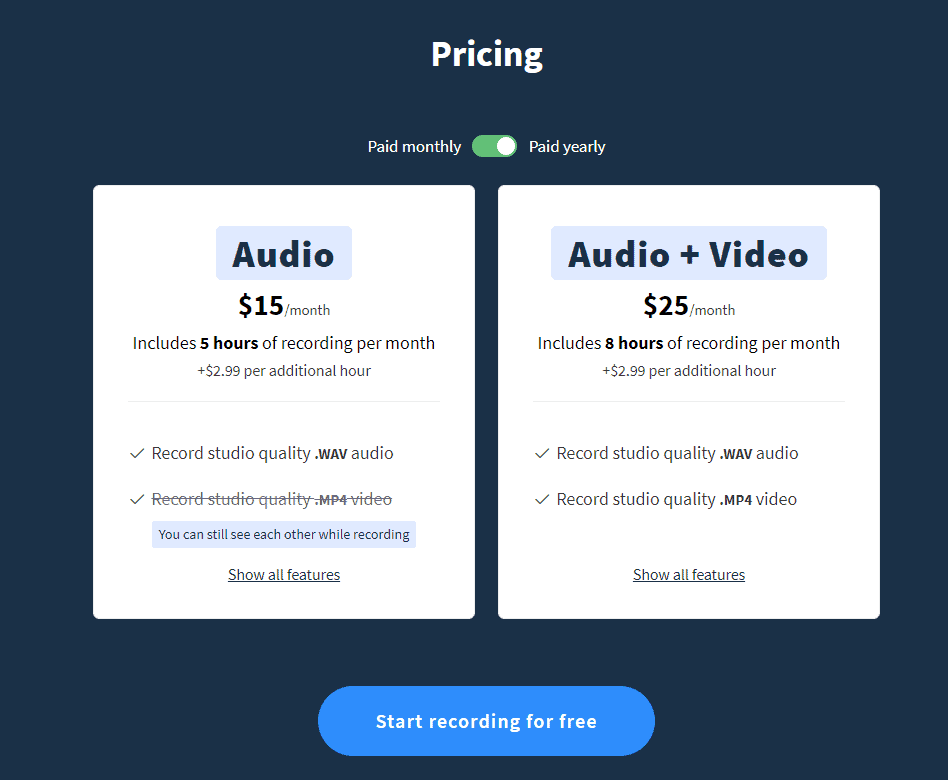 Things I wish they had
Chat feature:

Being able to chat with my audience would've helped me provide an interactive experience.

Automatic transcription

: I would find it great if I could avoid the trouble of manually transcribing audio. However,

Welder is looking forward

to including it.
An honest review from users
Users have appreciated Remotely.fm's ability to support multiple simultaneous hosts. Some also praised the quality of audio and video. 
My Perspective 
All four of the Zencastr alternatives and competitors have some perks over Zencastr. My personal favorite, which I have decided upon after trying out each of these tools, has to be Riverside.fm.
However, it is important to know which of these would be the most suitable for you.
If you are a hobbyist, Welder and Remotely.fm would be more appropriate for you.
If you are a professional who wants to upgrade, go for Riverside or Squadcast. Their range of sophisticated features is just right for serious podcasters who want to up their game.
Disclaimer: Please note, I may receive affiliate compensation for some of the links below at no cost to you if you decide to purchase a paid plan. However, these are the best tools I have tested for launching and running a website. You can read my affiliate disclosure in my privacy policy.