If you are a content creator who wants to up their podcast game, look no further. I am a content creator and podcaster, and I've done the research for you.
I have curated a list of 8 of the best podcast recording and editing software (both free and paid) you can get your hands on in 2021 & beyond. I will tell you all about their features, what I loved, what I did not, and help you figure out which of these might be perfect for you.
Before I dive in, here are some must-have features for a good podcast recording and editing software.
Ability to record high-quality video and audio

Automatic transcription

Capacity to collaborate with guests 

Ability to work with most devices and operating systems

Option to edit and add sound effects and more
I have divided them into free & paid podcast editing software as well as free & paid recording tools. So, if you're a hobbyist or a serious podcaster — you can decide.
Without further ado, let's get started!
Best Paid Podcast Editing Software & Tool
There's a reason I'm putting Descript at number one. This podcast recording and editing software has some incredibly innovative features that will make you want to do podcasts. And no, I don't mean just the recording portion of podcasts. With Descript, you will WANT to edit your podcasts. 
With features like overdub, transcription, filler words removal, and more, editing your video will no longer be one of those tedious tasks you'll have to learn to tolerate. 
Can you feel how pumped I am? Let me tell you why I love Descript so much!
Descript can transcribe whatever you say in your video into text. Manually transcribing audio is just a waste of time that you do not need. Let Descript handle that.
It offers both automatic and White Glove transcription services. For AI-powered automatic transcription, Descript, like many other automatic transcription services, uses a third-party transcription engine for greater accuracy.
But fret not – Descript makes it a point to regularly test the accuracy of all leading transcription services to make sure that it is providing the best one to its customers. If the recording is clear, the accuracy rate is over 95 percent.
With Descript's free trial, you can get up to 3 hours of transcribing to see if it works for you. Paid subscribers get access to the White Glove transcription service, which is human-powered. You can take up this service if you don't want to take on the extra hassle of correcting your typos and want an accuracy rate of up to 99 percent. This helps you guarantee quality.
Another feature is the Wordbar: Adjust the spacing between words with the Wordbar (you can adjust the gaps accordingly).
​
The next feature is the one I'm most excited about: Overdub. With Descript's overdub, you don't have to record over any part of your podcast – you can simply edit the text transcript. The audio will be fixed accordingly. It is magical – sorry, automagical.
Corrections on podcasts have just become easier than ever.
Descript's 'Filler Words Removal' feature is another one of my favorites. With this feature, you can easily get rid of filler words such as "uh", "um", or "hmm", which otherwise would have dampened the appeal of listening to your podcast.
What else do I love about Descript?
In-built screen recorder:

Capture your screen while recording your audio 

Remove undesirable parts:

Cut out unwanted parts about your mom screaming at you for cleaning your room

Search words:

Descript allows you to search up words in case you want to replace or remove them

Edit audio by editing your transcript:

You don't have to watch the entire video for editing. Just read the transcript and make necessary changes to your text

Add music and sound effects:

Be it a song or any other sound effect, just drag and drop!

Comments:

Add notes for later use

Speaker Detective

: Add

speaker labels

using AI. No more hassle for manually adding speaker names into the transcript

Publish:

Enables you to publish your podcast online seamlessly
Moreover, Descript facilitates exporting your project to other software. You can also normalize audio files while exporting.
Descript also offers non-destructive multi-track precision editing, title transitions, keyframe animations, audio mixing, and more.
Descript has a free plan. Its paid plans start at $12 per editor per month. 
A feature I wish Descript had
Mic labels: Descript doesn't label mics on the screen, which some of the other less sophisticated apps, like Zoom, do. Many podcasters use at least two mics, and not knowing which one is being used can be confusing for some. 
However, people who use one mic do not have to worry about mic labels.
Overall, I would recommend Descript for beginners, businesses, and creative professionals. I'm not exaggerating when I say that in a world filled with podcast recording and editing tools, Descript is the game-changer. 
👉  Get started with Descript today!
Free Podcast Editing Software & Tools
Audacity has been a dependable friend for many podcasters starting out in the early 2000s. It is an open-source podcast recording and editing software.
Audacity works well both on Windows and Mac. It also allows users to mix multiple tracks to produce one final project. 
What else do I love about Audacity?
Record

: You can use Audacity for recording, normalizing, and adjusting your audio.

Edit:

Audacity allows you to edit multiple tracks, remove any awkward pauses or noise from your podcast. You can also add intros, outros, and even ads.

Free

: Audacity was built by a bunch of volunteers and is available to everyone for free.

Copy-paste

: Copy and paste the good parts of one take over the bad parts of another. Handy, right?

Background noise:

Eliminate undesired background noise.

Undo and Redo:

Don't worry about making mistakes while working on your project. Except for a few steps, such as saving or exporting, many of the changes that alter the project data can be undone or redone. 

History:

View all the changes you've made to your audio.

Analyzers

: Analyze different characteristics of your audio using a dozen different tools. 
Plugins are also available to enhance other functionalities. Using plugins allows you to access additional effects, audio generation, and analysis capability. 
What do I not love about Audacity?
Audacity has a very steep learning curve. The user interface is quite unintuitive and difficult to get used to. To understand how to get around the software and fully use all its features, you will have to read the manual on the website meticulously. 
Things I wish Audacity had
Speech recognition:

If you use Audacity, you would still have to type your transcript manually, which can be quite time-consuming. 

Chromebook support:

Audacity does not officially support Chrome OS. So, if you're using a Chromebook laptop, look for other solutions.
Audacity is a good, free software and has earned quite a name in the podcast circuit, but it really needs to work on user-friendliness. You can buy some paid paid tutorial from Audacity which was good for the first time, but it was a lot of efforts.
Speaking of user-friendly podcast recording and editing software, Garageband would be your go-to solution. Good news for all Mac users – it comes free with every Mac device.
Users have raved about Garageband's user-friendly interface. Many creative professionals love this podcast recording and editing software since Apple released it in 2004.
Garageband comes with a thorough sound library with musical instruments, a broad range of session drummers and percussionists, and presets for guitar and voice.
The library features electronic-based music styles such as hip hop and EDM. It is mainly geared towards musicians, but you can also use these offerings to record, edit, and share podcasts. 
What else do I love about Garageband?
Realistic amps and effects:

Connect your mic and pick from a wide range of natural amps and effects.

Touch bar:

If you want to play and record music, use the Performance View on your Macbook to fully immerse yourself in musical instruments, such as a drum pad or a one-octave keyboard.

Share your podcast with the world:

With just one click, you can share your podcast with your networks via social media. 

Portability:

With iCloud, it is easy to add tracks to Garageband on the go. You can also note down new ideas on whatever iOS device you have at the moment and later import it to your Mac. 

Record and edit

: Apple claims that you can edit your sound "down to the note and decibel". You can fix rhythm issues and enhance your podcast with audio effect plug-ins.  Effects like compression and visual EQ are also available. 
What do I not love about Garageband?
Like Audacity, Garageband also has a very steep learning curve. Without carefully watching a myriad of online videos, it is difficult to navigate through the software. Sadly, Garageband is so focused on its features that it neglects user concerns regarding learning difficulties.
Neither Garageband nor Audacity offers free video tutorials, although Audacity provides text manuals on its website. However, Garageband does have an active online community of users who try to help each other with different issues.  
Garageband is an excellent option for Mac users – especially ardent music lovers.
Note: I personally found Garagbend even harder to use than Audacity.
However, if you are just starting out in the world of podcasts, and all of this seems overwhelming to you, don't worry. Sophisticated tools can come in later in your podcasting journey. I've listed some of the simpler apps below for you to get started. 
Free Podcast Recording Software
Zoom has become a household name by now and hence barely needs any introduction.
Unless you have been living under a rock for the past one and a half years, you have probably heard of Zoom a thousand times by now. You may have even used it countless times for work meetings and personal calls with friends and family. 
But did you know you could also use Zoom for podcasting? If you have a low budget, Zoom's free version can work out just fine for you. Just bear in mind the 40-minute time limit!
Zoom also has paid plans, starting from $149.90 per year per license, with much broader time limits.
What else do I love about Zoom?
Collaboration:

Easily share link and invite others into your Zoom call if you want to record a collaborated podcast

Built-in video recording:

Zoom lets you record both video and audio

Flexibility in joining:

Join Zoom using your phone, laptop, PC, or dial in with a landline.

Prevalence:

Any guest you invite on your podcast would likely be familiar with Zoom due to its widespread use since the beginning of the global pandemic. 
One lesser-known feature of Zoom is its ability to record multiple audio files, making collaborative podcasts easier. All you have to do is select the appropriate settings (explaining below in detail).
Each participant's audio track will be listed separately with the participant's name to make it easier for you to differentiate.
What do I not love about Zoom?
Zoom compresses your audio file in an attempt to make the video streaming experience smoother. This indicates a huge drop in the audio quality recorded using Zoom. 
If all you want to do is record and edit podcasts, Zoom may not be the best option. But if you already have Zoom, which is highly likely, know that it is a good, cheap option to record podcasts.
Although, you can fix some zoom settings to make podcasting work for you.
First, go here below.
Then, click on suppress background noise
Click the Advanced option at the bottom of the screen, and on the following screen:
Make sure the "show in-meeting option to enable original sound" is checked. If not, then the earlier step may not be available. Check the box that says "disable echo cancellation." Check the box for "high fidelity music mode."
Click on record separate files and voila! You can start recording podcasts separately.
Zencastr records a lossless 16-bit 48K WAV audio track for each guest, irrespective of the strength of their internet connection.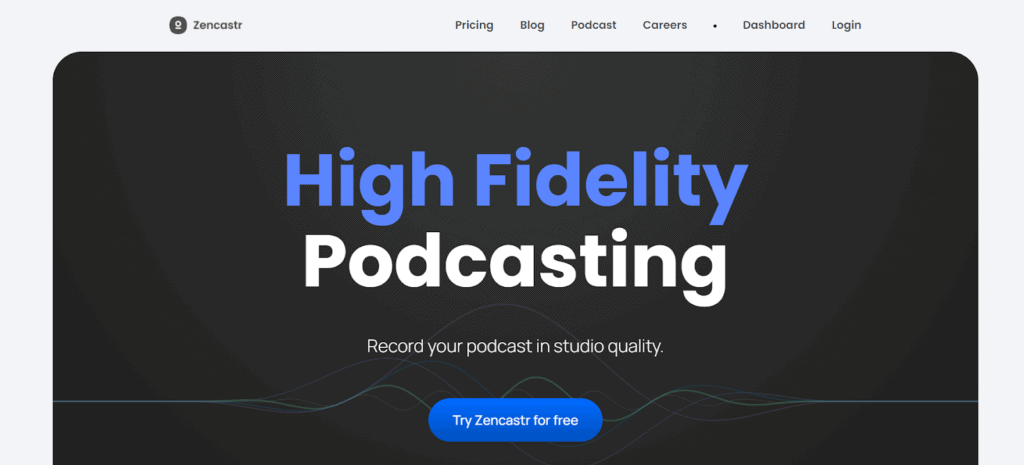 What else do I love about Zencastr?
Separate tracks:

Zencastr locally records separate tracks for each guest.

Upload file:

It uploads each guest's audio file as the podcast interview takes place, so you don't need to send the file again.

Automatic post-production:

Zencastr mixes your tracks into one mix of audio and video. Loudness normalization, noise and hum reduction, etc., make your podcast sound professional. Automatic post-production is available for the paid plan that costs $20 every month.
Zencastr also features a free plan for hobbyists.
What do I not love about Zencastr?
Zencastr only has two plans. Also, the Hobbyist plan limits recording to MP3. 
It is a good app to start with if you go for the paid plan.
Skype was the Zoom before Zoom was born. For many of us, it was the first video calling solution. As such, most people know of Skype and might already have an account.
What do I love about Skype?
Free

: Skype-to-Skype calls are free of cost.

Well-known:

People know about Skype, even if they don't use it regularly anymore

Recorder:

Skype now has a built-in call recorder
What do I not love about Skype?
Inconsistent, subpar audio quality:

Compared to alternatives, Skype's audio quality drops significantly at times.

No separate recording:

Skype exports all participants' audio into a single track, so there is no option for recording separate tracks for each guest.
All in all, you can keep Skype as a backup in case something suddenly goes wrong with your regular podcast recording and editing software.
Best Paid Podcast Recording Software
Riverside.fm is a quality podcast recording software that allows recording for free up to a staggering 60 minutes!
Recording in HD is a piece of cake using Riverside.fm. Local recording is available in up to 4k video resolution. Now, does this really matter? Take a look at the image below for your answer!
No matter how poor the quality of your WiFi connection may be, the quality of your recording will never be anything less than perfect. You can record your podcast without having to worry about whether your WiFi is acting up today.
What else do I love about  Riverside.fm?
Inviting guests:

You can schedule and invite up to 8 guests with just a click!

Separate tracks

: Get separate tracks for you and each of your guests.

Beta mobile app

: The presence of a mobile app means you can record whenever and wherever, as per your convenience and that of your guests! 

Quality of audio:

Impeccable quality means your audience can hear your discussions perfectly. For an

example of the audio quality

, you may check their website.

Double-ender recording:

Riverside.fm will record your and your guest's audio locally.

Back up

: With automatic backup, you never have to worry about losing your hard work again.

Invite your audience

: Invite your audience to join the live call to ask questions.

Streaming:

Riverside.fm lets you stream on social media such as Youtube, Facebook, Twitter, and Twitch – that too, simultaneously!
Riverside.fm will also show you real-time progress on your uploading.
It is also a good podcast editing software, with features that allow you to add logos and frames, set export quality as per your requirements, and more!
Paid plans start at $7.5 per month when billed annually. 
What do I not love about Riverside.fm?
Onboarding:

It took me a bit of time to properly familiarize myself with the software.

Upload dependency:

If the guest's internet connection is poor, it takes a lot of time for the uploading to be completed.
Overall, it is a pretty great podcast recording and editing software that focuses on quality.
Squadcast has recently added the option of video recording on top of the audio recording I already liked!
Like Riverside.fm, Squadcast also offers progressive uploading. This means that both your audio and video are in the process of being uploaded in the background. You don't have to wait till you are done in order to upload. The best part? In case of any sudden issues, you will have the podcast already saved. 
Squadcast's paid plans start from $20 if you want only the audio and $40 if you want both the audio and video. They also offer a 7-day free trial.
What else do I love about Squadcast?
MP4 and WAV format:

You can separately record video and audio for all the participants.

No more audio drifts

: Because the audio and video files are separately and locally recorded, you will not have to be concerned about audio sync.

UX

: Squadcast's UX is great and makes you feel at home.

Quality:

Their focus on quality is praiseworthy.

Video tutorials:

You get handy

video tutorials

from the amazing Squadcast team itself.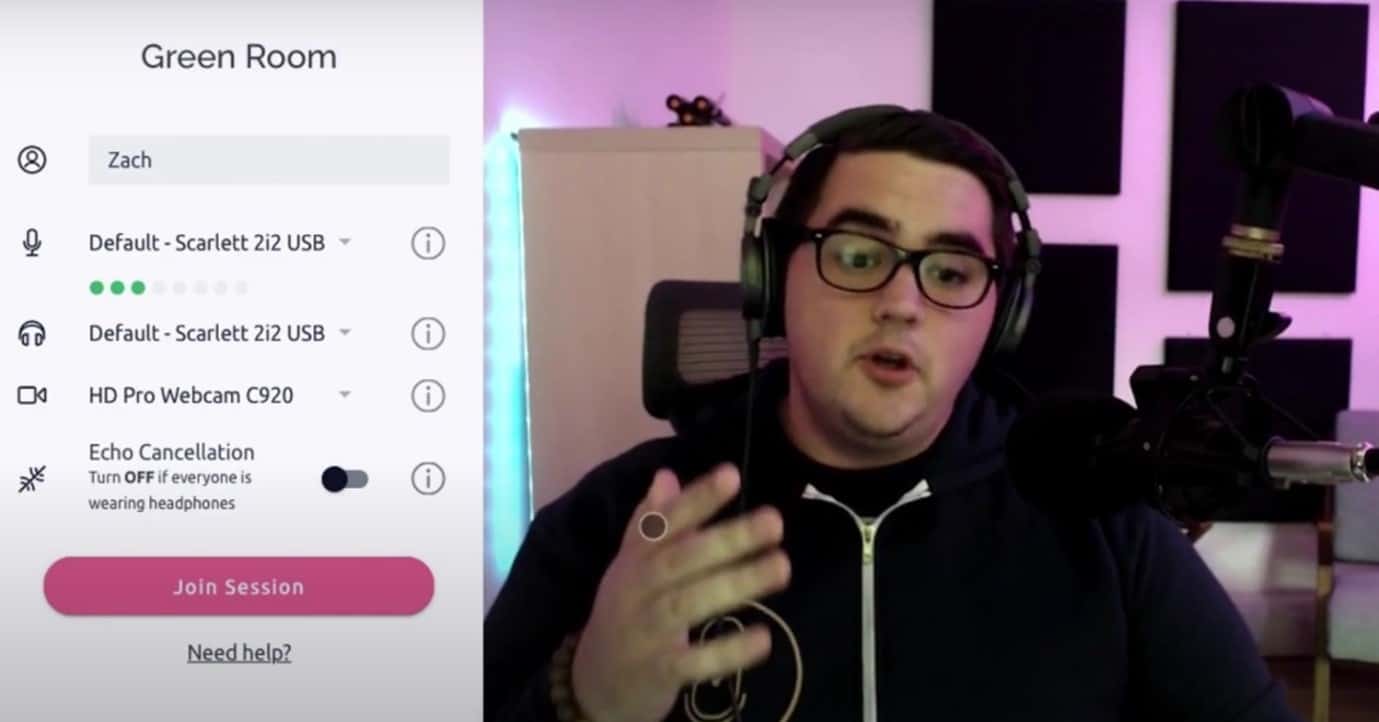 What do I not love about Squadcast?
Pricing:

Their prices make it seem like they are focusing on professionals and not so much on hobbyists or beginners.

3 guests:

You can invite a maximum of only 3 guests, which I find quite limiting.
If you are not too worried about the budget and want podcast recording software that always aims for quality, this is it.
Find out more about Squadcast today!
Final Thoughts
If you want free solutions and don't mind spending an enormous amount of time learning about features, give Audacity or Garageband a try, provided that you have a compatible OS for each. 
You can try getting started with Zoom if you want something simple and invite people to your podcasts from the get-go.
But if you're serious about podcasting and are willing to invest in it, get Descript. Having access to innovative, professional tools is crucial if you want to produce high-quality podcasts consistently, and no other software will offer you a better range of features than this game-changer. Also, since you're serious, I'd also recommend Riverside or Squadcast for podcast recording. 
Disclaimer: Please note, I may receive affiliate compensation for some of the links below at no cost to you if you decide to purchase a paid plan. However, these are the best tools I have tested for launching and running a website. You can read my affiliate disclosure in my privacy policy.