This is Aazar, I'm the Growth Marketing Lead at Synthesis, and a growth marketing enthusiast.
This podcast is about sustainable growth marketing stories, where we go on a journey to explore how growth marketers are moving their business needle and to get inspired.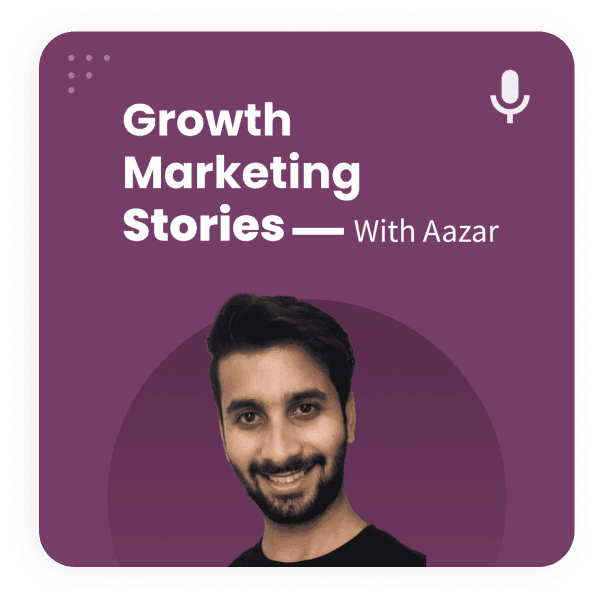 Aazar is a sharp growth marketer who loves to learn from other experts. It's pretty clear Aazar is very curious about the "growth" of these growth marketers & their journeys. It's so refreshing to listen to him unpack the stories of growth marketing professionals. I've always wanted to "be in the know" more on the growth side of things when I'm running or exercising, and not all general marketing podcasts can do that. Glad that I have this as an outlet now where I can satisfy that thirst of knowledge.
In this episode, we discussed how to launch product-led content. Listen in your favorite podcasting app – Spotify I Apple Podcast I Google Podcast
Listen Now »
What Other Growth Marketers Are Talking About Growth Marketing Stories
Aazar is not only having amazing guest, but he's also so focused on asking the right questions, that is podcast is a no-brainer for any growth marketing person that wants to up its game! Not convinced? Head to the end of any podcast, he'll do his rundown of the episode and share his learnings! You'll want to listen more 🙂
Insightful and thought-provoking stories. Each episode gives you food for thought which is why it's a part of my regular listening. Great stuff Aazar 👊🏾
This podcast offers a valuable perspective for anyone working in growth marketers. It offers the opportunity to actually learn practical stories from other Growth Marketers. I highly recommend this podcast.
Aazar goes deep with growth marketers to explore how they gained mastery in their craft and highlight how listeners can apply similar principles at their businesses. This is a great listen for anyone who works in / around growth roles.
I'm a new listener and so far I am amazed at how much value is packed in these 30 minute episodes. The one about growing your following on Twitter and thought leadership content with Animalz are my favorite.
A lot of B2B SaaS marketing shows are pretty boring. Back and forth interviews with the same people get old after a while. I really appreciate Aazar's fresh take – part narrative, part interview. There's always good stuff in there and heaps of takeaways too.
A proper marketing podcast that you'll want to keep coming back to listen to. With rich stories from experienced marketer Aazar Ali Shad and extracts from the best of his guests. It keeps each episode goal focused with actionable insights.