I know what you are thinking. Since everyone is on Slack, it becomes just another medium to hang out all in one place. But since you are looking for alternatives (like I was a few months ago). I thought about sharing Slack community alternatives that are way better than Slack. And just because it's free, it does not mean it's the best one for community building.
Slack remains at the forefront of team communication and collaboration, but it has some major limits when bringing new people together. Therefore, it is smart to look into Slack alternatives whether you want to gather people to take an online course or develop a community around your website, podcast, and other channels.
However, picking the best online community-building tool can be confusing and costly, given the abundance of available options. But you're in luck because I already purchased and tried Slack and four of its alternatives, so you don't have to!
In this article, we'll talk about Slack's pros, cons, and the best Slack community alternatives to the platform I've tried myself. But first, full transparency: I may get some affiliate compensation if you click some of the links in this article (but it won't cost you a thing!). Additionally, these companies did not pay me to write this review, I used the platforms myself, and I support them regardless.
Table of Content
Slack

Slack is the first pick for most people when searching for a tool to assist with project planning, enhance team communication, or a platform that can be a distant tool to link coworkers. It is a great team chat tool with many advanced capabilities and a wealth of settings.
Although many people prefer Slack, it has some downsides as well. Besides being one of the more expensive community tools on the market, Slack poses some limitations in terms of SEO. 
Pros
Channels organize content and conversations

Easily pull data feeds and set up automated messages/ bots to interact with members

More familiar to people since most already use it for work
Cons 
Lack of a central Activity Feed makes it difficult to discover new people or content easily, limiting community engagement

Only allows calls to other users within the same Slack workspace

Doesn't support rich media and long-form content 

Offers no events or polls to engage communities

You can't add paid modules
You can't manage members properly
You can't see your user generated content thriving
You can't really build relationships.
You can't control spam properly
One of the best alternatives to Slack that I've tried would be Circle. The platform helps you to grow an audience centered around your content, build engagement, and eventually convert them into paying subscribers. 
Unlike Slack, Circle serves several use cases— from paid memberships and courses to coaching and product communities.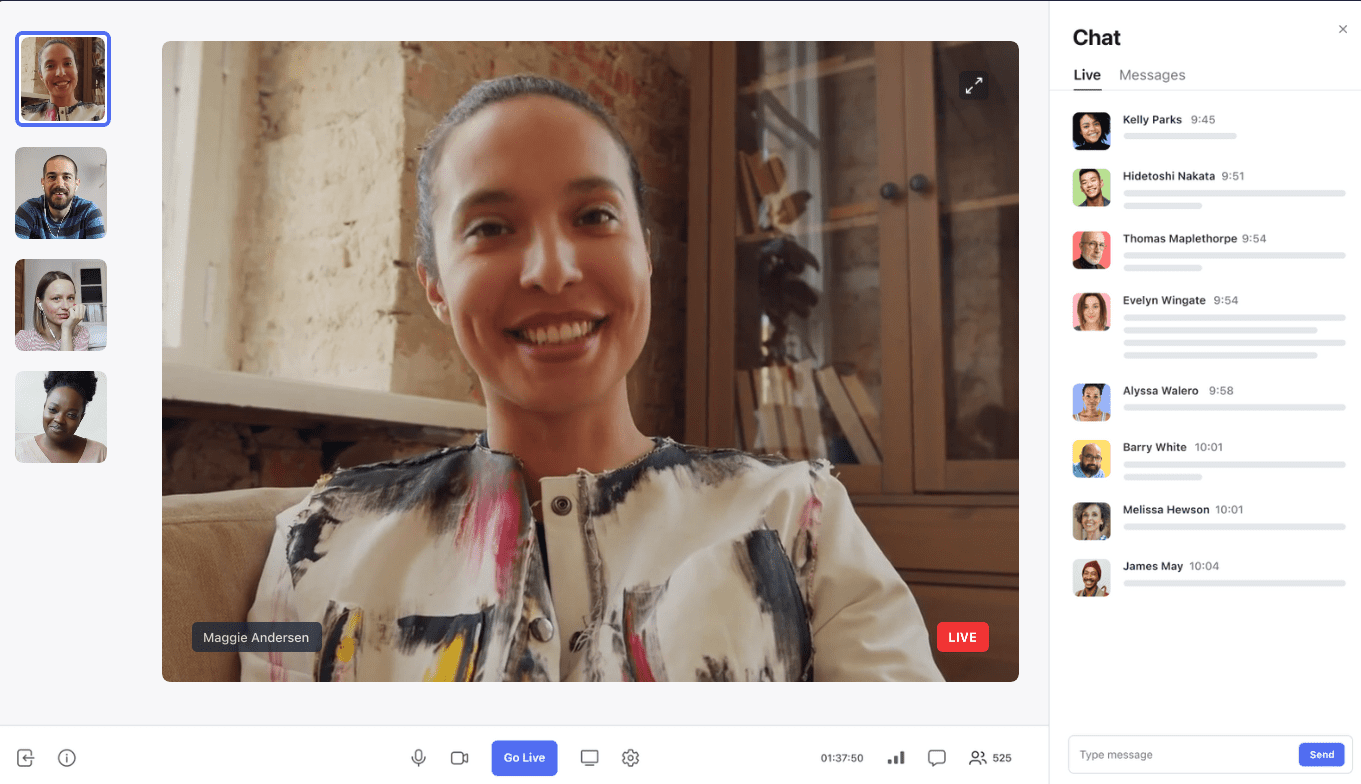 Additionally, Circle is a great tool if you want to run podcasts, and newsletters, set up paywalls for monetization, and host events and live broadcasts.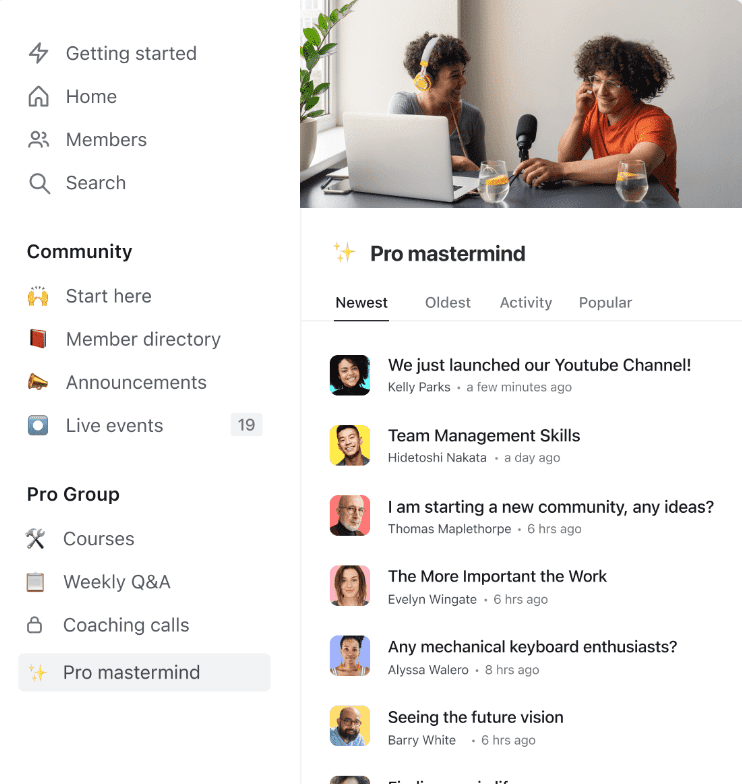 To learn more about my experience with the platform, check out my detailed Circle.so review!
Features 
SS log-in.

Live streams, events, and chats.

Daily/monthly member and engagement analytics. 

Onboarding with access to exclusive Circle creators community.

Multiple monetization options.

Custom domains and white-labeling.
Pros
Custom SSO.

Paywalls to easily monetize the community.

Supports multiple media, including video, posts, images, and audio

3000+ integrations through Zapier.

Networking opportunity with prominent content creators.
Cons 
No free version.

Only available for web and iOS.

Multiple communities are exclusive to Enterprise Plan.
Check out my piece for some of the best Circle.so alternatives!
Pricing ($39/month for 1000 members is a bargain)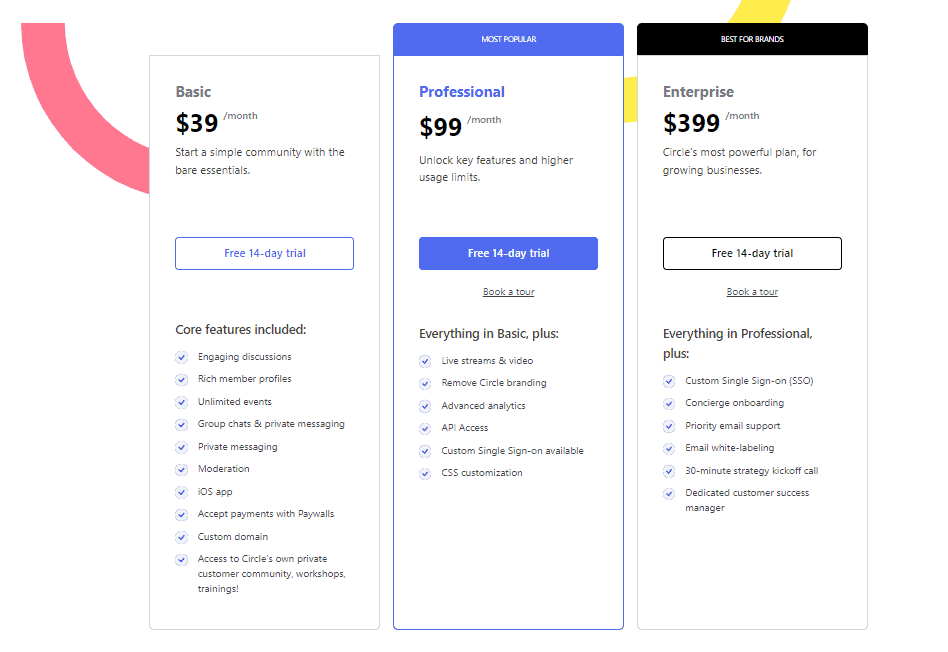 Circle offers no free plans, but you can still try it out for free for 14 days. There are three subscription plans available for Circle:
Basic Plan: At

$39/month, this plan gives you 10 Spaces and 1,000 active members (per month), custom domains, in-app notifications, Zapier connectivity, etc.

Professional Plan:

At $79/month, the Professional Plan supports up to 10,000 monthly active members, 100 spaces, SSO, API access, and more.

Enterprise Plan:

Priced at $199/month, the Enterprise Plan offers 100,000 monthly active members and 1,000 Spaces, multiple communities, custom SSO via OAuth, email white labeling, and an account manager.
Mighty Networks is a platform for creating communities that do it all. It features an effective community engine built on a forum experience. It also includes a suite of tools for producing content, including polls, videos, and articles.
You can create websites for businesses, mobile apps, and online communities with Mighty Networks. Additionally, Mighty Networks provides various options, like live streaming, integrated events, and subgroups to increase community engagement. 
With its user-friendly course-building platform, Mighty Networks best meets your needs if you create a community around online courses. Pricing is what differentiates Mighty Networks from Slack. While Slack charges users a monthly fee per user, Mighty Networks offers an unlimited community and all the tools you require for a single flat fee.
Moreover, it's easier for people who don't know each other to identify the most relevant topics and content. It is also easier to meet members more naturally than on Slack, thanks to the "Featured Section" and the "Search and Discovery" page on Mighty Networks. 
Last but not least, Mighty Networks offers long-form posts with embedded features and media, unlike Slack. You can also natively live stream in your Mighty Network, add people to group chats, send private messages, and more.
While Slack provides users who are already using it for work with instant familiarity, Mighty Networks guarantees better engagement rates and more favorable ratings.
Key Features
Activity Dashboard

Activity Tracking

Built-in course Authoring & Publishing

Built-in Content Library

Collaboration Tools

Communications Management

Content Management

Customizable branding with multiple templates

Dues Management

Electronic Payments

Member Access and Permissions control

Member Directory

Membership Database

Real-time Engagement Tracking
Pros
Clean, customizable interface

Events, posts, polls, and articles support long-form media

Native app support for iOS and Android

Multiple monetization options

Tools to author, host, and publish online courses

White-labeled for custom branding
Cons
Incompatible with PayPal

Limited options for landing pages

Lacks SSO integration with other course platforms

No in-built quizzing and certification for courses

No free version

Transaction fees apply to all subscriptions
Pricing
Mighty Networks has three subscription plans, all of which offer 14-day free trials and demos.
The Community Plan:

This plan starts at $33 per month and offers community access across the web and mobile apps, native live streaming/messaging, unlimited Hosts and Members, alongside Events and integration with Zoom.

Business Plan:

Priced at $99 per month, the Business Plan adds to the features of the preceding plan with Member Data and Analytics, options to add online and live cohort course creation, as well as several Zapier APIs and workflows.

Mighty Pro:

Besides the monthly plans, the Mighty Pro subscription offers a customizable enterprise plan. Mighty Pro gives you a custom app for your community, branded app notifications, and account management support, among many other things.
Disciple lets you create independent, engaging communities in a secure setting managed and owned by you. With Disciple, you can upload content and videos, live stream, and monetize the community with online courses and subscriptions. You can also segment your audience into various groups and use Disciple's analytics to understand your community better.
Members of your Disciple community can create individual profiles they can use to find, friend, and communicate with one another, facilitating community engagement quicker than Slack. Thanks to its comprehensive customization, membership, and content control tools, Disciple has quite a few advantages over Slack.
Besides offering several fantastic features, Disciple is also available for the web, iOS, and Android. The only downside is the pricing model, which gets increasingly costly as more users or features are added.
Key Features
Advertising Management

Analytics and Reporting

Communication Management

Community Management 

Customizable Branding

Data Security

Event Management

Feedback Management

Gamification 
Pros
App development without coding

Create and arrange folders easily

Fully white-label branding

Multiple monetization options with in-app purchases, advertising, affiliate links, etc.

Member and engagement analytics

Membership and content management tools
Cons
CMS lacks shortcuts

Expensive subscription plans

High additional charges for add-ons

Premium features exclusive to the mobile app
Pricing
Disciple offers two separate pricing models for the web and the mobile version.
Web Plan:

The monthly subscription fee for Disciple's web version is $55. This plan offers branding and customization, unlimited groups and topics, events, and subscriptions.

Mobile Plan:

With much of Disciple's advanced features being exclusive to the mobile app, this plan charges $5,490 per year (including two free months). In addition to in-app purchases, live streaming, a devoted community success manager, and priority customer assistance, it offers all the features of the Web Plan.
While Disciple is free to test out for seven days, there are additional costs associated with using the platform to its fullest extent. You would have to pay $29 monthly to add an admin and $108 monthly to eliminate the Disciple branding. You'll also have to pay an additional $458 monthly for the Mobile Community, making Disciple a rather expensive alternative.

Tribe is a fully customizable, white-label community platform that caters to customer communities at the enterprise level. You can create private and public communities with Tribe, where members can ask questions, post content, comment, participate in polls, upload videos, and more.
Tribe also has a thorough API, embeddable widgets, Google Analytics compatibility, and integration with third-party apps to enhance the functionality of the community.
Tribe assists businesses in integrating a client forum or community feature into their current website. It gives you a place to start conversations, publish material, and provide value to your community members right on their phones. Therefore, Tribe would be a better option than Slack if you're trying to create a community to share and monetize your content.
Though, unlike Mighty Networks or Disciple, Tribe lacks a course feature. So you might want to avoid Tribe if teaching is an aspect of your business. But for current business usage, Tribe is a good forum option.
Key Features
Activity Stream

Automated workflows 

API-based deployment and Webhooks

Customizable community

Custom domain

Community Management 

Customer Analytics 

Gamification

Embeddable widgets

Install and build original apps

Q&A tools

20+ third-party integrations
Pros 
Basic features are free

Custom domains

Customizable themes

Engagement Reports

Google analytics integration for customer intelligence 

Interface supports 25+ languages

Native and custom mobile apps/ widgets

Optimized for customer communities

White-label branding.
Cons
Community features lack location or interest-based connectivity

Mobile apps are exclusive to premium plans

No built-in messaging capabilities

Online courses are unavailable
Pricing
Tribe offers a 14-day Premium free trial that doesn't require a credit card. The four Tribe subscription packages are as follows.
Basic Plan:

This is a free plan that offers up to 100 members, unlimited page views, essential apps, and custom domains.

Plus Plan

: The Plus plan charges $59/month and offers API access, Analytics, and Plus apps for up to 10,000 members.

Premium Plan:

The Premium plan starts at $239/month and comes with Single Sign-On (SSO), fully white-labeled premium apps, moderation, and a dedicated customer success manager.

Enterprise Plan:

The custom-priced Enterprise plan provides all features of the Premium plan, as well as custom apps, design, and VIP customer success management.
Tribe offers more affordable pricing for annual billing, charging $49 a month for the Plus and $199 a month for the Premium plan. With the free Basic plan, you can still get unlimited spaces, theme customizations, and custom domains. 

Comparison
Criteria
Slack
Circle.so
Mighty Networks 
Disciple Media
Tribe
Pricing

Starts with a Free Plan, charges $8/user monthly for Standard Plan

Starts from $39/month

Starts at $33/month

Starts at $55/month

Starts with a free Basic Plan 

Monetization 

Paid communities, Stripe payment

Paid memberships, Paywalls, subscriptions, upsells, coupons & discounts 

Paid memberships, courses, events

Paid memberships, Subscriptions, in-App purchases, paid app download, Apple/Google Pay, sponsorship /advertising, affiliates, store links

Subscriptions, PayPal/Stripe payment, advertising, paid memberships

Branding 

No white-labeling 

White-label 

White-label

White-label

White-label

Custom Domain/

Website

Unavailable 

Custom domains

Available 

Available 

Available 

Members

Limited 

Limited 

Unlimited 

Limited 

Limited 

Analytics 

Unavailable 

Member & Engagement Analytics 

Detailed Member Analytics 

Member & Engagement Analytics 

Google analytics integration 

Native Mobile App

Android, iOS 

Web and iOS

Web, iOS, Android

Web, iOS, Android 

Web, mobile app (only for premium plans)

Online Courses 

Unavailable 

Available 

Available 

Available 

Unavailable 

Demo/

Trial

30-day free trial

14-day free trial

Demo, 14-day free trial 

7-day free trial

14-day free trial for Premium Plan
Final Thoughts 
The platforms we discussed all have their fair share of pros and cons. And though Slack is good for supporting a work community without too many bells and whistles, it does not fit all use cases. At the end of the day, which alternative platform you choose will come down to the kind of community you're trying to build and how much you plan to spend on it.
If you want custom SSO, multiple monetization options, and most importantly, the chance to network with a community of creators— all while getting on-boarded onto the platform, Circle.so might be a good alternative to Slack. Though, Mighty Networks might be best if you especially aim to monetize an online community built around your offered courses. 
Again, if you want a mobile community with no-code native apps customized for your brand, Disciple would be worth trying. Lastly, Tribe would be a good way to dip your toes into community-building if you're a beginner seeking free options.
Disclaimer: I may get some compensation from some of the links in this article, but only if you purchase a paid plan. Regardless, the tools I review are some of the best I have tested, and I support them personally. Head over to my privacy policy & affiliate disclosure to learn more.
P.S: If you want to be a part of my own online community, consider connecting with me on Twitter. I write about everything from growth marketing to startups and share my reviews of the latest software. And if you're interested to learn more about actionable growth marketing, and seeing how real marketers are moving their business needles, check out my podcast (with 74 episodes already and more on the way!)