Looking to build and grow your own online community? If yes, then this review is going to tell you all you need to know about a great community-building platform called Circle.
Circle.so lets you create groups and forums with all the functionalities of Slack or Discord but with the familiarity of an FB Group feed. You can connect with your community via live streams and private/group messages, set up paywalls to monetize member access, and host events, among many other things.
And the best part is, that you can even embed Circle as a part of your website or any other existing infrastructure.
So, if Circle has piqued your interest and you want to know if it's worth your while, then you've come to the right place. I have personally bought and tried Circle, so you don't have to! Keep reading for an in-depth Circle.so review. I'll be highlighting its key features and pricing, as well as the 3 things I love most about the platform.
But first, full transparency time: I may get some commission if you click on some of the links in this article (but don't worry, it won't cost you a thing!). Also, the company did not pay me to write this review, I used the platform myself, and I support it regardless.
Table of Content
Circle.so Review: Overview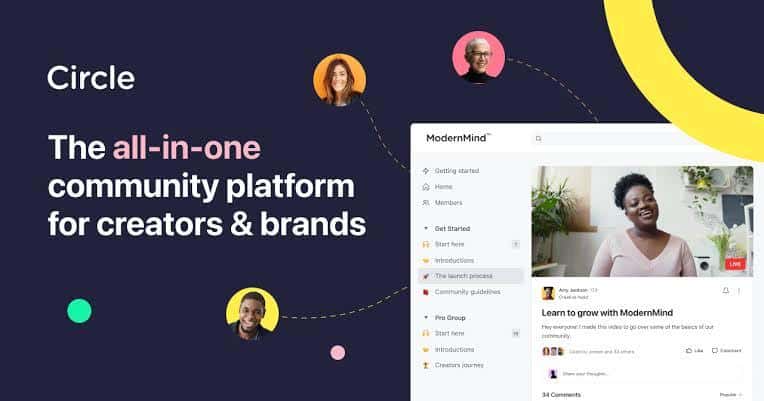 Circle.so is an online community software that makes it simple to create forums, groups, and pages where users can exchange ideas and information. Circle makes it simple to create a community of engaged and active members, whether you're trying to launch a professional networking group or an informal community. The platform integrates with your current creator stack and helps you nurture super fans for life.
Before they launched to the public, Circle got notable creators to try out their beta platform, including David Perell (Write of Passage), Pat Flynn (SPI Pro), Noele Flowers (Teachable), and more. These creators risked their reputation with their audiences by signing up for a beta platform and endorsing it as well, which told me a lot about Circle's product-market fit.
Circle can be used to support many kinds of communities. But the most common use cases include:
Membership sites for coaching, mentorship, and masterminds.

Course management with public accountability and a scalable means of asking questions.

For content creators building audiences through newsletters, blogs, podcasts, or YouTube channels. 

Customer or product user groups to collect user feedback and provide support.
Circle.so Review: Key Features
Some of the most notable features of Circle.so include:
Easy Log-in
Circle.so provides an extremely streamlined login process. Community software ought to persuade a website visitor to sign up for the community at first, and Circle does this brilliantly. Additionally, if you already use alternative membership management software, Circle has built-in and customized Single Sign-On options. 
With the SSO feature, you can merge login information from your current platforms to allow users to simply access Circle with their credentials from your website.
Spaces
Circle uses Spaces, which are forum categories that help you organize the information and conversations in your online community. On Circle, Spaces are used to categorize conversations by subject, share files, and find member discussions and other content within your community there. You can also set up Space Groups, which are useful for categorizing important topics and information. Circle Spaces are also simple to edit, modify, and even have their URL slug changed.
Customization
One of Circle's strongest features is its extensive customization option while still being white-labeled to uniquely fit your brand. The platform allows you to customize the platform's look and feel by letting you pick your brand colors, upload your logo, use custom subdomains, and more.
Interactive Relationship Building 
True to its purpose as a community-building platform, Circle lets you connect with your community in several ways. You can go live to your entire community with multiple co-hosts or start a private stream for select members.
You can also pull up attendees to chat with you during streams, easily open group chats, send private messages, and more to connect with members on a more personal level.
Analytics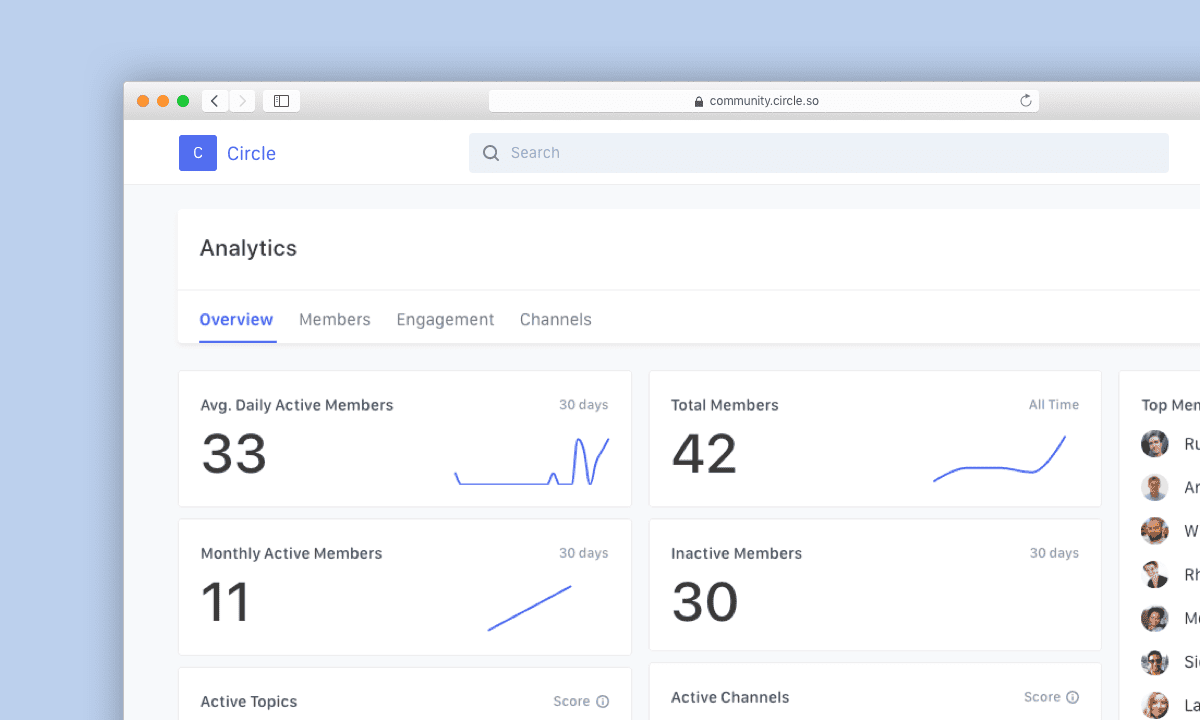 Circle analytics gives you full visibility into the growth and health of your community with engagement metrics for members, comments, and spaces. The Overviews tab, shows you the average daily/monthly active members, top members, active topics, active spaces, and popular days/times.
In the Member analytics area, you'll find lists of your most active topic starters, top commenters, and most appreciated members. Lastly, the Engagement Analytics tab lets you see engagement for topics and comments, filter activity by date, and identify the most popular topics during a specific period.
Monetization 
Circle.so lets you monetize your community by setting up paywalls to make a few spaces (or the whole community) reserved for paying members. Paywalls allow you to charge for your community via subscriptions or one-time payments. All you need to do is connect a Stripe account, create and configure your paywall, and then let the community know. 
Circle helps you further monetize memberships with recurring subscriptions, upsells, coupons & discounts, and on-ramps to your community with free trials.
Member Directory
One of the latest features of Circle.so is a member directory. This helps you find community members based on their location,  specific roles, interests, and more with filters. The directory is visible only to the admin by default, but you can enable or disable it for the community members too.
With personalized profile fields and search filters, the directory can make it simpler for community members to find each other as well.
Events
Circle recently launched a built-in event feature for the communities hosted on their platform. This enables community managers to create online and offline events, easily collect RSVPs from members, and live stream your online events. 
You can list the events or webinars on Circle for the whole community or paid members only. Circle can also be set up to send sign-up prompts, notifications, and reminders to the community members for your scheduled events.
Embedding
Circle communities can be embedded on your website with embed codes for the whole community, spaces, and even specific posts.
This is helpful if you want to use Circle as a commenting system on your website/blog or create a standalone community on your site without redirecting users to Circle. You can get embed codes from the "Embed" tab in Circle Settings. 
Weekly Digest (love this feature, no need to send an additional newsletter and great for retention)
With Circle, you can send out weekly digests to your members so they can stay up to date on all the newest posts, comments, and likes in their community.
It's sent out every Thursday at 9:00 AM Pacific time to summarize the previous week's events in the community. The members, however, can unsubscribe from the newsletter whenever they wish.
Circle.so Review: 3 Things I Love About Circle.so
From the extensive customizations to the convenient SSO options and the many other useful features Circle.so provides, the 3 things I loved the most would be the following:
The Interface
I adore Circle because of its great product design. It is beautiful, straightforward, and incredibly customizable without being overly complex. Circle communities are gorgeous right out of the box, but you can still completely alter how they look and feel.
Even if you don't change a thing in terms of design, you'll still love how the platform looks. Furthermore, Circle prioritizes your brand without overloading the design with Circle branding and self-promotion.
Moreover, you can make your community appear custom-made for you by using the colors and logos associated with your brand.
Additionally, you can combine the interface with your own domain and website and even delete the "Circle.so" reference from the URL of your membership section.
Onboarding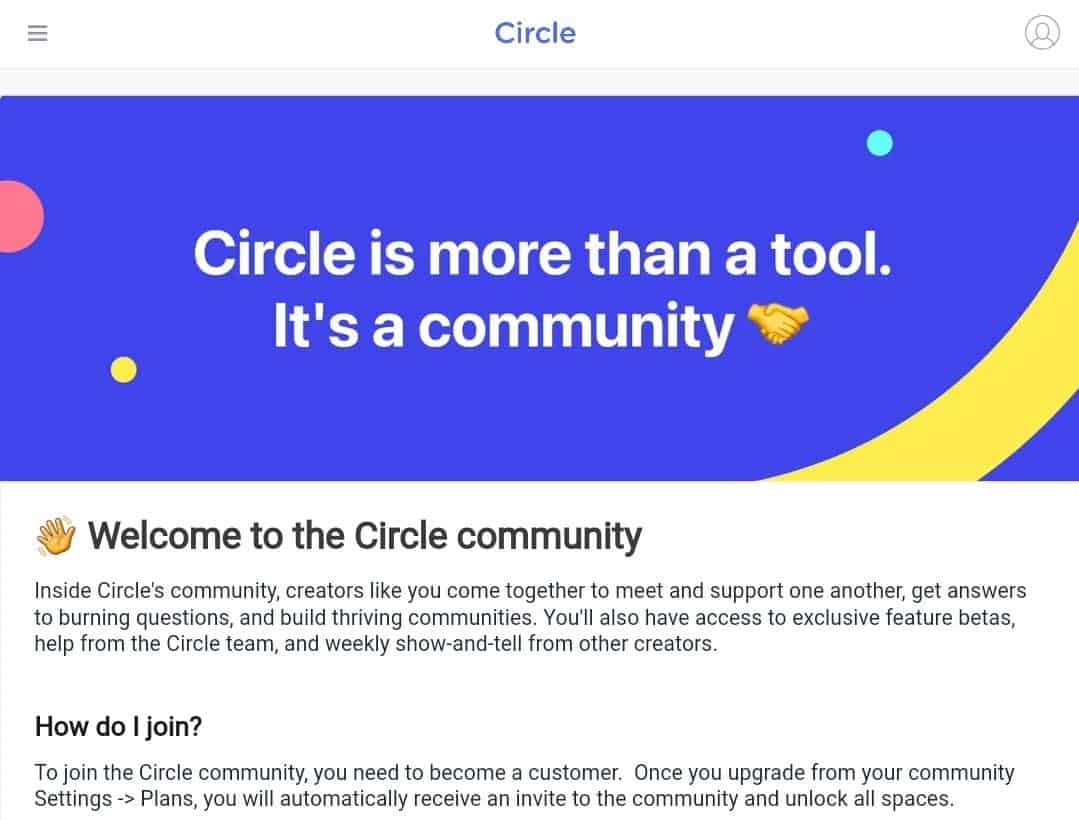 Circle has a private Circle group that is for all the community creators on the platform. It's a fresh take on a company onboarding users to their product by using the product itself. You learn to use Circle by engaging with an actual Circle community. 
You can learn not only about building a community but also about keeping members engaged, onboarding, community business models, and more with live workshops every week from the Circle team.
At any point in your journey with Circle, this community gives you access to templates, guides, checklists, and more. With 4k+ community builders sharing their ideas and posts daily, it's the best way to get started with Circle while being a part of a Circle group.
Single Sign-On
Having SSO enabled for your community allows you to seamlessly merge user login information from your current platforms. Instead of having to register or log in with their Circle accounts, your users can simply utilize your website's log-in page and your own authentication provider to access Circle.
If you're using other membership management software, Circle gives you the option to set up custom SSO integrations, in addition to supporting Single Sign-On via OAuth 2.0.
Why I particularly love this feature is because the members registered on your Blog, Website, WordPress site, or Teachable site can log in to Circle.so with their existing user credentials. Unlike Slack or FB Groups, this makes the Circle experience much less overwhelming. 
Circle.so Review: I Wish Circle.so Had
Circle.so does a lot that I like, and there are very few things I could nitpick about. But I still wish it did certain things a little better. 
For starters, I feel the platform currently doesn't have enough Presets. You need to configure a lot of settings when uploading a new item to Circle. If your uploads require specific settings (for example, to limit access to certain members or disable comments), it can be tedious going through all the different configurations.
Another feature I wish Circle had would be mobile app support for all OS. Circle is currently only available on mobile as an iOS app, but that should soon change given all the upgrades and improvements they are rolling out.
Circle.so Review: Who Is It For?
For companies, organizations, and individuals who want to build an active community, Circle.so may be the ideal tool. The platform can be utilized in place of or in addition to any existing virtual communities you may have, including:
Online Courses

Coaching and Mentoring Communities 

Premium Masterminds

Conference Communities 

Paid Newsletters, etc.
So, any endeavor which involves bringing people together virtually could benefit from a Circle community.
Circle.so Review: Pricing 
Circle provides a 14-day free trial (with no credit card required), after which it costs $39 per month for the Basic plan, $99 per month for the Professional plan, and $399 per month for the Enterprise plan. 
With the Basic Plan, you get 1,000 monthly active members, 10 spaces, custom domains, Zapier integrations, and single sign-on too. For the Professional Plan, you get 10,000 members, 100 spaces, access to the API, CSS customization, custom SSO, etc. 
Lastly, with the Enterprise Plan, you can get all the features of the preceding plans, as well as even more spaces, three more communities, and a dedicated account manager. 
All Circle.so subscriptions come with a 30-day, 100% money-back guarantee. You can also request a full refund at any point with no questions asked. 
Tips for Building a Community Online
It might seem easy on paper, but most online communities fall flat very soon. And that may happen for many reasons, like having the wrong motivation behind building the community or lack of intention in growing it.
Another thing to watch out for when building an online community is poor onboarding for your members. The 24/7, asynchronous nature of online communities takes away the shared experience, which doesn't help in building meaningful connections either. If your new members feel overwhelmed and alienated in your community, in the online world, that can result in them just exiting the window to never return.
Again, many focus on only vanity metrics like how big the existing member count is to attract more people to their community. But having a few hundred thousand members still doesn't mean it's an actively engaged community and not a place with just a dozen active members doing self-promos for their content.
So if you'd like to get my take on online community marketing, check out this tweet. The TLDR here i, that to ace community marketing, you need to:
Start with a mission

Stand out by being different, not better

Make the first onboarding delightful

Create a fans first playbook

Have a common enemy

And lastly, embrace your unique brand of weirdness to differentiate.
Final Verdict
Circle is quickly becoming my favorite community SaaS tool in the market. If you're starting an online group, you'll surely find a use for Circle.so and benefit from its features. If you're willing to put in the effort to build and grow your online community, Circle can also be the source of valuable training, ideas, and inspiration. 
From the very useful SSO features to the streamlined interface l, max customization, and gated access features, Circle is a complete solution for online community-building. And after having used multiple alternatives like Slack, Discord, Discourse, FB Groups, etc., I can safely say that Circle.so is half as overwhelming but just as capable as the other platforms. 
But despite what I think, the best way to judge the usefulness of Circle is by putting it to use yourself. So if you want to give Circle a go, you can sign up for the 14-day free trial here.
Disclaimer: I may receive some affiliate commissions from some of the links in this article (at zero cost to you) if you decide to purchase a paid plan. However, the products I review are some of the best tools I have tested, and I support some of these personally. If you want further details, head over to my privacy policy & affiliate disclosure to learn more.
P.S: If you want to join my online community, connect with me on Twitter, where I write about everything from growth marketing to startups, and share brand and community-building tips as well. And if you're looking to learn about actionable growth marketing and what real growth marketers are doing, check out my podcast (which already has 72 episodes, with more on the way!)