So, you found out that threads get you followers? It's true, and some software helped me along the way. If you want to see my viral threads. You can see the threads at the bottom of this blog.
Twitter is at the top of the creator funnel. And rightly so.
Twitter provides transferable social clout. You can leverage a very broad audience base to scale and gain millions of impressions and hundreds and thousands of followers. 
It all starts with converting your Twitter audience into newsletter/blog subscribers. Then, you monetize at the bottom of the funnel by creating and receiving value from the audience you captured. The algorithm is designed to promote highly engaging tweets aggressively to make them go viral.
Threads provide a micro-blogging opportunity, and Twitter threads are a powerful means of connecting with your audience in up to 280 characters. The core tweet in the thread is basically the 'hook' that captivates your audience's attention to a topic you want to share with them. 
If you want to expand on the core tweet, you can create a series of tweets threaded together to share concise yet valuable content.
Using a Twitter thread scheduling software program allows you to take your time to create excellent quality content. You can schedule tweets so that you can post each of them at the right time to boost engagement. This helps save time and reduce errors.
Let's look at 5 super handy Twitter thread scheduling software tools that will help you post the right content at the right time.
Top Twitter Threads Scheduling Software #1 – Typefully

Typefully is an online Twitter thread scheduling tool by Mailbrew. It's a simple yet super helpful tool. The software analyzes your Twitter engagement to come up with the best time for posting. You can schedule a tweet or publish it right away.
Personally, I love Typefully.
Before Typefully, I used to make a lot of formatting errors, but that doesn't happen anymore because of its preview mode. 
It's easy to use and create threads. You can check errors and live previews. It helps you save a lot of time by letting you write, draft, and schedule threads. Moreover, you can analyze the thread's performance. To add to it, you can also use its detailed analytics to boost your growth.
Typefully's interface makes tweet management seamless. You can schedule your posts using natural language input or set a queue. Moreover, the software allows you to publish your Twitter tweets and threads using a distraction-free Twitter Thread editor.
If you press Cmd + Enter, you can completely hide any interface and use a full screen to entirely focus on your writing.
Sometimes, I use Typefully as a my draft writing software to really edit my threads well.
You can drag-and-drop GIFs and images to attach them to your tweets. To insert an emoji, type ":" before any emoji alias and select the suggestion. 
You can also see the analytics (which is the best reason to choose Typefully):
Typefully has introduced a new multi-account feature that lets you schedule and publish on all of your accounts and switch between them seamlessly.
Typefully is free. You can look at your threads to edit right then and there. 

Top Twitter Threads Scheduling Software #2 – TweetHunter (Does More Than Just Threads)
Tweet Hunter is an AI-powered, all-in-one tool that helps you grow and monetize your Twitter audience. It's built by a team of product, technical and marketing experts who are all very active on Twitter and know what growing an audience is like.
Tweet Hunter offers a complete set of features that help you drive more opportunities from Twitter: content inspiration, AI writing, scheduling, automation, engaging with others, analytics, CRM and more.
It's probably the most complete Twitter tool out there. It also boasts some exclusive features such as AI-generated tweets, the ability to send automatic DM based on tweet interactions, unretweet after a specific number of hours.
Plans start at $49/mo, but it's unlikely you'll need to pair it with any other tool if you go for it.
You can try Tweet Hunter for free for 7 days, and they also have a generous 30-day money-back guarantee, no questions asked, in case it doesn't fit your needs.
I asked my friend Ugi, why he loves TweetHunter – so here's the answer:

Top Twitter Threads Scheduling Software #3 – Hypefury
Hypefury is a Twitter growth software program that helps you expand and monetize your audience. It has some valuable growth features to let you stay ahead of the game.
Hyperfury's 'Focus Mode' provides a full-screen, distraction-free writing experience for threads. You can even copy and paste your blog post to convert it into a Twitter thread.
'Recurrent Posts'  in Hypefury enables you to build categories and write tweets under each of them. You can set up time slots for every category, and Hypefury publishes one tweet under each category accordingly. 
Once Hypefury has run through the whole list, it restarts the cycle. Suppose you have 10 tweets under 'Growth Marketing'. If you put in 1 slot for this per week, it would take 10 weeks to complete the list and restart. Therefore, it provides ample time to not spam your followers with similar content. 
Furthermore, Hypefury automatically retweets your best tweets. It keeps all engagement metrics, such as comments and likes, intact. Highly engaging tweets attract more audiences to their retweets.
Hypefury lets you drive followers further down the creator funnel by auto-commenting your website, newsletter, or blog as a call-to-action under tweets that perform well. You can set the criteria for posting these follow-up tweets, for example, by setting the minimum number of likes to 15.
If any tweet is not popular enough, no call-to-action is posted that prevents readers from getting annoyed by your post. This feature has helped many Hypefury customers gain more email/blog subscribers. 
Hypefury has a free version with limited features. Its Standard and Premium plans start at $19/month and $49/month, respectively. Both plans have a 14-day free trial option.
Hypefurry is actually much more than a Twitter scheduling tool.
Top Twitter Threads Scheduling Software #4 – Circleboom
Circleboom Publish is a social media management tool that you can use to create and schedule Twitter threads. You can bulk schedule tweets and threads with images, videos, and links without any limitations.
It is possible to manage multiple Twitter accounts in one dashboard with Circleboom. You can create, design, post, schedule and automate tweets with Circleboom Publish for multiple Twitter accounts.
As you know, natively on Twitter you can create threads with a maximum of 25 single tweets. However, on Circleboom Publish you don't have any limits! You can create more than 25 single tweets to form a Twitter thread. 
You can post them immediately or schedule them for a later date and time. Also, the Queue scheduling feature allows you to set time intervals and automate your Twitter threads.
I loved Circleboom Publish and used it to schedule my Twitter posts for the whole week or even the month. Canva, Unsplash, and Giphy are built-in extensions that provide templates, photos, fonts, filters, effects, gifs, animations, graphics, backgrounds, and many other elements to enrich and embellish my tweets and Twitter threads.
You can also connect RSS Feeds to your Twitter accounts and post to your accounts automatically. This way, you can target different time zones and keep posting even while you are sleeping. Also, thanks to the "Discover Articles" feature, you can find amazing articles related to your interests from globally famous magazines and journals and share them with your Twitter audience.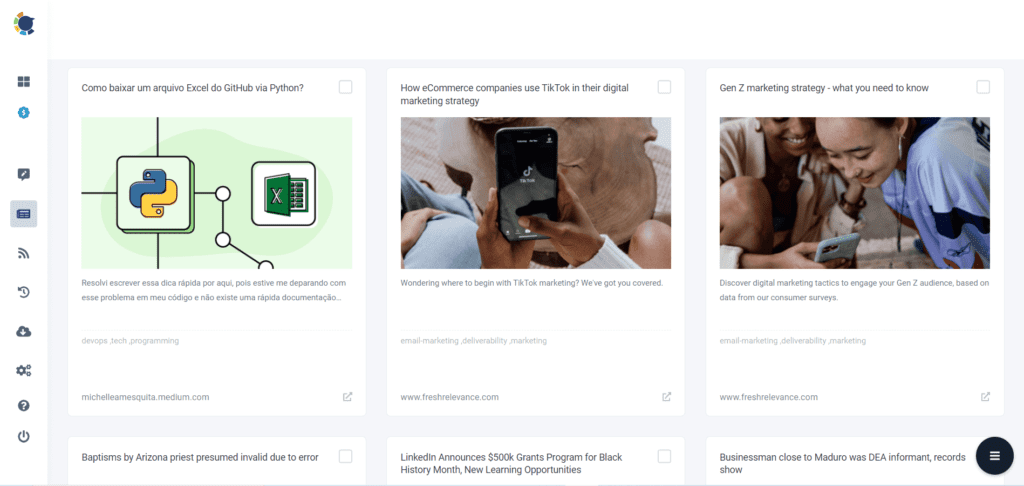 Circleboom Publish's comprehensive and intuitive dashboard makes it easy to create, design, post, and schedule Twitter posts and Twitter threads. You can import your domestic images or videos to add to your Twitter threads. You can also add links to your Twitter threads.
If you remember your other businesses in the middle of creating Twitter threads, you can save them as a draft and then continue working on them later.
Circleboom Publish also supports Facebook, Instagram, Pinterest, LinkedIn, and Google My Business. You can manage multiple accounts at once from each supported platforms.
Pros:
Twitter thread scheduling without any limits

Multi-account social media management

Posting and scheduling

Instagram carousel post scheduling

RSS Feed connection

Photo and Article curation

Content Curation by Canva, Unsplash, and Giphy

Forever-free tier

Saving your works as a draft to continue working them on later
Cons:
Free-tier has some limitations.
Unique Feature:
Article curation is a unique feature of Circleboom Publish. You can set your interests and let it find amazing articles related to your interests and share them with your social media audience.
Top Twitter Threads Scheduling Software #5 – Chirr App
Chirr App is a simple yet powerful web app for creating Twitter threads. 
All you need to do is write as much as you want, and the app automatically splits it into multiple individual tweets and publishes them as a thread. The objective is to let you showcase your creativity as best as possible. Plus, you can control where your tweets will be split by using a special character sequence – […]. 
Chirr App offers analytics to help boost engagement and blitz to reply to comments distraction-free.
One drawback is that the app doesn't let you incorporate images, but you can use sites such as Imgur to insert links into the body of the tweet. 
The app's editor is free to use. However, to access more features, you have to pay only $4/month.
Twitter Threads Scheduling Software – Honorable Mentions 
Twitter Threads Scheduling Software #5 –Thread Creator
Thread Creator is another handy Twitter thread scheduling software. It's a simple platform that basically lets you organize your tweets. You can see the tweets you've drafted, the ones you've scheduled, and the ones you've published – all from one place. 
You can also enable tweet numbering. Moreover, you'll be able to see a preview of your link in case you add one. 
Thread Creator's Standard plan is free to use. The Pro plan costs $10 per month under the yearly subscription and $15 per month under the monthly one. The software provides a 3-day money-back guarantee.
How to Write a Twitter Thread
Now that I've covered the 5 amazing Twitter thread scheduling software, let's move on to how you can write a Twitter thread. Let me walk you through the steps for creating a Twitter thread.
Go to Twitter > Home and type in your first tweet in the 'What's happening?' section. Then, click on the "Tweet" button at the bottom of the screen.
Click on the "plus" (+) button at the bottom right beside the tweet button. This will provide additional space for writing another tweet. Repeat this process until your thread is complete. You can also add emojis, media, or polls to tweets in the thread.
This is a simple process and is pretty much similar across all mobile devices and the web app. However, you can't build threads using TweetDeck. Twitter also lets you schedule a single tweet, but this functionality doesn't extend to threads.
However, you don't have to worry about that since you can always use any good Twitter thread scheduling software to make your life easier.
Here are some of the best practices and tips for creating a great Twitter thread.
Twitter Best Practices & Tips for Twitter Threads
Twitter allows you to establish yourself as the subject matter expert. The objective of your Twitter thread topic should address a common problem faced by your target audience. You offer them value so that you can gain value from them in return.
The following best practices include advice from popular Twitter personalities, Julian Shapiro and Sahil Bloom, from Demand Curve. 
Note: I took a course on audience building and 8x-ed my growth. The content below is taken and inspired from the course itself.
Your audience's perspective matters
You might be tempted to think from your own perspective. But it's not an effective method because then your audience won't care about following you.
While choosing a topic to write on, think from your audience's perspective. It shows them you care.
To this end, create an audience-building purpose statement. For example, your purpose statement as a growth marketer could be:
"My audience wants fresh marketing insights that they are not getting from anywhere else. I'm here to create a collection of growth experiments and share the results with them."
Topics that work well
The best way to drive follower conversion per unit of effort is to choose topics that work well with the crowd.
These topics include marketing, writing, philosophy, products, startups, engineering, sports, finance, lifestyle, and business.
The topics that usually don't work well are news, memes, and politics. There's a scaling limit to these topics that make them unsustainable. Consequently, moving down the creator funnel and monetizing these topics can be difficult. 
One exception could be local news and politics for a given city or area, which can prove to be valuable content for the people living there.
You should avoid snarky threads as people search for value in original content.
Long-term considerations
There are 4 things you should consider to make your Twitter account sustainable.
Goal:

What's your end goal? This will help determine how you'll scale your audience.

Energy:

It takes to be consistent to get good results. You may think that once your posts get viral, the future ones will follow suit. But that hardly ever happens. You need to invest considerable time and energy to persistently create good content.

Voice:

You can have your unique writing style (formal or informal), but you have to be consistent with it.

Credibility:

Think about what your followers believe you're credible to write about. For instance, if you're not an investor, you probably shouldn't post anything on investing.
Content engine
Growing on Twitter is a game of persistence. You post hoping to get retweeted, gain more followers, and achieve compounding growth in the future. 
Because it's time-consuming to create good quality content, you need an engine that will consistently produce good content and schedule posts. This will also minimize wastes and de-risk content quality.
The diagram above shows a content engine that involves inputs (e.g., articles/videos), outputs, and audience. 
For example, if you need to write 2 blog posts per week, read relevant content. Take a systematic approach. Write down each time you come across something novel, surprising, or interesting through any of your inputs.
You can record all your ideas and reactions in, for example, Notion. List questions and include sources for proper referencing. Use them to prepare drafts and schedule them on your calendar.
Novelty and emotions
You can take 2 different approaches to write – novelty and emotions. It's not mandatory to follow either of these ways, but they help create a high affinity with your audience. You can even blend novelty with emotions in your writing. 
Novelty is new information that is significant enough to be told. Find niche knowledge and strong opinions from niche blogs, podcasts, or YouTube videos. 
To ensure great quality, create a sequence of 2 drafts. Draft 1 contains the novel information, while draft 2 contains stories, examples, or analogies that help make the novel content resonate with your audience by making novel ideas relatable.
There are 4 types of novelty:
1. Counter-intuitive: It proves how your understanding of how the world works is wrong. The following example is a thread that gives career lessons people didn't expect to exist.
2. Counter-narrative: It refutes knowledge that other people give you on how the world works. Here are 2 examples that debunk information that other people make you believe in.
3. Elegant articulation: It's when you concisely articulate something that has been at the back of people's minds, but no one has put it forward for them. So, it doesn't necessarily have to be new information.
4. Shock and awe: This is any surprising information that would inspire people's awe.
Emotions elicit strong emotional reactions from your audience. You might find it a more straightforward framework than novelty because it's easier to find uplifting stories for people.
Quality content
To produce quality content, start by taking notes and using novelty and/or emotional frameworks.
Your tweet should have 3 parts:
Hook

: This is the novel/emotion. It could be a question or a narrative's beginning that highlights one part of a new finding or makes a bold claim for the sake of debate.

Body

: This should concisely expand on the hook.

Zinger

: This is a very precise set of words to sum up the tweet and present it as actionable.
Set aside 24-48 hours to revise and edit your original drafts. Then, schedule your thread and publish it.
Quote tweets vs. regular tweets (RTs)
Quote tweets are inherently more valuable. They grab people's attention because they act as social evidence from a reliable source whom others might follow.
On the other hand, novel insights and creative ideas drive high quote RTs.
Time spent on tweets
A tweet can take 20-45 minutes to write, while Twitter threads take longer. Determine the time you spend on each tweet in terms of ROI, i.e., Twitter growth/time spent on Twitter.
Spend time on a topic that other sources have already worked on and decide how you're going to repurpose it.
For example, you may have an amazing blog post that you can turn into a thread or extract novel insights from to create a tweet. The optimal number of tweets per week should be 5-10.
Key performance indicators
The 2 most important KPIs are new followers per day and retweets per tweet. A tweet is likely to perform well if it maintains an engagement rate of more than 10% across its first 2,000 impressions.
It will perform incredibly well if it has a retweet-to-like ratio of 25%+.
Landing page
Your Twitter landing page is your bio pointing out why people should follow you, adding credibility to your knowledge. To optimize your bio, pin your most retweeted, most valued tweet.
For instance, if you're a growth marketer, your pinned tweets should be the ones that highlight your expertise in the area. 
In addition, ensure that your last 3 tweets are always interesting. After pinned tweets, these tweets help reaffirm your credibility.
Final Words
Here, now you have 5 amazing Twitter threads scheduling software to choose from. I'll wrap up with a couple of useful tips on writing Twitter threads. There are some common mistakes that you should avoid.
Avoid linking to platforms since it decreases engagement. When you use them in a thread, ensure they are embedded within the thread, not the opening tweet, where they're most likely to reduce engagement.

Overtly promotional content

Lack of attention to detail, e.g., spelling and grammar.

Inconsistent posting

Inconsistent cadence and formatting (e.g., font and spacing)

Too content-rich opening tweets. Hooks should be concise.
Finally, make sure your work gets distributed to a wide audience.
Grow through comments on your posts. Turn on tweet notifications for big accounts and craft novel or clever replies. Have friends with a large follower base mention you in comments.
Dive into a popular trend. DM your best content to relevant large accounts. However, never ask someone to retweet something for you because it takes away the natural effect of your tweet.
Keywords can get you 3 times the exposure. Popular keywords include marketing, bitcoin, tech, sports, startups, learning, and finance.
Last but not least, build strong relationships with your followers. Keep your DMs open and DM new followers with a welcome message. Reply to people who tweet to you. Find people on the same journey as you so you can retweet each other. 
The more people know about you, the better. Happy tweeting!
Viral threads
You can see some of my viral threads:
Disclaimer: Please note, I may receive affiliate compensation for some of the links below at no cost to you if you decide to purchase a paid plan. However, these are the best tools I have tested for launching and running a website & a podcast. You can read my affiliate disclosure in my privacy policy & affiliate disclosure.