Are you tired of hundreds of review plugins and looking to double on on Loox? Let me tell you why it is a steal. A shorter version of Loox review for Shopify merchants: It's affordable, a safe bet, photo reviews are authentic & *look good*, and it does the sales for you to increase conversions on autopilot.
It has everything you need and integrates well with your entire Shopify Stack.
I've been the Head of Growth in the Shopify system and have tried and tested Loox. Loox is great for showcasing photo reviews that add authenticity to your brand. With a 4.9 Shopify app store rating and over 55,000 merchants worldwide, Loox's effectiveness speaks for itself.
Before moving on, if you are in DTC or Paid Social Marketing, then join 4000+ marketers and founders in this newsletter. It's free, and you'll learn the latest paid marketing tactics:
Let's dive in!
In this article, I'll be covering an elaborate Loox review so you can decide if it's the right app for you.
Full transparency time: I may get some commission if you click on these links but it won't cost you anything. Also, these tools have not paid me to write this review. I use it every day and I support some of these projects regardless.
Loox Review: An Overview
Loox is a reliable photo review app that allows you to collect visual reviews from satisfied customers.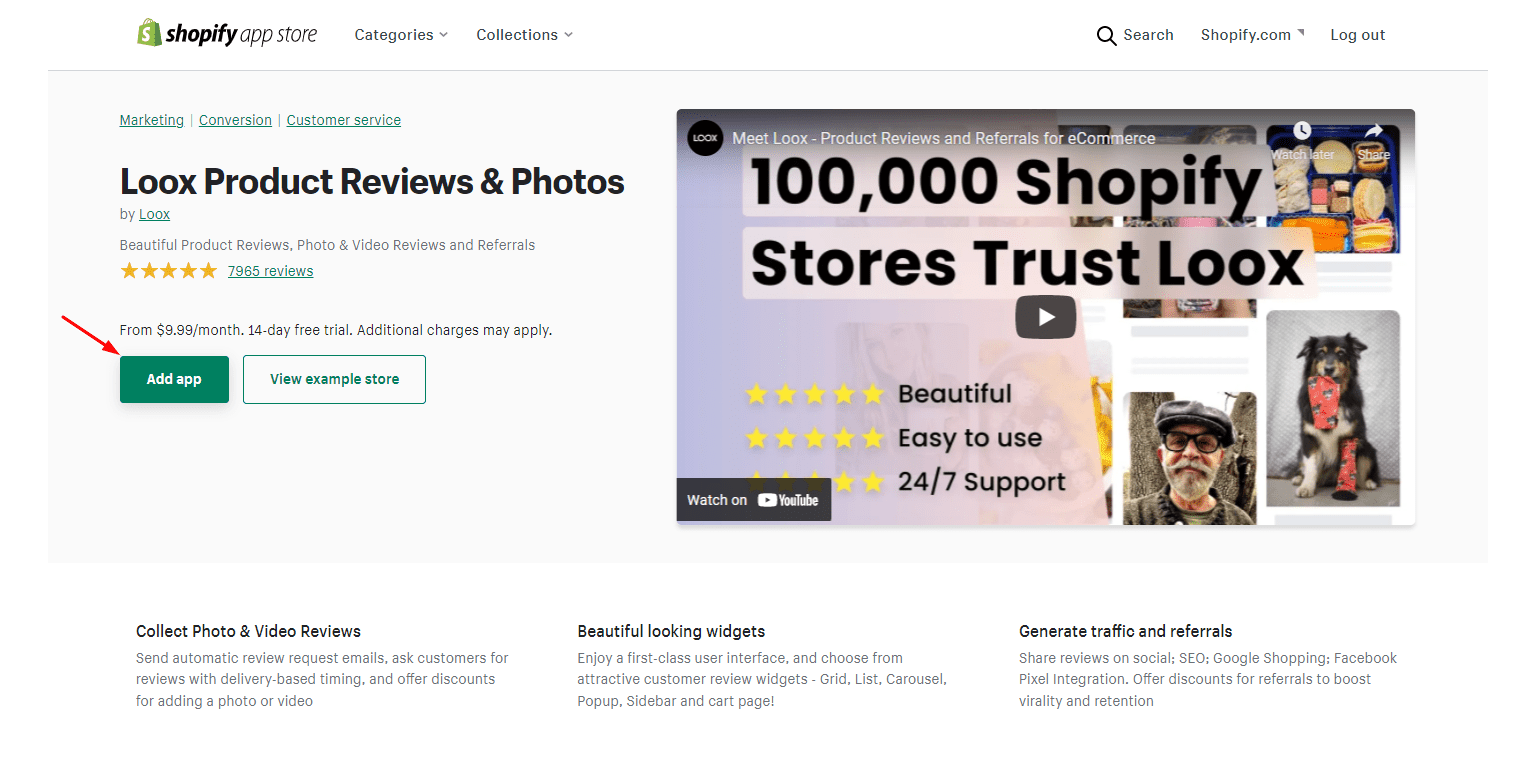 It is natural to wonder who else has bought a product when browsing online before purchasing it. Let's look at a scenario – someone who likes a pair of shoes in your store finds a picture of a customer wearing the same shoes. Chances are higher that it will drive his purchasing decision.
In situations like this, Loox brings more credibility to your store by making customers feel comfortable ordering from your store because of the social proof. 
You can also use Loox to request a photo review from your customers, and you can reward them for it. 
Loox does not allow you to edit or translate reviews until they are imported into the store. You can also import reviews from AliExpress or Amazon. Moreover, Loox enables you to customize how you want to display your reviews.
So, the idea is pretty straightforward. You ask your customer to take a photo of the product they bought. Then, you give them some discount to come back. Finally, they give you their referral which can eventually lead you to another purchase. 
Additionally, you can use these reviews again on your social media platforms. Customer reviews like these go a long way in building a positive brand image and driving sales.

Loox Review: Features
Loox comes with many cool features that can take your Shopify store to the next level. Let's take a look.
Import Reviews
Loox enables you to import reviews from AliExpress, Amazon, and other sources. So when you have no product reviews on your site, you can simply import customers' reviews from another source.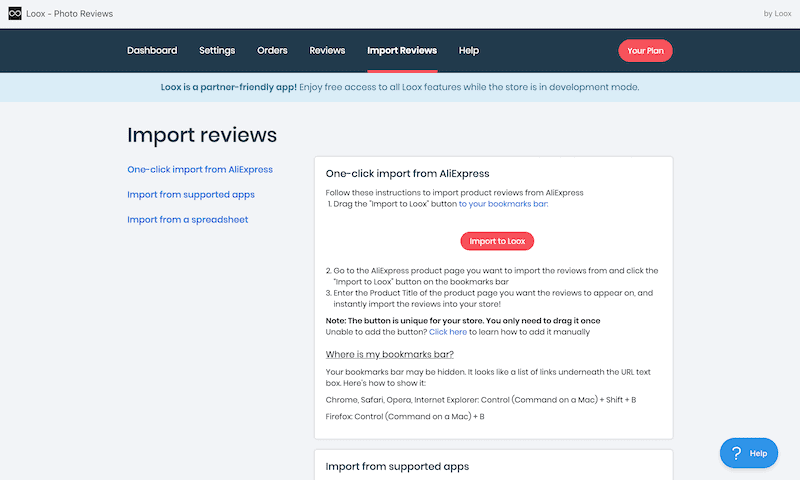 You can import reviews from any website by using a spreadsheet. To do this, select 'Import Reviews.' and then scroll down a little bit. You'll find an option called 'Import from a spreadsheet.' You can upload your review in CSV format from here. 
Adaptability and Customization
Loox is fully optimized according to the Shopify theme store. As a result, it is mobile-friendly and responsive.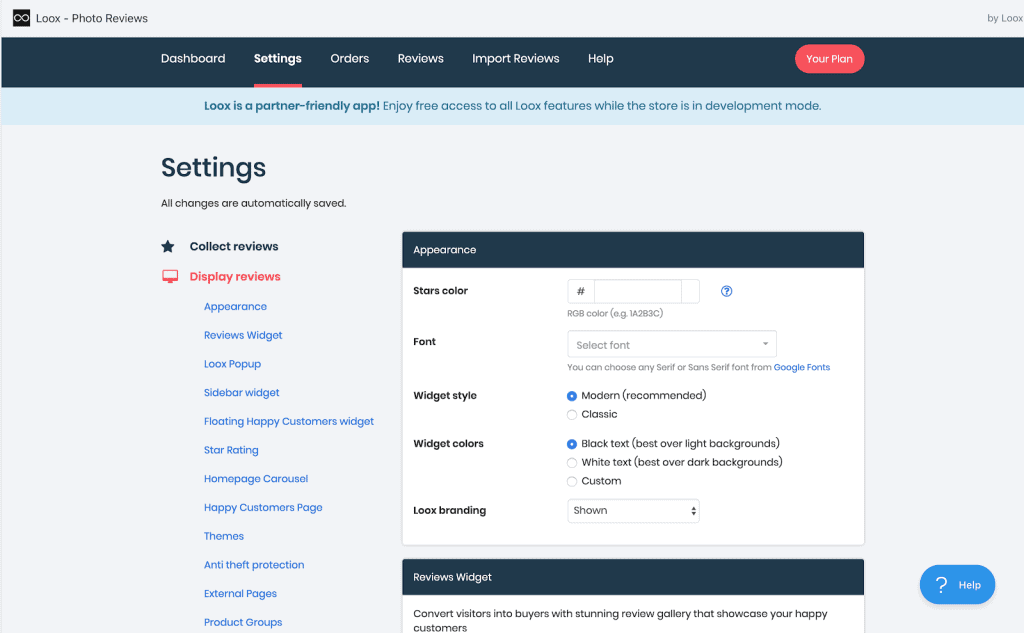 Loox offers merchants appealing widgets that can add to the customer experience. You can change the layouts, pop-ups, colors, placements to match your shop's style.
Photo Reviews
One of my favorite features about Loox is that it allows customers to add a photo of your product. This feature will enable you to make reviews appear more authentic. 
Nowadays, it's essential to make the customer coming to your store feel like they need your product. So, any pre-written or fake review rarely works. 
According to research, photo reviews have a 91% higher conversion rate than regular text reviews. With Loox, people can see other customers wearing or using your products. Besides, visitors can have a clear vision of the size, height, weight of the products.
You can compare a review with and without the photo yourself. Photo product reviews look more genuine than their text counterpart.
So, if you own an eCommerce site, you'll appear more trustworthy if your reviews include photos of your customers using your products.
Automated Review Reminder
Your customers can easily forget to leave a review, which is expected. It is challenging to manage a business, and eCommerce store owners can rarely find the time to remind their customers. 
Loox can send automated review requests to your customers through email to solve this issue. It will automatically send an email to a customer after they purchase anything from your store. So they are incredibly effective at generating reviews. 
This Loox feature can even send review requests to customers who made a purchase three months ago. Moreover, you control the email's content and delivery time. Besides that, you can also change the question in the feedback survey.
Integrations
Integrations are an excellent way to try out new apps and features while keeping your e-store looking clean and professional. 
You can use the Loox Shopify app with various robust integrations fully optimized for Shopify stores.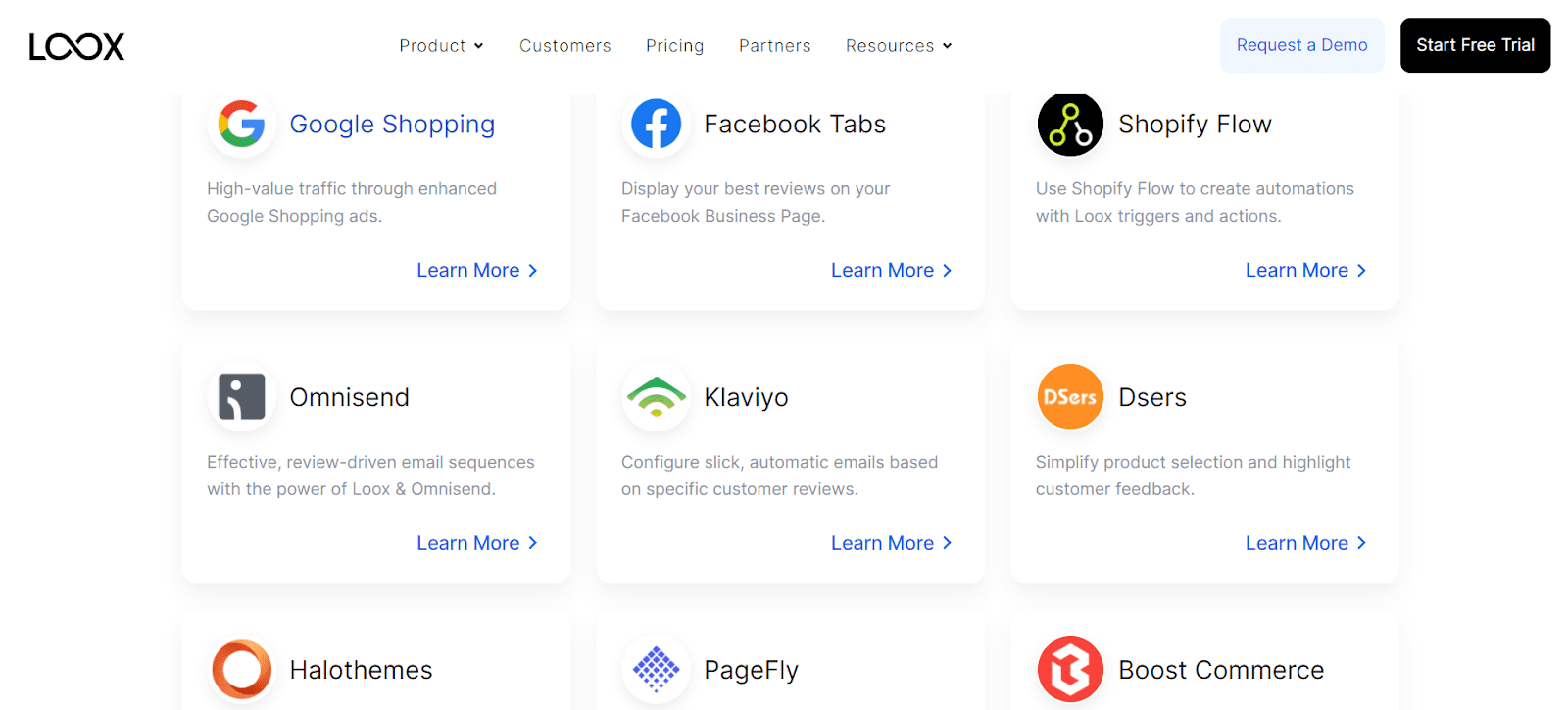 Some of the most popular Loox integrations include Google Shopping, Facebook Tabs, Shopify Flow, PageFly, Recart, Smile.io, PushOwl, Zipify Pages, Firepush, Rise.ai, and so on.
You can integrate your Shopify store with Google Shopping to show user-generated product images on the Google shopping search engine. Loox and Google Shopping integration allows merchant reviews to flow directly onto their Google Shopping ads, and over time, it will help you rank higher in Google.
With integrations, you can also send automatic emails and push notifications to your customers. Moreover, some integrations let you stylize your reviews. As a result, you can increase the effectiveness of your landing page and gain more customers. 
Discounts
You can encourage your customers to write a review in return for something. For example, if people take the time to leave a good review, you can award them a discount.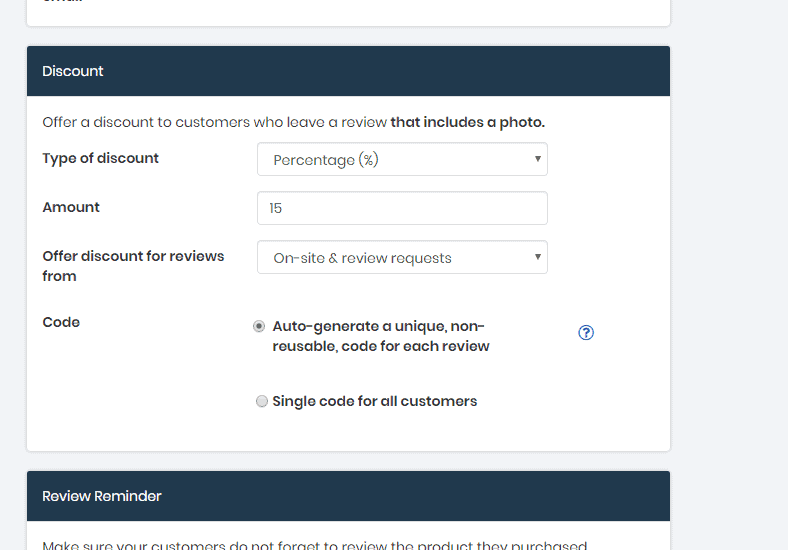 If a customer leaves a review, Loox will automatically recognize their identity. You can set up an automation to provide them with a discount coupon that they can use on their next purchase.
Control Over Reviews
When a customer leaves a review, you can respond and thank them for their positive feedback. All of your responses will be publicly visible, so take advantage of this opportunity to express your gratitude to your customers.
You have complete control over which reviews appear on your site. So, if you find something offensive, you can go to the admin panel and hide it. 
Dedicated Review Section
Loox provides a clean customer review section for your website's visitors. In addition, you can create a single page to display all your reviews to your customers, known as the Happy Customers page.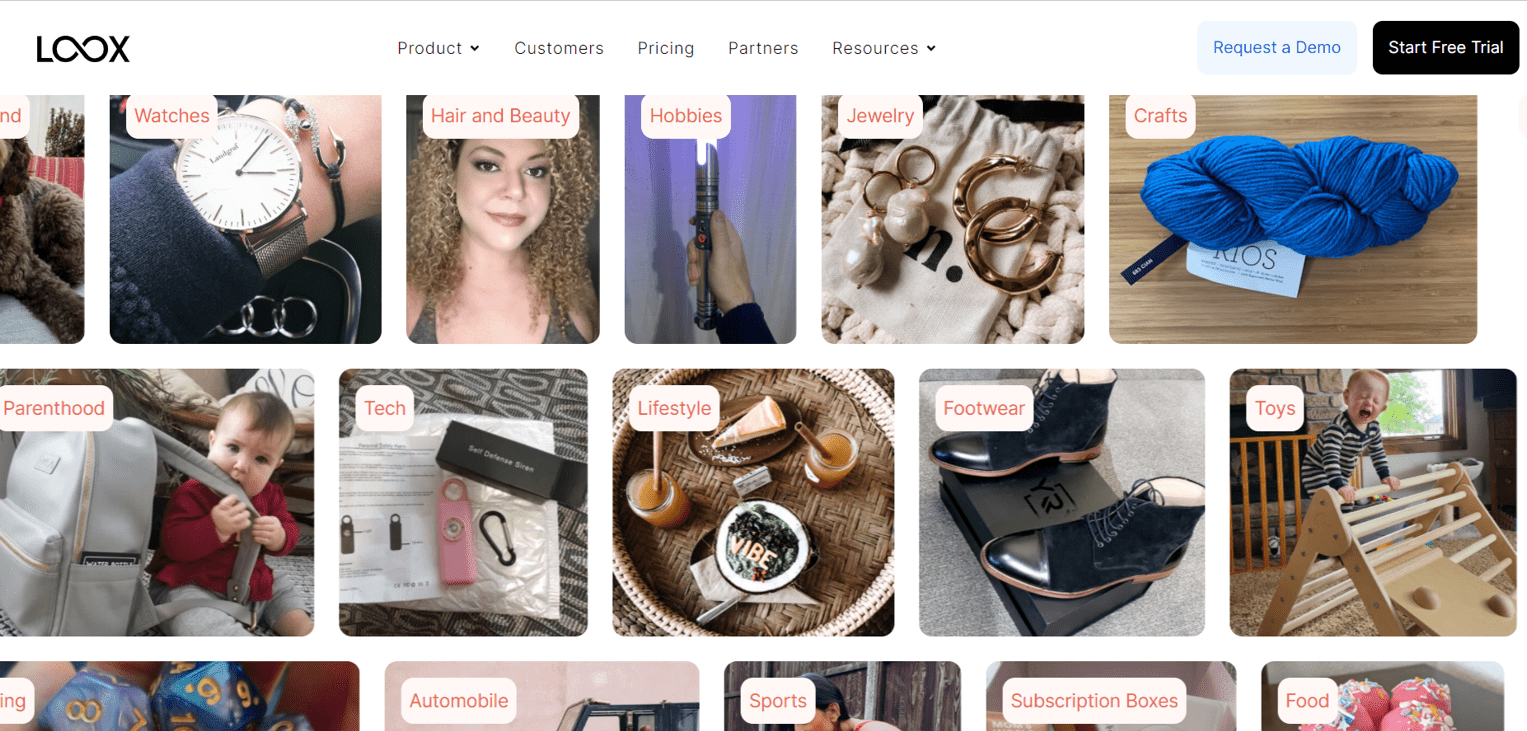 As you are showcasing all reviews in a simple view, it can immediately capture the attention of your visitors. You can also make a slideshow consisting of photo reviews that a site visitor can swipe through. 
Rating Widgets
Your customers will judge the products through star ratings. Products with a high star rating will look more attractive to customers. Loox lets you display this rating widget on your collection or product pages.
In addition, you can create a popup box to show off a particular product review. Thus, you can positively impact your customers about the product and drive their buying decisions.
Loox Review: Pricing
Loox has dynamic pricing, which means you won't have to pay extra if you only send specific review requests every month. In addition, they have a 14-day trial for you to test the product out.
The Beginner plan will cost you $9.99. In this plan, you can send 100 review requests per month. I suggest getting the Beginner plan if you have recently started your store and get 100 orders or less every month.
The Essential plan gives you the full AliExpress importer. If you are doing drop shipping, this plugin will be super effective. This plan will cost you $29.99 monthly. The other two plans, Growth and Unlimited, will cost you $34 and $599 monthly and pack powerful features for bigger stores.

Loox Review: Things I Like
Here are some of my favorite aspects of Loox:
Product photo reviews:

Photo reviews enhance your reviews' authenticity, which you can use to attract referrals.



Easy installation:

The setup process of Loox is easy, and it takes approximately 10 minutes to download and set up without any technical knowledge. Moreover, you're mostly done and ready to go after installation.



Boost Conversations:

Loox has a user-friendly interface to increase your credibility and create an excellent page for customers to browse. It is very smooth, and the widget, popup, sidebar, customized review section can increase your conversion rate.



Integrations:

The integrations make your site look seamless and optimized. Moreover, these integrations improve your website's user experience, attracting more customers.



Direct Connection:

Loox facilitates direct contact with your customers by supporting 17 different languages. So, you can directly speak to your clients in their language. You can also respond to your customer's review, either publicly or privately, and engage with him to learn more about his buying experience.



Bang for bucks:

The most effective methods for engaging with your customers are emails and reviews, and Loox gives you access to them for just $9.99. Recently, they have added a video review feature, which makes it an even better deal.



Automation:

Loox offers you a high degree of automation. The review requests are sent automatically, so you can simply sit back and watch the reviews pour in.
Loox Review: Things That Could Get Better
Loox, like any other tool, is not free from flaws. Here are some of the aspects that I don't like about Loox.
No free plan:

You only get a 14-day free trial to try the features, but there is no free plan.

Lack of AI features:

Loox misses out on some exciting features of the Shopify app, including Shoppable Instagram and AI analysis are not available.

Basic incentive plan:

You must purchase the Pro plan to access all of Loox's features. You can only use the rewards program if integrated with another app. Moreover, this feature is only available in more expensive plans.

Video Review:

Only the more expensive plans include video review.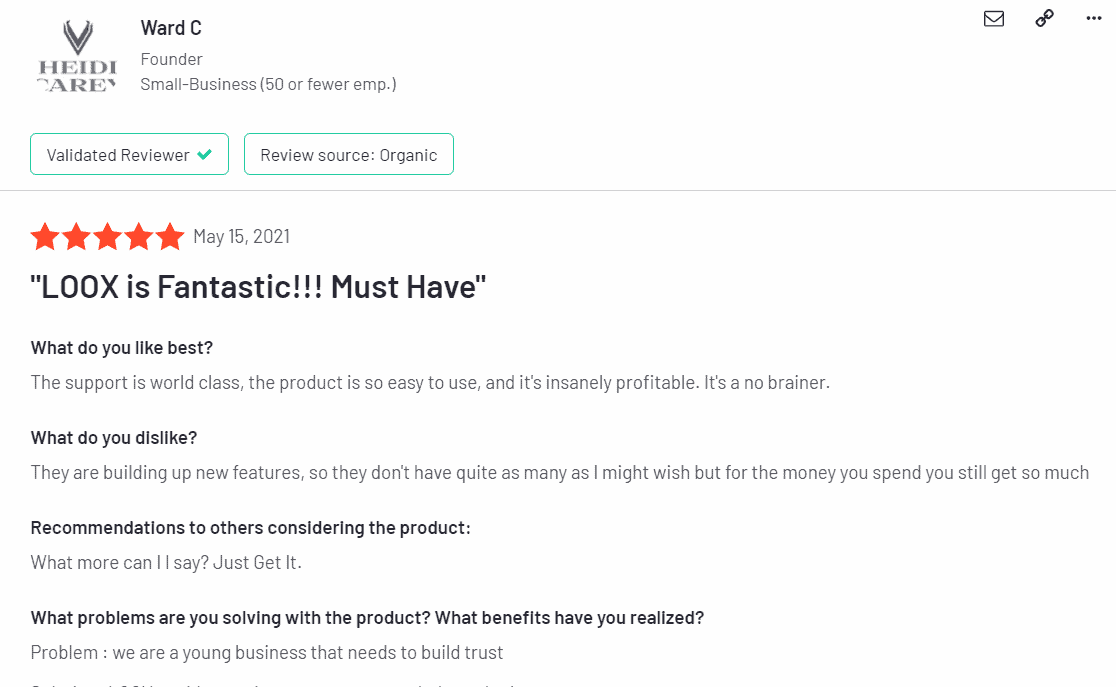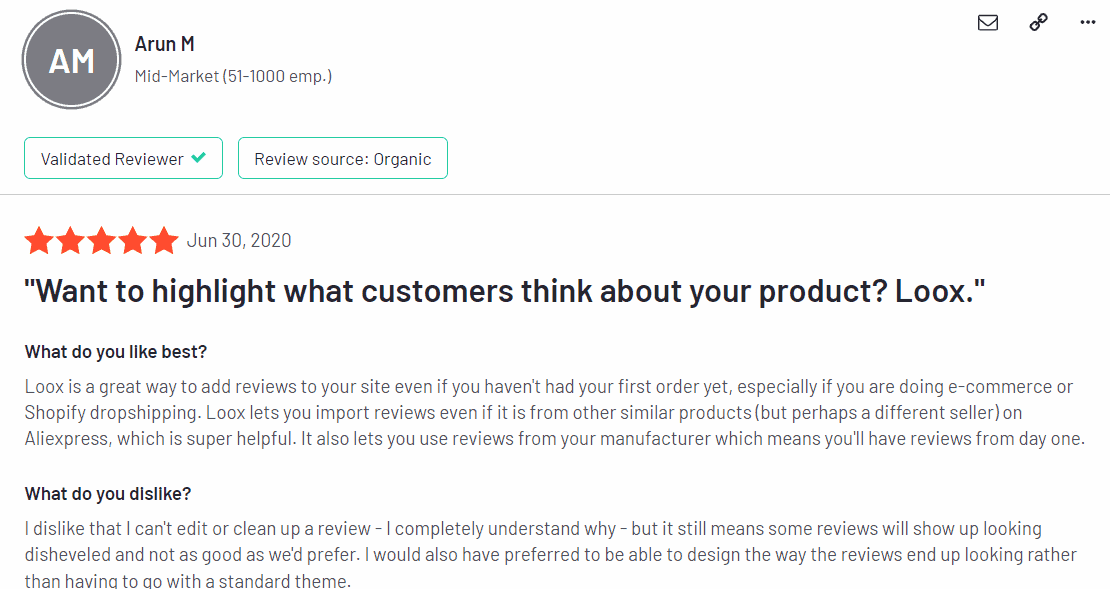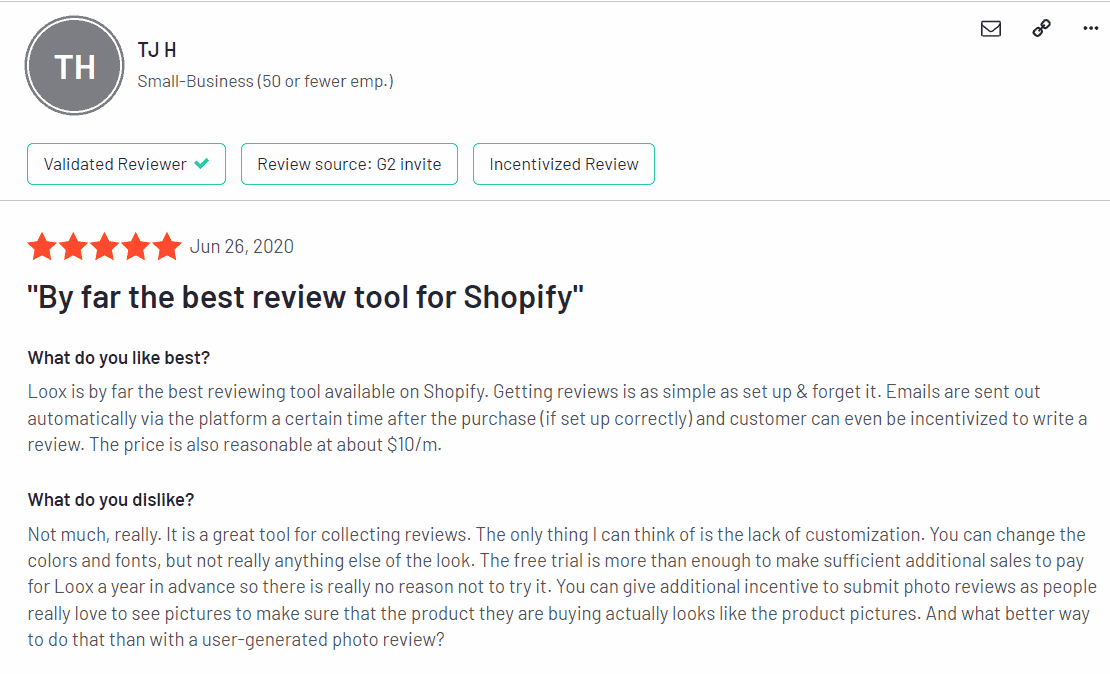 Final Thoughts
There you go! You now have a thorough Loox review to decide if it is the platform you need.
Having an amazing app like Loox for collecting reviews and displaying them beautifully on your Shopify store can be a game-changer. Moreover, its easy integration, SEO-optimized content, automation, and reviews customization will significantly increase your website traffic.
If you're a Shopify merchant looking to add more credibility to your products, Loox is definitely a must-try!