Are you looking to level up your Twitter game? If so, then this Tweet Hunter Review will help you to understand how it is a great ghost writer without all that extra cost.
With Tweet Hunter, you can receive a personal AI-driven ghostwriter, an automatic scheduler, an analytics tool, and a performance predictor, as well as a CRM tool, without having to invest in different software for each function.
So, if you're interested in Tweet Hunter and want to know if it's worth your while, then you've come to the right place. I have personally bought and tried the program, so you don't have to! Continue reading to learn more about Tweet Hunter, including its key features, pricing, and the 3 things I love most about it.
But before we continue, complete disclosure: If you click on some of the links in this article, I may receive affiliate compensation (but don't worry, it won't cost you anything!). I am not being paid by any of these companies to write my reviews. I support some of these programs and use them myself.
Table of Content
Tweet Hunter

Tweet Hunter is an all-in-one tool to help you grow on Twitter. The tool makes it as simple as possible for you to produce high-performing content, develop an audience for your areas of specialization, as well as to monetize your audience.
You can use the program to build your Twitter account at any stage. Whether it's to improve your tweets and threads, broaden your audience, raise your brand's return on investment, or simply engage with others. Tweet Hunter offers a cutting-edge, Twitter-specific AI engine in addition to other unique features that are updated and added to each week.
Thus, Tweet Hunter is more than just another automatic Twitter scheduler; it also functions as an analytics tool, a massive swipe file, an AI writer, and a CRM tool, all rolled into one.
Tweet Hunter Review: Key Features
Tweet Hunter does a lot of things to help you in a lot of different ways. Some of its key features include:
Content Creation
Tweet Hunter comes with a searchable library of 2M+ high-performing tweets and a 4K+ collection of staff-curated tweets across 10 categories.
Tweet Hunter works with the best ghostwriters to curate the top tweets in different categories and niches, which you can take from to create & share your own personalized Tweet collections.
The tool also gives you the option to run searches based on specific topics, keywords, accounts, or even @handles. While running a search, you can also set filters to exclude certain keywords and people.
With its powerful AI features, Tweet Hunter also gives you automatic inspiration suggestions, daily custom & ready-to-publish tweets, thread ideas, thread hook generators, etc.
Last but not least, the AI-powered TweetPredict function shows your tweet's predicted performance even before you put it out.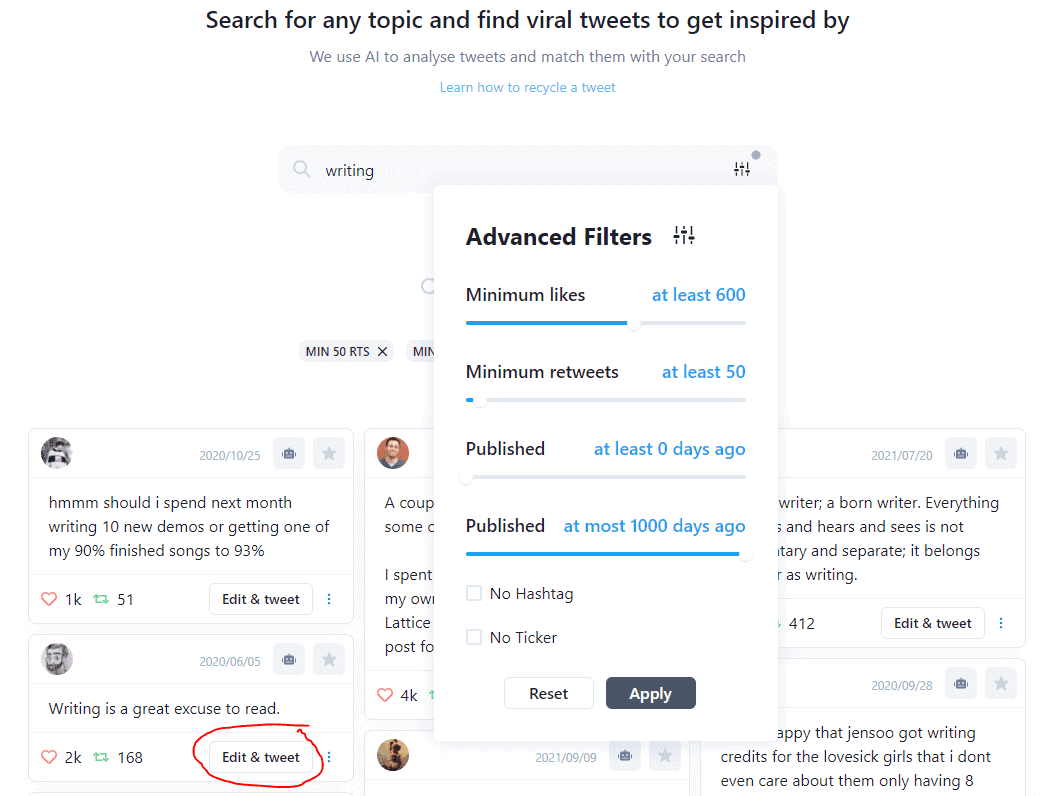 Automate & Schedule
You can use Tweet Hunter automation to save time on low-value tasks like periodically retweeting yourself so users in all time zones can view your content or send direct messages to those who engage with your tweets.
To avoid spamming, you can postpone or schedule tweets and threads (along with emojis, GIFs, photos, and videos).
You can also generate and store drafts of your Tweets with just one click, queue up your content, and determine the optimum time to tweet depending on follower activity.
Sending out interaction-based materials is made simple with the help of the Auto DM capabilities, which eliminates tiresome copy-pasting.
Tweet Hunter also lets you schedule regular Auto Retweets, as well as the option to stop retweets after a few hours to keep your profile clean.
Twitter CRM
Tweet Hunter can also act as a CRM tool for your Twitter account. You can look up trending tweets in the category you deal in and extract user data for those who liked and interacted with those tweets. When you import that extracted data to Tweet Hunter, you can easily view and reply to tweets from those accounts, which helps you nurture relationships, increase your visibility, and close sales even.
With Tweet Hunter's CRM features, you can also reply to relevant tweets for your niche, hide retweets, replies, quote RTs, and more. The AI even helps you generate the best replies and easily reply to all your mentions from one place
You can import and organize accounts into lists based on past interactions or manual selection and even add personal notes to each contact. Once you identify leads, you can reach out to them in 1 click.
Additionally, Tweet Hunter also streamlines your Twitter experience, so you can focus on engaging with only the relevant tweets and the right people. 
Analytics Tools – What Gets Measured, Gets Managed 
With a variety of useful analytics tools, Tweet Hunter enables you to track the top tweets with the most followers, engagement, and reach.
These tools allow you to organize your tweets by date and performance as well as track trends in daily follower growth and individual tweet performance (such as impressions, clicks, engagement, retweets, etc.).
You have the option to publish your stats with the public in addition to keeping track of the trends in your overall Twitter performance over the previous week, month, or quarter.
Besides the above-mentioned features, Tweet Hunter also offers ghostwriting options for multiple clients from a single account, the ability to share a tweet preview link that automatically reroutes to Twitter once it has been published, and the option to add as many Twitter accounts as you'd like (at no additional cost). 
Tweet Hunter Review: 3 Things I Love About Tweet Hunter 
Tweet Hunter offers a lot of useful features, but if I had to pick the top 3, they'd be:
Auto DM
In my opinion, one of Tweet Hunter's most powerful features is the Auto DM function. It can help you sell more things or produce considerable growth for your email list.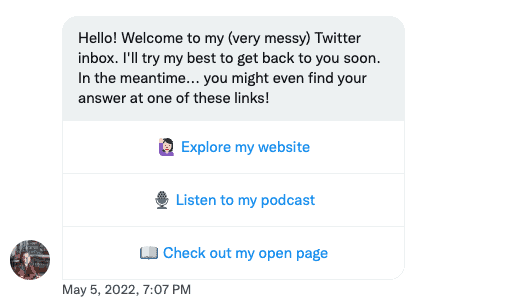 Moreover, you can use the feature to send out automated messages redirecting to your other content, podcasts, website, etc., every time someone enters your inbox.
From a marketer's perspective, auto DM is also useful for sending out DMs to people when they complete certain actions. You can decide which actions (such as following your account, retweeting, or leaving a comment on your initial tweet) will qualify someone for an auto-DM. 
Then you can toggle the auto-DM option on and as soon as someone completes the designated action, Tweet Hunter automatically sends them your pre-written DM. This way, you can give out your freebies and resources without the need for tedious copy-pasting.
So whether you're a marketer or seeking to increase subscriptions to your newsletter and gain more website traffic, this feature is a dream come true.
Tweet Inspiration
It's simple to find content inspiration with Tweet Hunter, thanks to its library of 2M+ high-performing Tweets and a staff-curated list of 4k+ tweets across 10 distinct categories.
To find out what's trending, you can search Tweets by account, category, or keyword. You can also make lists of your favorite accounts on Twitter to draw ideas from. Additionally, the option for AI-generated Tweets and prompts makes it, so you need to spend less time on creating content.
You can essentially use Tweet Hunter as your personal ghostwriter, and sometimes the AI-generated text is what inspires you to come up with innovative new ideas.
Auto Plug
If you have a newsletter or product you want to promote to your followers, simply sharing the link makes Twitter limit your reach.
However, your reach rises if you plug it in after a tweet that received a large number of likes. To get around that particular issue, Tweet Hunter adds your plugin automatically once your initial Tweet reaches a specified threshold.
This feature is particularly helpful for those trying to grow an email list or sell a product.
In addition to these 3, I like that you can auto-retweet your tweets to increase impressions and plan content for the entire week or even the entire month in advance. The program also helps you in planning when to post based on when followers are most likely to engage.
Though scheduling and automation are not particularly unique to Tweet Hunter, I still found those features immensely helpful. Other than that, Tweet Hunter also offers some amazing free tools, including:
Tweet Hunter Review: I Wish Tweet Hunter Had
There's a lot of stuff I like about Tweet Hunter, and honestly, the product does what it's supposed to do pretty well. So though there isn't much I could ask more of Tweet Hunter, there are still a few things to nitpick about.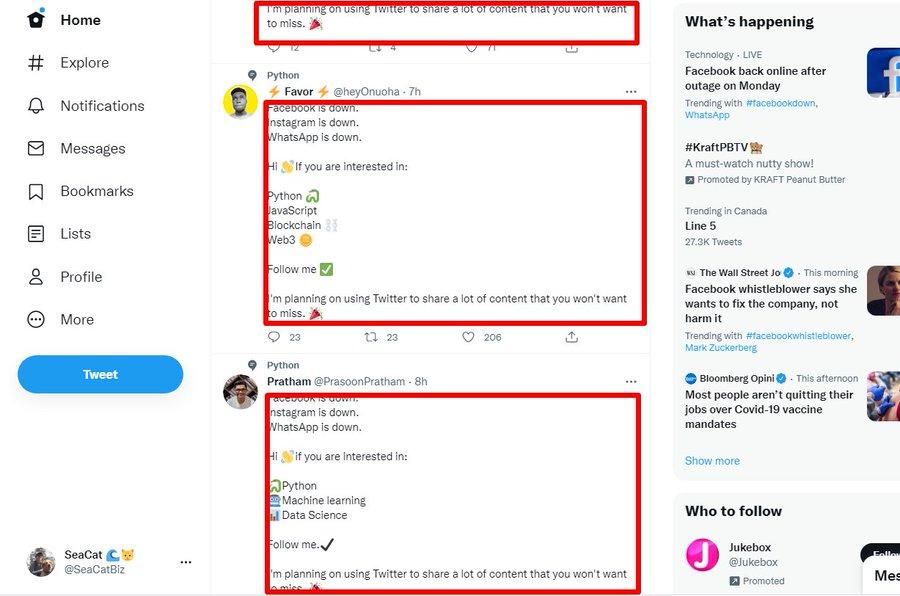 Admittedly, much of what we see, hear, or read about is inspired by something else, there's still a moral concern when you're copying someone else's ideas word-to-word. And that's one of the concerns I had about the software. 
There are both good and bad ways of using Tweet Hunter just like every other tool. And though the tool helps you automatically rewrite the viral tweets you're drawing inspiration from, the setting was optional thus far. 
While Twitter itself has measures in place to curb plagiarism, it mostly applies to bot spam, not individual Tweets. I'm trying to build a unique identity on Twitter myself, and I'd hate it too if someone used tools like Tweet Hunter to copy my original ideas. But since Tweet Hunter introduced spam protection features recently, the tool itself now has measures to seal the gaps in Twitter's policies to prevent blatant copying.
The second thing I could nitpick about Tweet Hunter is the lack of real-time analytics. Though the available analytics options are very comprehensive and helpful, you get to monitor the metrics for the last 7 days, 30 days, or 90 days.
So yes, Tweet Hunter already offers a lot more than the competition, but adding a real-time analytics feature could be the cherry on top of an already great product.
Tweet Hunter Review: Who Is It For?
The purpose of Tweet Hunter is to help any brand (company or personal) and user on Twitter increase their following, increase sales, subscribers, and clients, as well as achieve any other business objectives on Twitter.
The program is excellent for creating a Twitter account from scratch or maintaining the growth of an account that already has a following.
If community development, lead generating, or increasing engagement is your aim, it's a great tool to speed up the process.
Tweet Hunter Review: Pricing – It's a STEAL at this price
Tweet Hunter offers 3 different pricing plans. Starting at $49/month, the starter plan includes every other feature on Tweet Hunter, except for those involving AI-writing. For the AI features, you'll have to pay $99 per month. Besides that, there's also a customizable enterprise plan. 
If the pricing seems a bit hefty, you'd be glad to know that Tweet Hunter runs significant discounts depending on the follower size of an account.
Additionally, all of their subscriptions come with a free 7-day trial and a 30-day, no-questions-asked return policy. This practically implies that if you change your mind after using Tweet Hunter for up to 37 days, you may still request a refund.
Final Verdict
Tweet Hunter gives you a huge boost in terms of whatever you want to achieve on Twitter. If you want high-performing tweets but have a hard time figuring out what works and what doesn't, Tweet Hunter's impressive tweets library and staff-curated tweets might just be the inspiration you need. 
Again, if you're just starting out on Twitter and want to network and build a community, you can definitely make use of the Auto DMs and CRM features.
Lastly, if you're focused on consistently pumping out relevant tweets that will reach your followers at the right time, Tweet Hunter can not only help you schedule a month's worth of content in mere hours, but also show how well the tweet can perform, and when the engagement will be highest.
So, if you want to grow a Twitter account quickly, the best way is to use Tweet Hunter and judge the results for yourself. If you're interested in testing out Tweet Hunter, you can sign up for the free trial here.
Disclaimer: I may get affiliate compensation for some of the links in this article (at no cost to you), but only if you decide to purchase a paid plan. However, whatever I review here, they are some of the best tools I tested, and I support them personally. You can get further details in my privacy policy & affiliate disclosure.
P.S: To see how I've been using Tweet Hunter, you can connect with me on Twitter, and check out some of my viral tweets. I write about everything from growth marketing to advertising, brand building, startups, and tech. If you look closely, you may even spot all the different Tweet Hunter features that I personally use to boost my Twitter performance!