Looking to buy or learn more about TripleWhale? Here's a review that will help you decide if it's for you and what do they do better. TLDR: Attribution is the answer.
Also, getting data from multiple channels and trying to align them for actionable insights is one of the most difficult aspects of running a successful business. Many corporate leaders find themselves switching between tabs, attempting to connect the dots between multiple data and monitoring systems. All those are worries of the past with Triple Whale.
If you're reading this, you're undoubtedly curious about Triple Whale and how it may benefit your company. Fortunately, you've stumbled upon the right article. Stay tuned, there are some features below that just blew my mind.
During my position as the Shopify ecosystem's Head of Growth, I've had plenty of opportunities to use these tools. As an e-commerce growth marketer, I've personally tried and evaluated Triple Whale, so you don't have to!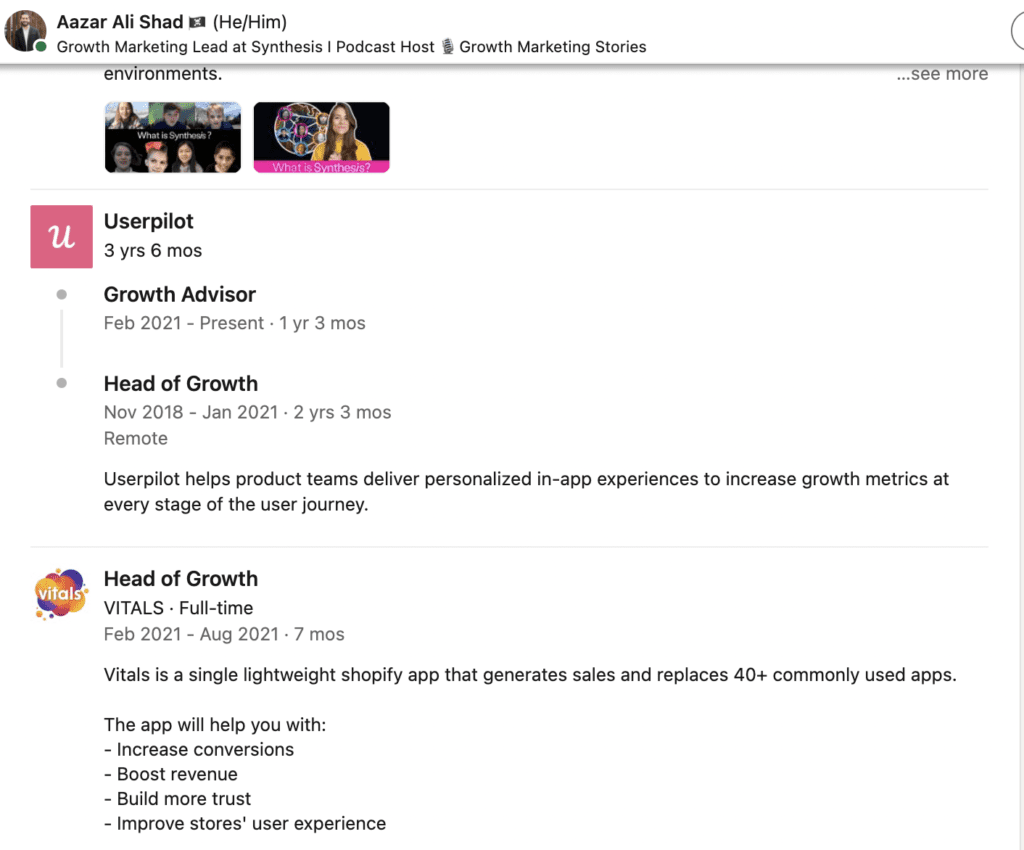 So rather than wasting time and money on similar tools, read this solid Triple Whale review to learn everything you need to know about Triple Whale. In this article, I'll cover the benefits and drawbacks of Triple Whale, as well as what experts have to say about the data aggregation tool.
Before moving on, if you are in DTC or Paid Social Marketing, then join 4000+ marketers and founders in this newsletter. It's free, and you'll learn the latest paid marketing tactics:
But first, full transparency: I may get some commission if you click on some of the links in this article, but it won't cost you anything. Also, these companies have not paid me to write this review. I use these tools every day, and I support some of them regardless. 
Table of Content
Triple Whale Review: Overview

Triple Whale is a relatively new eCommerce and marketing solution that aims to provide organizations with superior financial, reporting, and ROI insights. Triple Whale is available as a mobile and web tool that visualizes your most essential metrics in one place, including Net Profit, ROAS, LTV, and more.
Triple Whale's home page functions as an all-in-one dashboard for all the data you'd otherwise have to find by switching between numerous apps and tools. You can view all of the data you need to make critical decisions on a laser-focused home page in the easy-to-use Triple Whale app. Important metrics are displayed on the home page, such as :
Net Profit 

ROAS and blended store ROAS

Facebook Ad Spend & ROAS

CTR and AOV on your Google Analytics

Sales and Revenue per Session, etc.
Watch how an agency owner uses Triple Whale how he uses for his 7-figure client:
The online app and mobile app are both sleek, basic, and to the point. With ROAS, LTV, AOVs, CRs, and other metrics, each dashboard is very actionable. The software may be used as a daily source of critical information, and it is currently used by numerous organizations with annual revenues ranging from $30k to $20M.  
The Triple Whale app integrates with all of the tools that company executives use on a daily basis to provide a clear, visual picture of what's going on with each thread of their sales strategy. Facebook Ads, Google Ads, Shopify, Google Analytics, and Klayviyo are just a few of the platforms that the tool currently connects to. Apart from these, Triple Whale is regularly introducing key integrations to other apps such as ReCharge, Gorgias, Yotpo, and many more. 
Features 
Profit Tracking

Zero Code Metric Builder

Customizable Dashboard

Activity Feed and Portfolio View

Real-Time MER Tracking

Currency Conversion 

Cohort Analytics and Segmentation 

Sales Cycle Tracking

60/90 Day LTV Calculations 

Product Bundles

AOVs

All Channel Attribution 

Predictive Analytics

Advanced Reporting 
Pros 
All-in-one, customizable dashboard shows key metrics from all integrated software 

Automatically pulls data from integrated platforms to show key insights

No coding knowledge required even for advanced configurations

Dashboards can be placed on other platforms and websites

Offers advanced reporting and predictive analytics features

Better attribution features than popular advertising platforms
Cons 
The relatively new software is still in the beta stage

Inventory Management and Customer Segmentation haven't been made available yet

Only available for the Shopify platform
Pricing 
The cost of Triple Whale is determined by the revenue achieved by your company in the previous year. Aside from your revenue, the sort of membership you choose is another differentiation for Triple Whale pricing.
Triple whale offers two distinct plans to pick from. However, each of them has varying rates based on how much revenue you make within a specified period. The "Triple Whale" package costs $100 per month, while the "Triple Whale + Attribution" package costs $300 per month for customers earning less than $1 million in a year.
If you add Attribution to your plan, you'll also have access to the Triple Pixel, which provides channel clarity and advanced business insights that work even after iOS 14. All facets of your company's success can be tracked in one place with Triple Whale Pixel.
Aside from attribution, both packages provide the same level of assistance. Both options include access to mobile and web applications. You'll also be able to connect your system to a variety of analytics tools, like Google Analytics, Facebook Ads, and Google Ads, among others.
If you're considering using Triple Whale, feel free to use my discount code SHAD15 to avail a 15% discount!
2 Triple Whale Features That Blew My Mind
Marketers care about attribution of ad performance and how well they are doing against others while running performance marketing — Triple Whale made it easier for us to know that.
How well are you doing on FB with your creatives (because FB isn't accurate sometimes)?
I used to do that manually by checking creative performance in excel sheet. Now, you don't need to worry.
Now you can compare metrics of each ad below.
Step # 1 – Pick a metrics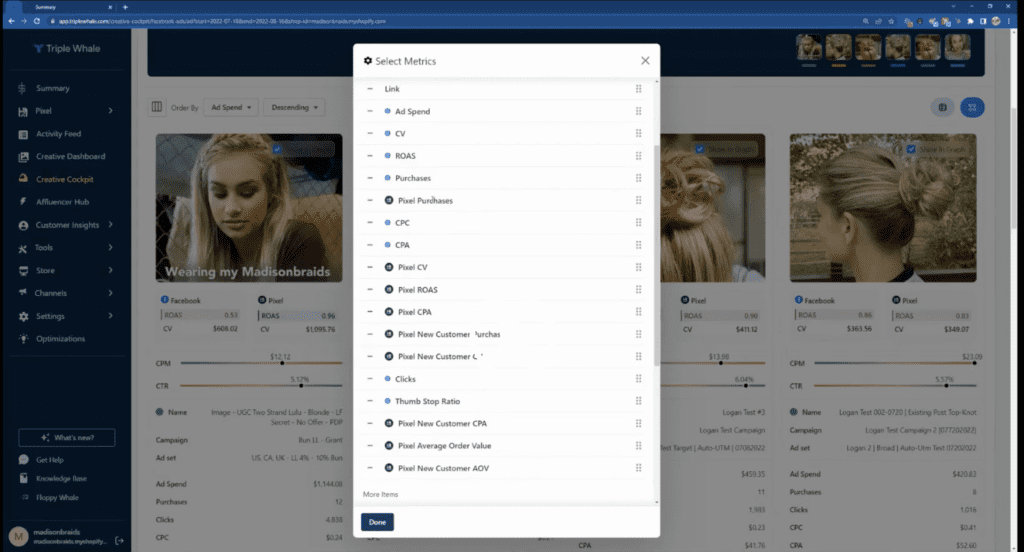 Step 2  – Compare ROAS of each creative.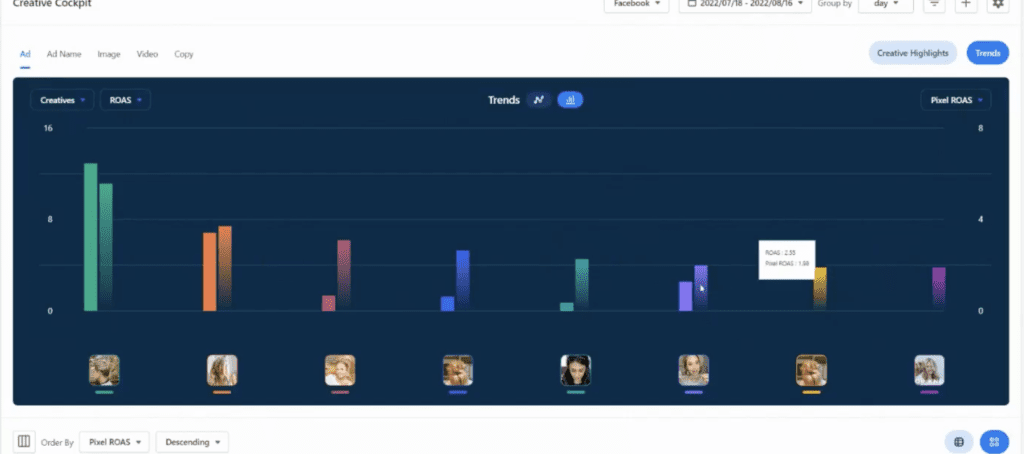 Step 3 – Double down on metrics of each creative to learn more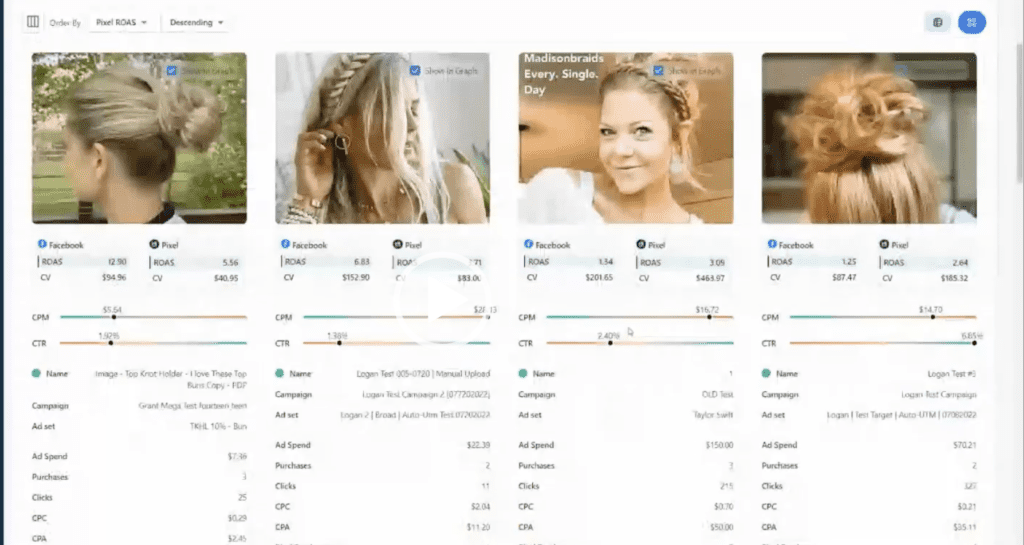 Triple Whale Benchmarks
Now, you can find out how well are you doing vs others in your industryon Facebook:
Another view:

Best For
Triple Whale is a simple, well-designed solution for eCommerce owners who want to make data-driven decisions by staying on top of the key insights from their business.
Though it can be used by a wide range of companies, a complex data aggregator like Triple Whale is ideally suited for medium to large companies conducting campaigns across several channels including Facebook Ads, Google Ads, Snapchat, Tiktok, and so on.
The annual revenue for businesses that currently use Triple Whale fall anywhere from less than $1M per year to more than $20M a year.
Triple Whale Review: 3 Reasons to Try Triple Whale
Though there are multiple reasons to try Triple Whale, here are the top 3 reasons industry experts are leaning into the data aggregator:
Triple Pixel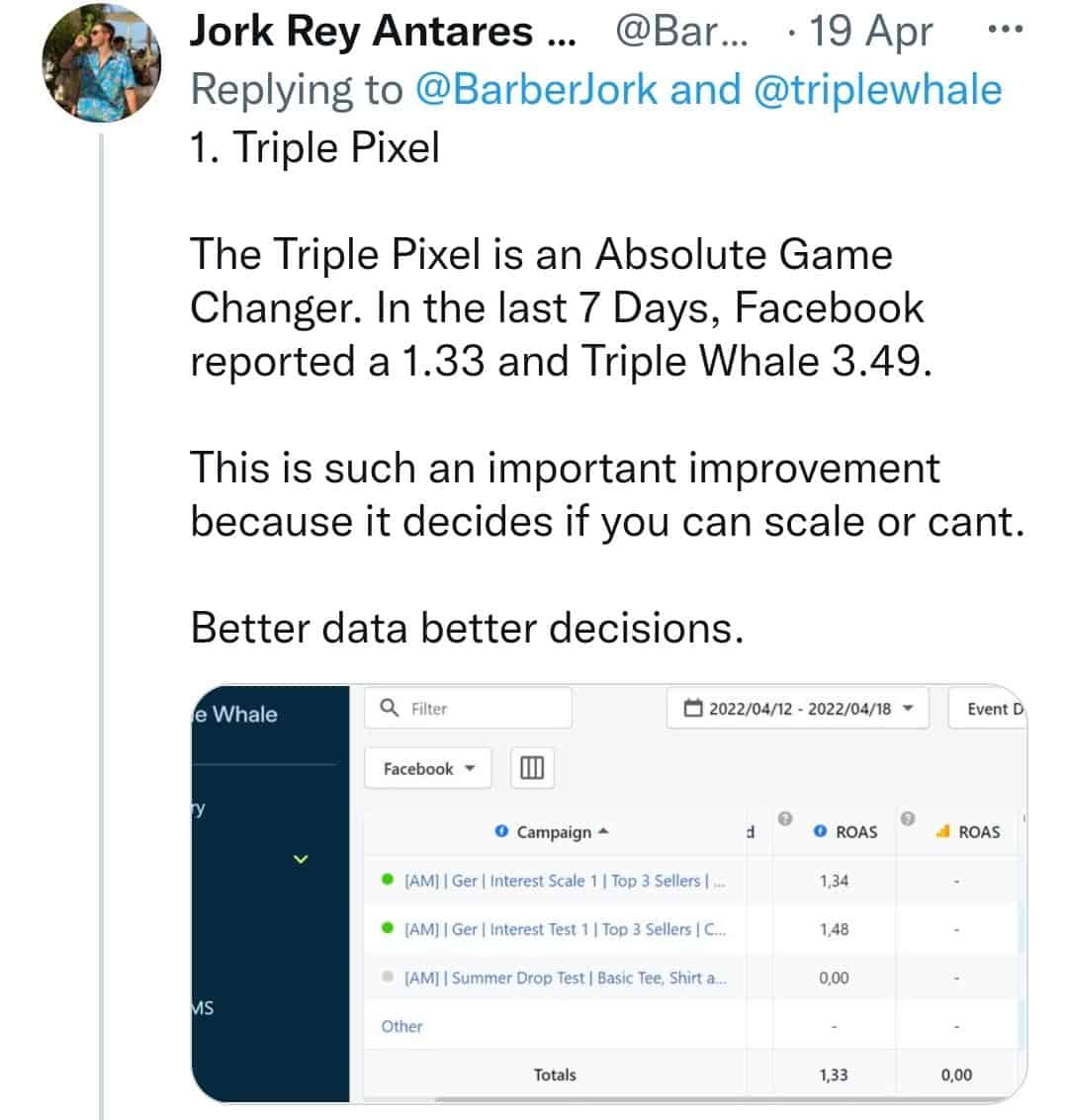 Whereas long-time users must be aware of Facebook Ads' proclivity to over-or under-report sales, Triple Whale not only aligns your statistics but also makes it easier to determine where you should be spending your budget in the future.
The Triple Pixel technology from Triple Whale gives businesses a behind-the-scenes look at the consumer experience, including more than simply first- and last-click attribution. 
To help you figure out what's truly driving your sales, the server-side pixel tracks the whole customer experience using all of your third-party data. You can make a more informed campaign and ad investments if you have a better understanding of what your clients are doing at each point of the buying cycle.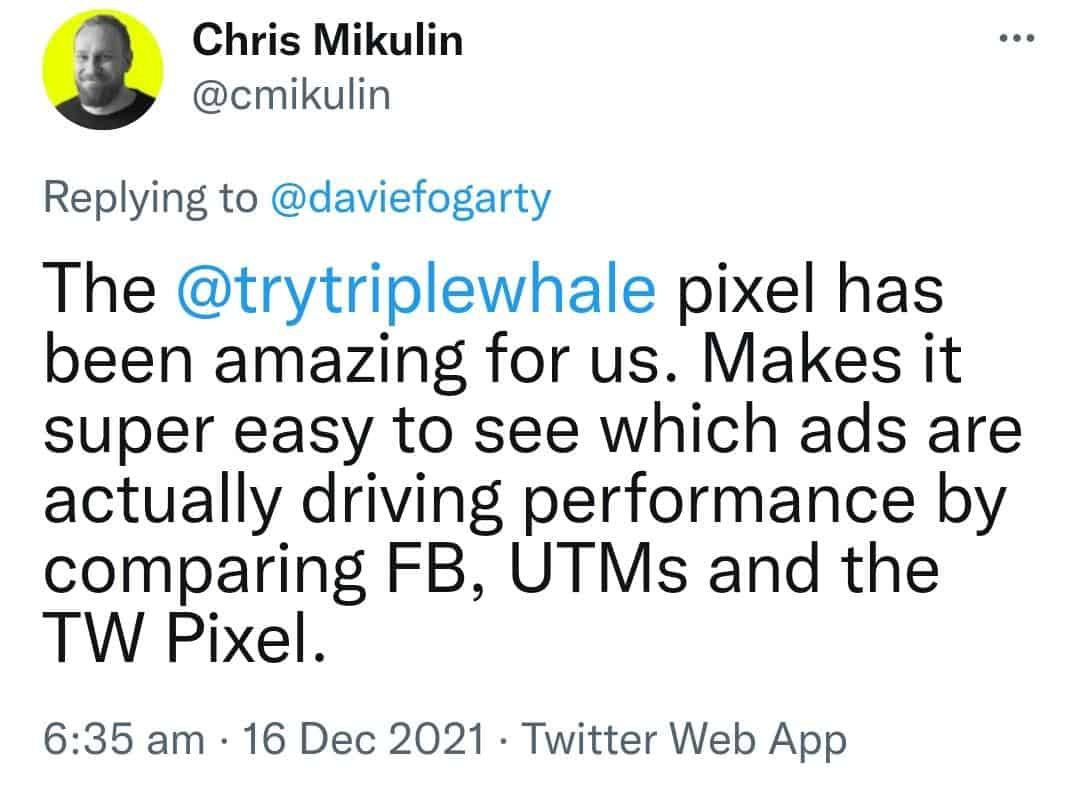 Furthermore, Triple Whale's innovative reporting environment is continually growing, allowing you to see the entire customer experience, as well as LTV calculations and cohort analysis, all from one tab.
Cohort Analytics
Triple Whale's cohort analysis and LTV calculations feature is another fascinating feature of the data aggregator. Triple Whale displays such metrics in easy-to-understand visualizations, and it does so without requiring any complicated configuration or setup.
Moreover, Triple Whale can help you to forecast future income for any cohort based on your data history. You can also segment each cohort by first product purchased, discount code, or any other indicator.
Predictive Calculator
You can input your operating costs in Triple Whale to get a complete picture of your net profit and not just your ROAS. With the Triple Whale calculator, you can estimate how much your profit will vary if specific parameters, such as sales, conversion rates, and so on, change by a certain amount. This can assist you in using the prediction calculator to build data-driven targets and goals for your team.
Other Advantages
Additionally, with customer spend entries, Triple Whale allows you to track business profit from top to bottom. In addition to creating LTV projections and tracking key metrics, the data aggregator can be set up to give you (and your team) automated reports on a weekly, daily, or monthly basis.
With Triple Whale, you can also create cause and effect models with data from your business processes. Changes in your processes are also recorded so that you may assess their impact on your business. If you're working with many stores, you can keep track of them all from one central platform.
Last but not least, Triple Whale seamlessly puts together different expenses that are vital for you to keep track of, such as the cost of products sold, sales data, advertising spend, shipping costs, payment gateways, handling fees, and custom expenditure like salaries.
Interested in giving it a shot? Use my discount code SHAD15 to get a 15% discount!
Final Thoughts
Triple Whale is a simple, well-designed solution for e-commerce owners who want to stay on top of everything going on in their business. Triple Whale centralized all of the data you need to make challenging decisions in one place, without the need to jump between several tabs and tools.
Furthermore, as Triple Whale grows, they're planning on introducing additional features, such as incorporating AI into the app to help you eliminate errors and spot patterns more quickly in the data of your linked tools. All of this, together with Triple Whale's extensive reporting, predictive analytics, and tracking capabilities, make it a product worth considering.
Interested in trying Triple Whale yourself? Better yet, you can also use my code "SHAD15" to get a sweet 15% off your bill!
Disclaimer: I may receive affiliate compensation for some of the links mentioned (at no cost to you) if you decide to purchase a paid plan. However, these are some of the best tools I have tested, and support them personally. You can get further details in my privacy policy & affiliate disclosure.