Triple Whale is my favorite marketing attribution software for ecommerce stores but it isn't a good fit for everyone. Why? Triple Whale's attribution mechanism is different, you might want to start something cost effective or you are looking for a solid attribution software with pixels, not clicks. I tried all Triple Whale Alternatives and I'm summarizing them for you in this article. 
Although, I am a still huge fan of Triple Whale.
During my time as the Shopify ecosystem's Head of Growth, I've had plenty of experience using marketing attribution & analytics software. And now, as an e-commerce growth marketer, I've personally tried and tested some alternatives to Triple Whale, so you don't have to! 
Before moving on, if you are in DTC or Paid Social Marketing, then join 4000+ marketers and founders in this newsletter. It's free, and you'll learn the latest marketing tactics:
Read on to learn about the key features, pros, cons, and pricing for some of the best Triple Whale alternatives. But first, full transparency: I may receive some commission if you click on some of the links in this article (at zero cost to you!). Additionally, these companies do not pay me to write these reviews. I used these tools myself, and I support some of them regardless.
Table of Content
Triple Whale
Triple Whale centralizes the metrics from all your marketing channels into an app on your mobile or web. By combining crucial marketing metrics from all your channels into one dashboard, Triple Whale simplifies, informs & saves you time. 
Moreover, by integrating with eCommerce & marketing data from TikTok, Facebook, Google, etc., Triple Whale lets you easily track and analyze all your data at once for actionable insights. 
With Triple Whale, you can forecast & track your most crucial D2C metrics, learn about customer spending habits, run tests across all your ad channels, and more. Their AI helps you reduce errors and run your entire Shopify store right from a dashboard in your pocket. Triple Whale is currently used by many organizations earning annual revenues from $30k to $20M.  
For a more detailed breakdown of the tool, head over to my Triple Whale review!
Features
Customizable Dashboard

Profit Tracking

Sales Cycle Tracking

Zero Code Metric Builder

Real-Time MER Tracking

All Channel Attribution

Cohort Analytics and Segmentation  

60/90 day LTV Calculations 

AOVs

Advanced Analytics and Reporting 
Pros
Automatically collects and analyzes data from integrated platforms




The customizable all-in-one dashboard summarizes metrics from all integrated channels

Requires no coding knowledge, even for advanced configurations 

Advanced analytics and reporting features

This used to be a con but now a pro – real time tracking. This is what their team told me, "In truth, everything is updated in REAL-TIME apart from Ad Metrics that are updated every 15 MINUTES."
Cons
Only offers click-through tracking

Relatively more expensive than alternatives

Only available for the Shopify system
Pricing
Triple Whale pricing depends on your annual revenue and your membership type. There are two distinct plans – the Triple Whale package costs $100 per month, while the Triple Whale + Attribution package costs $300 per month for customers earning less than $1 million in a year.
Though Triple Whale is a great tool, with a starting price of over $100/month, it may not be affordable for all. Moreover, users who need pixel tracking and real-time data processing will find that Triple Whale does not meet all their needs. And that's where the other alternatives come in.
Best Triple Whale Alternatives #2: Northbeam (For Large Shops with Pixel Technology) 

Northbeam is a solid eCommerce analytics platform designed to minimize advertising waste and maximize marketing budget. With attribution & mixed channel paths, Northbeam helps digital marketers solve key marketing challenges. 
Northbeam sets itself apart with hourly data refresh, real-time data processing, and their 3.5 years of expertise in pixel training– all of which help them paint a more truthful picture, however, Triple Whale claims that they also do real-time processing now..
Northbeam's comprehensive attribution pinpoints where the revenue comes from, so you can efficiently maximize ROI. Northbeam also lets you customize reports on the fly, set custom alerts for ad overspends, and use machine learning to track potential customer sources. Moreover, Northbeam cleans and arranges the data it collects for easy understanding.
Northbeam claims that companies (e.g., The Ridge, HexClad, and Kizik) show an average 44% revenue increase after onboarding onto the platform. Besides integrating with storefronts and advertising API to collect customer-level data, Northbeam also integrates with Facebook Ads, Tiktok, Google Ads, Snapchat, Shopify, Amazon, Klaviyo, and more.
Features
Comprehensive attribution goes beyond clicks to identify customer traffic

Collects, cleans, and visualizes first-party data

Quickly share top-level insights with Snapshots for team collaboration

Attributes every conversion with machine learning to identify all revenue sources

Helps understand customer paths to track how customers find, evaluate, and buy products
Pros
Cleans data by stitching and mapping customer activity across channels and devices

Aggregates across all possible customer touchpoints to give richer data sets with no attribution limits

Focuses on pixel-based tracking to provide more truthful insights than just click-based.

Offers personalized machine learning models that deliver performance forecasts and enhanced multi-touch attribution

Data is refreshed every hour for reporting

Empowers every client with data interpretation knowledge
Cons
Far more expensive than alternatives with a starting price of $800 per month

Suitable mostly for enterprises and large businesses
Pricing (I know it is not super clear so here you go)
Northbeam features powerful data stitching, cleaning, and reporting features powered by machine learning. But all these features come with a hefty starting price of $800/month for clients with up to 250k monthly views.
With the price progressively increasing for greater monthly views, the costs can be as high as $21,250 for 5M to 15M views.

You should definitely read this Northbeam review to learn more, I go in detail.
Verdict: Between Triple Whale vs Northbeam — Northbeam is more enterprise and bigger shops with much detailed feature rich and pixel rich data analytics and attribution (but it is worth it). You'll save 1000+ hours of coding and maintenance if you do it yourself.

Looking for a cutback? Use my code AAZAR-SHAD-22 for 10% off! 
Read my review on North Beam to dive detail here
Best Triple Whale Alternatives #2: Cometly 

Cometly is another e-commerce-focused marketing attribution solution. The tool's enhanced analytics and attribution help advertisers maximize their advertisement profits.
With Cometly, marketers can quickly grow and track their Facebook ad campaigns, get data in real-time, and identify which ads are driving sales. Cometly is ideal for both teams and individual Facebook marketers. 
Features
Accurate ad attribution

Precise ad spend tracking

Direct integration with Shopify and Facebook APIs

Easy data analysis
Pros
Easy to set up

Server-to-server connection between Shopify and Facebook

Provides a 14-day free trial
Cons
Fairly new software

Few integrations available besides Shopify and Clickbank
Pricing

Besides a 14-day free trial period, Cometly offers a simple pricing structure that scales based on ad spend. Cometly offers three plans, from the Pro plan for $199/month to the Enterprise plan for $499/month. Cometly also gives you a 20% discount if you go for annual billing. 
All Cometly subscriptions come with features like Ads Management, Unlimited stores and team members, advanced reporting, and more. If you want to test Cometly yourself before subscribing, you can sign up for a free trial or book a demo.
Update: Now they have a completely free version too.

Read my full review regarding Cometly
Best Triple Whale Alternatives #3: Admetrics.io (Deep Adtech experience) 
Having a team with almost 20 years of experience behind it, Admetrics is another solid alternative for Triple Whale. Admetrics Data Studio is an all-in-one marketing data warehousing, user journey monitoring, and attribution solution. With Admetrics, you get a complete picture of how paid and non-paid marketing initiatives contribute to your business.
The fully privacy-compliant user journey tracking feature integrates with your existing consent system, requiring no coding knowledge to set up. Moreover, Admetrics' exclusive attribution algorithms can precisely attribute the sales to each touchpoint, channel, and campaign once the user journeys have been monitored. 
Admetrics' first-party data analysis features set it apart from Triple Whale. This shows you which product and variant have been selling through a specific ad, making retargeting and segmentation easier. Besides that, Admetrics offers higher customer journey visibility with its server-to-server data transfer with Meta, which tracks data for all customer conversion events.
Features
AI-based Predictive Audiences feature predicts purchasing intent for retargeting and prospecting

Creative reporting easily finds images, videos, and copy that generate maximum sales 

Shareable dashboard for reporting ROAS, conversions, CTR, and more

Dashboard tracks the performance of campaigns, ads, specific organic referrer domains, etc. 

Unified reporting for KPIs across all media sources and channels

Comes with a proprietary statistics engine to test and compare campaigns, targeting, media strategies, creatives, email copy, product ideas, audiences, and more

Built-in attribution modeling system ensures traffic sources and campaigns are fairly rewarded
Pros
Utilizes first-party data analysis to win more clients

Offers creative reporting across all channels

Server-to-server data sharing with Meta helps improve network performance

The predictive audience feature monitors user engagement in real-time to predict purchase intent

Custom audience features for Facebook and Google Ads assist in precise retargeting

GDPR compliant

Competitively priced
Cons
Only available for the Shopify ecosystem as of yet

Relatively new in the market
Pricing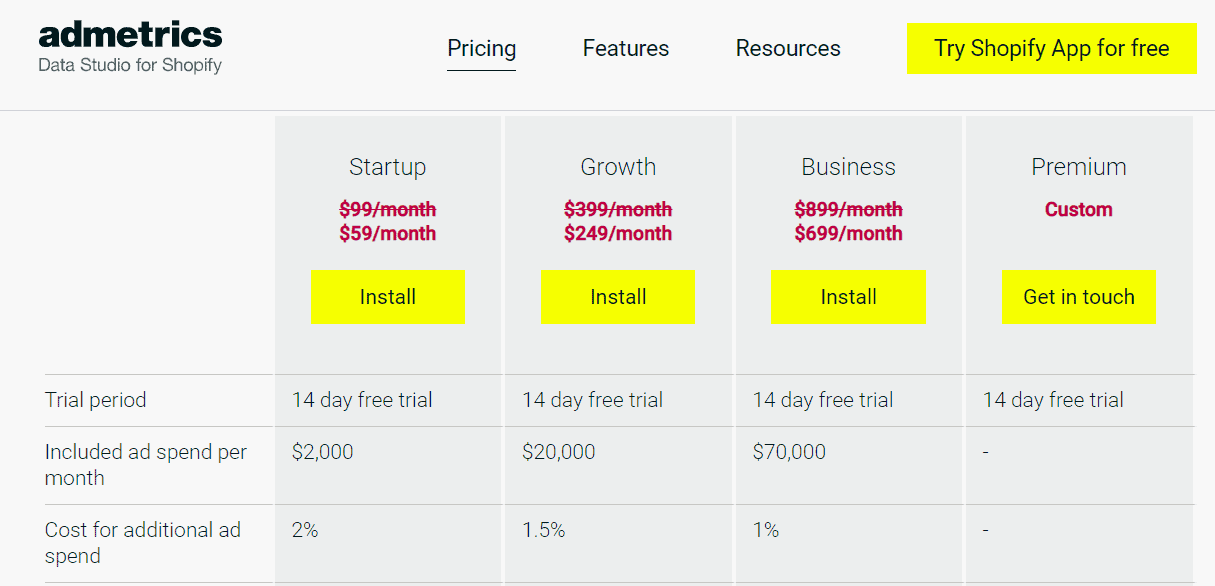 Another advantage Admetrics has over Triple Whale would be its competitive pricing. With the Startup plan charging $59/month, Admetrics offers Business subscriptions up to $699/month and custom plans to the Premium package. All Admetrics subscriptions also come with 14-day free trials and demos.
Best Triple Whale Alternatives #4: ThoughtMetric.io (Cheaper But Good) 

Another good marketing attribution and tracking alternative to Triple Whale would be ThoughtMetric. It seamlessly integrates with large e-commerce platforms like Shopify and WooCommerce to simplify ad tracking, data gathering, and data analysis. 
ThoughtMetric is ideal for small to medium-sized eCommerce companies. You can quickly determine which marketing channels result in increased conversion and which do not use the same dashboard. Moreover, it lets you measure your ad spend more efficiently and get a price based on your monthly page views.
Features
No coding required for setting up

Boosts conversion from social media marketing

Tracks customer journey and ad spend

Easily integrates platforms like Facebook, Google Ads, SMSBump, MailChimp, etc.

Uses advanced modeling algorithms to pinpoint customer traffic
Pros
Clearer data collection with post-purchase attribution surveys

Provides all major eCommerce integrations

Competitive pricing with a 14-day free trial
Cons
Lacks Chrome extension to integrate with existing ad platforms directly

Suitable mostly for e-commerce
Pricing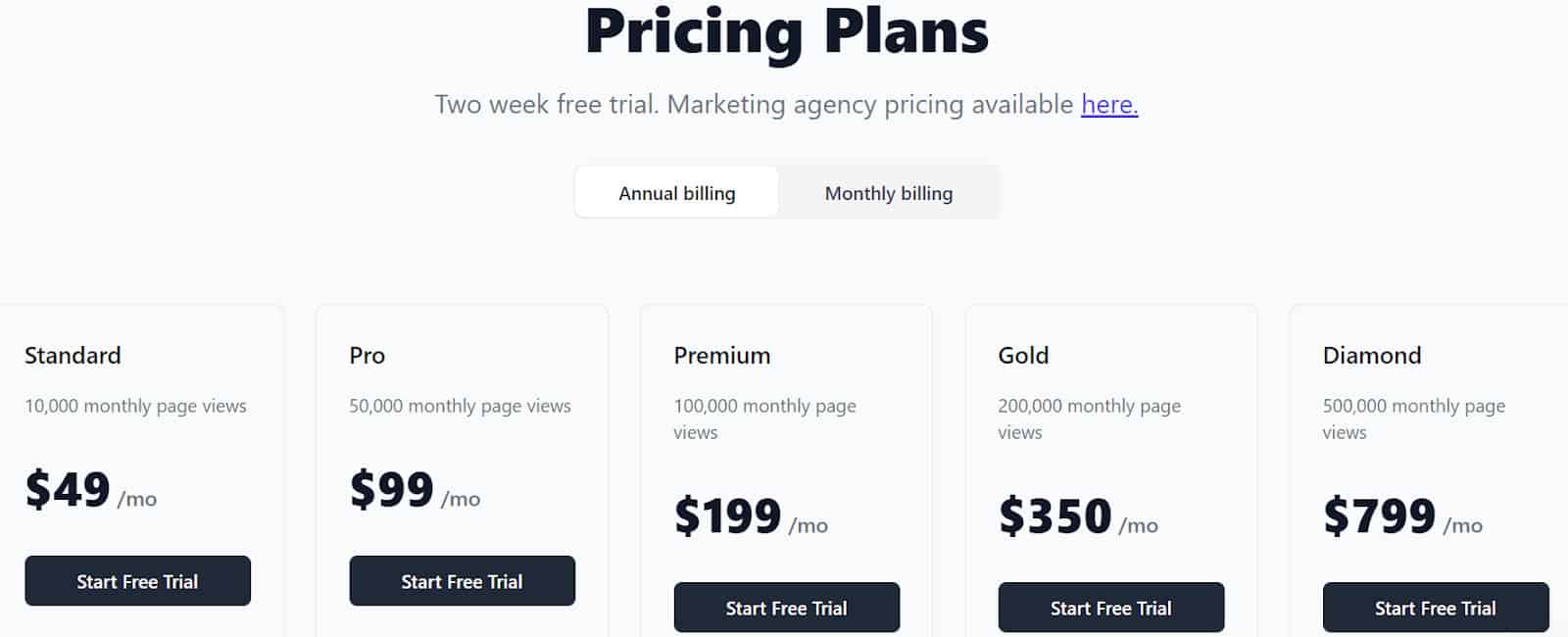 The pricing for ThoughtMetric is among the most competitive in the market, with subscriptions starting at only $49 per month with the standard plan. The highest tier for ThoughtMetric subscriptions is the $799/month Diamond plan, and the price progressively increases depending on usage. Besides offering features like Pixel+ Survey tracking and unlimited users, all ThoughtMetric plans come with a two-week free trial.
Best Triple Whale Alternatives #5: Wicket Reports
Optimizing multi-touch revenue attribution models, Wicked Reports helps you see which ads are working and which are not. Like Triple Whale, it is another good tool to monitor data from all your marketing initiatives in one place.
Though Wicked Reports doesn't offer as many integrations as its competitors, it does provide basic integration with FaceBook, TikTok, Klaviyo, Recharge, etc. This tool is more suitable for teams and big organizations. 
Features
Accurate customer journey tracking

Traffic attribution for Facebook, Google, Tiktok, etc., for higher ROI

Tips and insights to prevent turning off campaigns too early

Accurate revenue attribution throughout the customer journey

First-party data conversion

Cross channel data collection
Pros
Easy to set up to 1-minute integrations

Integrates with Klaviyo to detect cold vs. warm traffic

Offers Live support
Cons
Subscriptions start from $400/month

Costly for individual/affiliate marketers
Pricing
Wicked Reports pricing starts at $400 per month with the Wicked Good plan. The more premium Wicked Awesome plan costs $600 per month, and there's also a customizable Agency plan. All Wicked Reports plans come with 1-on-1 onboarding, live chat support, LTV reports, Google+ Facebook conversion integrations, and more. Before making any payments for Wicked Reports, you can also book a demo for any of the subscription plans.
Final Thoughts 
Triple Whale is a great tool for performance marketing, but it's not without its limitations. Be it in terms of how deep their tracking services go, or how much data they process in real-time, Triple Whale may not be the perfect solution. But thankfully, there are a lot of solid alternatives to fit your specific needs.
ThoughtMetric will be the best choice if you seek the most affordable solution. If your focus is on maximizing your profits from Facebook marketing, then you should definitely try Cometly. Again, if you want personalized machine learning models to support your digital marketing endeavors and the price tag isn't an issue, Northbeam would be best. But if you're looking for unique features like predictive audiences at a more affordable price than Triple Whale, then Admetrics should be your choice.
Disclaimer: I may get some affiliate compensation from some of the links in this article (only if you purchase a paid plan). Regardless, the products and services I review are some of the best tools I have tested, and I support them personally. For more details, head over to my privacy policy & affiliate disclosure.
P.S: If you're looking to learn about actionable growth marketing from real marketers, check out my podcast (with 74 episodes and more on the way!)