I was struggling to get organic traffic on the articles I have genuinely written quality and read-worthy content. I thought I needed backlinks to get more traction. But I was wrong, I need SurferSEO to help me optimize the content and give me a structured way to optimize content. So here's my SurferSEO review so you can make an informed decision. 
Surfer SEO is an excellent SEO optimization tool that lets you analyze and compare your pages against the top-ranked ones on the SERPs (Search Engine Results Pages). It looks at your niche and hundreds of other factors to give you a data-driven analysis of what you are missing. 
Surfer is simple to use and has many industry-leading features to help your business improve. Moreover, you can use Surfer SEO to check keywords and generate AI-supported outlines for free!
Over the past five years, I have helped three startups achieve their first $1Mn+ in revenue with just SEO. I have considerable experience writing for growth and marketing using SEO content creation and optimization tools. In this review, I'll share my experience with Surfer SEO and how it has helped me boom my businesses using only SEO.
You can read my tips below:
In this article, I'll give you an in-depth Surfer SEO review based on my personal experience. It is one of the best SEO applications I've used firsthand for my businesses. I'll go over its features and how they can help you, as they did me! So keep reading to learn more about Surfer SEO (spoiler alert: I'll give some tips, which I use even now). 
But first, full transparency: I may receive commissions if you click on some of the links in this article, but it won't cost you a thing! Also, the companies do not pay me to write these reviews. I test the products and services myself, and I support them regardless.
Table of Content
Surfer SEO Review: What is Surfer SEO?
Surfer SEO is a cloud-based on-page content creation and optimization tool that adheres to SEO best practices. Using it will improve your organic traffic, online visibility, and ranking. As a result, you can expect a boost in your business as soon as you start using Surfer SEO to optimize your content.
This all-in-one SEO tool turns topic suggestions, keyword research, content creation that users and search engines love, and post-publishing optimization into one smooth process for you. With its data-driven approaches, you won't have to worry about time constraints or human error possibilities anymore. 
Surfer SEO has four paid features: Grow Flow, Content Editor, Keyword Research, and Audit. It also comes with two free features: – Keyword Surfer Chrome Extension and the AI Outline Generator. All these features are designed to make your SEO work easier and faster, and they ultimately help you rank highly in Google search results and increase engagement.
Surfer SEO guides you with a step-by-step SEO workflow. If you just follow its guiding tasks, you will get the maximum return from your SEO efforts. Its paid plans include the Surfer Academy for new SEO users. This feature comprises live sessions, tips, and tricks to help you make the best content. SurferSEO also has expert writers to help your content rank.
You can integrate Surfer SEO with the Surfer API, Google Docs, Jasper, SEMRush, WordPress, and more. With all these integrations, your experience becomes as seamless as possible. You can try this SEO optimization tool to see how it drives organic traffic that engages and generates revenue for your business by starting to use the free features.
Pros 
Intuitive and easy to use

Gives internal link suggestions to help your content rank

Its content planner helps in content completeness and optimization

Keeps optimizing even after you hit publish

Provides SERP analysis

Its free Chrome extension gives you insights from the SERPs as you search

Usable in any language

Has multiple necessary integrations like Google Docs and WordPress available for faster collaboration

Its paid plans have Surfer Academy to help become better with SEO

Has plans for businesses of any size, freelancers, etc.

Has a 30-day money-back guarantee

Most plans cost comparatively less than competitor's plans

Highly responsive customer support
Cons 
Most features are not even available for trial in the free plan

Might not be fully customizable for some businesses

Can be too pricey for some medium-sized projects
Surfer SEO Review: What Are The Key Features, And How Do They Help You?
If you can use most of Surfer SEO, it can be a one-stop solution for all your SEO needs. Let's look at some of its key features and how they help you (with tips to make the most of them).
Internal Linking
Internal linking is one of the most crucial factors behind SEO success. I cannot help but love how Surfer SEO's internal linking has helped me remain consistent about internal linking. 
Surfer SEO's Audit automatically finds relevant pages on your website and suggests them to you. You can figure out how many pages you should link to the audited URL by checking Surfer's reports. Surfer SEO also guides the optimal placement of the link.
You can focus on your main targeted keyword by using consistent anchor structures to link to other pages on your site. These internal links can be essential to growing your content's topical relevance. As a result, your important pages will get more organic traffic and engagement.
Tip: Keep your domain structure logical and add Surfer-suggested internal backlinks to get help with ranking.
Content Completeness
Surfer SEO's tools to complete the content have left me wondering how I lived without them. Every tool, from Content Planner to Audit, has made me not worry about manually completing my articles anymore.
You can use the built-in outline border to structure your content. It helps to generate briefs with headlines in a few seconds. Surfer's ability to write and optimize in any language allows you to rank highly anywhere on the planet. It analyzes multiple ranking factors to provide you with the one having the most significant impact on ranking.
Surfer SEO's search intent helps you choose the most relevant cluster according to your niche. You can use secondary keyword opportunities to write the content. Afterward, its content editor enables you to optimize the content to rank higher. It even ensures the authenticity of your article by checking for plagiarism before publication. 
Tip: While using Surfer SEO's recommendations, you can also try ticking the basics of SEO content. I recommend starting with the headlines and making sure to have 4Us: Urgent, Unique, Ultra-specific, and Useful.
Content Optimization
Surfer SEO's data-driven approaches to optimizing content made my life worry-free. It compares your page to hundreds of factors like headings, images, and keyword density. 
The process involves several approaches, from improving keyword coverage and density to adding relevant links and copywriting. As a result, you can satisfy search intent, increase SERP visibility and convert better because it's reader-centric.
You can perform a content audit before optimizing your content to get an idea of where it stands. Then you can perform on-page search engine optimization by inserting relevant keywords in important places. Surfer SEO also keeps optimizing your article after publication through internal linking with future content.
Tip: Make sure to go through the suggestions revealed by the content audit to put the answers your audience will look for.
Keyword Research
Surfer's Keyword Research Tool gives you dozens of relevant topic clusters. These clusters depend on your primary keyword, and it just takes a few clicks to find every keyword you need, saving you hours of research and grouping.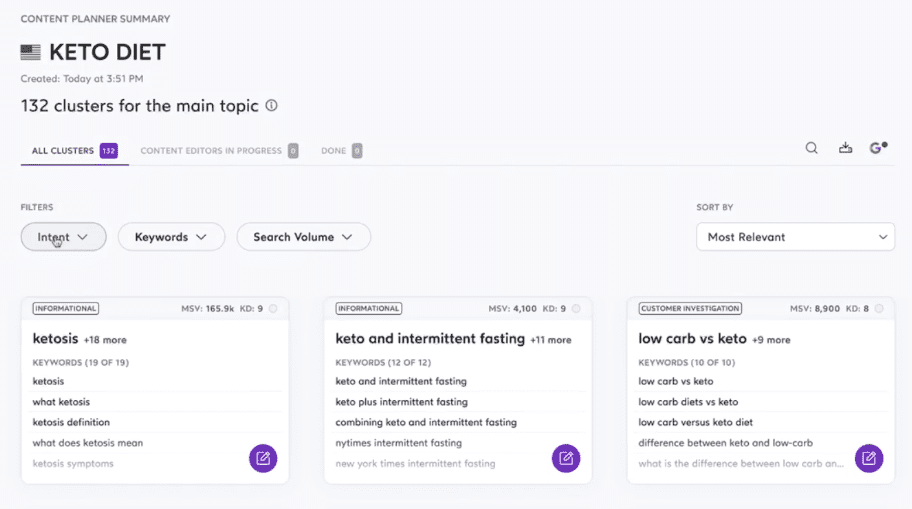 Keyword Research Tool uses machine learning to discover the search intent for every topic. It can help you determine if a potential customer is ready to buy, weigh their options, or just look for general information. You can use these insights to identify the type of content you need and prioritize the relevant keywords.
All you need to do is review relevant topic clusters grouped by search content. You can expand each cluster to see information about the number of monthly searches, total traffic, and how hard the keyword is to find. Thus, you can build a highly engaging content strategy quickly.
Tip: As Surfer is compatible with most languages, type your business buying intended keywords in the language you prefer and choose a SERP location that is dominated by it for better results. Make sure to consider the funnel mindset too.
Content Editor
While you write great content, Surfer's Content Editor shows you how optimized it is in real time. It structures the article, gives you a detailed list of relevant keywords, and gives you an overall on-page optimization. With it, you can write more confidently and precisely.
Surfer's Content Editor communicates your article's optimization level at a glance with the Content Score. This live-updating score considers every essential factor in giving you an accurate overview. 
It tells you what keywords to use by comparing them to the top 10 (or 20 if you want) ranked pages. You can select more criteria to be considered for writing top-quality content. It also uses NLP (Natural Language Processing) to notify Google that your content is relevant to your target query. 
Tip: Try using the content editor as a copywriter who will lead the reader from the title to the first to the second-to-last sentence.
Content Editor – Your SEO Writing Companion:Let's dive into the world of Surfer SEO, specifically its Content Editor feature. This tool is like your personal SEO writing assistant, streamlining your content creation process. Wondering how it achieves this?
Keyword Optimization:

The Content Editor provides on-the-go suggestions about keyword usage. Whether it's primary or secondary, it uses insights from top-ranking pages to advise on the optimal frequency of your chosen keywords. This leaves no room for guesswork, aligning your content to what's already making waves on search engines.

NLP (Natural Language Processing):

The integration of NLP is indeed a significant advantage. It allows the tool to comprehend and dissect the sentiment and entities in your content – a crucial step in fine-tuning your SEO approach. By showing you the terms typically linked with your keyword, it helps you craft more pertinent content with higher ranking potential.

Content Structure:

Content Editor doesn't just stop at words; it assists with your content's entire structure. It suggests the ideal number of headings, images, paragraphs, and words your piece should have, relying on data from the top-ranking pages for your keyword.

Readability Check:

This functionality tests your content's readability. It flags if your text is too intricate or too basic, helping you hit the sweet spot for your audience.
SERP Analyzer
SERP (Search Engine Results Pages) Analyzer – Your SEO Detective:
Say hello to another jewel in Surfer SEO's crown – the SERP Analyzer, earlier known as Grow Flow. This potent tool can transform your SEO approach, furnishing you with extensive data on top-ranking pages for your selected keywords.
Keyword Analysis:

The SERP Analyzer goes detective mode, revealing which keywords the top-ranking pages are using, their frequency, and context. This insight can shape your keyword strategy and uncover potential keyword opportunities.

Backlink Analysis:

This feature dives into the backlink profiles of top-ranking pages. Knowing where these pages are getting their backlinks from can point you towards potential link-building avenues.

Content Analysis:

The SERP Analyzer also analyzes the content of top-ranking pages, providing data about their structure, length, and media usage. This knowledge can guide your content plan, ensuring you create content that aligns with what's already performing well in search engine results.
For a practical example of how SERP Analyzer can boost your SEO game, look no further than my own experience. The tool helped me spot a market gap. It revealed that the top-ranking pages for my target keyword were lacking comprehensive information on a specific sub-topic. This allowed me to develop in-depth content on that topic and climb up the ranks.
Grow Flow – AI Growth Management Platform
The brand-new Grow Flow feature has been one of the most game-changing Surfer SEO features for me. Its data-driven SEO insights every week made handling my busy and fast-growing companies' SEO practices easier and more efficient. I never even had to worry about my next SEO steps as Grow Flow automates the whole SEO process.
The Surfer SEO's AI-generated tasks provide you with an outline of what to do. By simply completing the tasks every week, you're good to go. In these tasks, Surfer SEO includes everything from finding high-potential keywords and relevant internal link suggestions to future content planning. These personalized tasks rely on GSC findings and can bring impressive results.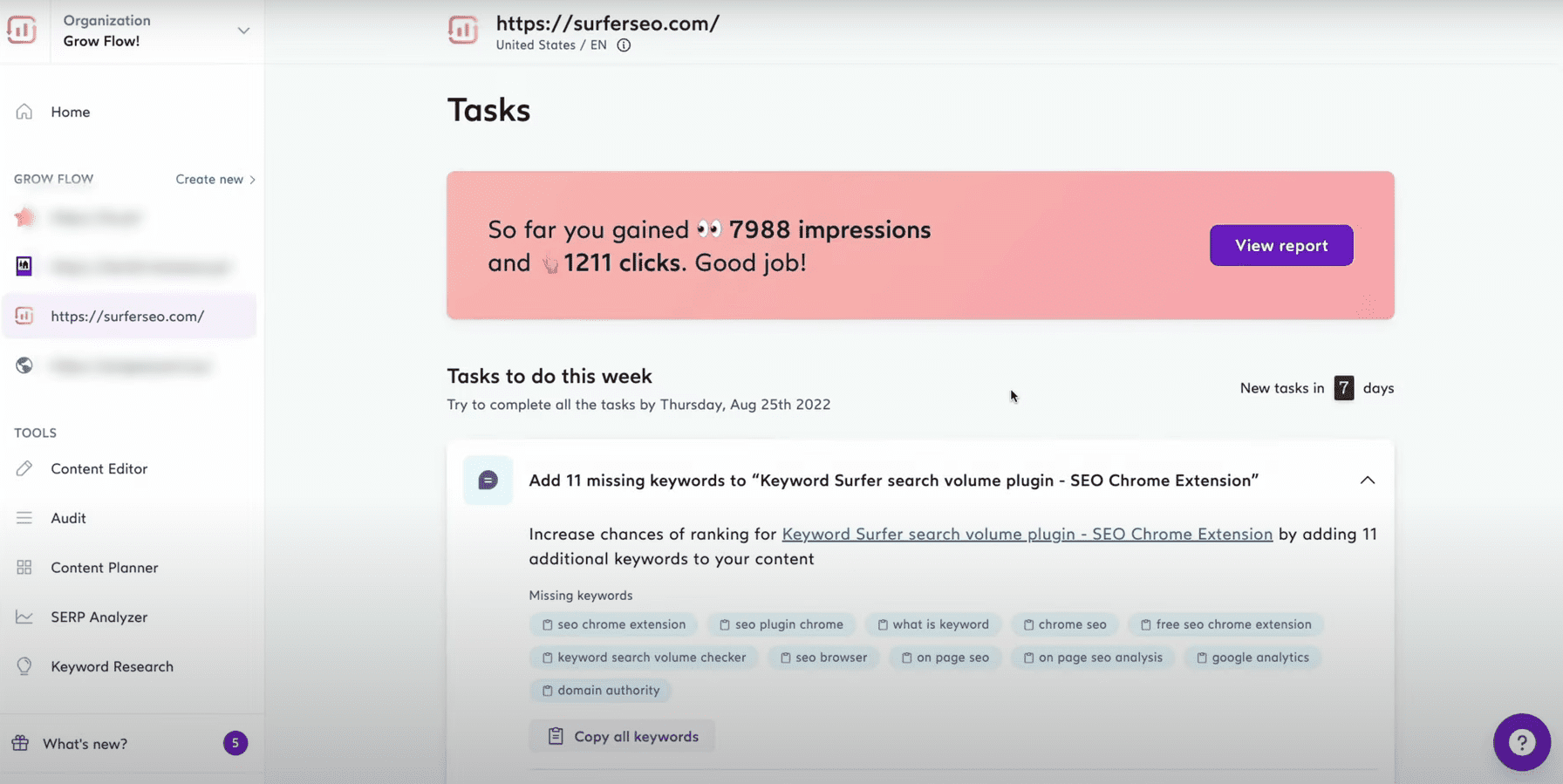 Grow Flow can keep an eye on and evaluate your website after you connect to Google Search Console and choose your domain. As a result, it can provide the most accurate data with precise insights. This makes interpreting the data and working smarter with AI possible.
You can even purchase additional domains directly from your Surfer dashboard. With this AI growth management, you can expect a tenfold increase in organic traffic and engagement.
Tip: Always try to complete every task. The tasks are most likely what you are missing since Grow Flow harnesses AI to do these tasks for you.
Surfer SEO Review: Subscription Plans
The wide range of subscription plans makes it the perfect choice for anyone who wants to grow a website quickly. You can also get a 17% discount on all plans by billing annually.
Yearly
Monthly:
Free Plan:

This plan allows optimization and tracking for one website. It gives SEO insights every 28 days and access to Grow Flow queries.

Basic Plan:

This plan costs $59 per month, and it best suits small business owners, bloggers, and hobbyists. It offers optimization and tracking for two websites and gives SEO insights every seven days. You can even invite 1 team member while using all the Surfer SEO's features.

Pro Plan:

This plan comes at $119 per month and is perfect for medium-sized organizations operating multiple websites. It has optimization and tracking for five websites with SEO insights every seven days. You can also invite three members to this plan.

Business Plan:

This plan costs $239 monthly. It is best suited to large organizations with optimization and tracking available for ten websites. Besides giving SEO insights every seven days, it allows you to invite ten members.
You can discuss a custom plan if your organization needs a larger one. Besides, you can add and track extra websites for $11/month in the paid plans.
Tip: You can start trying Surfer SEO first with the free plan and then choose a plan. Keep an eye on Surfer SEO to see if there is an offer.
 I've been using the ADVANCED plan and I can't recommend it enough! 💪 My team and I have been able to increase our content productivity in a huge way. Want to have a similar experience? Just pick a plan and let's get started.
Integration
You can use Surfer's free Chrome extension to use Surfer SEO in WordPress, Jasper AI, and Google Docs seamlessly. You can also connect to SEMRush to find out which backlinks were in the indexes of your competitors. These integration features make it easier to adjust, update, or improve.
Tip: Connect your favorite platforms to write so you can write comfortably while Surfer SEO suggests what you need.
Surfer SEO Review: How is It Different From Ahrefs And SEMRush?
In this section, I'll discuss how SurferSEO differs from Ahrefs and SEMRush.
Differences with Ahrefs
Ahrefs is undoubtedly one of the most popular SEO tools. It has vital tools like a URL analyzer to help you gather data on websites, DR measurement, and information about website traffic. Its keyword and website explorer can also help you analyze existing website content.
But if you are trying to create new or revamped, optimized content, then Surfer SEO will be the perfect choice for you. Its efficient and user-friendly set of tools and UI make it an ideal fit for everyone wanting to optimize SEO content. 
Differences with SEMRush
SEMRush is more of a complete tool suite for digital marketing management. It lets you see all the traffic coming in from different channels and gives you an idea of how well your marketing is working. With its provided engagement data, you can better position your clients' brands in search engine rankings and the minds of their target market.
On the other hand, Surfer SEO is great for making your SEO content rank higher. Its features help you from the beginning and even after publishing the content. Its value for the price is also higher than that of SEMRush. I would recommend Surfer SEO if your only goal is to make better SEO-optimized content that gets more organic reach and engagement.
Here's a complete comparison of Surfer vs Others
| | | | | |
| --- | --- | --- | --- | --- |
| SEO Tool | Surfer SEO | Ahrefs | SEMRush | Moz |
| Targeted Keyword Suggestions | Yes | Yes | Yes | Yes |
| Domain Analysis | Yes | Yes | Yes | Yes |
| Keyword Research | Yes | Yes | Yes | Yes |
| Backlink Analysis | Yes | Yes | Yes | Yes |
| Site Auditing | Yes | Yes | Yes | Yes |
| Usability (EASE) | High (assumed) | High | Medium | N/A |
| Pricing | Cost-effective | Expensive | Expensive | N/A |
| Support | Chat, Email | Chat, Email | Phone, Chat, Email | N/A |
| Free Trial | N/A | Limited | Yes | Yes |
| Content Editor | Yes | No | No | No |
| On-Page SEO Recommendations | Yes | Yes | Yes | Yes |
| SEO Audit | Yes | Yes | Yes | Yes |
| SERP Analysis | Yes | Yes | Yes | Yes |
Final Words
Surfer SEO is a tool I'd recommend trying out if you want to use SEO to increase potential customer engagement. Its industry-leading features offer greater value than other SEO solutions in the market. 
Surfer ensures you don't leave your SEO strategy up to miracles. It focuses on helping you understand and find out about the subtle ranking factors that Google and other search engines use. It can help you rank your content highly, increase organic traffic and engagement, and take your business to a new level.
Surfer SEO has helped me make seven-figure businesses just by using it. You can also see how it can help you by using the free tools before subscribing to a plan.
Full Disclosure: If you click on some of the links in this article and purchase a paid plan, I may receive affiliate commissions (at no cost to you!). Regardless, the products and services I review are some of the best I've tried, and I support them personally. Head over to my privacy policy & affiliate disclosure to know more.
P.S. Check out my podcast (with 78 episodes and more on the way!) if you're interested in actionable growth marketing and hearing from actual marketers about how they're taking their businesses forward.