Trying to ramp up your content marketing game using StoryChief? Here's all you need to know with this comprehensive StoryChief review!
Marketing involves a lot of steps. It helps your case if you understand your audience's behavior and know handy SEO tricks. But at its heart, marketing is all about the content.
Marketers spend a large portion of their time optimizing their searches and coming up with nifty marketing tricks. They have to post the same content on multiple social media platforms at the appropriate time. As a result, they often have less time to focus on the actual content itself.
StoryChief aims to solve this problem by taking care of all the scutwork content marketers have to deal with. It manages everything, from search optimization to scheduled posting. As a result, content marketers can spend more time focusing on the content.
Full transparency time: I may get some commission if you click on these links but it won't cost you anything. Also, these tools have not paid me to write this review. I use it every day and I support these projects regardless.
Before I start analyzing every pro and con of StoryChief, here is a TLDR for our busy readers.
Offers a clean user interface

Automates your marketing processes

Optimizes your posts for search engines

Publishes to multiple platforms simultaneously

Has its blogging platform
It can take some time to set up

They don't have the "collaborative editing feature"
About the company
StoryChief was founded in 2017 by Valeri Potchekailov, Gregory Claeyssens, and Brik De Maeyer.
Valeri is a designer and you'll see great design elements.
They also raised €1.1mn in 2018. They wanted to help content marketers like us to focus on content marketing strategy while reducing manual efforts. They eventually added the social media management and scheduling features later on too.
StoryChief is an automation tool for content marketing. It manages every step of a content marketing campaign so that marketers can focus on the content. Here are some of the best features StoryChief provides.
Multi-Channel Marketing:

StoryChief lets you distribute your content over multiple platforms. As a result, you are sure to reach your desired audience no matter where they are.
Social Media Management:

You can use StoryChief to publish your post on multiple platforms simultaneously. 
Content Collaboration:

StoryChief has a collaboration workspace where you and your team can work together on your projects.
Employee Advocacy:

StoryChief can share your content on your employee's network. Using this feature, you can amplify your brand's reach.
Content Calendar:

You can use this feature to keep your workflow organized and stay on top of deadlines.
Content Data Management:

StoryChief keeps track of all data related to your content. You can use this data to create better content and make better decisions.
SEO Copywriting:

Using StoryChief's AI copywriting, you can increase your Google ranking up to three times. This feature can drastically increase the traffic to your content. 
Newsroom:

StoryChief has its blogging platform called William. This feature gives you another avenue to find potential clients.
Analytics and Insight:

StoryChief gives you data on how your content is performing. This feature gives you insight into your audience's mind. Using this data, you can curate personalized content for your target audience.
StoryChief is more than just an automation program for content marketers. It is a one-stop solution for all your marketing needs.
SEO, social media management, and content management are three essential tasks a content marketer has to do. Besides these, there are dozens of other responsibilities they have to fulfill.
StoryChief takes care of all of these responsibilities. It optimizes your Google rank so that you always show up as a top result. Moreover, it manages all of your social media accounts. You can simultaneously post on all of your accounts and save a lot of time.
Features like employee advocacy and analytics allow you to create a great brand image. They not only show that your employees are proud of the work you are doing, but it also gives you data to make the best decision for every situation. 
With so much positivity around StoryChief, it can be easy to forget that it is a relatively new program. It became available in 2016 and has already managed to get more than 15,000 users from over 70 countries on board. That says a lot about the quality and reliability of StoryChief.
Another essential selling point of StoryChief is that it comes in a free version. While this version lacks many of the features that make StoryChief so great, it gives you an idea of what you can do with this program.
Moreover, their premium plans are also very affordable. Even their Enterprise package costs $65/month. That is fantastic value considering all the features you are getting. 
Manage Social Accounts:

Managing multiple social media accounts is a marketing staple. Marketers tend to spend a long time on social media management. StoryChief makes this process seamless and easy. As a result, they can focus more on their content.
Campaign Management:

You can plan entire marketing campaigns on StoryChief. You can assign roles, manage a calendar, schedule tasks, and a lot more. As a result, it makes the process of coming up with campaigns simpler.
SEO Content Management:

StoryChief gives you suggestions to improve your Google ranking when copywriting articles. It also shows you relevant statistics that will help you reach more people.
Simultaneous Publishing:

As mentioned earlier, StoryChief allows you to publish your post on multiple platforms simultaneously. People often overlook this feature because it seems like such a simple task. But they underestimate how much time marketers spend on posting their content on social media at the appropriate time.
Content Management:

StoryChief keeps a library of all your posts along with statistics relevant to it. This feature will give you an idea of the type of posts your audience prefers. It also allows you to recycle old centers into something new.

William:

William is StoryChief's blogging platform. It has many incredible benefits that can boost your content's reach. It acts as a fantastic supplementary feature.
StoryChief Review – Things I Dislike About StoryChief
There isn't much to dislike about StoryChief. It gives you a lot of valuable features for a very reasonable price. If I had to be nit-picky, then the only problem I would have with StoryChief would be:
Learning Curve:

It takes some time to get used to using StoryChief. The developers could improve the UX for beginners to make it a less intimidating application.

Collaborative Editing: We need to first write in Google docs, then import to StoryChief because they don't have an editing feature. Just commenting.
While there may not be many things to dislike about StoryChief, there are certainly some things developers can add to make this an even more attractive product. 
Better Calendar UX:

The calendar is a handy feature. But there are scores to make it more intuitive. One idea is to add the ability to drag scheduled events into the calendar. This feature would make editing events much more natural.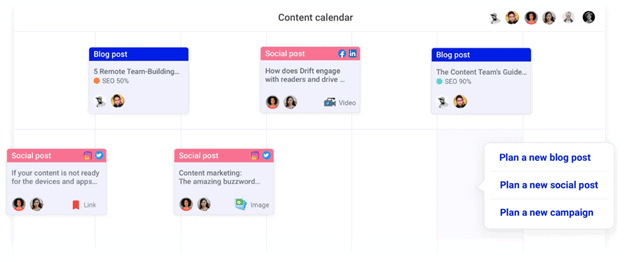 Adding Use Case Tutorials:

It can be overwhelming to see so many features. Some user case tutorials can help new users understand the program better.
Final Thoughts
Overall, StoryChief is one of the best programs for content marketers. If you are working in marketing and have a tough time managing your time, I would highly recommend giving StoryChief a try.
Storychief is great for content marketing if they're able to add edit and communicate features.