Personalization, everyone talks about it. Nobody knows how to do it right in ecommerce until Rebuy Engine started offering its solution.
If you're running an online store, you know exactly how hard it is to simultaneously think about increasing retention, return on ad spends, average order values, LTVs, etc. You need to plan subscriptions, do product bundling, run promos and discounts, drive upsells and cross-sells, track conversion, and more. But what if you could get one app to do all that while also helping you achieve 30-50x your average ROI?
Rebuy Engine does exactly that for you! From AI-driven product recommendations to shopping cart personalization and post-purchase offers, Rebuy offers an all-in-one solution to boost AOV, ROAS, and LTV for Shopify and Shopify Plus stores.
During my time as the Head of Growth for one of the Shopify Apps, I've gained my fair share of experiences and knowledge about such growth tools for the Shopify ecosystem. Now, as an e-commerce growth marketer, I have had the chance to try and test Rebuy Engine personally, so you don't have to!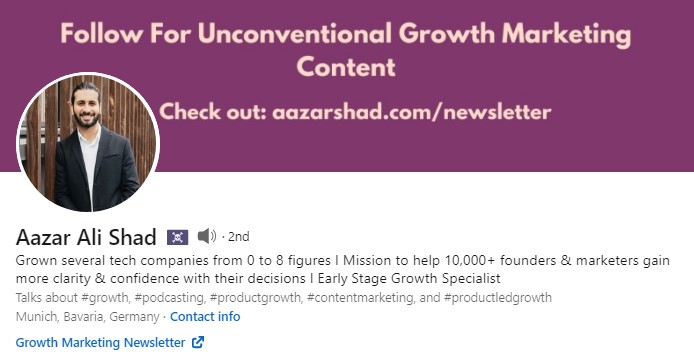 In this article, I'll introduce you to Rebuy Engine, which can be quite a hidden gem for many merchants. So just read on to get an honest Rebuy Engine review highlighting its key features, pricing, pros and cons, and what I loved about the app.
Before that, full transparency: I may receive affiliate commissions if you click on some of the links in this article (at zero cost to you!) Also, the company did not pay me to write the review, I tested the tool myself, and I support it regardless.
Table of Content
Rebuy Engine Review: Overview

Rebuy is a powerful Personalization Engine that uses AI and predictive machine learning to analyze a store's sales data and customers' purchase behaviors to automatically increase sales with data-driven upsells, cross-sells, and automated order follow-ups.
Once installed, Rebuy gets set up in minutes and personalizes your product recommendations across mobile, email, ads, and more. With its extensive UX customization options, every upsell and cross-sell on your site is customized to fit your brand image perfectly. Without any technical expertise required on your part, Rebuy also gives you full freedom to fine-tune promotional details using its pre-built product recommendations.
With 5,000+ customers served and 150M+ orders processed, many recognizable brands (like Patagonia, Puravida, Seido, goPure, and more) use Rebuy to create data-driven shopping experiences that drive growth, win and retain more customers, and increase sales. Moreover, Rebuy can tap into your store's past shopping data to create personalized shopping experiences for each of your customers.
Rebuy's AI-powered cross-sells and upsells work to lift your AOV at every key decision point from the homepage to the thank you page and beyond. With one-click subscription reactivation and automated follow-up emails, you can save your time and retention rate. 
Rebuy's many useful features also include shareable links which drive customers to pre-populated carts and checkouts with automatically applied discounts that help boost conversions and AOV for your store. Moreover, Shopify Plus merchants can get exclusive features like the script editor for dynamic checkout upsells. 
With Rebuy, you can always track precisely how the app is helping your store grow with its real-time reports and performance tracking widgets. In addition to its many features, the all-in-one platform also offers a wide range of integrations with Recharge, Klaviyo, Shopify and Shopify Plus, ReConvert, Recharge, Malomo, Alloy, and more. Moreover, Rebuy is always in the process of introducing more integrations with useful software like Okendo and Attentive.
But wait, the demi-god (Nik Sharma) of Direct to Consumer loves Rebuy too: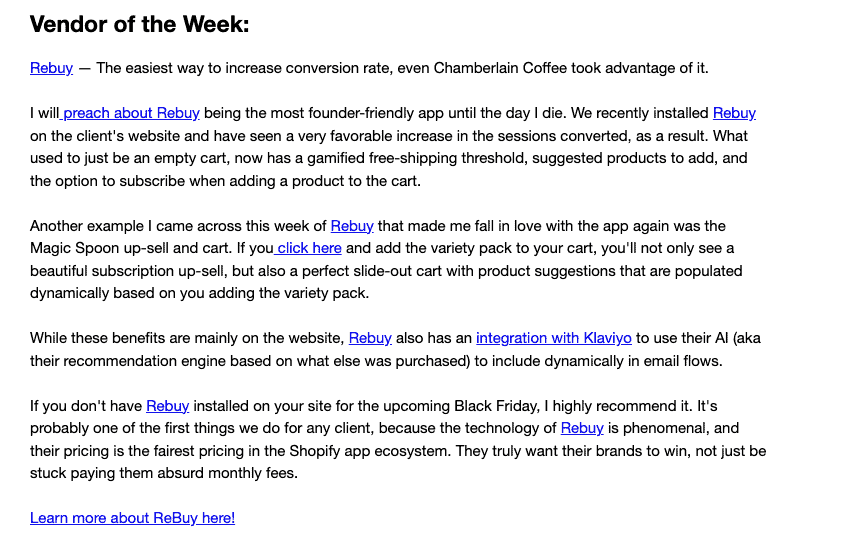 Rebuy Engine Review: Key Features 
If anything, Rebuy is an all-in-one eCommerce solution with many features. Let us look at some of the app's most notable features.
Smart Cart™ 
One of the most impressive features of Rebuy is its trademark Smart Cart technology. It lets you easily customize and optimize carts with an intelligent all-in-one tool that functions as a shopping cart replacement for Shopify. 
Rebuy's Smart Cart gives you several advantages, such as:
Increases order values through personalized cross- and up-sells

Reduces shopping abandonment by eliminating unnecessary clicks and scrolling

Enhances the shopping experience by making checkouts noticeably quicker

Uses stylish visual prompts to encourage larger purchases by shoppers to qualify for free shipping

Displays special discounts and promotions to customers during the checkout process

Uses countdown clocks to create urgency at the point of sale to boost conversion rates and lower cart abandonment rates

Supports several currencies to convert prices to customers' local currency (depending on market exchange rates)

Uses robust analytics tools to monitor and evaluate each upsell and cross-sell widget
Besides the many helpful features of the Smart Cart, Rebuy also ensures consistent and automatic updates, so your store always gets cutting-edge cart technology.
Post-purchase Offers
Post-purchase offers help maximize AOV when purchase intent is highest. With Rebuy, you get one-click post-purchase offers presented on the checkout page. 
Here are some ways Rebuy's post-purchase feature helps your store:
Trigger offers based on products that have been purchased, product tags, cart value, product quantity, etc., with Smart Offers

For every post-purchase offer, add, update, and revise the language to ensure the message is clear

Use countdown timers for promotions to encourage increased cart size at the checkout

Make each post-purchase offer brand consistent by adjusting the style, color, layout, and font

Allows customers to add additional items in just one click (without re-entering payment details)
Rebuy's post-purchase offers also include gifts when shoppers spend over a certain threshold. Besides, you can also push product bundles at checkout with "package deals" offering related products at a discount. 
You can also offer subscriptions and reactivation at checkout to help your brand loyalists order more and save more. This feature helps to crank up the MRR, reduce churn rates, and boost the LTV. 
Rebuy also includes a mystery gift in its post-purchase offerings for clearing out inventory or pushing certain SKUs while also drawing the customer's attention. Lastly, it lets you create a checkout product that triggers priority shipping on purchase to run Skip-the-Line and Rush Processing offers.
Intelligent Personalization
Rebuy's strong suite lies in its Intelligent Personalization features. You can create personalized shopping experiences for every customer using your store's historical shopping data. This helps increase conversions, engagement, and average order value by giving shoppers a hyper-personalized shopping experience.
Rebuy's AI-powered upsells and cross-sells at critical decision points boost your store's AOV. The app also analyzes your customer database thoroughly to produce intelligent product suggestions and deliver outstanding customer experiences across online, mobile, email, and other channels. 
Rebuy uses the data provided by actual consumers to create predictive personalization and advanced recommendations at scale. In addition, the Intelligent Personalization feature some more benefits: 
Customizes the user experience for each visitor (based on historical shopping data from the store)

Show products frequently purchased together on the cart, checkout, and PDP pages

Create highly tailored and context-aware recommendations depending on factors like device kind, location, day and time, campaign, email, and more

Promote best sellers, new products, and recently viewed and recommended products right from the homepage based on customers' browsing history
Upsell & Cross-Sell
Rebuy helps you generate upsells and cross-sells based on recently viewed and purchased products, products in the cart, custom properties, and more. Moreover, every upsell and cross-sell on your site is tailored for your brand image, so it looks like your own team of developers designed it.
Automated Retention
Rebuy lets you automate your retention and repeat sales activities to save time and increase your store's customer retention rate. Besides one-click subscription reactivation and post-purchase follow-up emails, Rebuy offers advanced retention tools, automated reorder flows, prefilled checkouts, and site-wide upsells to drive repeat sales.
Marketing Links
Rebuy features shareable links that can drive customers to pre-populated carts and checkouts with auto-applied discounts. This feature helps increase conversions and AOV for your store seamlessly.
Shopify Script Editor
Rebuy's script editor allows Shopify Plus merchants to develop dynamic checkout upsells that raise AOV and boost profitability. Rebuy smoothly interacts with Shopify Scripts, enabling you to perform dynamic offers, flash discounts, gift-with-purchase (GWP), and more.
Reporting & Analytics
Rebuy enables you to observe precisely how your store is expanding by providing real-time data, performance tracking widgets, and cutting-edge analytics tools. You can easily monitor top-performing widgets and make modifications as you see fit.
Partner Slack Channel
With Rebuy, Shopify Plus users also gain exclusive access to a private and a Partner Slack channel to get priority support, ongoing success management, and white-glove setup services.
Simplified Tech Stack
You can permanently clear your app stack by replacing many single-function apps with Rebuy's all-in-one platform. With the other sluggish programs removed, you can unclutter your site and give it a significant speed boost.
Besides the ones mentioned above, Rebuy also comes with a host of additional features like Abandoned Cart Saver, Catalog Management, Refund, and Returns Management, A/B Testing, Personalized Site Navigation, Social Insights, etc.
Pricing 
All Rebuy subscription plans come with a convenient 21-day free trial, a money-back guarantee, online support, as well as an ROI Guarantee. Currently, the app offers five subscription plans:
Starter Plan:

The Starter Plan charges $99 a month for up to 1,000 orders/month and helps stores earn up to $4,000 in Rebuy-generated revenue.

Scale Plan:

This plan charges $249/month and helps process up to 2,500 orders a month to help merchants achieve up to $10,000 in Rebuy-generated revenue.

Pro Plan:

With the Pro Plan, you'll be paying $499/month for up to 5,000 orders and $20,000 Rebuy-generated revenue monthly.

Grow Plan:

At $749 a month, the Grow Plan covers up to 7,500 orders and revenue of $30,000 generated by Rebuy monthly.

Enterprise Plan:

Lastly, at $999 a month, the Enterprise Plan offers unlimited orders and up to at least $40,000 in Rebuy-generated revenue. For revenue beyond $40k, the price increases by $249 per $10,000 in revenue earned.
Pros 
Smart cart technology offers AI-driven product recommendations, bundling, one-click subscriptions, discounts, and GWP, all in-cart

Displays post-purchase offers both on-site and Shopify checkout page

Uses AI and predictive machine learning to make hyper-personalized recommendations

Option to use AI as well as setting up merchant's own rulesets to push products

Offers shareable links to pre-populated carts for seamless conversion and AOV boost

Automates post-purchase follow-up emails

Offers one-click subscription reactivation
Cons
Only available for Shopify and Shopify Plus

Features like dynamic bundling within the Smart Cart are limited to Shopify Plus users only

Relatively steep learning curve with many features and widgets

No free/freemium version is available
Rebuy Engine Review: Who is It For? 
Rebuy is suitable for Shopify and Shopify Plus stores of all shapes and sizes. Whether you're just setting up your store or running an established online enterprise with thousands of orders a month, Rebuy's personalization engine can help any merchant to boost their conversions, LTV, and AOV.
Rebuy Engine Review: 3 Things I Love About It 
There's a lot to admire about Rebuy Engine, but if I had to pick my favorites, the following would be in my top three.
Smart Cart:

Rebuy's trademarked Smart Cart technology is a rare blessing for merchants. Besides being fully customizable, it helps your store effortlessly push subscription reactivation, discount codes, product bundles, and more right from within the cart.





AI-based product recommendations based on customer behavior data are a great way to increase cart size at checkout since customers would have a higher chance to buy them at that point. But Rebuy's product bundling at checkout certainly takes the cake with selecting product size and variations within the bundle right from the cart page.





If you want to push certain SKUs or clear out inventory, you can add your own set of rules or datasets to the Smart Cart recommendations on top of the automated AI-based option.





Lastly, what I loved about the Smart Cart is the inclusion of even more conversion and AOV driving tools like Gift-with-purchase, one-click subscriptions, timed checkout offers, and more— all offered to customers without needing to leave the cart or checkout page.

Hyper-Personalization:

At its core, Rebuy is a fully customizable Personalization Engine, and its hyper-personalization features are something I admire. Besides customer-precise UX customization across multiple channels, Rebuy's predictive AI and ML technology closely study each customer's behavior and shopping history to produce personalized recommendations and bundle offers.





Paired with AI-driven upsells and cross-sells across key customer decision points, Rebuy certainly has data-driven measures to boost your AOV, LTV, and conversion rates.

Automated Retention

: Another aspect of Rebuy that I found particularly helpful would be the option to automate Retention and Repeat Sales activities. With abandoned cart rates as high as 69.8% for eCommerce, abandoned carts are every online seller's nightmare.




But Rebuy takes some of the worries off your mind with its automated cart abandonment and post-purchase follow-up email. Besides, the app encourages repurchases with its automated reorder flows and pre-filled checkouts, making it more convenient for customers to make repeat purchases from your store.
There's little not to like about Rebuy. But if I had to pick something I wished Rebuy did differently, I'd have to mention the lack of a free or freemium version. 
At a starting price of almost $100 a month, cheaper alternatives are easily available. But despite the slightly expensive subscription plans, considering the vast array of features Rebuy offers, you'd be hard-pressed to find a single tool that does it all.
Final Verdict 
Despite being a new player on the market, Rebuy Engine has managed to accomplish and offer a lot. From intelligent cart technology to predictive AI-driven product recommendations, Rebuy equips you with all the tools you need to increase AOV and conversions, resulting in better ROI for your business. Despite the slightly expensive subscriptions, Rebuy is a powerful tool with many impressive features that are worth trying.
Disclaimer: If you click on some of the links in this article, I may receive some affiliate compensation (that is, only if you purchase a paid plan). Regardless, the software and platforms I evaluate are some of the best I've tried, and I support them personally. Head over to my privacy policy & affiliate disclosure page.
P.S: If you want to learn about actionable growth marketing from real marketers, check out my podcast, which already has 76 episodes with more on the way!