Interested in personalized direct mail marketing but hesitant to make a massive initial investment?  Perhaps you are also want to explore more options with better targeting and personalization features.
Understandable, because the huge financial commitment is precisely why most customers want to switch from PebblePost.
PebblePost is a direct mail solution that leverages online data and intent signals to create personalized mail pieces. However, there are similar (and better) solutions with better value for your money. 
In this article, I'll share my experience with the best PebblePost alternatives and provide an in-depth look at each solution's unique features and capabilities. I'll review each tool's pros, cons, features, user reviews, and pricing so you can make the best-informed decision.
Over the past years, I have worked in Growth Marketing for various companies and helped them grow to have million-dollar revenue. I have had my fair share of experiences in using personalized direct mail platforms, like PebblePost and its alternatives
But first, full transparency: I may receive commissions if you click on some of the links in this article, but it won't cost you a thing! Also, the companies do not pay me to write these reviews. I test the products and services myself, and I support them regardless.
Table of Content
PebblePost: An Overview
PebblePost is a digital-to-direct mail marketing company that helps brands connect with their customers through physical mail. It creates personalized and relevant direct mail campaigns, which you can trigger based on a customer's online behavior.
One of its standout features is how it can accurately target interested customers. It helps you identify potential customers and deliver a physical mail piece to their mailbox. It also lets you track performance, optimize campaigns, and achieve better results.
However, one of PebblePost's significant shortcomings is the cost of entry. Setting up a campaign and sending a mail piece requires an investment of up to $50,000, which can be out of reach for small businesses with limited marketing budgets.
Some users also mentioned its limited visibility into delivery, customization, and scalability. So, it's completely understandable if your company is exploring alternative direct mail options, and that's what we'll discuss in this article.
Best PebblePost Alternatives #1: PostPilot

PostPilot is a direct mail marketing service revolutionizing how businesses reach their customers. It offers an innovative solution for businesses of all sizes to create, automate, and track their direct mail campaigns.
PostPilot can help you create and send personalized mail campaigns that connect with customers. Besides, its native integrations with Shopify, Klaviyo and other ecom tools, plus easy-to-use interface and done-for-you service allows you to quickly launch your campaigns.
PostPilot is a cost-effective solution that offers a more affordable way to reach your target audience. Moreover, it helps businesses save money by optimizing their campaigns for better results.
To sum up, PostPilot helps you cut through the noise of digital marketing and stand out. You can then reach customers more physically and personally, allowing you to drive growth. 
Interested in learning more? You can read my in-depth PostPilot review here.
Three Unique Features
Let's look at three unique features of PostPilot.
No Minimum Order Limit
You can test new marketing strategies without committing to a large order upfront because there is no minimum order limit. It is particularly beneficial for small businesses, startups, and larger companies that want to try it out before scaling.
PostPilot empowers businesses of any scale to leverage the potential of direct mail marketing without investing heavily. It is an ideal solution for various direct mail campaigns, from simple postcard promotions to complex sequences.
User Segmentation
Segmentation features help you create highly targeted and personalized direct mail campaigns. You can also segment the audience based on history, product interest, age, location, etc. 
PostPilot also offers automated trigger and flow capabilities to automate the whole campaign. You can add triggers based on specific user actions, such as purchasing or abandoning a shopping cart.
Handwritten Letters
Another unique feature of PostPilot is the ability to send handwritten letters as a part of your direct mail campaigns. Handwritten letters can be a highly effective way to engage customers and create a personal connection. 
With lots of customization available, PostPilot's handwritten letters look like somebody has written them by hand. These personalized handwritten letters can help you stand out by making a lasting impression on your customers.
Pros
Automation with a specific segment with an individually personalized card. You can improve your repeat purchase rate & LTV.
No minimum limit of cards, allowing you to send anywhere from one to a million or more cards
Has a highly responsive customer support team including done-for you account management & complimentary custom designs.
Prints in-house rather than outsourcing for better quality, speed and pricing.
Helps you track campaign success and make data-driven decisions
Best for win back, cross-sell and upsell, abandon carts, holiday campaigns, promotions, or new customer acquisition.
Cons
Cost of direct mail campaigns grows a bit with the size of the business

Companies that have better product market fit are a good fit
What Others Are Saying
PostPilot offers the best value to businesses with more than $1M in revenue. But smaller businesses have also found success using its features. 
The personalization capabilities of PostPilot have been particularly popular with users. Users could create engaging content and build lasting relationships with their audiences.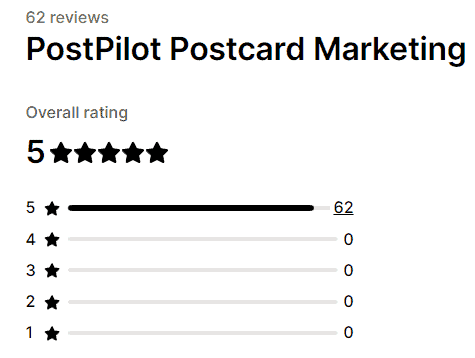 Pricing 
PostPilot has a free Starter and three paid plans – Growth, Pro, and Enterprise. For the Starter plan, you won't have to pay monthly fees for accessing the self-serve platform and will only need to pay $0.89 per 4×6" postcard or $2.99 per handwritten card.

The Growth plan costs $199 monthly and offers cards at $0.69 each. It also has premium features such as account management & free custom design services.
The Pro plan costs $499 monthly plus per-piece expenses, starting at $0.49 each. In addition to the lowest cost per send, tou will get a dedicated account manager, unlimited professional designs, and much more.
If you're an 8-9 figure e-commerce retailer or DTC brand, you can also consider the enterprise-level Custom plan. It will help you build programs and strategies that drive growth for your business.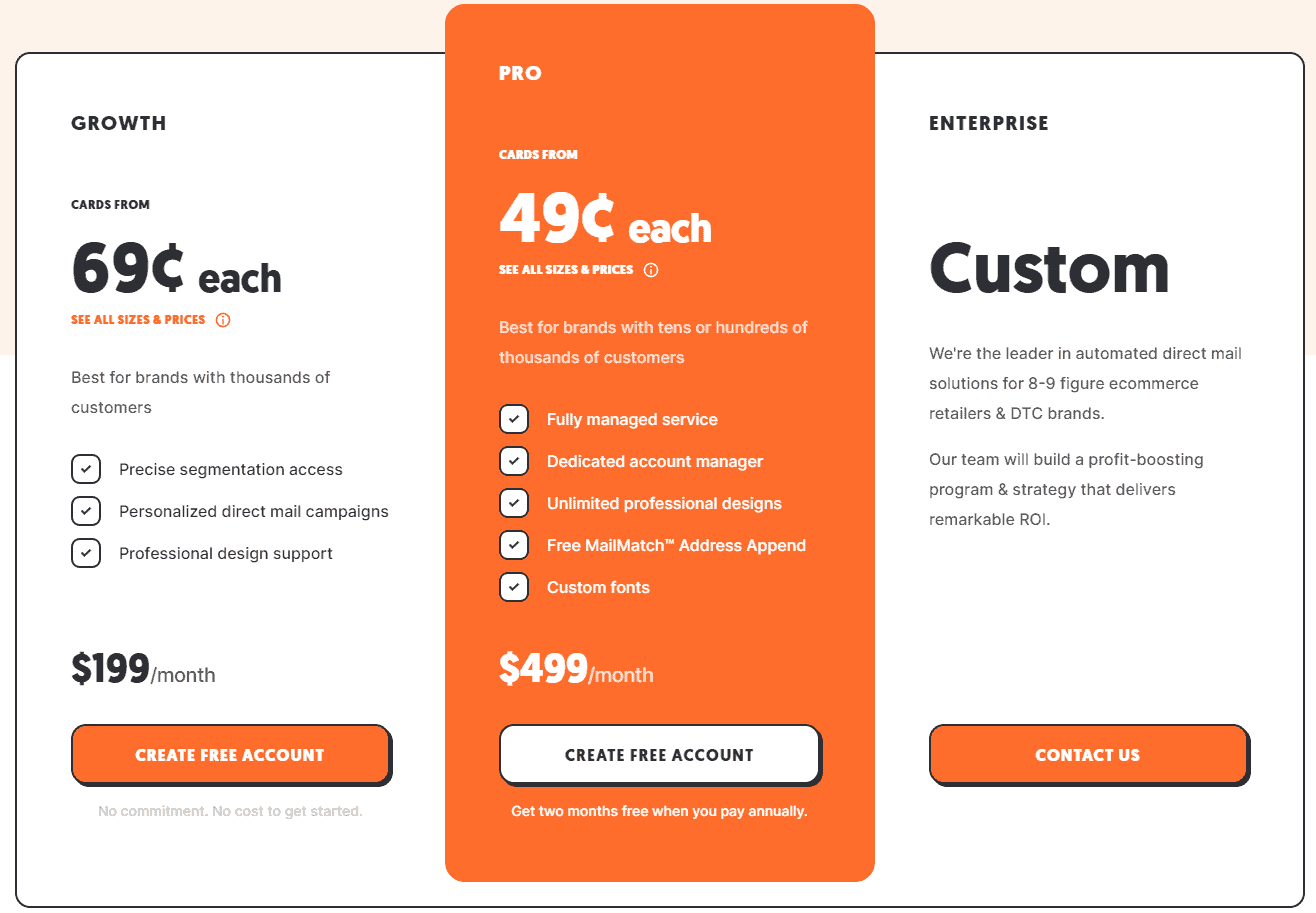 You can check my full review here.
Best PebblePost Alternatives #2: Postalytics

Postalytics is a marketing automation platform that helps businesses of any size create, send, and track direct mail campaigns. It offers a cloud-based platform that simplifies the whole process of direct mail campaigns.
It offers a range of features, including customizable templates, address verification, mail merge, and real-time tracking. This user-friendly platform allows you to upload your mailing lists and customize them based on several criteria, like location, age, income, and purchasing history.
With Postalytics, you can easily upload your mailing lists and create personalized, data-driven campaigns. It integrates with popular CRM systems like Salesforce and HubSpot, making it easy to sync your data and manage your campaigns on one platform.
Three Unique Features
Here are some standout features of Postalytics.
Personalized Direct Mail Campaigns
Postalytics allows you to set up triggered and personalized direct mail campaigns based on specific actions or events. You can send a personalized postcard or letter to customers who have not purchased in a certain period or have abandoned their online shopping carts. 
This feature helps businesses stay top-of-mind with their customers. As a result, you can see an improvement in your sales and conversions.
Advanced Analytics and Reporting
Postalytics provides real-time data on your direct mail campaigns, including delivery, response, and conversion rates. This data helps you track your campaign's success and make informed decisions about future campaigns.
You can use advanced analytics and reporting features to generate valuable insights into customer behavior and engagement. It can help you learn which messages resonate with your audience and which campaigns generate the most revenue.
True Print-On-Demand
With Postalytics' true print-on-demand capability, you can print and mail your direct mail campaigns in real-time. You won't have to pre-order, and store printed materials.
You can also make changes to your direct mail campaigns on the fly. This flexibility lets you adapt your direct mail campaigns to meet real-time market conditions and customer needs.
Pros
Integrates with popular CRM and marketing platforms

Has responsive customer care and support

Offers real-time tracking and analytics, like delivery status, response rate, etc., for every piece

Its drag-and-drop editors ease the process of designing your mail pieces
Cons
May need more advanced features or flexibility for some large-scale businesses or use cases

Can be costly for small businesses requiring low-volume mailings

There have been reports of bugs and technical issues with its integration
What Others Are Saying
Postalytics reviewers rated it positively on G2 and Capterra, two popular software review platforms. They praised Postalytics' customization options as a standout feature. Many users also commended the responsiveness and helpfulness of the customer support team.
However, reviewers mention some areas requiring improvement, like fixing the occasional bugs and glitches. Postalytics also costs more than other direct mail platforms.
Overall, Postalytics is a well-regarded platform for businesses utilizing direct mail campaigns. While there are areas for improvement, most reviewers have given it high marks.
Pricing
Postalytics offers two premium plans – Marketer and Pro & Agency Plans, along with a free plan. 
The free plan allows you to use all features except custom fonts and colors. You will only have to pay for what you send. 
The Marketer plan costs $199 monthly and comes with all premium features. It lets you send postcards at a discounted rate per piece.
Pro & Agency plan offers all features, faster turnaround times, and priority support. You can send unlimited monthly postcards or letters with tracking and delivery confirmation for a monthly fee of $399 plus the lowest rate per piece.
Best PebblePost Alternatives #3: Lob
Lob is a cloud-based platform that automates direct mail for businesses. It streamlines the direct mail process by providing end-to-end fulfillment through its world-class print delivery network.
You can personalize and customize your direct mail pieces based on various data points and triggers with Lob. It can help you increase response rates and conversions and build stronger customer relationships.
Lob also provides data-driven insights and analytics to help businesses measure and improve their direct mail performance and ROI. You can use Lob's dashboard to gain insights into delivery status, response rates, cost per acquisition, ROI, etc.
Three Unique Features
Let's go through Lob's three most unique features.
End-to-end Delivery Fulfillment
Lob takes care of the entire direct mail process from start to finish. You can use its API or web interface to create and send a direct mail in minutes. Lob then prints and mails the physical pieces through its network of vetted print partners across the US. 
Lob ensures high-quality printing and fast delivery times for every campaign. It also handles the logistics and complexity of direct mail fulfillment. Lob also tracks each mail piece through its lifecycle using intelligent barcodes and provides real-time delivery notifications to businesses.
Personalization And Customization at Scale
Lob's personalization and customization feature allows businesses to create large-scale, highly personalized direct mail campaigns. It lets you create direct mail campaigns tailored to each recipient's preferences.
You can customize everything from the text and images to the recipient's name and address. So you can create targeted campaigns that speak to your audience, making them more likely to read and respond to the mail.
Data-driven Insights And Analytics
Lob enables businesses to gain deep insights into the performance of their direct mail campaigns through advanced analytics and reporting. It provides customizable reports by keeping your specific needs and goals in consideration.
You can drill down into specific campaign segments and analyze the performance of individual mail pieces or entire campaigns. Additionally, Lob provides businesses with A/B testing capabilities, enabling you to test different messaging and designs to optimize your campaigns for maximum impact.
Pros
Has a simple, intuitive, and easy-to-use interface

Provides tracking and delivery confirmation for every mail piece

Allows customization with dynamic data and templates
Cons
Has limited integration options with third-party platforms or services and may require custom integrations

Expensive and requires sizable minimum commitments. 

Doesn't support most international destinations or postal regulations
What Others Are Saying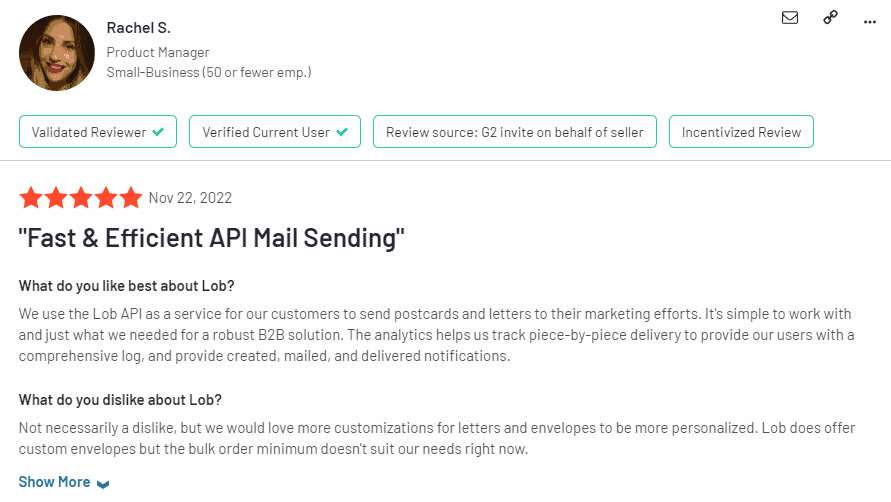 Lob has made the mail campaigns more effective, but some users have reported issues with the platform. Many users appreciated the easy-to-use interface and found Lob's tracking analytics useful for their businesses. 
However, some users have reported issues with customer service and support. Other common concerns are the high setup costs and maintenance requirements.
Pricing
Lob has three pricing plans and a free Developer plan. The free plans allow up to 500 monthly sendings with one user access. 
The Small business plan costs $260 monthly, offering three users access and up to 3,000 monthly mailings. The Growth plan is the most popular, offering up to 6,000 monthly mailings, five user accesses, and 25 HTML templates.
And if you need a more large-scale plan with more customization options, you can opt for the Enterprise plan. It offers 20+ users, 50+ HTML templates, customized mail capacity, and more.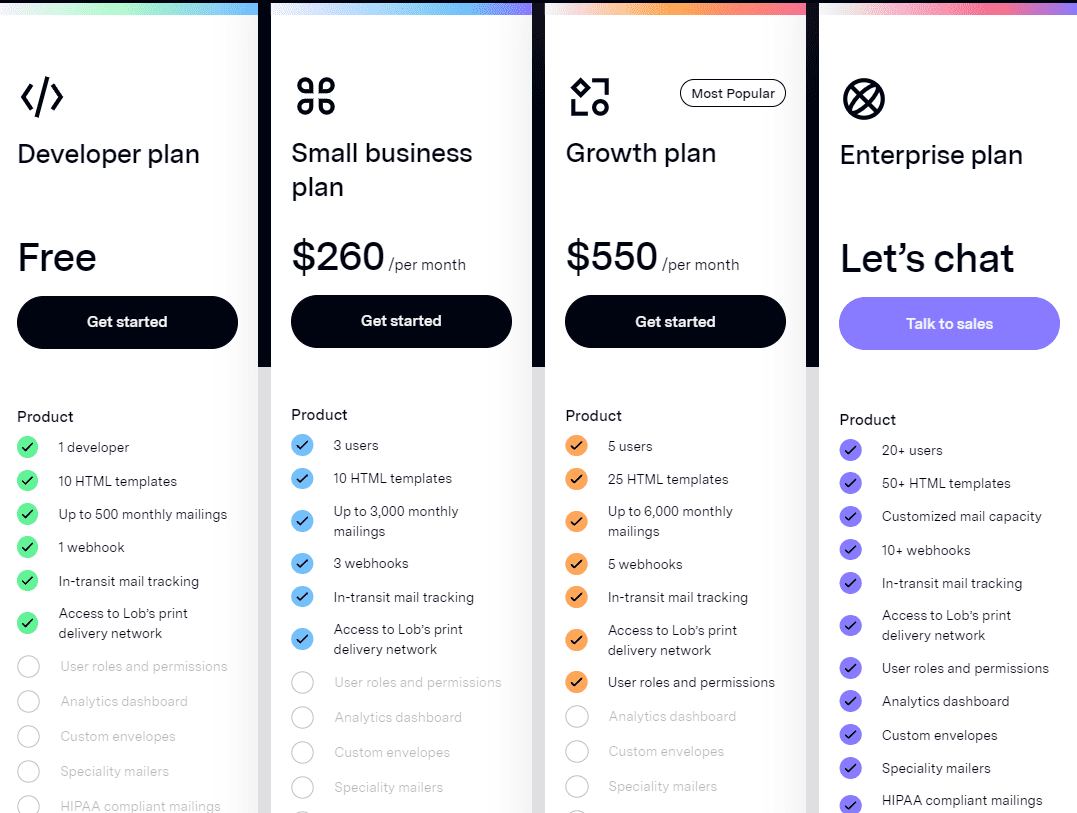 Other PebblePost Alternatives You May Like
Let's look at 2 more PebblePost alternatives that you may consider.
Poplar
Poplar is an API-enabled automatic programmatic platform that offers direct mail solution. It helps you create and launch both one-time and programmatic campaigns quickly. You can also use it to reach your churned users by segmenting them and sending personalized direct mails to them. 
However, it falls short in some areas, like pricing options, free address matching, handwritten letters, in-house printing, etc.
Postie
Postie is a direct mail platform that uses data-driven technology to create targeted campaigns. Its machine-learning algorithm helps you segment customers and reach them with more contextual direct mail. It also matches website visits to home addresses so you can reach both anonymous and logged-in visitors. 
But you should consider it is not the best fit for brands of all sizes. It also doesn't come with native Shopify integration and doesn't have a transparent pricing system.
Final Thoughts
PebblePost has become one of the most popular platforms in the direct mail advertising world. However, it is not the best fit for every business. That's why exploring PebblePost alternatives can be a wise decision for you to improve your direct mail marketing strategies.
After trying several direct mail automation platforms, including Postalytics, Lob, and PostPilot, I found that each tool provides unique features and benefits. PostPilot stands out for having no minimum order limit, easy ecom integrations, full personalization and automation, real-time reporting, and done-for-you service. Postalytics offers robust analytics and tracking capabilities, while Lob provides APIs for sending custom integrations.
Among these alternatives, PostPilot stands out as an excellent alternative for growing businesses with over $1M in revenue. If your company fits the bill, then try out PostPilot today and get access to powerful direct mail features.
Full Disclosure: If you click on some of the links in this article and purchase a paid plan, I may receive affiliate commissions (at no cost to you!). Regardless, the products and services I review are some of the best I've tried, and I support them personally. Head over to my privacy policy & affiliate disclosure to know more.
P.S. Check out my podcast (with 78 episodes and more on the way!) if you're interested in actionable growth marketing and hearing from actual marketers about how they're taking their businesses forward.
Comparison Table
PostPilot
PebblePost
Postalytics
Lobs
Postie
Poplar
Pricing Per Month

$199 – $499 with per piece costing $0.49 – 0.69

Initial investment of close to $50,000 with per piece costing $0.82 

$199 – $399 with per piece costing $0.84 – $1.52

$260 to $550

No transparent pricing

No subscription fee but per piece costs $0.56 – $0.97

Handwritten Letters

Yes

No

No

No

No

No

Highly Customizable

Yes

No

Yes

Yes

No

No

High Investment

Required

No

Yes, up to $50,000

No

No

Not transparent

No

Better Value for Money

Yes

No

Yes

Yes

No

Yes

Advanced Segmentation

Yes

No

Yes

Yes

Yes

No

In-house 

Printing

Yes 

No

No

No

No

No

Native Klaviyo Integration

Yes

No

No

No

No

No