Let's be honest, you want your reviews to look beautiful and presentable, not just authentic. I've been there, and Trustpilot does not cut it. As soon as I saw, Okendo's widget on multiple ecommerce website, I knew I had to try it. Let me tell you, it didn't disappoint. And that's why I'm sharing my honest review. But here are pro and cons if you want a quick overview:
Meet Okendo, the customer marketing platform that helps you improve customer feedback and build a loyal customer base. 
Okendo is a customer marketing and review platform that allows businesses to collect and display user-generated content to build trust and loyalty with their customer base. It comes with custom review forms, product ratings, and customer photos, making it easy for businesses to gather authentic customer feedback and showcase it on their websites and social media channels.
As a paid marketeer and growth consultant, I understand the importance of customer engagement. Proper customer feedback and engagement can make or break a brand's image. Additionally, it is impossible to create brand awareness with good customer reviews.
This comprehensive Okendo review will highlight the tool's features, pros, cons, and user opinions. It will also give you a 360-degree view of the available pricing options and help determine if Okendo suits your customer review needs.
By the end of this article, you will have a comprehensive understanding of how Okendo can benefit your business's customer marketing strategy.

Again, full transparency: I may receive commissions if you click on some of the links in this article, but it won't cost you a thing! Also, the companies do not pay me to write these reviews. I test the products and services myself, and I support them regardless.
Table of Content
Okendo Review: An Overview
If you're looking for a reliable and feature-rich customer marketing and review platform, Okendo is a great option to consider. Okendo's easy-to-use interface, robust feature set, and excellent customer support have quickly turned it into a go-to solution for businesses of all sizes and industries.
One of the biggest benefits of using Okendo is the ability to collect and showcase customer feedback on your website, social media channels, and other marketing materials. This helps build trust with potential customers and strengthens your brand's reputation.
Okendo also provides various tools and features to help you manage your customer reviews. You can moderate and respond to reviews, automate review requests, and even showcase customer photos and videos alongside their feedback. Besides, Okendo's integration with popular e-commerce platforms like Shopify and BigCommerce makes setting up and managing your customer review strategy easy.
Additionally, Okendo offers powerful analytics and reporting capabilities. You can track key metrics like review volume, sentiment, and engagement and use that data to make informed decisions about your marketing strategy.
Managing customer reviews can feel like hell, but Okendo makes it easy with its robust rating and filtering options. This means you can easily sort through reviews based on factors like star rating, age range, and reason for purchase. Moreover, Okendo offers a "Verified Buyer" badge for reviews left by customers who have purchased your product, adding an extra layer of credibility to your reviews.
Okendo also offers the ability to target specific age ranges when requesting reviews, making collecting feedback from your target audience easy. And with the ability to specify the reason for purchase, you can get valuable insights into why customers are buying your product and what they think of it. This helps build an intimate relationship with your target audience. 
Things I Love 
Okendo is the ultimate customer marketing and review platform that's easy to use and provides a variety of customer marketing and management features that I've fallen in love with. 
My favorite thing about Okendo is its high-velocity content generation feature. Its personalized review request automation maximizes response rates. 
Okendo makes it easy to collect visual user-generated content that attracts attention and builds community, and showcases authentic customer experiences. Additionally, its attribute ratings provide structured insights into product and customer attributes, helping shoppers make more confident purchasing decisions. 
Another thing I adore about Okendo is its filtering feature. This powerful feature allows users to easily filter through reviews by various criteria (like rating, date, verified buyer status) and attributes (like age range and the number of products purchased). This lets you gain insight into your customers, identify the main target demographic, set your customer triggers, and more. 
Moreover, the filtering feature allows you to quickly identify and showcase the most relevant reviews for your products, which helps build trust with potential customers. Businesses can increase their conversion rates and drive more sales by displaying reviews that are most likely to resonate with their target audience.
Then there are Okendo's review moderation tools that simplify customer review management for businesses. It gives customers peace of mind that companies actively listen to their feedback.
Finally, Okendo's multi-channel marketing capabilities are a significant selling point for the platform. They allow businesses to supercharge their marketing programs and reach customers wherever they are. One of the key features of this is the official partnership with Google, which will enable companies to use reviews to increase visibility and improve campaign performance on the world's most popular search engine.
Three Unique Features 
Here's a closer look at three of Okendo's most unique features.
Visual UGC
One of the best features of Okendo is its Visual UGC (user-generated content) feature which makes it easy for brands to collect and display authentic visual content created by their customers.
With the help of this feature, customers can upload photos and videos of themselves using or enjoying the product, which can be displayed alongside their reviews. This gives potential customers a complete understanding of the product and its benefits, as they can see it being used in real-life situations.
Visual UGC also helps build community and brand loyalty by allowing customers to showcase their experiences and connect with others with similar interests. You can fully customize Okendo's Visual UGC feature to match the brand's aesthetic, ensuring that the visual content aligns with the brand's messaging and style.
Advanced Review Request Automation
Advanced Review Request Automation is a unique feature offered by Okendo that allows brands to maximize response rates and collect more customer reviews. Brands can use this feature to set up precise sending triggers, split conditions, and hyper-personalized messaging to ensure that review requests are sent at the right time, to the right customer, and with the right message.
This feature is incredibly flexible and can be customized to meet each brand's unique needs. For example, brands can set up sending triggers based on customer behavior, such as a repeat purchase or a high-value order. They can also segment customers based on various attributes, such as their age range or location, and create messaging tailored to each segment.
Using Advanced Review Request Automation, brands can collect more reviews and increase their overall review volume. This, in turn, helps to build social proof, improve search engine visibility, and increase conversion rates.
Amazing Filtering Capabilities 
Another unique feature of Okendo is its filtering capability. Okendo's filtering feature enables brands to filter and display customer reviews based on specific criteria, such as age range, reason for purchase, verified buyer status, and product rating.
The filtering feature is handy for brands as it helps them highlight their products' positive aspects. By filtering reviews based on product ratings, brands can display the most positive reviews and showcase the product's strengths.
In addition, this filtering feature is also helpful for shoppers as it helps them quickly find relevant reviews. For example, suppose a shopper is interested in purchasing a product for a specific reason, such as travel or a special occasion. In that case, they can use the filtering feature to find reviews from customers who purchased for the same reason.
All in all, Okendo's filtering feature is a powerful tool for both brands and shoppers. It helps brands highlight the positive aspects of their products and helps shoppers find reviews relevant to their needs.
What Others Are Saying 
Reviewers and users have been highly positive about their experiences with Okendo. Many have praised the platform's simplicity, beauty, ease of use, and advanced review request automation, which have helped them to collect high-quality user-generated content and increase review response rates.
Users have also noted Okendo's filtering feature as highly effective in helping shoppers find relevant reviews while allowing brands to showcase the strengths of their products. 
Additionally, users have appreciated the multi-channel marketing capabilities, which have enabled them to supercharge their marketing programs across various channels and increase their visibility.
Overall, reviewers and users have found Okendo to be a valuable platform for collecting and displaying user reviews and enhancing their marketing efforts.
Pricing 
Okendo has three packages: reviews, connects, and bundles. Each of them has a few different pricing plans. We'll go through all of them briefly.
Okendo's review package has five pricing plans which suit different individuals and businesses. We start with the essentials plan, which comes at $19 monthly.
Next, the Growth plan starts at $119 per month, offering up to 1,500 orders per month and 15+ onsite review displays. 
After that, the Power plan comes at $299 per month. It offers up to 3,500 orders monthly and features such as multi-store syndication, advanced reporting, and an onboarding manager.
Next, the Advanced plan starts at $499 monthly and offers up to 10,000 orders per month. This feature also allows access to the Bazaarvoice syndication. 
But for larger enterprises and individuals who need custom plans made, contact Okendo today so they can meet your needs and get you the right quote!
We can see that Okendo's connect pricing plans are identical to their review pricing plans.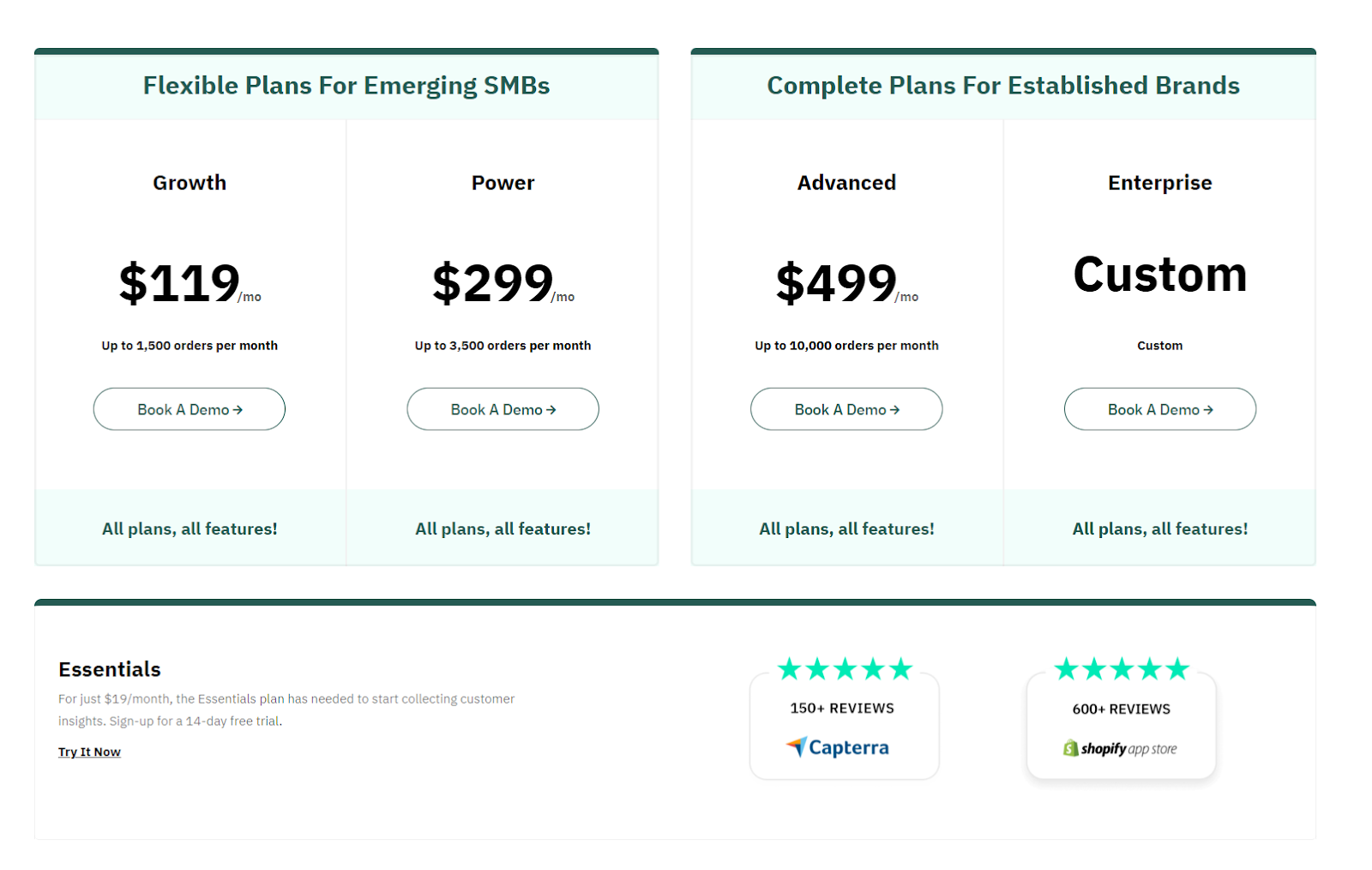 But if you need the best of both worlds, you can go with the bundle packages.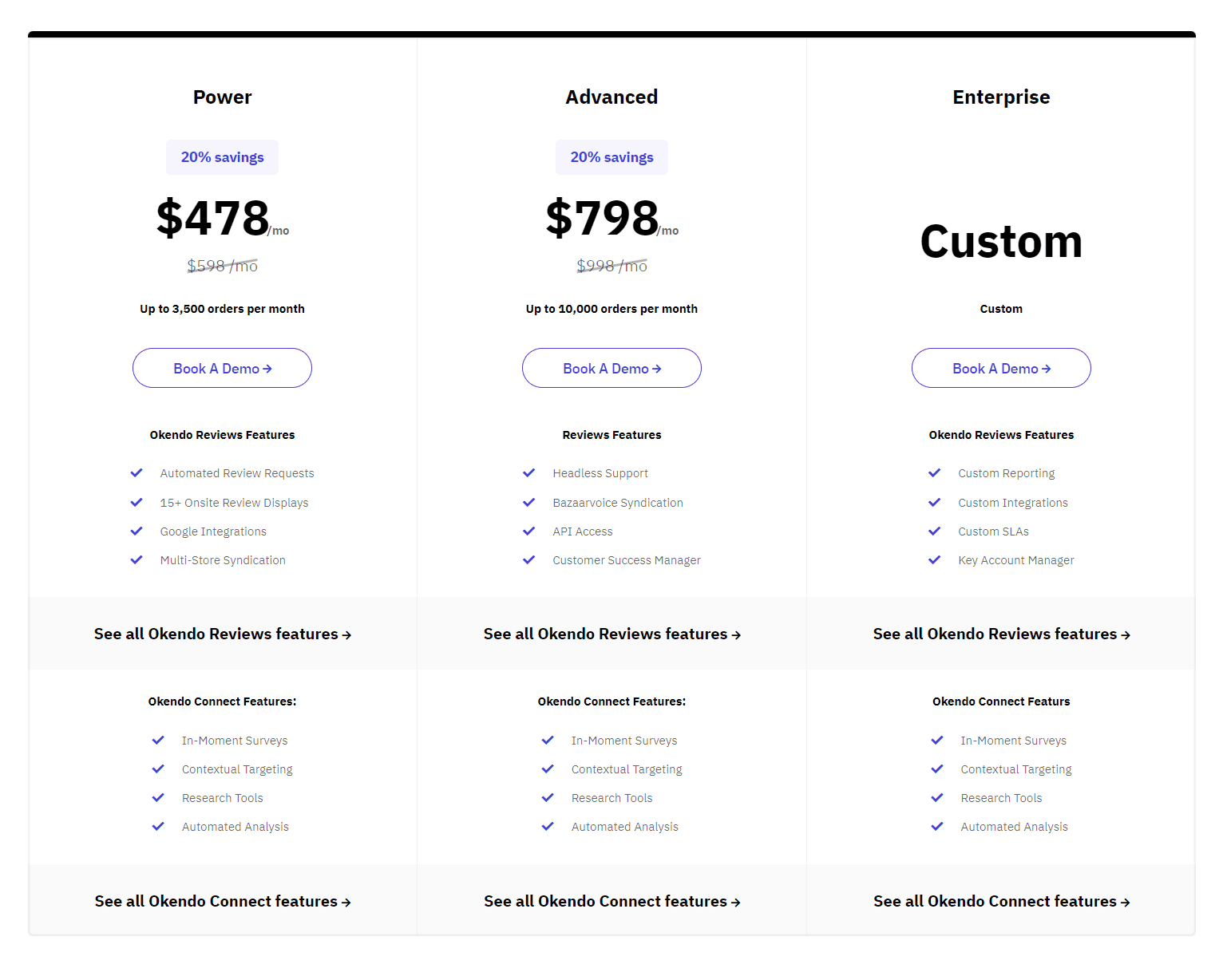 Firstly, the Power plan comes at $478 per month and offers a mixture of review and connect packages. Next, the Advanced plan comes at $798 monthly. But again, for enterprises needing the most out of Okendo's features, you'll have to contact them to get the proper quote. 
Final Thoughts 
Okendo's powerful review request automation, advanced filtering capabilities, and multi-channel marketing features have made it an indispensable tool for gathering high-quality user-generated content and boosting my brand's reputation.
I particularly loved Okendo's ability to collect visual UGC and attribute ratings, which helped shoppers make more confident purchasing decisions. The platform's hyper-personalized messaging allows you to reach customers on their preferred channels and maximize response rates.
If you're looking for a reliable and feature-rich customer marketing and review management platform, I highly recommend Okendo. With its easy-to-use interface, powerful features, and excellent customer support, Okendo is a game-changer for any brand looking to take its marketing efforts to the next level.
So why wait? Sign up for Okendo today and start reaping the benefits of advanced customer review management and marketing automation!

Full Disclosure: If you click on some of the links in this article and purchase a paid plan, I may receive affiliate commissions (at no cost to you!). Regardless, the products and services I review are some of the best I've tried, and I support them personally. Head over to my privacy policy & affiliate disclosure to know more.