Looking for a marketing analytics tool that goes beyond just the clicks? Or maybe you're just looking to minimize your advertising waste and maximize your ROAS. Whatever your marketing needs, I bet this article can help you find the right marketing analytics tool for your online business.
I've had my fair share of experience using marketing analytics tools during my time as the Head of Growth for Shopify. Now, as an e-commerce growth marketer, I've had the chance to try and test a bunch of promising marketing tools personally, so you don't have to!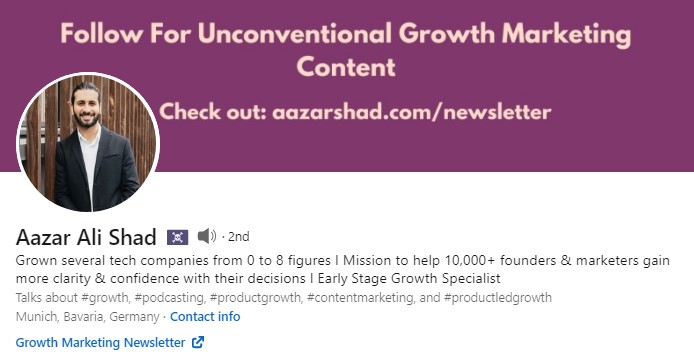 In this article, we'll be delving into Northbeam, one of the top marketing analytics tools I've tried firsthand. Even though Triple Whale may be more well-known, Northbeam still has a few tricks that might impress you as they did me! Scroll down for a complete Northbeam review, and learn about the key features, pros, cons, and pricing for Northbeam.
Before moving on, if you are in DTC or Paid Social Marketing, then join 4000+ marketers and founders in this newsletter. It's free, and you'll learn the latest paid marketing tactics:
Update April 2023 on North Beam's Pricing:
Here's what their team wrote me:
We just launched new pricing: $1.50 for 1000 page views. We found this model to be:
More affordable for small brands looking to scale up their ad spend with your agency!
 Easier to understand: Easy price for each 1000 page views with discounts for 6 months and annual commitments
Plans starting at $300/Month (even cheaper for 6 month and annual commitments)
We also are doing a promotion for 30 day money back guaranteed for any brand that wants to try Northbeam and let the data do the talking.
But first, time for some transparency: I may get some affiliate compensation if you click on some of the links in this article, but it won't cost you a thing! Moreover, these companies do not pay me to write my reviews. I test the tools myself, and I support some of them regardless.
Table of Content
Northbeam Review: Overview
Northbeam is a powerful eCommerce analytics platform with capabilities like pixel tracking, advanced machine learning, real-time data processing, multi-touch attribution, and more. With brands like Kizik, HexClad, and The Ridge in its client portfolio, this marketing intelligence solution also promises a 44% boost in revenue (on average) for its users. 
Northbeam is designed to reduce wasteful advertising and increase ROI while assisting digital marketers in resolving major marketing issues. With Northbeam's comprehensive attribution, all revenue sources are identified across every possible channel and touchpoint. 
Source: Twitter
Moreover, you can use Northbeam to customize reports, create unique alerts for ad overspending, and monitor your customer sources using machine learning. This marketing analytics tool also lets you track and understand your customer paths better with several useful filters to analyze their behavior within a specified date range, path length, and generated revenue.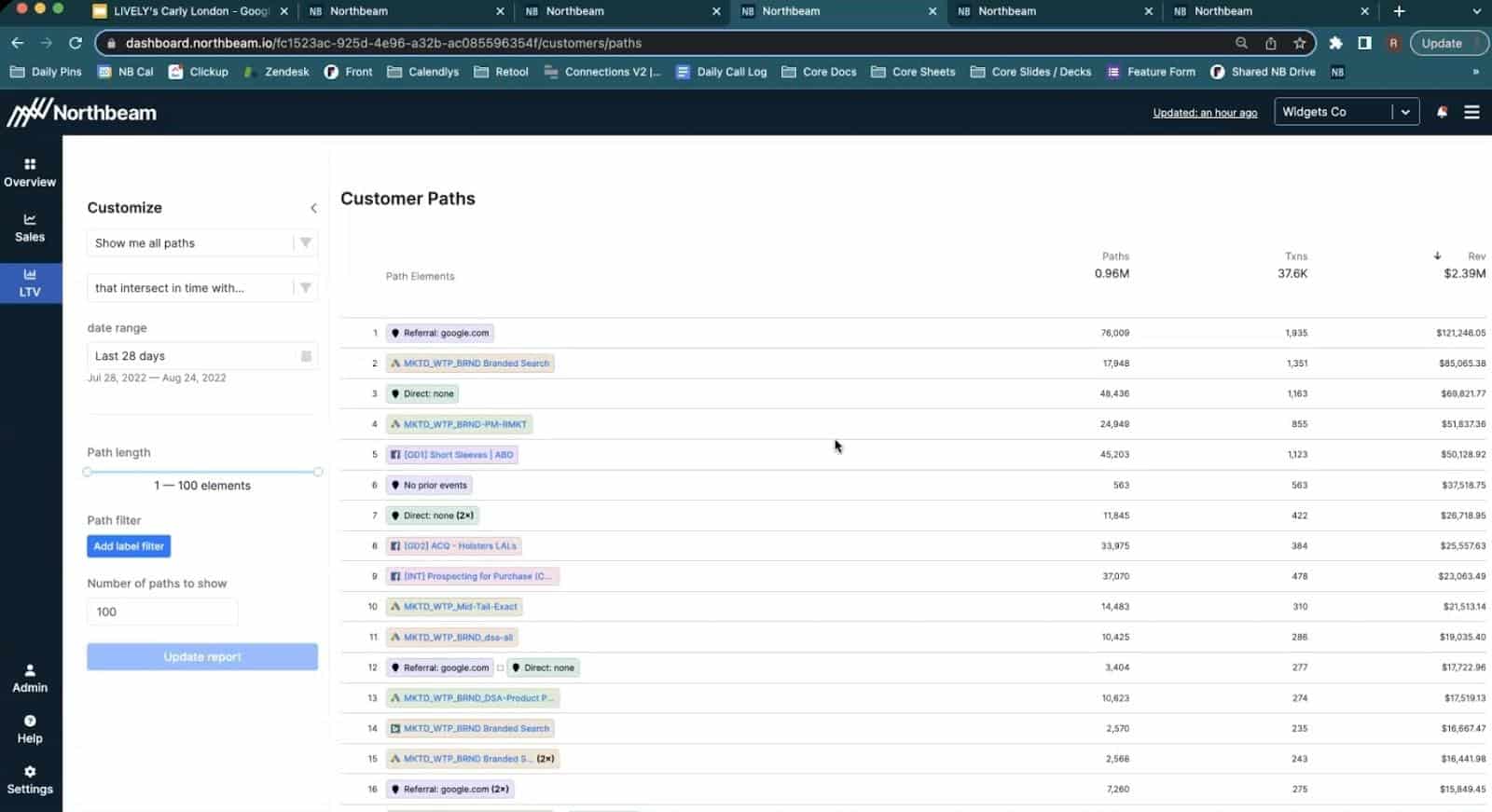 Source: Northbeam Webinar 
Northbeam gathers data and stitches, cleans, and visualizes it for simple understanding. Additionally, it equips clients with the skills required for data interpretation so you can make the most of your data.
In addition to shops and advertising APIs for customer-level data collection, Northbeam integrates with the most popular platforms, including Facebook Ads, Tiktok, Google Ads, Snapchat, Shopify, Amazon, Klaviyo, etc.
Features
Maps and stitches customer data across different channels and devices

Forecasts campaign profitability using machine learning

Comprehensive attribution identifies sources of customer traffic with precision

Collects, cleans, and visualizes first-party data for easier understanding

Sets custom alerts for ad overspends

Uses advanced pixel tracking technology for more precise conversion data

Trailblazing machine learning attributes every conversion to identify all revenue sources accurately

Unbiased first-party data collection across all major platforms

Unlimited attribution with an indefinite window for attribution

Snapshots feature provides top-level insights for quick collaboration

Tracks customer paths to help users understand their customer behavior data

Wide range of integrations with most major platforms, shops, and APIs for collecting data at the customer level
Pros
Hourly data refresh with real-time processing

Provides more accurate conversion data with pixel tracking technology

Offers an indefinite attribution window and limitless attribution

Maps and stitches customer activity across channels and devices to provide clean, arranged data sets

Combines data from every possible customer touchpoint to identify all revenue sources.

Uses advanced machine learning to track customer sources

Builds personalized machine learning models for enhanced multi-touch attribution and performance forecasts

Helps every client enhance their data interpretation skills
Cons
Ideal primarily for enterprises and large eCommerce businesses

More expensive than alternatives with a starting price of $300 per month (for below 300k monthly views)

No free version

The pricing structure is steep for businesses with larger numbers of monthly views
Northbeam Review: 3 Things I Love About Northbeam 
Northbeam does quite a few things differently from its competitors. But there are three features in particular that I loved most about this tool:
Pixels, Not Clicks
The thing I loved most about Northbeam would be the pixel tracking feature. While other marketing and analytics tools usually only rely on click tracking, Northbeam goes a step further with its pixel tracking. 
While click trackers monitor all the clicks on your website or mobile app, it doesn't convey how many of those clicks resulted in conversions. Many people who click on your marketing content might not end up converting. And at the end of the day, conversions matter the most for every digital marketing action. 
On the other hand, pixel tracking helps you track conversions, ad impressions, email opening rates, and more. With Northbeam's pixel tracking, marketers can track the behavior of users online, such as the pages they visited, actions they performed, and things they purchased. Such invaluable information helps you rework your strategies to deliver the right ads to the right customers at the right stage of their customer journey. 
Proprietary First-Party Data
Besides offering an indefinite attribution window, Northbeam also aggregates across all touchpoints, from influencer and unpaid media to offline content. With no attribution limits, this provides you with richer and broader data sets. 
Source: Northbeam Webinar
Besides, Northbeam's unbiased first-party data tracking covers the customer journey across most major platforms, including Facebook, Google Ads, Shopify, Amazon, Klaviyo, and more. Additionally, you can also compare the attribution models for each of your marketing channels to identify what's working best for your business. The data you get in the end is cleaned, stitched, and modeled for you to make data-driven decisions for your business confidently.
Machine Learning Models
Another aspect of Northbeam that I admire is the trailblazing machine learning technology that they have been perfecting for years. 
When you use Northbeam, it personalizes machine learning models to cater to your unique needs. This helps you identify customer interactions beyond clicks by attributing every conversion and identifying all revenue sources. Advanced machine learning also offers performance forecasts, multi-touch attribution, and tracking of potential customer sources for your business.
Besides these, I admire a lot of additional features, such as the hourly refresh and real-time data processing, the custom alerts, the profitability forecasting, and how they arrange and interpret the data for their clients. Moreover, while tools like Facebook ads can sometimes give out overestimated metrics for your campaigns, Northbeam's advanced machine learning technology ensures you get the most precise measurements.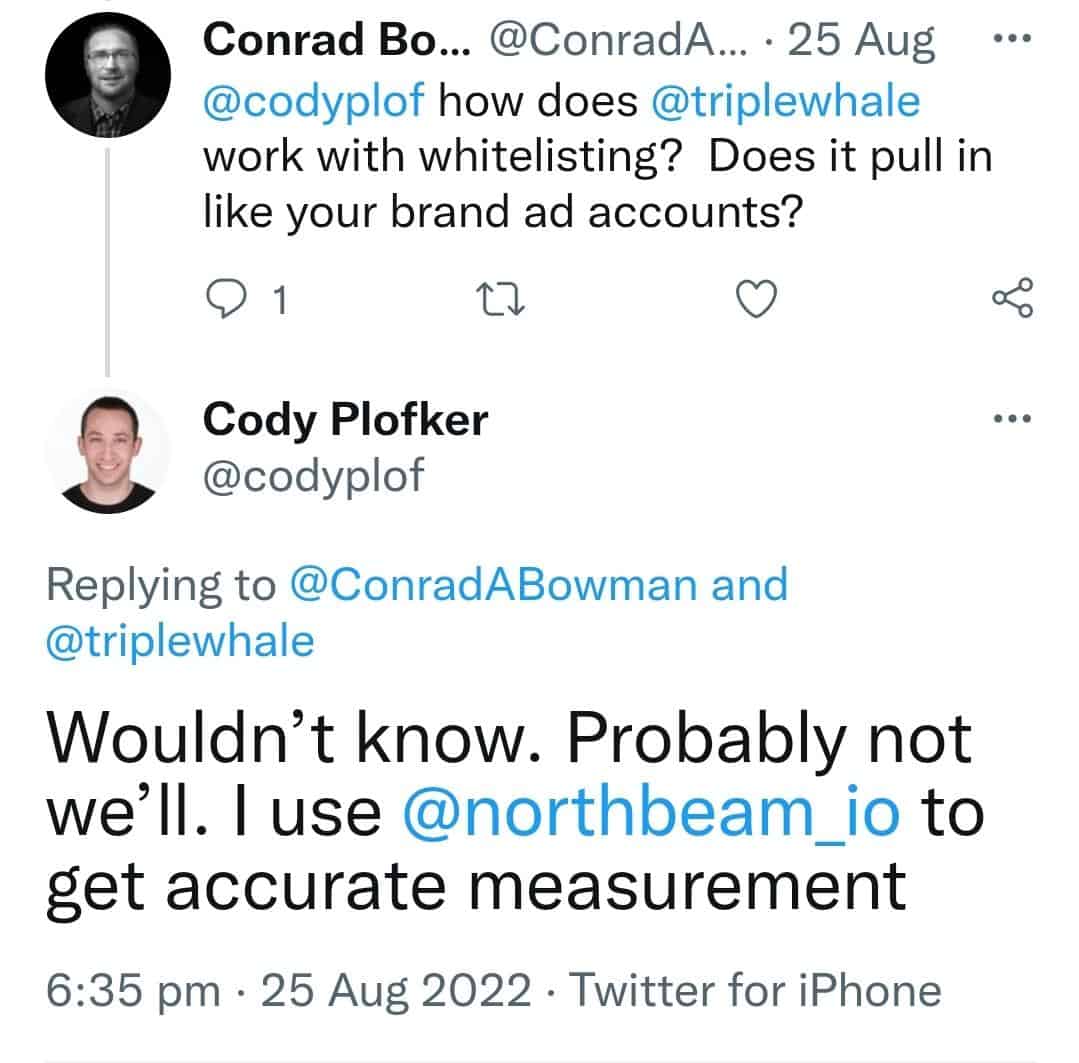 Source: Twitter
But despite all I loved about Northbeam, if I had to pick something I disliked, it would be the high starting price and the absence of a free version to make it more accessible for potential subscribers. 
Northbeam Review: Who Is It For?
With its advanced machine learning and pixel tracking technology, Northbeam is a heavyweight eCommerce intelligence solution for online businesses, eCommerce stores, and enterprise-level clients. 
While the tool can help any digital marketer track, analyze, and optimize their marketing efforts, the pricing structure may not be suitable for smaller businesses with limited monthly views.
Northbeam Review: Pricing 
Mostly suitable for enterprise and eCommerce use, Northbeam features powerful data stitching, pixel tracking, and multi-channel attribution features backed by advanced machine learning technology. But all these heavy-duty features come with a sizable price tag too.
Northbeam packages start from $300 monthly for clients with up to 250k views. These prices can reach as high as $21,250 for 5M to 15M views, with the cost steadily rising with monthly views.
Final Verdict
Although I love tools like Triple Whale and Admetrics, they still have a few flaws that Northbeam overcomes quite impressively. While most other tools will offer limited attribution and just rely on click tracking, Northbeam can do much more for your business.
From pixel tracking and limitless multi-touch attribution to indefinite attribution windows and machine learning models customized to support your unique digital marketing efforts, Northbeam is worth a shot. Despite the hefty price tag, it's a powerful tool with many handy features for enterprises and online businesses.
Disclaimer: I may get some affiliate compensation from some of the links in this article, but that is only if you purchase a paid plan. Regardless, the products and services that I review are some of the best tools I have tested, and I support them personally. For more details, head over to my privacy policy & affiliate disclosure.
P.S: If you're interested in actionable growth marketing, and hearing from real marketers about how they move their business needles, check out my podcast (with 75 episodes already and more on the way!)