Most people on LinkedIn are looking for jobs but hardly building relationships. Lead Delta can help you build genuine relationship and connections to properly network on LinkedIn. It's a "networking" software.
I found out about Lead Delta and immediately jumped on it because it helps me connect and send messages at scale without *spamming" my network.
Meet Lead Delta, a LinkedIn networking tool that helps you manage and organize your LinkedIn connections.
Lead Delta is an efficient and intuitive LinkedIn networking tool that helps you streamline your connections and messages and enrich your CRM with valuable data. It is a personal assistant for your LinkedIn networking efforts.
The tool is designed to help you build solid and lasting relationships on the platform and say goodbye to the overwhelm of managing your LinkedIn connections. 
As a professional marketer on LinkedIn, I know the importance of building and maintaining strong relationships on the platform. But with so many connections, messages, and data to manage, it can quickly become overwhelming. That's why I tried Lead Delta and fell in love with it. Here are quick pros and cons if you are just skimming: 
In this Lead Delta review, I'll take an in-depth look at the tool and explore its features to provide you with an honest assessment of its pros and cons. And to help you decide whether Lead Delta suits your networking needs, I'll also cover everything you need about pricing options. You can also use my unique code, 5AAZAR, for five months off your Lead Delta subscription. But hurry up because the code will expire on June 30th at 23:59 EST (NYC/Toronto). 
Here's the catch, I'm going to share the feedback of this tool but also will tell you how to build relationships on LinkedIn. All the tips are at the bottom if you click here.
But first, full transparency: I may receive commissions if you click on some of the links in this article, it won't cost you a thing, and you'll get 5 months off if you use it! Also, the companies do not pay me to write these reviews. I test the products and services myself, and I support them regardless.
Table of Content
Lead Delta Review: An Overview
Lead Delta is a powerful LinkedIn network management tool designed to help businesses and individuals grow their networks and build valuable relationships. It provides users with various features and tools to help them stay organized, streamline their workflow, and optimize their communications with their warm leads.
One of the key advantages of using Lead Delta as a personal CRM is its ability to help you organize and manage your LinkedIn connections in one place. With a simple, clutter-free interface, Lead Delta allows you to sort, filter, and view their connections in the best way for you. You can easily add tags and notes to your connections, making tracking crucial information easier and staying on top of their communications.
Lead Delta helps you stay on top of your conversations with warm leads. With its smart inbox feature, Lead Delta makes it easy for you to manage your LinkedIn messages efficiently. You can pin, star, filter, and tag messages, use customizable templates, and send personalized messages, ensuring you never miss a meaningful conversation and can build stronger connections with your leads.
Another key advantage is its data integration feature. Suppose you want to build stronger connections with your warm leads. In that case, you can use your contacts' LinkedIn data to enrich their CRM and gain valuable insights into your leads' interests, behaviors, and preferences. This, in turn, can help you tailor your communications and build more meaningful connections with your leads, leading to success and better results.
Overall, Lead Delta is an excellent tool for anyone already talking with warm leads and wanting to build stronger connections. Its personal CRM features, smart inbox, and data integration capabilities make it a powerful tool for streamlining communications, staying organized, and building valuable relationships. 
Things I Love 
Lead Delta is a powerful tool that helps me manage my LinkedIn connections more efficiently and effectively. As someone who values building strong relationships and growing my business, Lead Delta has been an invaluable resource that I can't imagine working without.
To start, I love Lead Delta's top-notch organization features. It can keep all your contacts on one table and sort them according to your needs. This makes it easy to find and manage your connections. If you're looking for founders or media buyers, you won't have to look for them manually anymore. You can search the keywords on Lead Delta, and it'll find them.
But what makes Lead Delta a game-changer is the smart inbox. This feature is a total lifesaver for me. I can filter and tag messages, use templates to respond to messages, and never miss an important conversation. Linkedin has always struggled with keeping an organized inbox. But the smart inbox feature solves the issue. 
Another aspect I love of Lead Delta is its data integration. You can easily update and export your contacts' LinkedIn data to enrich your CRM. This helps you make informed decisions and grow your business. Lead Delta also has native Zapier integrations, so you can easily build workflows.
Another great thing about Lead Delta is that it's ad-free and distraction-free. You can focus on networking without being interrupted by ads or notifications. It's a clean and streamlined workspace for LinkedIn.
Lead Delta is imperative if you don't want to lose out on your warm leads but build on them through meaningful conversation. It provides useful features and helps you cut through the clutter of the platform. If you're serious about building LinkedIn relationships, Lead Delta is worth considering.
Three Unique Features
Let's go through three of Lead Delta's most useful and unique features. 
Network Manager
Lead Delta's Network Manager feature is a powerful tool for managing LinkedIn connections. It allows you to organize all of your contacts in one place, providing a table showing all their connections without the clutter of LinkedIn's default view. This provides you with a 360-degree view of your connections. 
You can sort and filter their connections based on various criteria such as industry, location, job title, and more. This makes it easy to find specific connections or groups of connections and quickly reach out to them for networking or business opportunities.
The Network Manager feature also allows you to add tags and notes to your connections. This can be a valuable tool for helping users remember essential details or context about their relationships with their connections.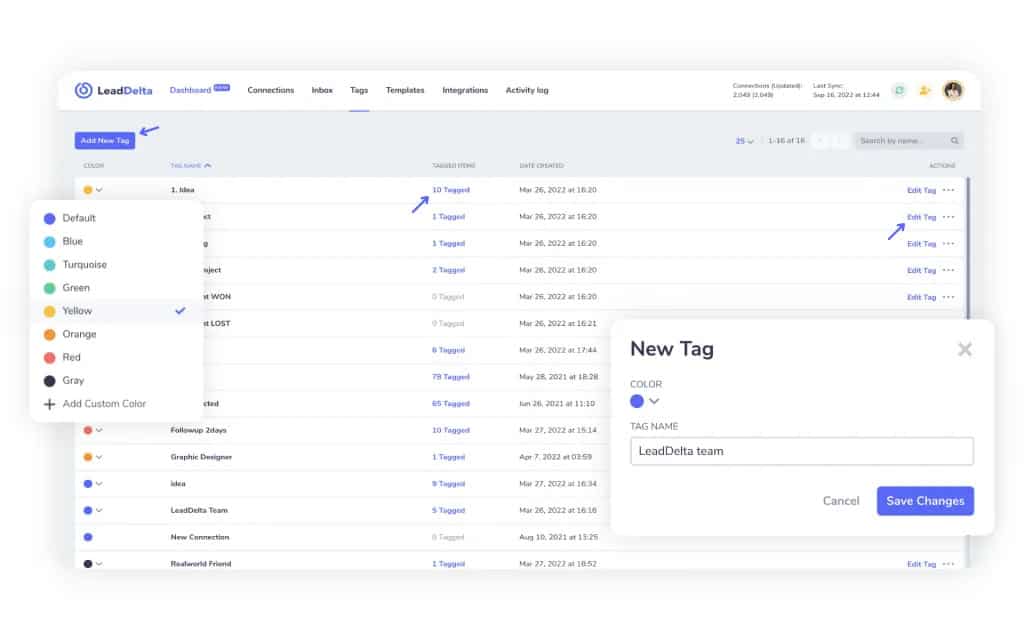 For example, a user might add a note about a specific conversation with a connection or tag a connection as a potential lead for a specific project or opportunity. 
Additionally, the Network Manager feature provides an overview dashboard that shows the size and composition of a user's network. This can help identify areas where you need to focus your networking efforts and make more strategic decisions about who to connect with on LinkedIn.
The Smart Inbox 
If you've been losing your warm leads and cannot build up your relationships on LinkedIn, this feature solves that problem entirely. You can pin, star, filter, and tag messages using the Smart Inbox feature to stay on top of your most important conversations. For example, a user might pin a message that contains an important business opportunity or tag a message with a specific topic or theme. 
The Smart Inbox feature also allows you to use customizable message templates to send personalized messages to their connections without typing the same message multiple times. This can be a valuable time-saver for users who frequently send similar messages to their connections.
The Smart Inbox feature can help you to save time and never miss a crucial conversation. It can also be valuable for building and nurturing relationships with their LinkedIn connections. You can build trust and credibility with their connections by staying on top of their conversations and responding quickly and thoughtfully. 
Data Integration 
Lead Delta's data integration feature allows users to take advantage of their contacts' LinkedIn data, enriching their CRM with additional information to help them better understand their connections. 
For example, you might use data integration to learn more about a connection's professional background, education, or interests, which can help you tailor your messaging and networking efforts more effectively.
With this feature, you can also update and export their data using the data integration feature. This can be a valuable tool for managing their LinkedIn network outside of the platform or for integrating their LinkedIn data with other tools or systems they use for their business. 
Finally, Lead Delta offers native Zapier integration, which you can use to build workflows and automate tasks related to LinkedIn networking. 
What Others Are Saying
Users and reviewers online generally have praised Lead Delta for managing LinkedIn connections and conversations. Many users find the Network Manager feature particularly helpful in organizing and segmenting their LinkedIn contacts, while the Smart Inbox feature has been praised for helping users stay on top of their conversations and quickly respond to important messages.
Additionally, Lead Delta's data integration feature has been noted as something that has streamlined users' workflows and helped them automate different parts. Some users also appreciate the absence of ads and distractions in Lead Delta, which allows them to focus on building relationships and growing their business on LinkedIn.
Lead Delta's customer support has also been highly praised due to its ability to solve any arising issues quickly. 
Overall, users and reviewers appreciate the value that Lead Delta provides for managing and growing their LinkedIn network, with many noting that the platform's powerful tools have helped them save time and build more meaningful connections on the platform.
Pricing 
Now, let's talk about one of the most important aspects of anything, the price. Even though Lead Delta does have a free option, it's always better to get the paid version due to the range of features it allows you to have.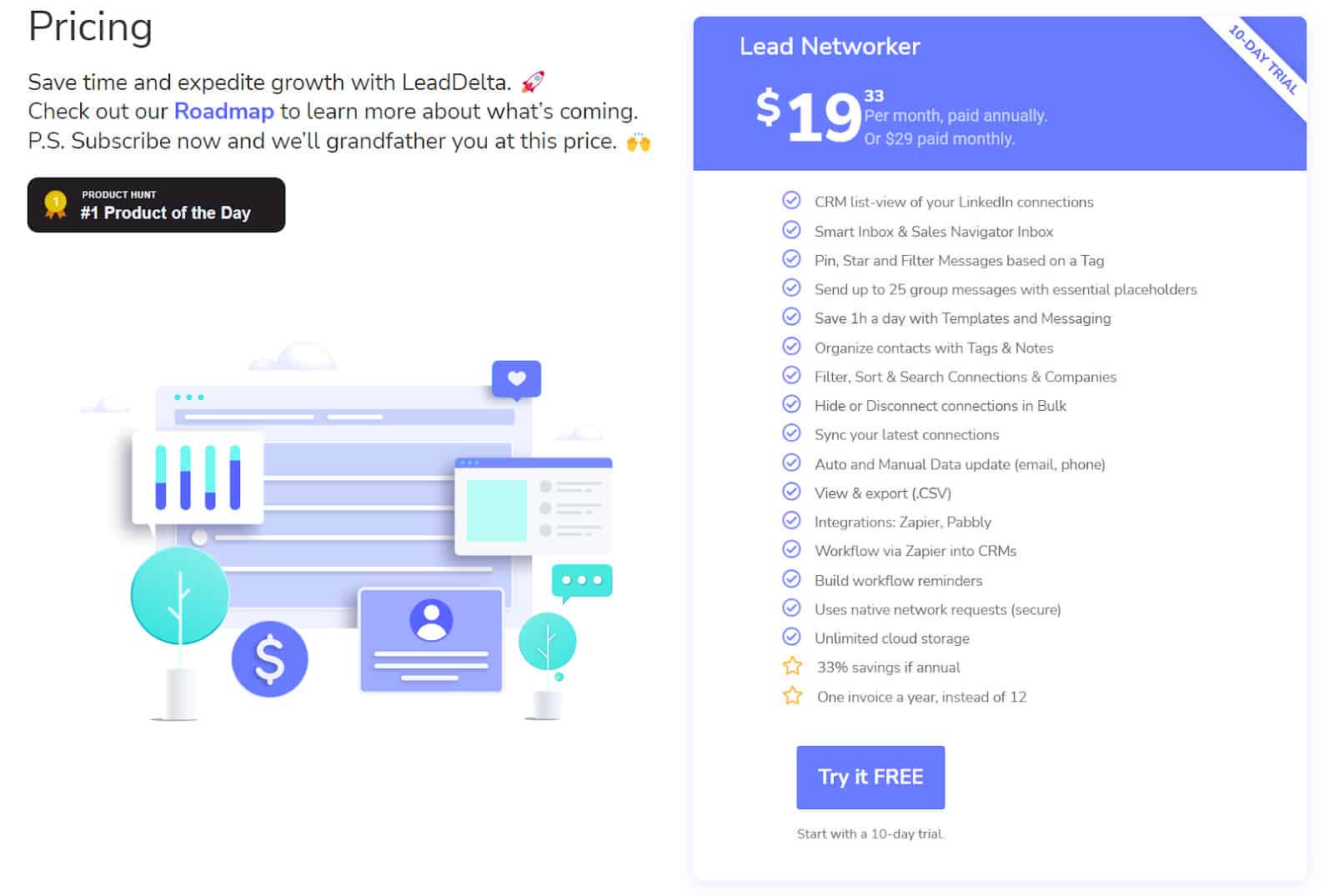 Lead Delta's paid plan, Lead Networker, starts at $19.33 monthly if paid annually. But if you're paying it monthly, it comes at $29.
Well, if you thought this price was already great, wait till you hear this! If you use my unique code 5AAZAR while getting the Lead Delta subscription, you'll get five months off, saving $145 a year. And the best part is you'll be grandfathered at this price. But the code will expire on June 30th at 23:59 EST (NYC/Toronto), so use it before then!
Final Thoughts  
After trying out Lead Delta for myself, I can confidently say it is a fantastic tool for anyone looking to build true lasting connections with their warm leads. With the help of Lead Delta, you can organize your LinkedIn contacts in one place, sort and filter your connections, and view critical contact information with sidebars. 
Lead Delta cuts through the noise of overloaded inboxes, feeds, and screaming notifications, allowing you to be more proactive in your networking efforts. Whether you're a business owner, a sales professional, or a marketer, Lead Delta can help you grow your business by growing your relationships.
So, if you're ready to take your LinkedIn game to the next level, I recommend trying Lead Delta. And as a special offer for our readers, use the code 5AAZAR during checkout to get five months off your subscription. Don't miss out on this opportunity to revolutionize how you connect with your warm leads. Start building meaningful relationships today with Lead Delta.

Full Disclosure: If you click on some of the links in this article and purchase a paid plan, I may receive affiliate commissions (at no cost to you!). Regardless, the products and services I review are some of the best I've tried, and I support them personally. Head over to my privacy policy & affiliate disclosure to know more.
LinkedIn Networking Tips
Here are 7 practical relationship-building tips I wish I knew earlier:
1/ Become friends with people, instead of focusing on "networking".
They say, "Networking can get you further than a degree can". But friendships get further together.
You want to build long-lasting relationships, not a one-off.
2/ Solve their problems before even asking anything.
Here's a good thread about solving before asking.
Now do this more often.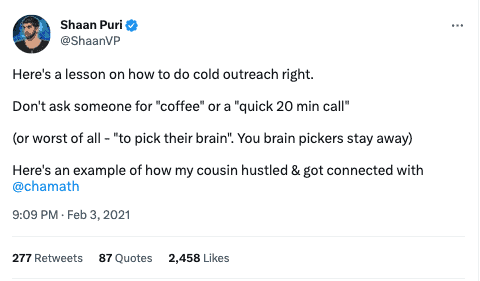 3/ Do interesting things and share them publicly.
Like-minded people will come to you.
Build in public, learn in public, and share in public.
Since I started my podcast, I've only met interesting people who wanted to help.
4/ Create an instant bond.
Do your homework before the meeting.
Find out common topics you both agree/disagree about in the world.
Become a fan. Go deep into their work.
Example: I usually listen to podcasts or read the blogs of my guests.
5/ Proactive follow-up is the key.
Not those sales one though.
We are all busy.
Tastefully, follow-up about their projects & things that are important to them.
This will eventually lead them to ask about you too.
6/ Have unique ways of saying "thank you".
Every year, I send postcards and books to say thank you to the folks who helped me.
I send it to show my appreciation of our relationship.
Find your way of saying thank you.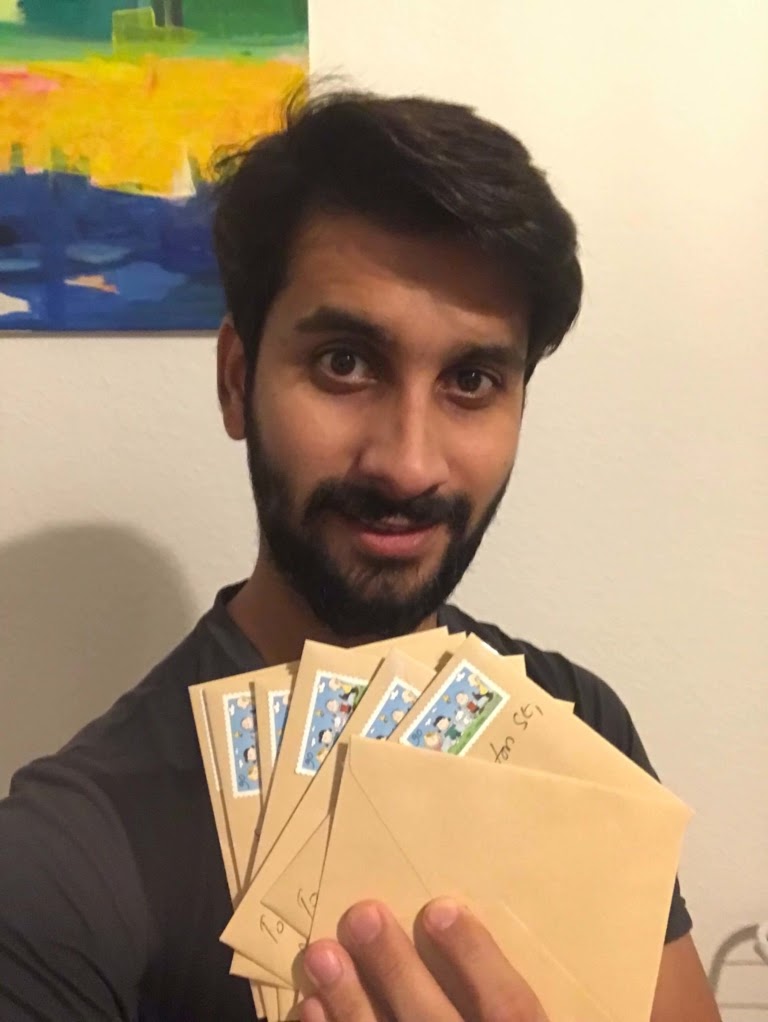 7/ Being empathetic to their needs.
Be an active and engaged listener.
Sounds cliche, but we are not good listeners, just good talkers.
How do you empathetically listen? Don't listen to respond, listen to understand and acknowledge.
TL;DR
1/ Become friends, do not network.
2/ Solve problems before even they ask.
3/ Do interesting things in public.
4/ Become a fan to create a bond
5/ Proactive follow-ups.
6/ Say thank you, in your way.
7/ Be empathetic & a good listener.
Now go, delight those folks.