I was struggling to manage paid ads, influencers, and UGC creators as a solo marketer. I almost gave up on influence marketing until I found Insense. Now, I only focus on paid ads and UGC & Influencer Marketing are well-taken care of by Insense. So, I'm sharing my honest review with you. Plus, I'll share my mistakes that you should avoid while managing influencers and UGC creators at the end.
As a brand owner or marketer seeking to boost your online presence, you must have noticed the recent rise of UGC. But reaching out, writing briefs, and working with each UGC creator seems stressful. However, it is essential to grab the opportunities before others do. So, if you want to take your online brand image to the next level using UGC, then Insense might be just what you need! 
Insense is a tool that combines acquiring UGC assets, building influencer partnerships, and finding creators + influencers through their creator marketplace into 1 single platform. It lets you collaborate with multiple creators and consistently get authentic UGC. It has the most useful features that help you quickly increase your ad's performance.
While being the Growth Marketing Consultant, I've had my fair share of experiences using such creator content and ad platforms. As an e-commerce growth marketer, I've now had the chance to test Insense personally, so you don't have to! 
Before moving on, if you are in DTC or Paid Social Marketing, then join 4000+ marketers and founders in this newsletter. It's free, and you'll learn the latest paid marketing tactics (including IGC and UGC content):
In this article, I'll be covering an in-depth Insense review. It is one of my favorite resources that I have used to create and improve my products' brand image online. I'll highlight its key features, pros and cons, pricing, and the three things I love most about it. Keep reading to hear my experiences and final verdict.  
But first, full transparency: I may receive commissions if you click on some of the links in this article, but it won't cost you a thing! Also, the companies do not pay me to write these reviews. I test the products and services myself, and I support them regardless.
Table of Content
Insense Review: Overview
Insense is a content creator and advertising platform that lets you generate UGC (User Generated Content) at scale for multiple social media platforms. UGC has a noticeably higher engagement rate online. The platform helps you attain this higher engagement to create and increase brand awareness, loyalty, and trust.
It's a one-stop shop for all you need to deliver stories about your products to your customers. Its versatile features lend you a hand in everything about UGC – to reach out, write briefs, and work with each UGC creator – you can even chat with the creators directly.
Insense amplifies engaging posts through your paid social accounts. Besides, it lets you collaborate with multiple vetted creators from a diversely curated pool for UGC. So you can gain more brand awareness and conversions by posting and running ads from your creators' handles.
This all-in-one platform has several features to manage every aspect of your campaigns easily. Its distinct features, like its creator marketplace, integrated chat, automated payments, whitelisting integration, etc., and use cases like organic posting and ads make it a must-have tool. As a result, it makes it super easy to have a steady flow of authentic UGC.
Because of its unique and convenient offerings, Insense has already become the first-choice UGC platform for 700+ eCommerce brands and growth agencies. You can also try this platform to see the convenience without paying for any plan by booking a demo. 
Insense Review: Key Features
Insense has multiple useful features for working with UGC. Let's look at some of them.
Just Content 
The top key feature is that it lets you create and scale customized user-generated content (UGC) for specific formats like photos and videos. It helps to portray authenticity, give social proof, and build trust with your audience. 
You can get a steady flow of large volumes of UGC for creative testing and paid social campaigns. This content can improve your engagement rates on TikTok, Facebook, and Instagram.
Your whole process of UGC creation becomes seamless with their efficient features. You only need to fill out the interactive brief, look over the choices, and get content from the creators. You can even request revisions, approve them, and download them through the in-built chat.
Insense also allows you to select the type of content you want. You can get product demos, reviews, or any other content for your products.
Moreover, you can use Insense Pro's category filters to connect with creators that produce content for your specific industry. The large pool of industries available ensures you have the most effective UGCs. You can even find look-alikes by putting in the creator profiles you like.
Creator Marketplace
Insense has a creator marketplace to help you match with the right creators. It matches you with creator profiles that fit your brand identity and campaign goals. These creators can provide you with high-quality content quickly.
They also keep the social media platform and industry of your ad campaigns in mind. It lets you choose among creators who fit your campaign brief. You can also easily find your ideal creator by using filters like category, age, gender, location, and more.
You can find diverse creators who are UGC ad production experts within your budget in the creator marketplace. There are more than 20,000 creators from the USA, UK, Canada, Australia, and Europe. These vetted creators can fit your diverse needs regarding gender, ethnicity, demographics, etc., to express more authenticity to customers.
Besides, you can easily invite and communicate with creators. It helps manage all your collaborations in one place. You can also create an unlimited list of creators for your clients or campaigns. 
Organic Posting
Insense helps you grow organic reach with creator partnerships. It lends you a hand in building social proof and influencing purchase decisions related to your products. Besides, filters and tags help you find the right creators for collaborations.
You can collaborate with creators with followers ranging from 1,000 to 5,000 to 250,000. You'll also have insights into their engagement rate, CPE reach, number of views, impressions, and more. You can also look into their demographics and past campaigns to make a better-informed decision.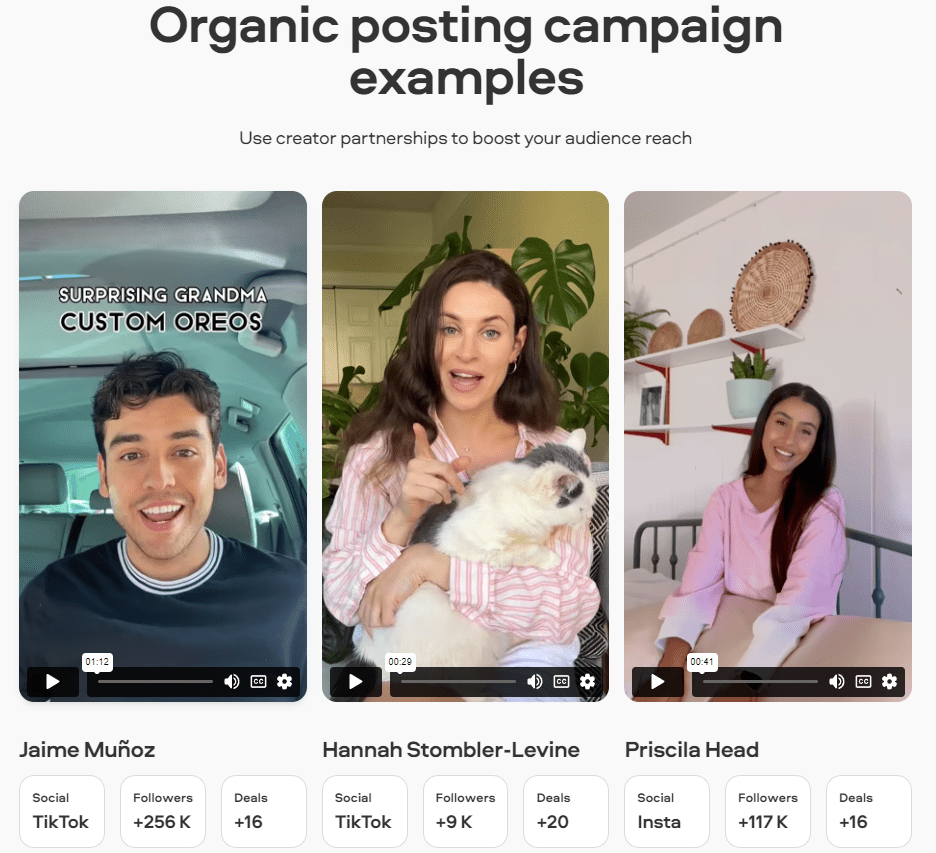 Campaign Management
Insense helps you manage each creator and marketing campaign in one place. You can use their streamlined process to launch unlimited campaigns at once. It also simplifies working with hundreds of content creators simultaneously for smooth-running collaborations.
This feature eventually results in better campaign management and collaboration with the creators. Insense has a centralized campaign dashboard to keep everything organized and trackable. You can also invite your teammates to boost your efforts and get results from UGC at scale.
Creative Brief
You can use a creative brief to provide clear instructions to creators for a smooth collaboration. You'll only need a few minutes to complete the interactive creative brief. It eases navigating through the brief and eliminates time lost on revisions. Additionally, it automatically adapts to your selections.
Creator Licensing and Ads
Creator Licensing (or, as some call it, Influencer Whitelisting) is the process of a creator allowing a brand to amplify its content by running ads from the creator's handle. The content appears as if it comes directly from the creator. It results in greater social proof, higher CTRs, longer watch times, and more authenticity for your brand.
Insense lets you use the benefits of creator licensing to improve your brand image and boost conversions. You can choose who sees a sponsored post from a creator and make changes to it.
Creator Licensed posts appear as ads to the targeted users. So, you won't have to rely on organic posts to achieve results. You can also get first-hand information about the performance of creator ads. Insense lets you do all this by filling out briefs and checking how your creator ads are doing.
Insense Review: Pricing
Insense has several self-service and managed service plans, ranging from $450 per month to $5,000 per month. It mainly has two billing types: quarterly and annually.
It offers a free demo strategized by a 30-minute meeting between you and its expert team to help you choose a plan. It also has a one-off self-service trial plan at $500/month that lets you try all the features with one advertised brand and one campaign.
Self-Service Plans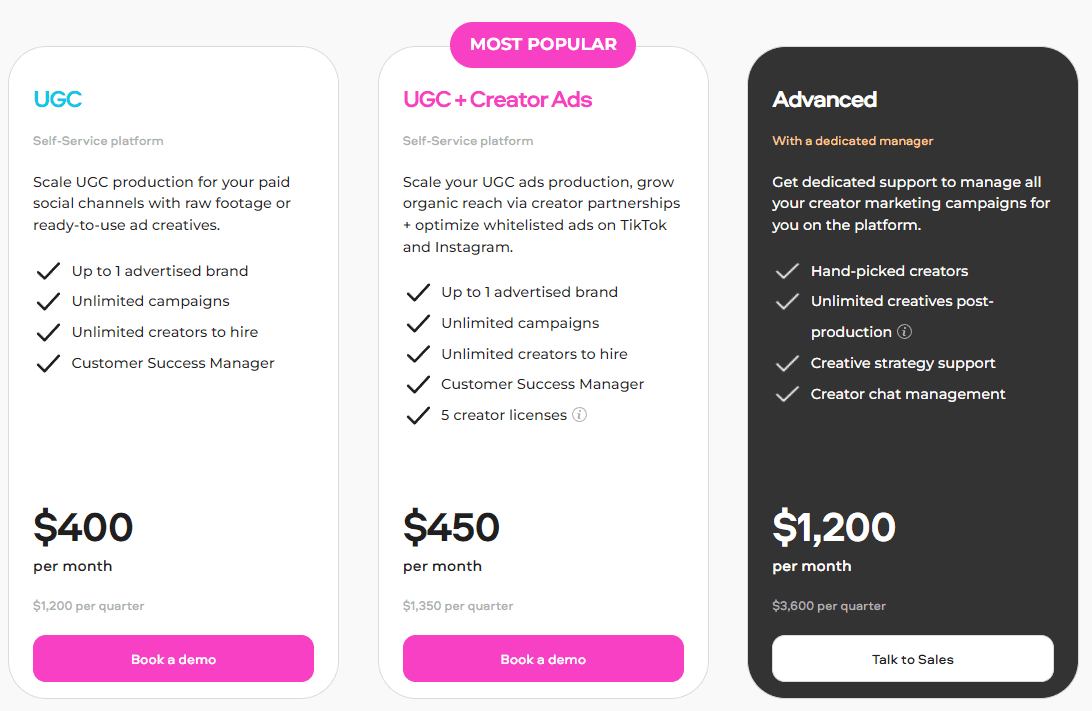 UGC Plan:

The UGC Plan comes at a rate of $400/month and $1,200/quarter. This plan helps you scale UGC production with raw footage or ready-to-use ad creatives with a Customer Success Manager. It includes up to 1 advertised brand with unlimited campaigns and creators for your UGC production.
This plan will charge you $3,600/year if you choose annual billing, saving you $100/month.
You can also add-on more brands at the following rates: 
UGC + Creator Ads Plan:

UGC+Creator Ads Plan, the most popular Insense plan, helps you scale your UGC ads production and grow organic reach. It does so using creator partnerships and optimizing whitelisted ads on TikTok and Instagram.

It charges $450/month and $1,350/quarter. It also adds five creator licenses to the UGC Plan, allowing you to run sponsored ads on Facebook and Instagram. If you choose annual billing, this plan will cost you $4,200/year and save you $100/month.  You can also get more brands and creator licenses at the following add-on prices:
Advanced Plan:

This plan comes with a dedicated manager to help you manage all your creator marketing campaigns on the platform. This plan will cost you $1,200/month and $3,600/quarter.

This plan lets you have access to the best hand-picked creators. You'll have support with creative strategies and chat management. You'll also get unlimited creative post-production, including edits for all creatives sourced through it. You can get this plan for $12,000/year if you go for annual planning. This billing will save you $200/month.
Managed Service Plans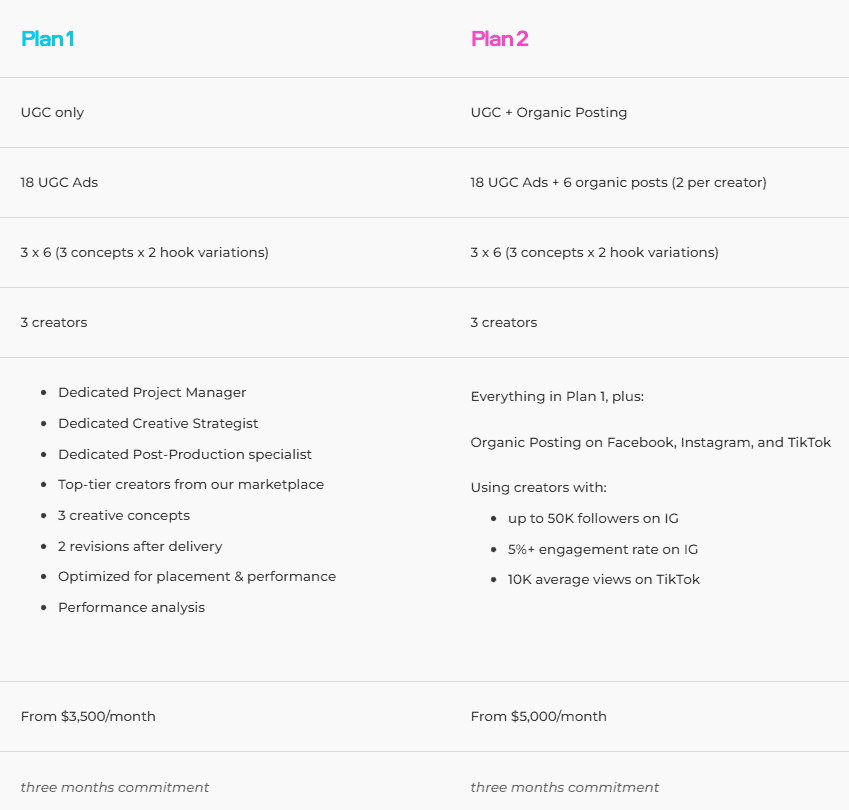 Plan 1:

This plan comes only with UGC features and up to 18 UGCs monthly. It is optimized for placement and performance. It also gives you a performance analysis to better understand your progress.

This plan includes three dedicated top-tier creators with variations. You'll get a dedicated project manager, creative strategist, and post-production specialist. You'll also get three creative concepts and two revisions after delivery. This plan starts at $3,500/month, requiring a three-month commitment.
Plan 2:

This plan has all the features of Organic Posting in addition to that of UGC. You will have access to 6 organic posts (2 per creator) and up to 18 UGC Ads monthly. 

Plan 2 has all the same features as Plan 1 and lets you post organically on Facebook, Instagram, TikTok, and more. You can use creators with up to 50K followers, a 5%+ engagement rate on Instagram, and 10K average views on TikTok. This plan starts at $5,000/month, requiring a three-month commitment.
Pros 
Easy setup

One-stop shop for everything related to UGC

Easy and effortless to find the perfect creators

Ensures a consistent flow of high-quality UGCs every month

Improves effective posts through Facebook, Instagram, TikTok, and so on

Easily manageable by one marketer

Has several subscription plan options

Allows communication in one place through their Direct Chat

Lets you collaborate with multiple creators simultaneously

Allows you to run ads from creators' handles through Creator Licensing

Improves brand image and authenticity to customers

Has a sophisticated

refund policy
Cons 
Might be only relevant to marketers of E-Commerce brands

Doesn't offer API

No free version or free trial
Insense Review: Who is It For?
Insense can be useful to anyone who wants to improve brand image and authenticity. Its many plans make it possible for businesses of any size and budget to use it. 
Moreover, its feature for finding creators within budget gives small and new businesses an advantage. With its more premium plans, it is also perfect for marketing teams and agencies of medium and larger sizes. 
E-Commerce C-suite, influencer marketers, media buyers, creative strategists, and many more have tried and been impressed by Insense. I can assure you that Insense is also for you if you want your products to succeed because of a strong brand image and through building social proof with creators
Insense Review: 3 Things I Love
It is tough to pick favorites when there is so much to love. Still, here is a brief of the top three things I have loved about Insense:
Everything About UGC In One Place
I love how Insense has determined every problem a marketer like me faces while making UGC at scale and added solutions to each. Insense has helped me do everything I needed for my campaigns on its platform.
It is easy to find creators and collaborate with them using the features. Through creator licensing, I could use the same platform to handle both organic posts and ads. I still appreciate how much time it has saved me by keeping a diverse set of features on the same platform.
Straightforward Operations With Creators
Insense's direct and automated licenses, payments, and agreements make the process less exhausting. It is easy to chat with hired creators, receive your deliverables, and check progress using its Direct Chat feature.
I could easily pay creators automatically through its automatic billing system. I also didn't need to worry about legality since Insense takes care of all agreements, payments, and copyrights.
Intuitive UI With Seamless Integration
I found their UI very user-friendly. I honestly didn't need to watch a single tutorial on how to use it. Its UI has led me to use every feature without any trouble. 
Being a Meta business partner and TikTok marketing partner, Insense doesn't hesitate to give its customers all the advantages of integrations. Its feature for TikTok Spark Ads and other platforms has helped me increase traffic, improve performance, and ensure that ads work better.
Avoid These Influencer Marketing Mistakes
In the past 6 months , I've spent $153,245 on influencer marketing.
I have made a ton of mistakes that you should avoid.
Why:
Scaling video ads
Getting new reach and audience
Saw paid social + organic social were working
Anyway, I made some assumptions that turned out to be wrong:
Influencers will be dying for my product (product's story was amazing)
Influencers are at least some level professionals
They know how organic social and video storytelling well
However, I didn't start with paid influencer marketing. Instead, I started with a seeding strategy. You can listen to this pod or read this blog to learn more about this strategy.
Essentially, seeding means you get a free product in exchange of posting it organically. It's cheaper, and you don't have to pay influencers anything but a free product.
About our company:
Audience was parents aged 30-45 in the US
It was a course product, not a physical one
It took on average 6 months to realize the value of the product (the activation moment)
You don't immediately get into the product – it is a kids' course, and you have to wait at least a month or two to start your program
We only wanted to go after Instagram influencers
Some other stats before moving:
We reached out 1400+ influencers
Around 150+ of them said yes to receiving a package and starting the program
Around 100 of really tried the program
Only 30 of them actually posted for free content at least once
7 of them were paid promotions too
We only were successful with one paid influencer (tracking-wise)
So, now you have some context, here are some mistakes that most people can avoid:
1/ Don't go with a seeding strategy if you have money
Seeding is a great strategy for organic & bootstrap companies. Bootstrap companies can offer free products and some of them will post. So, your product gets traction without paying anything.
But if you have money, and want to see if your influencer has the potential to bring folks to your website and convert them. Go with paid promotion first. You'll save time.
If you have money, you are fighting with time.
2/ Having the wrong goal to influencer marketing 
I thought influencer marketing is a conversion play. No, it is a brand awareness play. It might be the first touch point but not the last one.
It's about signaling and the mere exposure effect.
3/ Not going niche first
Our product was converting for niche gifted kids and homeschooling markets well. We should have started with some of the best fit influencers in those communities. Before going live with generic "parent influencers".
Once you have or haven't seen success, then only try to expand to the broader market.
It would have cost us less and must have needed fewer resources to test and scale.
We wouldn't even need an agency for this.
4/ Not doing prospecting right
We used MightScout as our software to find influencers. It's actually expensive so that's why most companies hire agencies to do prospecting, list building, and pre-vetting.
Apparently, the list is essential for you to keep an eye out.
Your prospecting defines "who" and your "who" dictates the success of the response and the campaign.
5/ Not seeing the engagement metrics dictates success
While doing prospecting I didn't put that much attention to engagement metrics. Follower to like or follower-to-view ratio is important here. Anything below 1.5% is a no-go.
6/ Not working with "fewer similar influencers with the same audience" 
Many influencers in the same niche are friends and their audience are similar. If you only focus on them, and they know their audience is similar. It creates a halo effect – people see it everywhere. And if you match the timing of it – It would work.
Think how Fire Festival exploited it.
7/ Not further vetting the influencers' video storytelling skills 
I learned it the hard way. Not all Influencers have good storytelling skills. Just because they have an audience, it does not mean they know how to shoot and capture attention well with cvideo.
I should have dug deeper in their storytelling skills. Why? Because that would have worked out well with Ads.
Many influencers have allegedly bought their audience so you need to separate signals from noise.
8/ Not giving them enough guidelines and ideas
Most influencers are not that creative. You need to hand hold them but in the seeding strategy you can't really give them guidelines because they are using the product for free and if they like it, they'll post whatever they want.
So, regardless of your free product free — Give them guidelines and ideas if they ever need it.
Hope is not the strategy.
9/ Not delighting them properly when they got the box
So, we were not an ecommerce product but we were a tech product with a course. I sent $100 worth of boxes at their door with a book, a game (that kinda represents us) and some merchs.
This is not enough. The box is the first proper touch – It should be ABSOLUTELY amazing or I shouldn't have sent it.
The book wasn't written by us, the game wasn't ours and merchs – in general, everyone gives them for free.
I'm yet to discover these box ideas but if I find some. I'll share it in my newsletter.
If you have some, reply to this email.
10/ Conversion Tracking
Although we had a good partner marketing solution, we were not able to track their posts to conversion. Turns out reels and posts don't let you do that properly.
We couldn't use discount codes either. Only stories work well, but stories leave after 24 hours and not everyone clicks on it.
We didn't enforce sticky stories or link in the bio for free or paid products.
Get those sticky stories and link in the bio for 7 days at least.
11/ Not focusing on influencers who have a big email list
I wish I would have done this with all influencers. Whenever one of my influencers sent these emails but also posted on socials – We saw conversions.
If conversions are your goal, then go for influencers who have a newsletter and social following.
It's the best of both worlds.
12/ UGC>IGC
There are many UGCs creators popping up these days. I highly recommend working with them if paid ads are your goal.
Influencer Generate Content (IGC) costs too much if you want something organic and paid.
UGC creators know how to hook the attention and tell a story in 60 seconds. They cost $100 to $150 per video so it's easier to try more and see what sticks.
Check out this UGC creator – Video
And now you know why UGC creators made better videos.
Curiosity based thumbnail header – Gets the attention
Sparks a tension
Video editing done well
Eloquently expressed – Problem – Agitation – Solution
13/ Go for Mega Influencers if you have money
We had a mega influencer who has a 400,000 newsletter audience. He charged $36K for 6 newsletter issues, and we passed our break even.
One influencer with a ton of audience on email is a gold mine.
I wish I would have at least tried 2-3 mega influencers for socials with their complete email, social and podcasting audience.
So, if you have money, don't wait.
14/ Not paying upfront 
Many influencers asked to get paid and we denied it due to the seeding strategy. Usually, paying upfront isn't advised but an influencer you think knows storytelling, give you license for ads, run whitelisting ads and more.
I wish I would have paid upfront to stronger influencers who could have done a good job.
The only caveat is that influencers are very relevant to your niche.
We used one for webinars and she brought so many leads — We also did pay her.
15/ Not testing other channels
Many influencers cross-pollinate their audience with TikTok and Youtube. I wish I would have at least tried to see the difference.
Instagram is one medium and each medium has different kinds of followers.
Once I do that, I'll report back to you.
So, now you know these mistakes, which one stood out to you?
16/ Sending weaker cold email copy early on
Influencers get bombarded on their DMs and email all the time. So you need to stand out and a free product doesn't cut it.
I sent 500 emails and only got 21 opt-ins. This was the email with 5 follow ups including Insta DMs.
So I fixed the copy and hired a copywriter to send better emails – The opt-in increased to 50+ and above.
It worked because it is a conversational style, bold and has a personality.
I can't share the company details due to confidentiality.
But you get the gist of what not to do 🙂
Influencer marketing isn't dead. It just didn't have the right tactics along with the right product. I do think it would still work well for ecommerce or quick-value software products.
Final Verdict
Insense has proven to be a comprehensive one-stop platform for creator content production and ad distribution for me. Its versatile features can cover every need for UGC content. It can automatically manage most of your UGC campaign work with a few clicks of yours.
Insense has thought it out, from finding the perfect content creator to ensuring better ad performance. Moreover, its several subscription plans make it possible for businesses of any size to try it.
You can experience the improvements I've mentioned in this review by booking a demo.
Full Disclosure: If you click on some of the links in this article and purchase a paid plan, I may receive affiliate commissions (at no cost to you!). Regardless, the products and services I review are some of the best I've tried, and I support them personally. To know more, head over to my privacy policy & affiliate disclosure.
P.S. Check out my podcast (with 78 episodes and more on the way!) if you're interested in actionable growth marketing and hearing from actual marketers about how they're taking their businesses forward.