Post-iOS tracking is a pain but Hyros solved it for me. Google tells me a different conversion number than Facebook. I needed a single source of truth. So, now I have Hyros that helps me give exact data about how many users converted and from which add. It also shares the exact user journey. This is why I wanted to share Hyros review with you. And it's not a scam.
When I first checked their website, I felt it wasn't legit (because the copywriting felt like overselling in the email). So, naturally, I asked my paid social mastermind community. 
But I was wrong, and the tool really lives up to the expectations.
HYROS is a cutting-edge technology that utilizes artificial intelligence and machine learning to change how businesses analyze and use data. This robust tool offers a wide range of features to help businesses maximize their ROI and boost their bottom line.
With HYROS, businesses can gain a competitive edge by turning data into actionable insights and predictions. If you're a big enough company, HYROS can help you stay ahead of the game. 
While being the Paid Growth Marketing Consultant, I learned how important it is to track your ADs and to know where you can improve. As an e-commerce growth marketer, I've now had the chance to test HYROS personally, so you won't have to!
If you are also a paid marketer looking for like-minded folks to network and build with, don't forget to join my community!
Or, if you are in DTC or Paid Social Marketing, then join 5000+ marketers and founders in this newsletter. It's free, and you'll learn the latest paid marketing tactics (including IGC and UGC content):
In this article, I'll give you an in-depth HYROS review. It is one of the best attribution tools I've had the pleasure of testing out. I'll go over its features and integrations. So keep reading to learn more about HYROS.
But first, full transparency: I may receive commissions if you click on some of the links in this article, but it won't cost you a thing! Also, the companies do not pay me to write these reviews. I test the products and services myself, and I support them regardless.
Table of Content
HYROS: An overview 
HYROS is a cutting-edge AI ad tracker and attribution software that revolutionizes how businesses track and analyze their advertising efforts.
With its advanced algorithms and intuitive interface, HYROS makes it easy for companies to gain valuable insights into their advertising campaigns, such as which ads are driving the most conversions, which channels are most effective, and which demographics are most responsive to their message. 
HYROS integrates unique "watcher scripts" for every user, and you'll have to install them everywhere on your websites. It integrates with the business's landing page tools, checkout systems, and key marketing tools. 
HYROS has many features, including ad tracking, email tracking, call tracking, and even a chrome extension. You can use their chrome extension to cross-reference data between HYROS and other ad platforms quickly.
HYROS is a great marketing tool that helps you make the best decisions regarding your paid ads or marketing campaigns. It's a must-have for any prominent company trying to make their life easier. But a significant drawback is its services' exclusive nature due to the high demand.
Pros
HYROS is a robust data analysis and management platform designed to help businesses make better decisions and improve their performance. Here are some of the key advantages HYROS provides:
Utilizes powerful AI and machine learning technology to provide valuable insights and predictions

Helps businesses make data-driven decisions and improve their performance

Reduces Ad expenditure 

Incredible visual design alongside an easy-to-use dashboard

Identifies profitable Ad campaigns 

It can be integrated with other software and tools

Provides a significant return on investment

Shows traffic sources via dashboards
Cons
Like any software, HYROS has some drawbacks. Here are some of the significant drawbacks of using HYROS:
No transparent pricing model

Complicated onboarding and a steep learning curve 

Exclusive invitation system to be a member 

Businesses need to be of a specific size
Hyros Review: What I Love 
I am constantly on the lookout for tools and technologies that can help me optimize my marketing campaigns and drive better results for my business. And that's exactly what I found in HYROS. 
HYROS makes it possible for top-notch information and influencer firms to measure sales with the highest level of precision and attribution. The company's projected 2020 revenue was $1.16M.
Hyros has been an absolute game changer for my businesses. With its attribution and accurate lead generation, it has shown me where my focus should be put. 
One of the things I love about HYROS is its ability to help me leverage big data to gain valuable insights into my target audience and create more effective marketing campaigns. 
With HYROS, I can easily analyze customer behavior, preferences, and engagement to identify key trends and patterns. I can then use this information to create highly targeted and personalized marketing campaigns that are more likely to drive conversions and sales.
Another thing I appreciate about HYROS is its ability to help me optimize my marketing funnel. With HYROS, I can track customer behavior and engagement across every stage of the funnel and identify areas where I can improve. This allows me to create a more efficient and effective funnel that drives better results for my business.
HYROS also offers advanced analytics, a feature that I found very helpful. It tracks all the traffic sources, including organic traffic, Facebook Ads, and Google Ads. Then it syncs all that to a single place and matches the sales to the actual source. This allows me to quickly identify areas of improvement and make adjustments to my campaigns to maximize their effectiveness.
I also appreciate the ability to leverage HYROS in my email marketing campaigns. With HYROS, I can track customer engagement and behavior in real time and use that information to create more effective email campaigns that drive better results.Also, one thing that I can't state enough is how good their customer service team is. I absolutely love the support HYROS provides and how clear the communication with them is. They helped me set it up and were very proactive in an otherwise complicated onboarding phase.
All in all, HYROS is an incredible platform for marketers or any company in general. It offers many features that can help you optimize your marketing campaigns, improve customer engagement, and drive better results for your business.
Hyros Review: Three Unique Features 
HYROS brings a lot to the table, but here's my best attempt at boiling all of it down to its three most unique features. 
Detailed analytics and reports 
When it comes to making data-driven decisions and optimizing marketing efforts, detailed reports are crucial. HYROS offers various advanced analytics and reporting tools to help businesses gain valuable insights into their marketing campaigns, customer behavior, and lead-generation efforts.
HYROS provides detailed reports on lead generation. Businesses can use it to track and analyze the performance of their lead generation campaigns in real time and gain valuable insights into how their campaigns are performing. 
HYROS also offers advanced analytics on personalization campaigns. This provides businesses insights into customer behavior and preferences, using which they can create highly targeted and personalized marketing campaigns.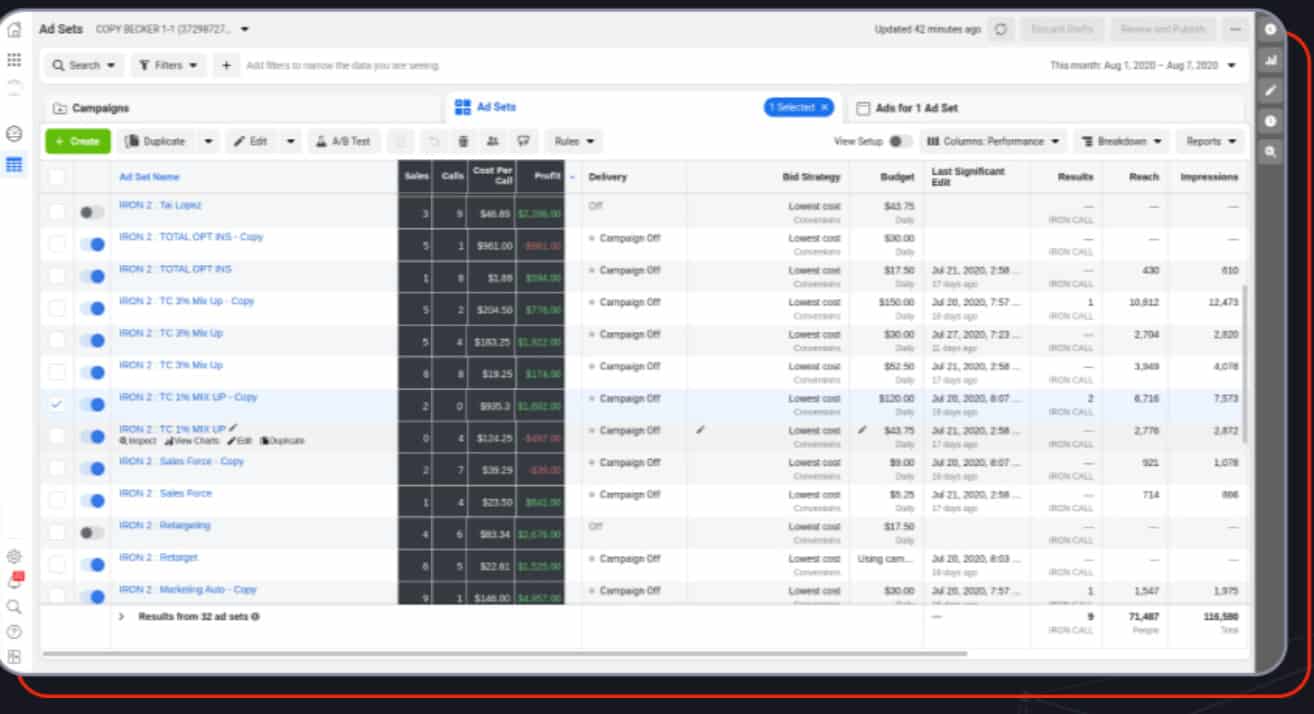 HYROS's analytics and reporting tools are not limited to lead generation and personalization. Businesses can also track and analyze their search-engine performance, clicks, and overall website traffic. Additionally, all this data is presented in a clear and easy-to-use dashboard, making it easy for businesses to navigate and understand the analytics.
Smart AI-powered ads 
Both Facebook and Google employ Artificial Intelligence to discover customers effectively. But the quality of their artificial intelligence depends on the information it receives. On the other side, HYROS uploads all the tracking information, allowing the ad platform to quickly learn and improve at locating the client at a far reduced cost.
One of the key ways that HYROS does this is by integrating with widespread marketing automation and analytics tools such as Google Analytics and Hubspot.
With HYROS, businesses can easily connect their marketing automation and analytics tools and use that data to gain valuable insights into their marketing campaigns and customer behavior. You can use this information to identify areas of improvement and make data-driven decisions that can help businesses optimize their marketing efforts and drive better results.
Integrating with popular marketing automation and analytics tools such as Google Analytics and Hubspot, HYROS can provide businesses with valuable insights into their marketing campaigns and customer behavior.
Moreover, you can use this information to identify areas of improvement and make data-driven decisions that can help businesses optimize marketing efforts and drive better results. It can also improve your understanding of the customer journey. 
Amazing call optimization and email tracking
Email and sales call marketing is an effective way to expand your business and reach your target niche. However, knowing how your customers interact with your email and sales calls can take time and effort. That's where HYROS comes in.
Hyros tracks the customers on the mobile phone alongside the sales conversion. It can monitor your whole sales funnel on call, and the Return On Investment, regardless of any device or email changes made. It contains specific algorithms that can identify and optimize tracking call funnels.
Another one of  HYROS' critical features is its email tracking capabilities. By analyzing how your customers interact with your emails, you can better understand what works and doesn't. 
HYROS can efficiently track, segregate, and segment emails to clarify the ROI. This way, each time you send an email, you can see where you are getting your returns from. 
This information can help improve your customer experience and increase brand awareness. With HYROS, you can optimize your calls and emails to ensure they are as effective as possible, which will ultimately help you to grow your business.
Hyros Review: What Others Are Saying
HYROS is a revolutionary product that has been making waves in the market, and users and reviewers alike can't stop raving about it. The sleek design, intuitive interface, and powerful features have impressed even the most demanding users.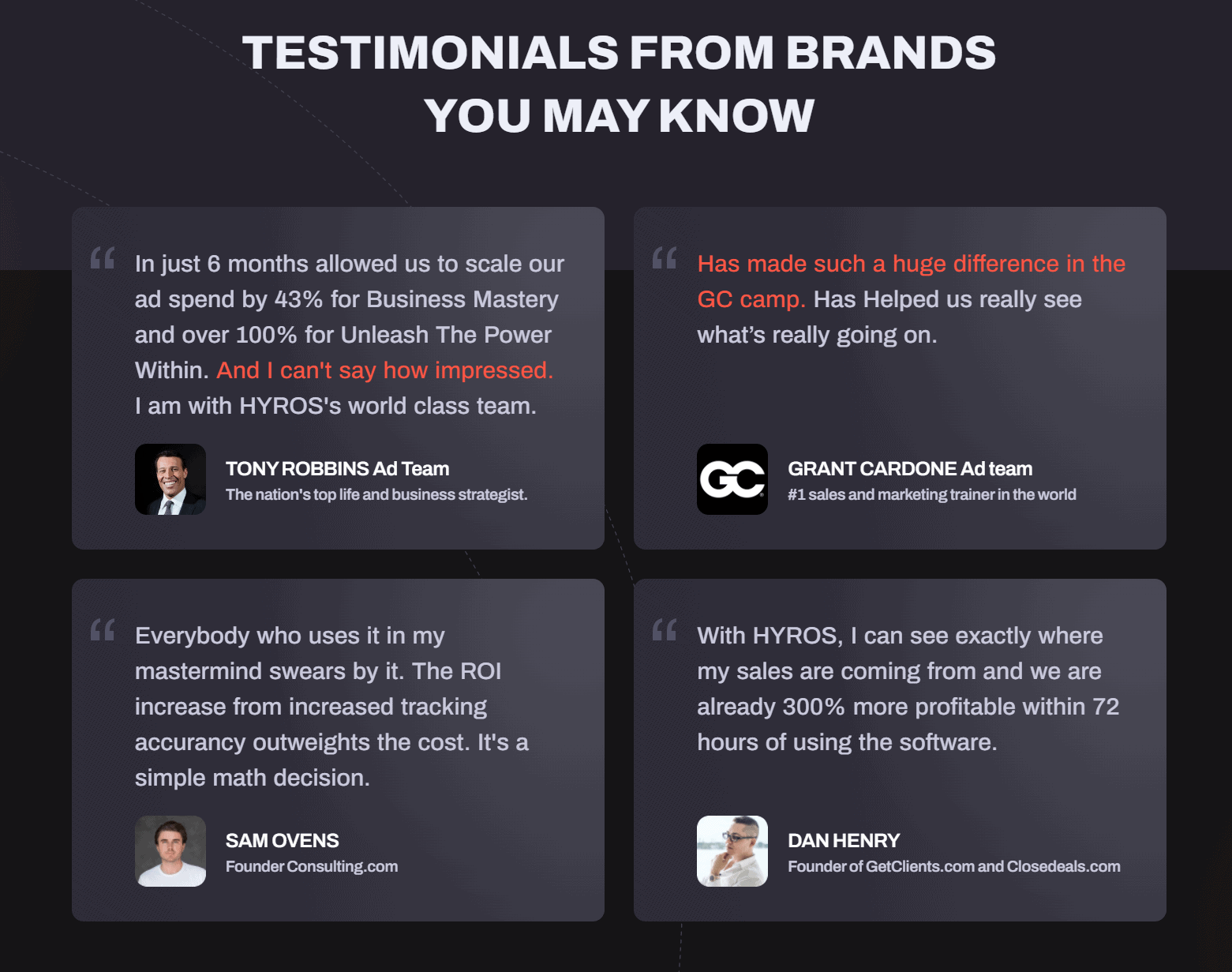 However, it is not shy of skepticism. A lot of folks online doubt its system and how it's run. There's also a lot of doubt online about how its AI could compete against algorithms built by Facebook or Google to make better calls. But many skeptics have admitted that the product is legitimate after a few days of use.
Here are some of my experiences in my quest to determine HYROS' legitimacy.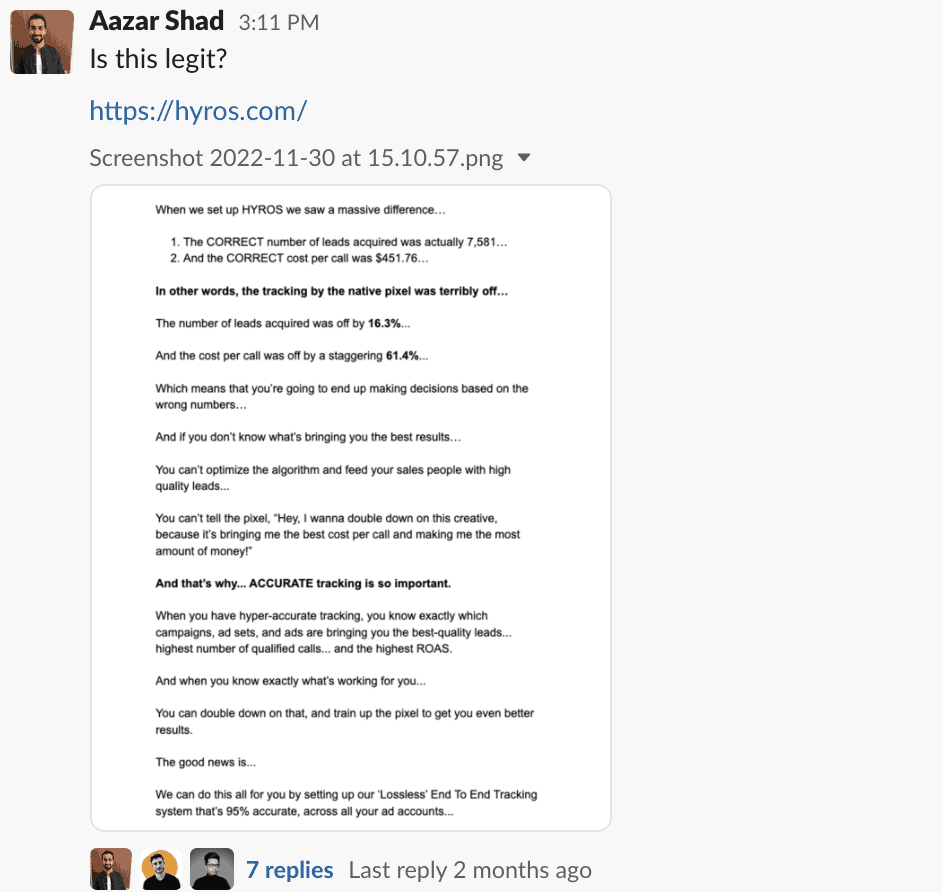 But overall, HYROS seems to be best paired with businesses that do $50k+ in online traffic, and that's the target demographic of HYROS. HYROS struggles to provide services to smaller businesses, and its massive demand makes it even more exclusive.
Hyros Review: Pricing – How much does Hypros cost? (It's a secret but not for you)
For the most part, HYROS' pricing plan is exclusive and pretty non-transparent. HYROS is entirely invite-based to guarantee a superior user experience. It claims to deal exclusively with companies in specific industries and of a specified size.
Even though HYROS' pricing plans are pretty non-transparent, I can share the pricing plans I got from them. Now, bear in mind these are the prices for 2022, and most probably, the prices have gone up from then. I paid 3500$ upfront and had a 90-day money-back guarantee, which was amazing.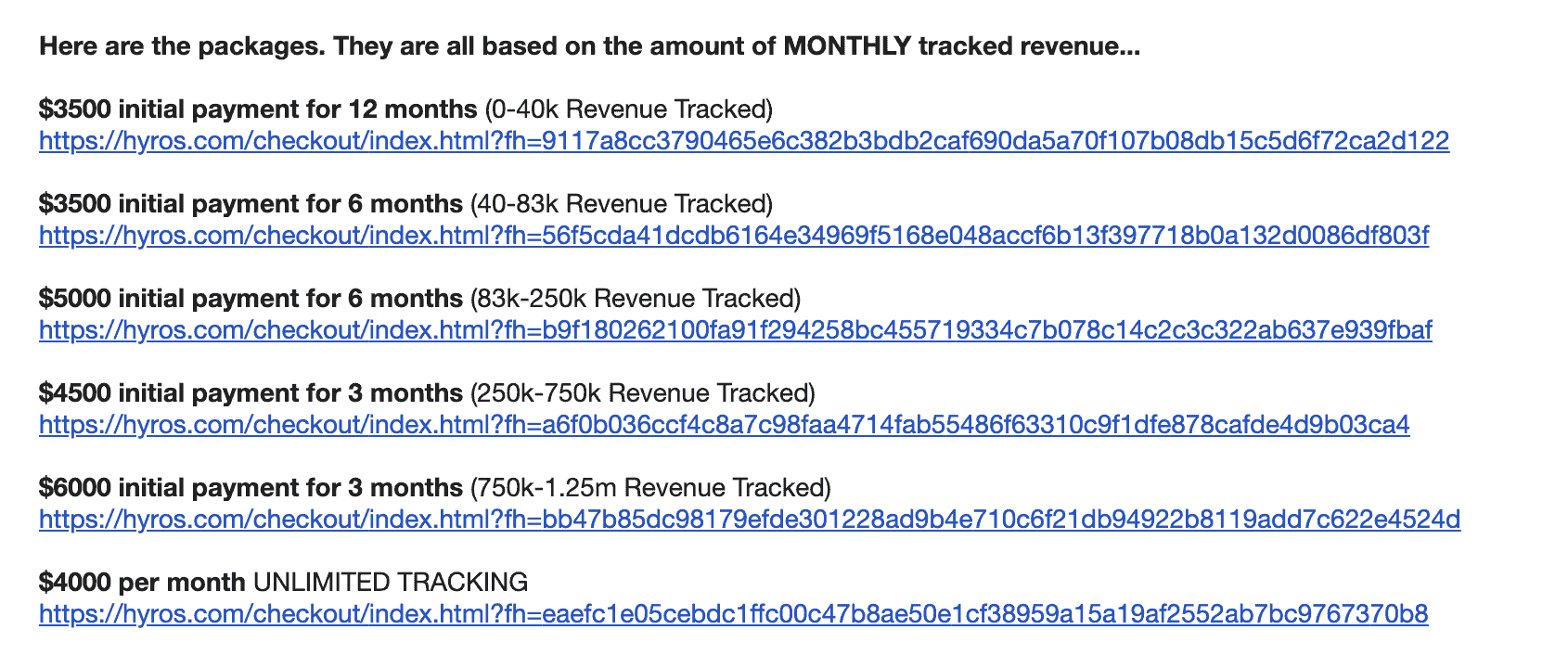 But if you're a company that spends $10k+ on Ads and does $50k+ in online revenue, then HYROS becomes a must-have tool. Don't just take our word for it.
Try it out and see the difference HYROS can make in your work or business. You can schedule their demo to learn more about the platform and get a sense of it. The site provides a 90-day money-back guarantee for any reason to its consumers.
Final thoughts
HYROS is a game-changing AI-based ad tracker that can help businesses of all sizes gain a competitive edge in the digital advertising landscape. I had the opportunity to try it out, and I must say, it impressed me quite a bit. 
The user-friendly interface, accurate analytics, and powerful features made it easy to understand how my campaigns performed and make data-driven decisions to optimize my advertising spend.
HYROS stands out among its competitors by providing advanced features such as multi-channel tracking, real-time analytics, and AI-based optimization recommendations. This is a must-have tool for businesses looking to take control of their ad tracking and make data-driven decisions to improve their ROI. 
If you're running a big business and want to take your ad tracking to the next level, I highly recommend giving HYROS a try today. You'll be amazed at how much more effective your advertising campaigns can be when you have the right tools and insights. 
So if your business meets the requirements, book a demo today and see the difference it can make for your business!
Full Disclosure: If you click on some of the links in this article and purchase a paid plan, I may receive affiliate commissions (at no cost to you!). Regardless, the products and services I review are some of the best I've tried, and I support them personally. Head over to my privacy policy & affiliate disclosure to know more.
P.S. Check out my podcast (with 78 episodes and more on the way!) if you're interested in actionable growth marketing and hearing from actual marketers about how they're taking their businesses forward.
Some questions I am answering:
Triplewhale vs Hyros
Triple Whale has a deeper product with more features and more for e-commerce. If you are on Shopify, just use Triple Whale.
Hyros vs Google Analytics4
I am using both because Hyros is more accurate. But GA4, I think you should use it regardless.
Is Hyros legit?
Very much legit; I am in love with their customer support team. And, it is not a scam. They just don't show their pricing.