When it comes to community-building, Facebook Groups are like training wheels— it's familiar but not very functional. If you're reading this, you're probably also looking for better Facebook Groups alternatives that let you build an engaged online community and monetize it. 
Few community platforms are as familiar as Facebook Groups. I have experience managing a community for growth marketing on the platform. However, my personal experiences have only helped me realize the many limitations of FB Groups.
From limited content reach to the cluttered news feeds and even the risk of losing your entire community to the algorithm, Facebook Groups neither guarantees you ownership nor data security. Thankfully, multiple community platforms available right now can better fit your needs.
Given the variety of options available, choosing the best online community-building tool can be difficult and expensive. However, you're in luck because I already paid for and tried out four Facebook Groups alternatives, so you don't have to!
In this article, I'll briefly discuss Facebook Groups, its pros, cons, and the top alternatives I've tried. But first, complete disclosure: If you click on some of the links in this blog, I may receive affiliate compensation (but at zero cost to you). Additionally, I used the platforms myself, and I support these companies even though they did not pay me to write this review.
Table of Content
Facebook Groups 
Using Facebook Groups to build an online community makes sense when you're just starting— it's free and familiar with users worldwide. But if you're planning to build a long-term community where you can share and monetize your content, FB Groups would be an uphill battle.
If you use Facebook Groups to grow your community, you're at the mercy of the notoriously unpredictable algorithms to determine what your users see. Making your content visible is already a challenge, but it's made even more difficult by the cluttered, distracting Facebook feeds.
A Facebook Group also gives you very little control and leaves you susceptible to any platform modifications Facebook may make. If Facebook decides to ban you from your group or remove the group entirely, your community and all your created content could be erased almost immediately.
Key Features
Admin tools

Community chats

Customizable colors, post backgrounds, emojis, etc.

Engagement Analytics 

Preset post formats

Personalized suggestions for Admin Assist 

Recurring events

Shop settings for selling products 

Unlimited members
Besides the above-mentioned, Meta is constantly rolling out new features for Facebook. Features currently being tested for FB Groups include subgroups, paid memberships, subscriptions, etc.
Pros 
Admin and moderation tools

Easy setup

Easy to attract members from Facebook's extensive userbase

Familiar platform interface 

Free to use

In-built shops
Cons 
Limited content visibility 

Lacks automation/integrations 

No online course support

No in-built monetization options 

Non-customizable branding

Restricted organic reach

Unpredictable bans by the algorithm
Facebook Groups Alternatives #1: Circle.so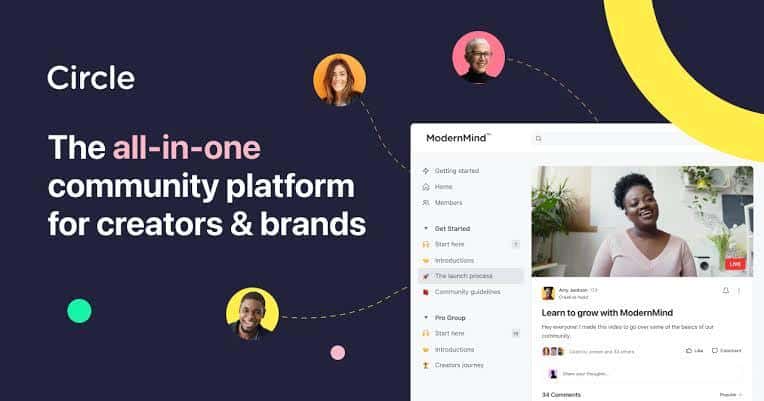 Circle is one of the best alternatives to Facebook Groups that I have personally tested. It's an excellent platform for building an engaged community centered around your content. 
Unlike FB Groups which offer no in-built monetization options, Circle offers paid memberships, subscriptions, and even the option to set up paywalls for some (or all) of your content and events.
From product communities to offering online courses, coaching, and running mastermind groups, Circle serves several use cases. Additionally, Circle communities are great for your paid newsletters, podcasts, events, webinars, and more. Another notable advantage of Circle over FB Groups is the easy log-in with SSO and the option to incorporate the community into your existing websites.
To read more about my experiences with the platform, hop over to my detailed Circle.so review!
Features 
Custom domains.

Easy log-in with SSO.

Live streams, events, and private/group chats.

Member and engagement analytics.

Searchable member database 

Subscriptions, Stripe payment, paywalls, etc., for monetization 

White-label branding
Pros
Custom SSO

Community performance analytics 

Easy-to-use interface

Exclusive Creator's Community 

Multiple monetization options 

3000+ integrations through Zapier
Cons 
Multiple communities only available with the Enterprise Plan

Not available for Android

No free version
Intrigued to know more? Check out my post on the best Circle.so alternatives!
Pricing 
Circle offers three subscription plans, all of which come with a 14-day free trial. 
Basic Plan:

At $39/month, this plan gives you 10 Spaces, 1,000 monthly active members, in-app notifications, custom domains, Zapier connectivity, and more.

Professional Plan:

At $79/month, the Professional Plan supports 10,000 monthly active members, 100 spaces, SSO, and custom CSS.

Enterprise Plan:

At $199/month, the Enterprise Plan supports up to 1,000 Spaces and 100,000 monthly active members. You also get three communities, a custom SSO, a dedicated account manager, and more.
Facebook Groups Alternatives #2: Mighty Networks
Facebook Groups don't give you the option to set up paid memberships, offer courses, or get your own domain with custom branding. But you can get all that and much more with Mighty Networks.
With Mighty Networks, you can build a website, author and publish courses, and even develop a community-branded mobile app. You can also host events, run polls and surveys, embed videos, photos, and sound files, and write articles with the powerful CMS.
Key Features
Activity tracking

Built-in course builder

Collaboration tools

Content management with in-built library

Custom branded website

Electronic payments and dues management

Free/paid community access

Real-time engagement analytics

Member directory & database
Pros 
Custom branding 

Content reaches 100% of members 

Course-builder for online courses/mastermind groups

Flexible monetization options

Native app support for iOS and Android

Slack integration
Cons 
Additional transaction fees

Lacks SSO integration with external course platforms

Less familiar than Facebook Groups 

Limited landing page designs

No in-built certification and quizzing for the course-builder

PayPal incompatible
Pricing
Mighty Networks comes with three pricing plans:
The Community Plan:

At $33/month, this plan lets you set up paid memberships, build a website, live stream, and host events.

The Business Plan:

 At $99/month, the Business Plan gives you additional features like workflows, online courses, and analytics.

Mighty Pro Plan:

 The custom-priced Mighty Pro Plan adds features like notifications with branded apps, strategy support, and an account manager.
Facebook Groups Alternatives #3: Disciple Media
Unlike Facebook Groups, Disciple helps you create independent communities completely owned and managed by you. With multiple options to monetize the community with courses, ads, subscriptions, and more, Disciple is a much better choice for generating revenue from your communities. 
Disciple provides various benefits over FB Groups, including extensive customization, gamification tools, and content control settings. However, Disciple's pricing structure, which gets more expensive with more users and features, is a drawback.
Key Features
Advertising Management

Community& Communication Management

Data Security

Event Management

Fully customizable branding

Gamification 

Member Analytics & Reporting
Pros
Audience segmentation 

Content library and folders 

Multiple monetization options

Member & engagement analytics.

No-code app development

White-label branding

Unlimited sub groups & content feeds
Cons
Costly add-ons

CMS without shortcuts

Expensive pricing plan

Advanced features exclusive to the mobile version
Pricing
Disciple offers two different plans for the web and the mobile version:
Web Plan:

The web version costs $55/month and covers unlimited groups, custom branding, events, and subscriptions.

Mobile Plan:

At $549/month, most of Disciple's advanced features come with the Mobile Plan. This plan comes with live streams, in-app purchases, priority customer assistance, and a devoted community success manager.
While Disciple is free to try for seven days, it comes with extra costs for the add-on services. To add an admin, you must pay $29/month. The option to remove the Disciple branding will cost you $108/month. And if you want to access the advanced features exclusive to the Mobile Community, it will cost you $458/month.

Facebook Groups Alternatives #4: Tribe.so
If you're building a customer community, Tribe is another solid Facebook Groups alternative. Companies like Tim Hortons and IBM currently use this platform to build customer engagement.
Much like Facebook Groups, Tribe lets your members ask questions, post content, leave comments, take polls, upload videos, etc. But the platform also offers advanced features like embeddable widgets, Google Analytics support, comprehensive API, and several third-party integrations. As a bonus, your Tribe community can also integrate your existing products and websites.
Key Features
Custom domain and branding 

Embeddable widgets

Gamification & rewards 

Moderation panel for posts

Member Analytics 

Q&A forums & Voting

Webhooks and API-based deployment 

Workflow automation
Pros
Customized native mobile apps

Custom domain

Customizable themes

Fully white-label community branding

Free with Basic Plan
Cons
Mobile apps are exclusive to premium plans

No online courses

No built-in messaging

Limited integrations
Pricing
Tribe offers four subscription plans:
The Basic Plan:

This plan is free to use and includes custom domains, up to 100 users, and unlimited page views.

The Plus Plan:

The $59/month Plus Plan provides up to 10,000 members with access to Plus applications, Analytics, and APIs.

The Premium Plan:

Single Sign-On (SSO), fully white-labeled premium apps, moderation, and a dedicated customer success manager are all included in this $239/month plan.

The Enterprise Plan:

This custom-priced plan comes with custom apps and design and VIP client success management.

Comparison
| | | | | | |
| --- | --- | --- | --- | --- | --- |
| Criteria | Facebook Groups  | Circle.so | Mighty Networks  | Disciple Media | Tribe |
| Pricing | Free | Starts from $39/month | Starts from $33/month | Starts from $55/month | Starts with a free Basic Plan  |
| Built-in Monetization  | Unavailable  | Paid memberships, Paywalls, subscriptions, upsells, coupons & discounts  | Paid memberships, courses, events | Paid memberships, Subscriptions, in-App purchases, paid app download, Apple/Google Pay, sponsorship /advertising, affiliates, store links | Subscriptions, PayPal/Stripe payment, advertising, paid memberships |
| Branding  | No white-labeling  | White-label  | White-label | White-label | White-label |
| Custom Domain/Website | Unavailable  | Custom domains | Available  | Available  | Available  |
| Members | Unlimited (with some restrictions past 5k members) | Limited  | Unlimited  | Limited  | Limited  |
| Analytics  | Group insights, membership & engagement  | Member & Engagement Analytics  | Detailed Member Analytics  | Member & Engagement Analytics  | Google analytics integration  |
| Native Mobile App | Web, iOS, Android  | Web and iOS | Web, iOS, Android | Web, iOS, Android  | Web, mobile app (only for premium plans) |
| Online Courses  | Unavailable  | Available  | Available  | Available  | Unavailable  |
| Demo/Trial | – | 14-day free trial | Demo, 14-day free trial  | 7-day free trial | 14-day free trial for Premium Plan |
Final Thoughts
There is no disputing that Facebook Groups isn't the ideal solution if you're serious about creating a long-lasting community. A solid community platform should provide you with complete control over your data, safeguard the privacy of community members, and allow you to monetize your content and customize the community to reflect your brand.
While the Facebook Groups alternatives we discussed do most of the above, which platform you choose depends on the type of community you're building and your budget. 
Suppose you want your community to have easy log-in with SSO, paywalls to monetize some (or all) of your content, and most importantly, exclusive access to a community of prominent creators. In that case, Circle might be worth a shot. However, Mighty Networks might be better if your goal is to build a monetized community delivering courses, coaching, and mentoring.
Again, if you want your community to have its own custom app without any coding required, you should consider Disciple. Lastly, if you're looking for a free alternative, like Facebook Groups, but with a  lot more functionality, the Basic Plan from Tribe would be a good place to start.
Disclaimer: I may receive an affiliate commission from some of the links in this article (but it won't cost you a thing!). Regardless, the software I review are some of the best I have tested, and I support them personally. If you want to learn more, head over to my privacy policy & affiliate disclosure.
P.S: If you want to join my online community, you can connect with me on Twitter. I write about everything from growth marketing to startups and also share my experiences with the latest software. Also, if you want to learn more about actionable growth marketing from real marketers, check out my podcast (which already has 74 episodes!)