If you've tried Descript, you'll know it's one of the coolest video editors out there. Its text-based editing functionalities really make it stand out from its competitors.
Moreover, you can use it to edit videos for any major platform, be it for your podcasts or YouTube. But Descript also has some limitations that can be a deal-breaker for a lot of people. 
While Descript is great at editing and transcribing a single video file, it struggles when working with a larger volume of videos. As a result, it isn't the best fit for team projects. 
Moreover, it is unreasonable to expect professionals to work with a single video file. Most users cut, trip, and reassemble multiple files to craft the perfect product. That said, Descript may not be ideal for everyone.
That is precisely why I have made this list of the best Descript alternatives you can get. I have personally used all of the alternatives. So, I can give you a good idea about what to expect from each of them and their limitations.
So what do these alternatives offer that Descript does not? In this article, I will talk about the features, pricing, and limitations of 5 Descript alternatives. Let's dive in!
While there are many tools and platforms available for podcasters, Riverside.fm shines as a standout alternative to Descript. 
I tried Riverside and fell in love with it. It has everything you NEED and want. 
First and foremost, Riverside.fm does an exceptional job of capturing audio in a way that many platforms simply cannot. 
The editing is powerful.
You can find more information here.
With its cutting-edge technology, Riverside.fm has quickly become the go-to tools for podcasters. It produces pristine audio quality. It has received high praise from users for its superb recording quality that rivals even in-person recording.  
The one thing that sets Riverside.fm apart from Descript is its ability to create high-quality recordings with minimal loss in sound and video quality. It's a true game-changer for podcasters who are looking to create top-notch recordings. 
With its latest additions, it boasts a range of features that will make you stand out from the rest. 
You can access powerful features such as 
Multi-track audio and video editing 

Voice-over recording and live streaming

Chat with multiple people on the call

Present using Keynote or PPT slides
Riverside.fm also offers a variety of features that make it easy for podcasters to collaborate with each other. Real-time collaboration, group chats, presentations and file sharing capabilities are seamless.
You are able to download as a raw video or audio for each participant (with each media share also downloaded separately).
The platform allows you to download transcriptions or SRT files for YouTube captions.
And with the AI speaker layout, you can switch to the active speaker being displayed, while the others appear in picture-in-picture mode.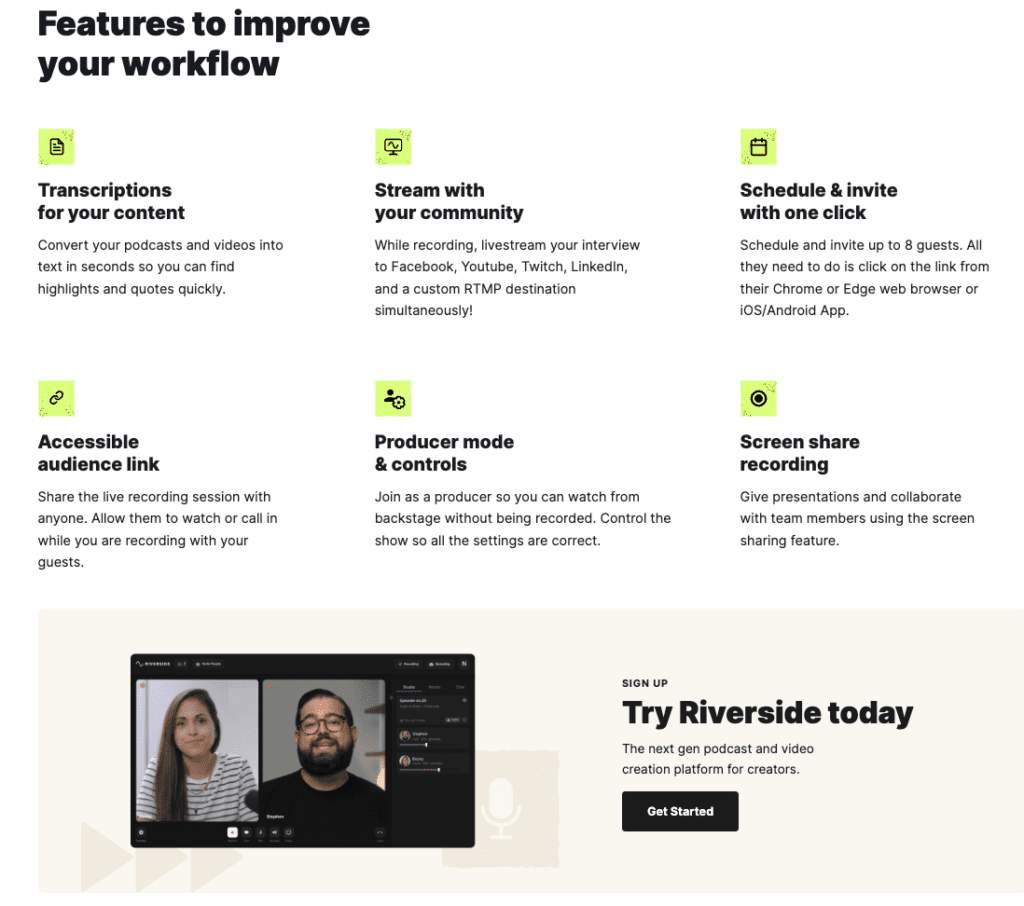 With its intuitive user interface, new iOS App, powerful editing tools and superior sound quality, Riverside.fm is a clear choice for anyone who values professional-grade recording and production. 
It streamlines the recording process to ensure that podcasters can focus on producing engaging content, without getting bogged down with technical details. 
Plus its intuitive user interface makes it easy for users of all levels of experience to quickly learn how to navigate the software. It is a true delight to navigate through the platform. 
Riverside.fm uses advanced algorithms to get rid of any echoes, drop-outs or background noises that might hamper your recording. 
And don't worry, their security is top notch. Riverside.fm is SOC 2 compliant and its security is ISO/IEC 27001 certified – initially approved in May 2022.
Overall, Riverside.fm is an outstanding platform that streamlines the recording process.
The main difference is THAT – Descript allows you to easily edit your videos, while Riverside takes it a step further. It offers a comprehensive package that includes everything from editing to hosting. 
So if you are looking for a top-quality podcasting platform Riverside.fm should be at the top of your list. 
If you're looking for a more in depth analysis you can read my full review here.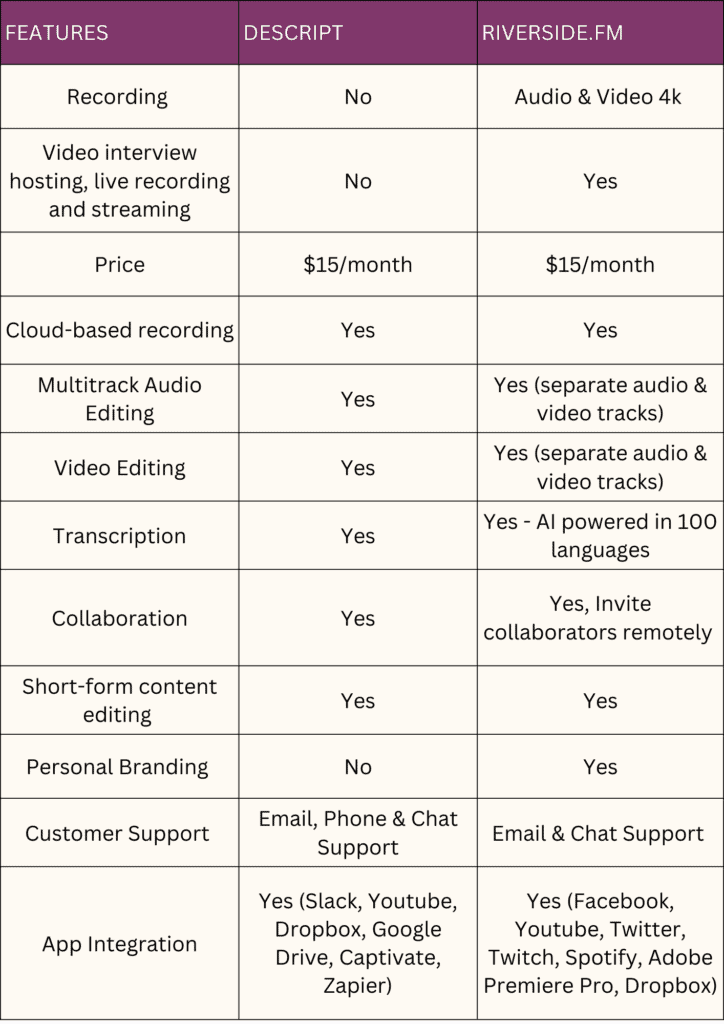 You are in luck – Here's a discount code for you to try. 25% off for the first 3 months: Aazar25

Descript is great for editing and you can use Riverside for that. But it's horrible at turning your transcript into actionable content that you can use for more growth and repurposing.
If you are a podcaster, then you need to grow outside of the podcast and Castmagic does it the best way.
Here's why:
Castmagic is the ultimate solution for podcasters who want to take their content creation to the next level. With its impressive array of features, this all-in-one platform will revolutionize the way you produce podcasts, saving you time, increasing your productivity, and ensuring your podcast leaves a lasting impact.
Let's start by delving into the incredible power of Castmagic's AI. This groundbreaking AI-driven solution is composed of two extraordinary components: AI Content and Magic Chat.
AI Content is a game-changer in post-production, effortlessly generating 12 essential elements for each episode. It covers all the bases, from captivating titles and keywords to engaging speaker bios and intros. With timestamped overviews, insightful Q&A sessions, and concise key topics, AI Content is truly a content creator's dream come true.
Now, let's step into the world of Magic Chat, where the AI takes center stage. By uploading your podcast transcript and using the right prompts, Magic Chat goes beyond the initial 12 elements, offering additional insights and content that will captivate your audience.
One of the standout features of Castmagic is its automated transcription capability. Say goodbye to the painstaking process of manual transcription. Castmagic provides impeccably clean transcripts, saving you valuable time and ensuring accurate and reliable transcriptions.
But that's not all. Castmagic also offers automated tools for generating timestamped show notes. No more tedious tasks of creating timestamps for each segment of your podcast episode. Castmagic handles it all, allowing your audience to effortlessly navigate your content.
Furthermore, Castmagic goes beyond basic transcription and show notes. It has various content extraction capabilities, such as extracting key topics, creating summaries, and generating ready-to-use quotes and highlights from your episodes.
Imagine the possibilities! You can repurpose these extracted content pieces for social media, blog posts, or other promotional materials, exponentially increasing the reach and engagement of your podcast. With Castmagic, you can transform one piece of content, like your podcast, into over 50 short and long-form pieces that can be shared anywhere.
Even if you're not a tech-savvy podcaster, Castmagic has got you covered. Its user-friendly interface makes it easy to navigate and utilize its features. Plus, it seamlessly integrates with your existing podcast workflow, ensuring a smooth and hassle-free transition.
Don't just take our word for it. Castmagic proudly serves over 2,000 podcasts and creators, optimizing their content creation process. With its extensive user base, the platform has successfully processed over 1 million minutes of audio content, providing invaluable time-saving benefits to content creators like yourself. Rest assured, your content is in the most capable hands.
Elevate your podcast to new heights with Castmagic. Experience the transformative power of its AI, streamline your workflow, and captivate your audience like never before. Try Castmagic today and unlock the full potential of your podcasting journey.
Here my pros and cons: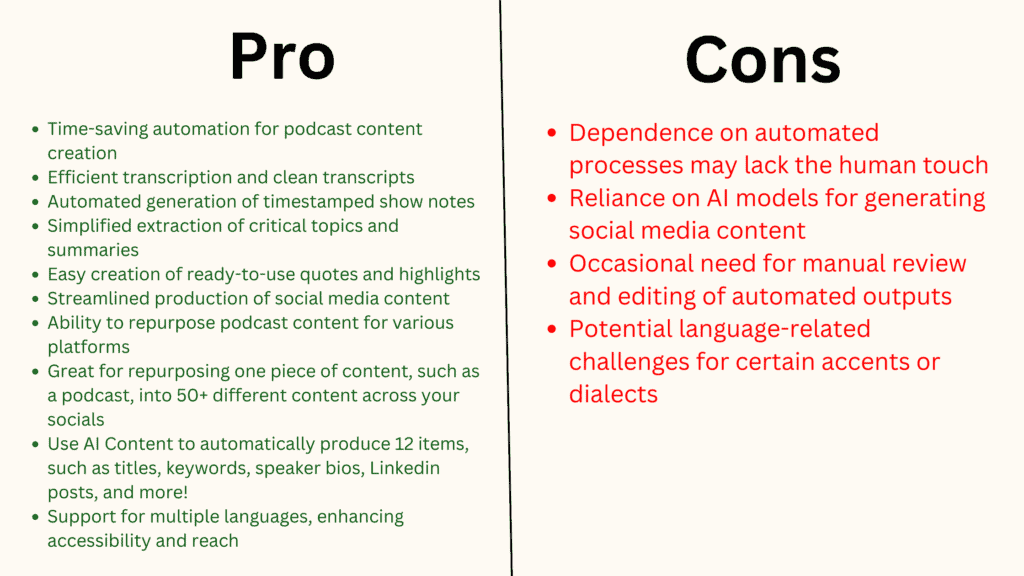 And here's my video review:
Read the full review here: I fired my virtual assistant and replaced it with Castmagic. Here's why…
Piktostory (Piktochart Video) is the video-editing component of Piktochart. It is a lightweight application that lets you create professional videos in a short time. You can craft a fully edited video for your podcast in minutes using Piktostory(Piktochart Video)!
Pros
Piktostory (Piktochart Video) is a document-like video editor. It specializes in making bite-size clips for social media promotions. It highlights the important parts of the video. That's how it hooks the audience using flashy clips.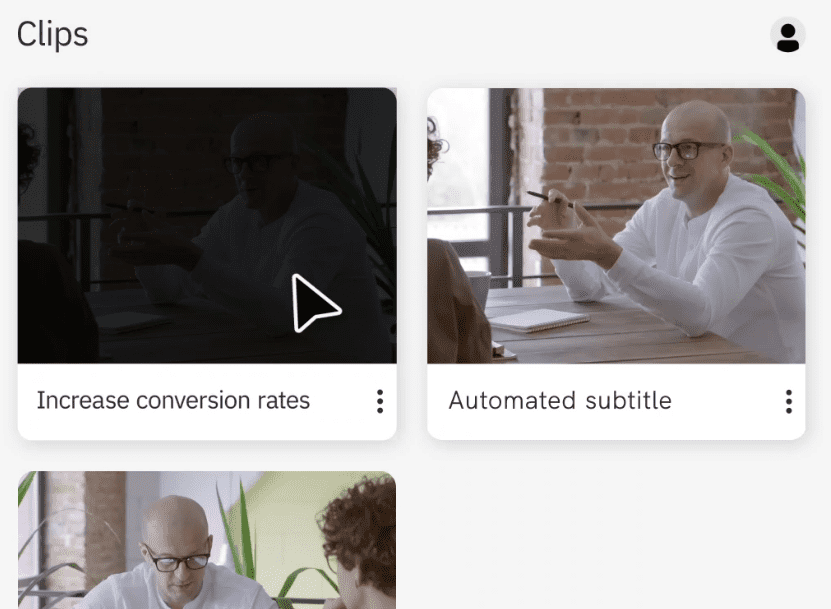 Piktostory (Piktochart Video) also lets you quickly edit videos. You can complete various sequences using a single button. So, there is no need to edit each video frame-by-frame. This saves you a lot of time which you can use to improve the video content. 
Piktostory (Piktochart Video) also has some useful features like automatic subtitles. Being a social media-focused platform, it naturally comes with integration with all major social media sites. There are also neat tools to change the font type, color, background, etc., inside the video.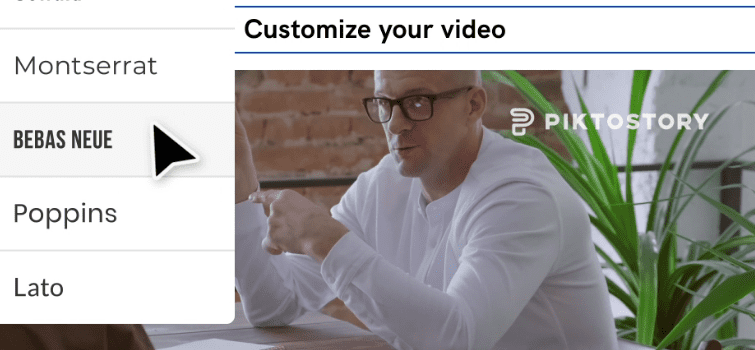 Piktostory (Piktochart Video) is a web-based application. So, you can use it from Android, iOS, Windows, Linux, and any other system as long as you have an active internet connection.
It takes a few minutes to create a highlight video for your podcast. You can check out the video I made with Piktostory (Piktochart Video) in just 5 minutes or below:
Cons
Photostory (Piktochart Video) is not without its drawbacks. An editor cannot be fast and meticulous at the same time. So, Piktostory had to trade off a certain degree of freedom to achieve the features they provided.
Due to its focus on simplicity, Piktostory (Piktochart Video)may not be the best tool for someone who wants to control every second of their video. 
However, you are unlikely to require such precise control unless you are looking to go for a professional feel with your videos. I really think it's one of the best Descript alternatives out there.  
Best suited for
Piktostory (Piktochart Video) is best for people who use social media to promote their services. It is also great for anyone who wants to edit their videos quickly and without too much complexity.
Pricing
Piktostory (Piktochart Video) is a Piktochart product that offers a free 30-minute movie editing plan per month. It does, however, have a watermark that you cannot erase.
Premium plans begin at $14 per month. For regular podcasters, though, I recommend the Pro plan, which begins at $29 per month. Aside from that, there is a $49 per month Ultimate plan.
The best part you get video + graphic design software for with it. 2-in-1 🙂

Best Descript Alternatives #3 – VEED.IO
VEED is another great video editor. It is easy to use and comes packed with features. For many users, VEED provides everything they need from a video-editing tool.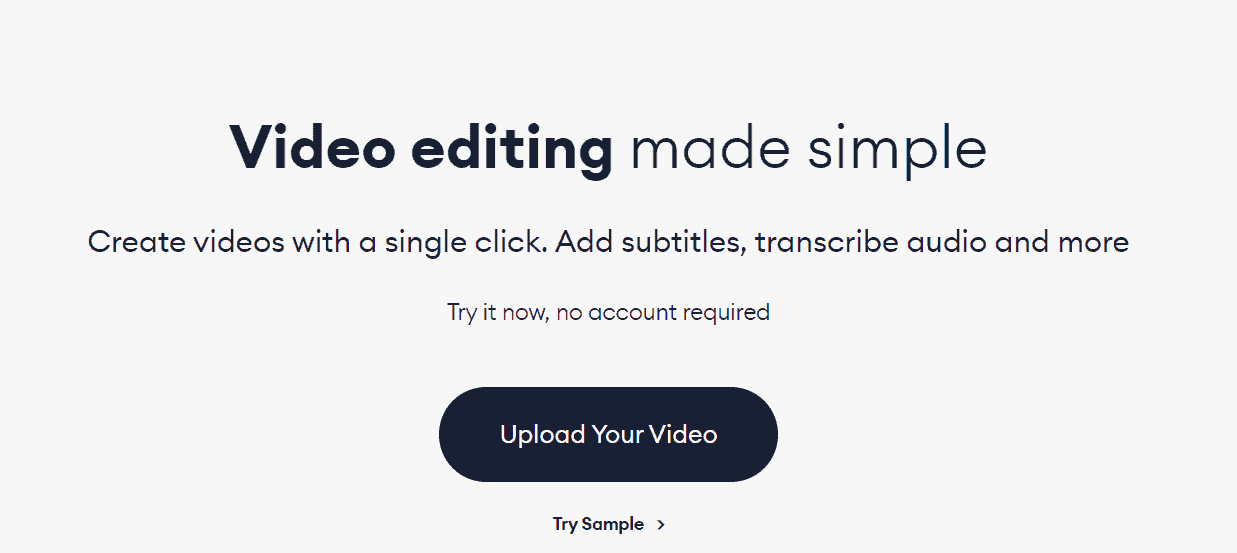 Pros
VEED offers an excellent online video editor. It comes with many useful features like video filters, audio visualizers, and video effects.
These features offer a quick and easy way to give your videos a unique personality. Besides these, it comes with a transcription option. So, you can transcribe audio and videos to text.
VEED also has a translation feature that lets you automatically translate your audio into over 100 languages. 
Moreover, VEED features a number of editing presets. It has separate modes for making music videos, intros, trailers, and memes. These presets can be helpful in specific situations and save you plenty of time. 
VEED also has a background noise remover. This feature is very useful for editing outdoor scenes. Besides that, it comes with all the basic features like trimming, cutting, resizing, etc. 
Since it is a cloud service, you can use it from both mobile and desktop devices. 
Cons
VEED chooses simplicity over advanced options. So, while it is perfectly fine for most users, its features will not be good enough for fine-tuning videos. VEED's reliance on filter presets may not appeal to perfectionists.
Best suited for
VEED is best suited for people who don't want to use complex video editors like Premiere Pro. It offers a simple solution to video editing, which should be good enough for most people. 
Pricing
VEED has a one-off free trial that you can use. For regular use, the Basic plan starts at $12 per month. It has all the features a casual user will need for regular video editing.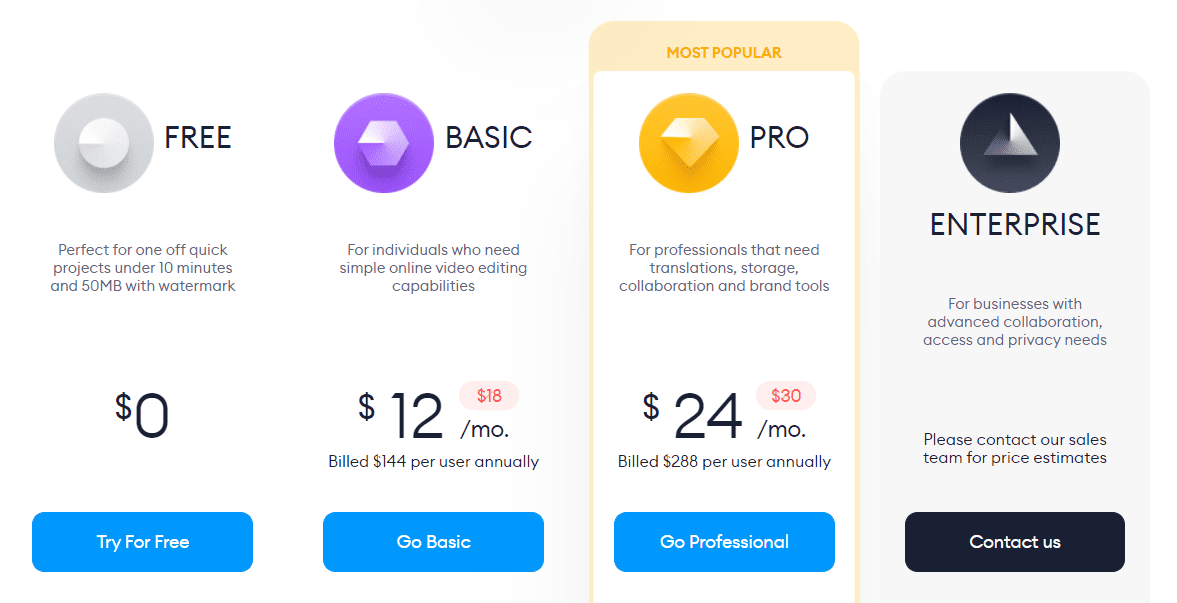 For professional use, you should go for the Pro plan. This plan starts at $24 per month. For businesses, there is an Enterprise plan which has a negotiable price tag. 
Best Descript Alternatives #4 – Type Studio
The next video editor is Type Studio. Like the previous entries, Type Studio is a text-based video editor. It offers all the benefits of a fast video editor as well as some team collaboration functions. 
Pros
Type Studio is very easy to use. You don't have to look for the perfect frame to trim your video. Type Studio automatically transcribes the video into texts. You can then edit the video using the texts as a reference. 
You can delete portions of the video by deleting the texts of that portion. You can also add automatic subtitles to any video. Consequently, your workflow becomes a lot more streamlined. 
Type Studio also has automatic translation. You can translate your video to all the popular languages with over 90% accuracy. This tool is especially helpful for people who are looking to expand their reach to various regions. 
Type Studio's transcription features are especially handy for podcast editing. You can also accurately pinpoint parts of the audio you want to delete or change.
Since it's an online platform, you can access it from any device as long as you have an internet connection. So, you can use it from Windows, Apple, Linux, as well as Android devices. 
Cons
Like all text-based editors, Type Studio cannot edit video with precision. Its accuracy is dependent on the texts and voices in the video. So, it is difficult to edit videos with fewer conversations.
Best suited for
Type Studio works best for people who work on videos with several dialogues. It is also a great choice for podcasters.
Pricing
Type Studio has a free plan that lets you upload 10 minutes worth of videos every month. However, it is not feasible for people who regularly edit videos. 
The Basic plan starts at $12 per month and offers 5 hours of video upload every month. 
The Pro plan costs $20 per month but offers a four times higher upload limit. There is also a Custom plan for users with more specific needs.
Best Descript Alternatives #5 – Reduct.video
Reduct is a video editor that focuses on speed over everything else. It is a text-based video editor to bring out the best moments from your video.
Pros
To say that Reduct can save you time would be an understatement. Reduct uses artificial intelligence and natural language processing to link the words in a video to that particular moment. So, you can easily remove sections of the video by deleting the texts.
Even better, you can select the moments in the video you want to highlight. Reduct will automatically create a video showing off those moments in just a few minutes. This feature is very helpful for briefing teams, creating highlight reels, and marketing services. 
The text-based functions make it a great tool for team projects. Members can easily keep track of what everyone is doing and understand their roles clearly. 
Reduct emphasizes the authenticity of the video rather than fine-tuning it. So, videos seem more relatable and have a charm to them.
Moreover, because it's an online platform, it can run on most modern devices. You can also work on the go as long as you have an active internet connection.
Cons
Reduct also suffers from the lack of professional features. So, you cannot fine-tune videos to make them look more professional.
Best suited for
Because it's a text-based editor, Reduct works better as a podcast editor. But its video editing functions are great as well. It is perfect for users who prioritize speed and work in a tight schedule.
Pricing
Reduct only comes in two plans – The Team plan and the Custom plan. The Team plan starts at $30 per editor every month. The Custom plan is for users with specific needs and has a negotiable price tag.
Best Descript Alternatives #6 – Speak Ai
Speak Ai is a handy tool for editing podcasts that works in any current browser. You can use it on most devices because there is no desktop application. It works with browsers on Windows, macOS, Linux, Android, iOS, ChromeOS, and other key platforms.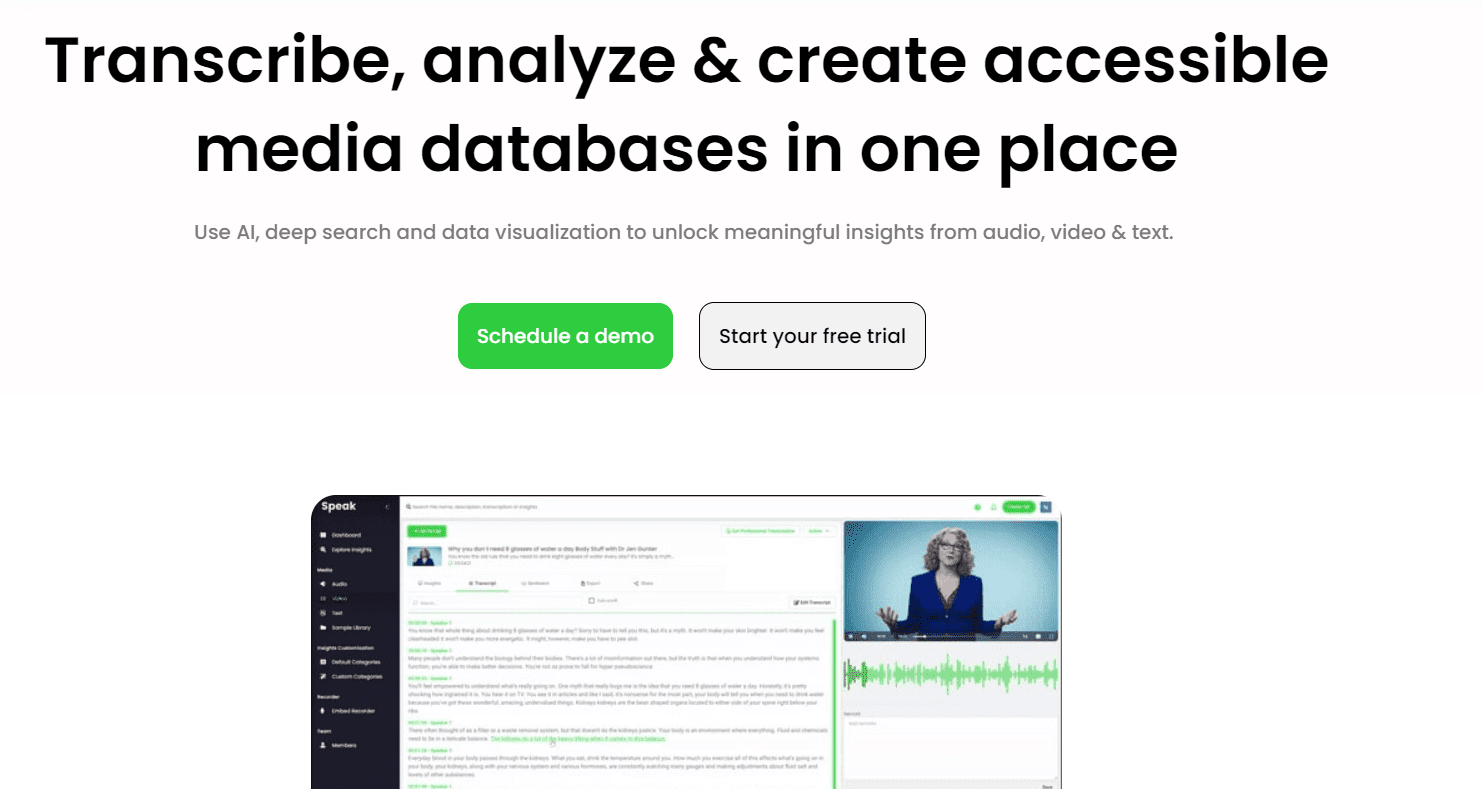 Pros
The best thing about Speak Ai is how easy it is to use. You can use it both on your computer and your smartphone. All of your work is immediately preserved because it is a cloud-based platform. Furthermore, as long as you have an internet connection, you may access it from anywhere.
Speak Ai places a strong emphasis on its transcribing feature. With automated transcribing, you can achieve an accuracy rate of more than 80%. If you're not dealing with unusual phrases or accents, this tool can save you a lot of time.
Speak Ai has a human transcription feature if you want more accuracy. With this function, you can consistently reach above 99% accuracy. As a result, you can use Speak Ai to automate a highly time-consuming component of podcast editing.
This platform is capable of more than just transcription. It offers practical information that you can use to better your content. You can obtain a thorough examination of your interviews.
Furthermore, the AI will provide recommendations based on data about locations, topics, individuals, and websites.
You can use the information to create tailored content. Speak Ai adds to this by allowing you to design personalized landing pages. By incorporating SEO strategies into the mix, you can use this to sell your podcasts.
Speak Ai also allows for integration with custom APIs. As a result, by integrating other applications with Speak Ai, you may streamline your workflow.
Cons
Like the other alternatives on this list, Speak Ai lacks the precision of more complex video editing software.
Speak Ai is an all-around video editor, but it does lack some key features, including dubbing and automatic subtitles. 
Best suited for
Speak Ai is perfect for podcasters who want to ensure good quality and fast editing. While it can be lacking for video editing, Speak Ai works perfectly for podcasters. 
Pricing
Speak Ai offers a free plan for trying it out. The paid plan starts at $15.99 per month and goes up to $79.99 per month for the most premium bundle. You can also receive an organizational plan if you own a business.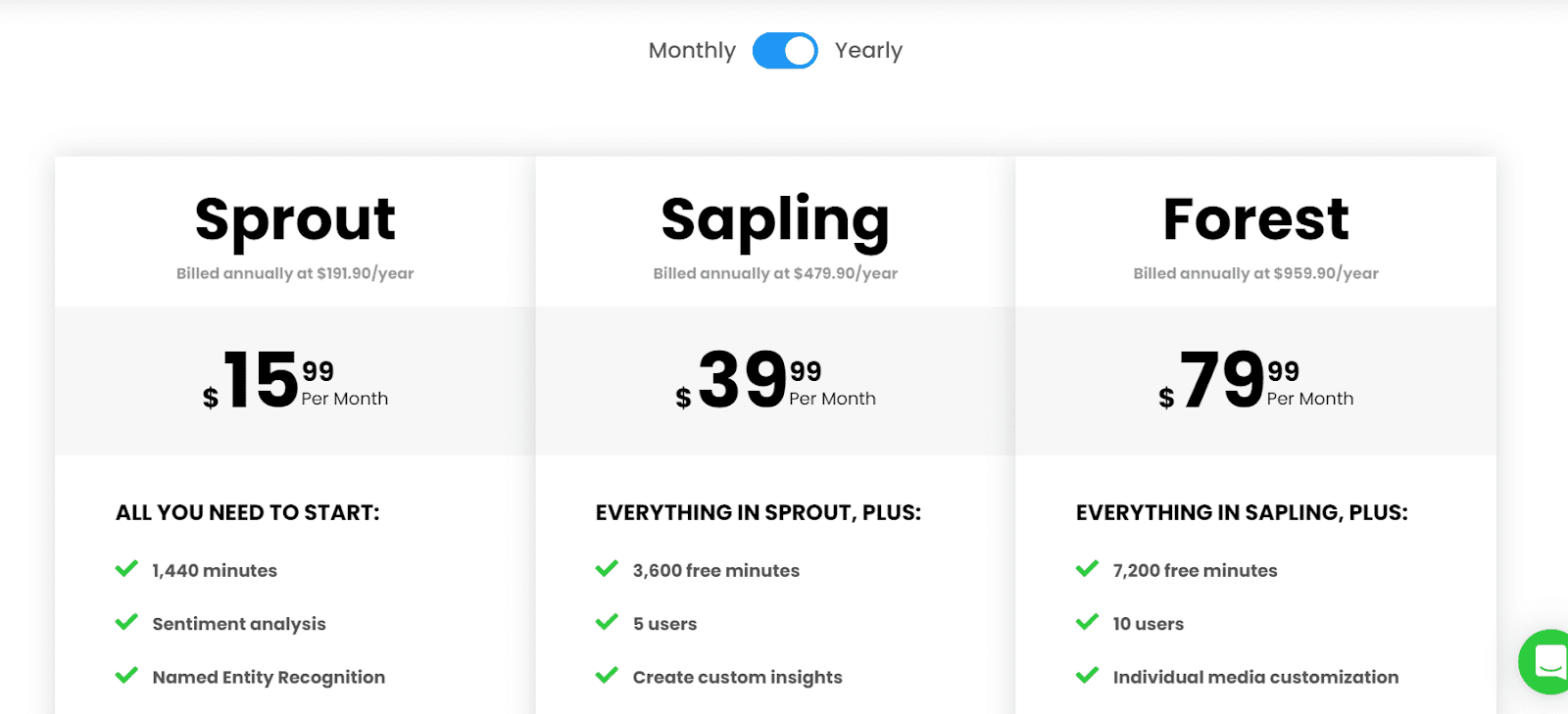 Final Thoughts
While Descript is an excellent text-based video editor, it has some drawbacks that can make it less than ideal for some users.
All 5 Descript alternatives I have mentioned are amazing applications designed to give you quick and high-quality results. Now, it all boils down to what you need to get the job done. Feel free to try them out before going for the one that fits your needs. I'd go with Piktostory or Riverside.