Debutify is more than just themes. They are everything what an ecommece merchant needs to start their project.
It has over 50 Add-Ons and powerful product research tools and resources. 
During my time as the Head of Growth for Vitals (Debutify competitor). I would like if I didn't tell you that I admired them from far away.
I've had my fair share of experiences with Shopify apps. Now, as an e-commerce growth marketer, I've had the chance to try, buy and test Debutify personally, so you don't have to.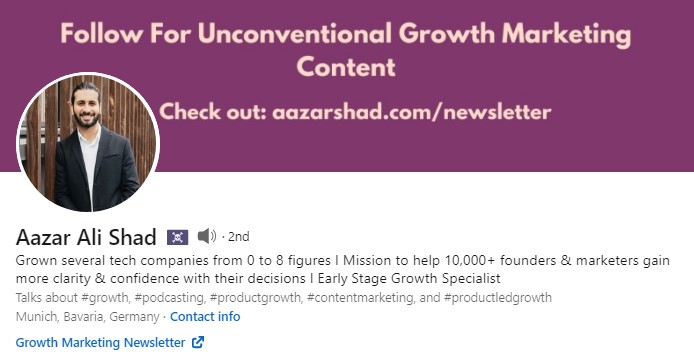 In this article, I'll be covering an in-depth Debutify review highlighting its top features, pricing, and pros and cons. Keep reading to hear my personal experiences and final verdict about Debutify (with an exclusive discount link at the end!).
But first, time for some transparency: I may get some affiliate compensation if you click on some of the links in this article, but it won't cost you a thing! Moreover, these companies do not pay me to write my reviews. I test the tools myself, and I support some of them regardless.
Table of Content
Debutify Review: Overview
Debutify is a complete eCommerce theme with more than 50 Add-Ons to help you increase conversion rates. It offers many effective tools to help you create and build your eCommerce site from scratch without any prior site design expertise.
Debutify Add-Ons are focused on increasing your conversion rates, making it more than just a Shopify theme for your online store. For example, Debutify comes with Cart Maximizers to encourage adding more items to carts and Conversion Triggers to nudge your customers to check out. All of Debutify's Add-Ons are geared around providing a seamless experience for the customers and more sales for the merchants.
Despite being a premade theme, Debutify can help you establish a powerful online brand identity. You can edit practically anything to your taste, from the texts and images to the menus and colors. In addition, Debutify integrates with numerous third-party apps, including Loox Reviews, Ali Reviews, Ryviu App, Klaviyo, Afterpay, IO, and others.
Debutify Review: Key Features 
Debutify comes packed with multiple useful features. Let us look at some of them. 
Customizable Layouts
Debutify gives you complete control over how your website appears and functions for visitors. You can choose from over 29 distinct color schemes and create or modify them directly from the dashboard. And the best part is that Debutify will simultaneously display your theme's appearance in mobile and desktop views for easy comparison.
Demos
The Debutify theme offers several demos that you can install with just one click. With the 
websites pre-built, you can just edit the texts and images alongside your store logo to set up a store from scratch effortlessly.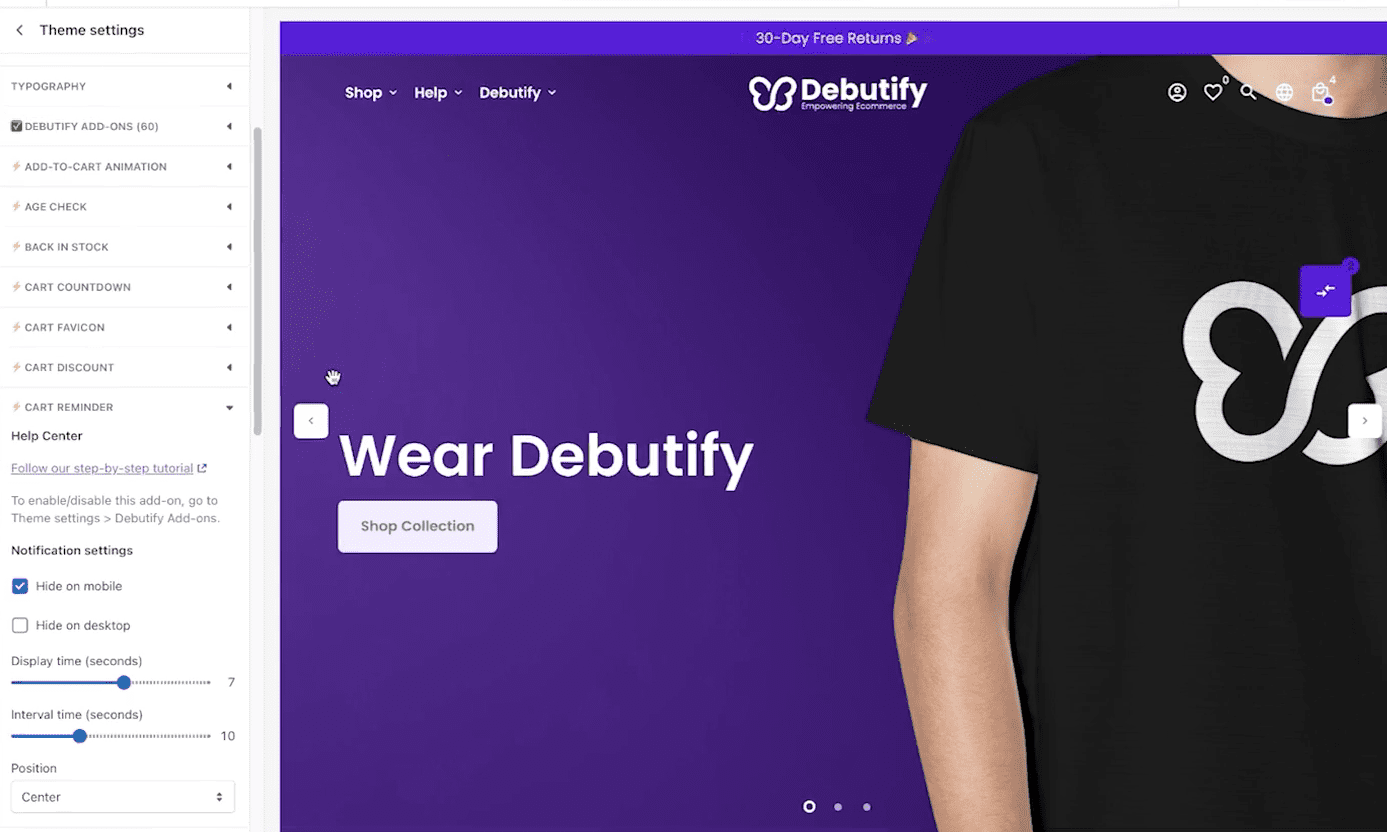 Newsletter Forms
Another wonderful thing about Debutify is that it allows users to request additional features to be added to the theme. 
In response to feature requests, Debutify now offers newsletter forms. It's another add-on that increases conversions by reducing bounce and cart abandonment rates.
You can also gather and sync leads using integrations like Mailchimp and Klaviyo for additional email marketing.
Product Displays/Descriptions 
Any store's main attraction is unquestionably the products, and Debutify helps you present your products as attractively as possible. There are several layout and slider options to display your product collections.
You can select from a variety of image display modes. Additionally, your customers can sort the products using various filters with interactive grids.
Moreover, you can also display a row of related products while a visitor is searching for a product to encourage further browsing. The customization options and the dynamic product recommendations make these features more engaging.
Product Videos
You can also use Debutify to integrate videos into your product pages if you want to increase customer interaction. It provides a live view of how many people are now browsing the product in question, along with several choices for customizing product tabs, icons, photos, reviews, layouts, etc.
Guarantee Bar
Customers prefer it when businesses guarantee their goods and services. This might apply to your free shipping deals, refund policies, or other promotions. 
Using Debutify, you can select an icon from more than 1,000 options, edit the wording, and control how it all looks to emphasize your product guarantees in the customer's eyes.
Customizable Header and Footer
An eye-catching header is a good technique to get people to notice your website. With Debutify, you can customize the interface's appearance, including how the interface changes as you scroll down the page and whether the header is transparent or sticky. 
There are many possibilities for footers as well. You can use them to link your social media accounts, contact information, newsletter, blogs, or any other menus you like.
Customizable Slideshows
Use the slideshow feature on the homepage or other pages to draw attention to select products, news, or offers. Slideshows are frequently used on websites, making them the most dependable image on homepage headers. You can alter the appearance of your product sliders on your website by using Debutify's fade-in motion feature.
Product Research Tool
Another recent addition to Debutify's features is the dedicated product research tool. Accessible with selected premium subscriptions, the research module displays winning products to users, which they can easily import into their stores. Moreover, Debutify also offers its users a free course on product research.
Mega Menus
With Debutify's premium plans, you can give your standard menus additional flair. Besides text, you can highlight noteworthy products, photos, column navigation, and more in the menu layout.
Shop Protect
Another helpful back-end feature of Debutify is Shop Protect, which prevents visitors from copying your content, including text and images. Additionally, you can turn off features like filtering your products based on best-sellers. 
The Debutify theme also includes a pop-up window that will inform your consumers that you are using cookies to give them a better experience. Additionally, this feature complies with GDPR for visitors from the EU, shielding customers and storing data from outside parties.
Product Slider
You can drive visitors to the pages you want them to see on your site by showcasing featured products. With Debutify, you may select the number of products to display, whether or not to use autoplay, and whether or not to use arrows and dots. The product slider will adjust to swipe on both desktop and mobile devices.
Fast-Loading
Debutify ensures your site's pages load extremely quickly. You also have the option to test out the speed for yourself with GtMetrix. In addition, you can install the Page Booster Add-On to speed up your page's loading times further.
Mobile-Friendly
With Debutify, you don't need to customize or manually change your site code to make it more mobile-friendly. The tool lets you see and edit your site's layout and customizations for both web and mobile so you can quickly and easily ensure mobile responsiveness.
Product Testimonials
A powerful technique to boost sales is displaying testimonials or other forms of social proof. Debutify assists you by putting customizable product testimonials on your website. You can use quotations and photographs instead of placing the testimonials in a slider under the product pages, besides being able to edit the slide settings.
Product Upsell
With Debutify, you can enable pop-up messages with special offers or links to particular products to entice users to click on them. Additionally, you can offer product bundles as an upsell so that your consumers can see which products are usually purchased together.
Currency Converter
A currency converter is a must-have for your store if you have international customers. With Debutify, your website can automatically determine the user's country and display that nation's currency. 
Additionally, Shopify payments have integrated multi-currency checkout so that your customers can select the currency they want to pay in. Debutify also allows you to have your website automatically translate to more than 20 different languages.
Cart Functionalities
Debutify brings new functionalities to a traditional shopping cart with several add-ons that focus on improving how your users interact with the cart. These cart functionalities include:
Add-to-cart animations

Cart discounts

Cart countdowns to show a timer for products added to the cart

Cart goals to offer free shipping when specific order amounts are reached

Collection Add-to-Cart for purchasing a whole collection at once

Sticky Add-to-cart for displaying a bar with the product name price and add-to-cart button when customers scroll through the page

Skip Cart feature to avoid the cart page and directly go to check out

Quick View also shows the add-to-cart button as a pop-up along with product details
Customer Support
Building a Shopify store is a challenge requiring some support along the way, and that's why Debutify features superb customer support. 
With a Free Plan, you get basic support. But with the paid Starter, Pro, or Enterprise plans, you can get advanced, and priority live support via chatbots and email. Besides this, Debutify offers support for merchants and their businesses with its training modules and resources. 
Debutify Review: Pricing 
Including a free-forever version and a 14-day free trial for the top-tier plan, Debutify offers four different subscriptions:
Free Plan:

For Debutify Themes, the free version comes with feature requests, a basic chatbot, and email support, as well as one store license. Debutify Reviews' free plan offers features like a review management dashboard, text review collection, customizable product reviews widget, review importing, and sorting and filtering.

Starter Plan:

At $29/month, the Starter Plan comes with one click-integration and up to 5 add-ons for Debutify Themes. For Debutify Reviews, this plan offers up to 300 email review requests, photo review collection, personalized email templates, automated review requests and reminders, live support, and more. 

Pro Plan:

This plan charges $79/month and adds to the features of the Starter Plan with up to 30 add-ons and advanced support via chatbots and email. With this plan, you can get up to 750 email review requests, photo and video review collection, spam and profanity filter, 24/7 live support, and more for Debutify Reviews.

Enterprise Plan:

Costing $149/month, the Enterprise Plan comes with three store licenses, 24/7 priority support, and access to all add-ons for Debutify Themes. 
By the way, if you're really up for it, sign up using my link to get 30% OFF on the first two months of your subscription! 
Pros 
Here is a quick rundown of Debutify's advantages.
Auto updates

One-click installation and activation

50+ conversion-focused add-ons

Seamless integration with popular Shopify apps

Dropshipping optimization

Faster loading time with GTMetrix Live Test for verification

Translates stores in up to 20 languages

Specially designed to minimize bounce rate and cart abandonment

Free product research tool and course

Free Ecommerce training on Shopify store setup, Facebook and Google Ads, etc.

Free plan requires no credit card to sign up
Cons 
Now let us look at some of Debutify's shortcomings. 
Customer support quality depends on the subscription level

Add-ons are only available with premium subscriptions
Debutify Review: Who Is It For?
Using Debutify, you should expect a noticeable improvement to your Shopify store and how buyers rate your products—even on the free plan. It is more user-friendly than most alternatives available, with many modifications, animations, and easily configurable designs.
The cost might be the only drawback. There is just one plan that allows access to multiple site licenses, and many people may find it expensive. 
Debutify would be ideal for Shopify store owners with a single website. They can start with the free trial before upgrading to a paid plan to test out which add-ons and integrations their Shopify store needs.
Debutify Review: 3 Things I Love About Debutify
With a 4.8 rating on Trustpilot, Debutify has a lot to love. But here are the three things I loved most about Debutify.
Add-ons
What I liked about Debutify is how all 50+ of its add-ons supported functions that ultimately result in higher conversion and sales for your store. Besides the standard Wishlists, Chatboxes, Pricing Tables, and Currency Converters, Debutify also offers sales boosting add-ons for cart countdowns, reminders, upsells, and discounts. 
While some add-ons are Cart Maximizers, some are Loyalty Builders, Conversion Triggers, Shopping Enhancers, or Shop Protectors. And each add-on is developed, used, and vetted by ecommerce experts with more than 8-figures in results. Better yet, with so many options available, you can opt for Debutify's 14-day free trial of the Enterprise Plan to try and test out the best add-ons for your store by yourself!
User-Friendly Customization
Another thing I love about Debutify is its extensive range of customizations. From giving you the option to edit basic fonts, texts, icons, and color schemes, Debutify extends its customizable aspect into advanced settings like layouts, newsletters, pop-ups, automated email templates, product descriptions, product grids, slideshows, and much more! 
The best part is, for both the web and mobile versions of your store, tweaking such extensive customization settings doesn't require any coding knowledge. It's all made simple, easy, and fast for you.
Global Reach
Debutify provides the tools to turn your store into a truly global one. Besides utilizing the currency converter and Shopify's multi-currency checkout systems to show prices based on your customer's location, Debutify also has the option to auto-translate your store into 20 languages! 
So Debutify presents an incredible opportunity to extend your store's reach to non-English speaking countries. You'll often find little to no competition in said countries for the products you offer, presenting significant opportunities to increase your revenue while reducing ad costs.
Despite all that I love about Debutify, a downside would be its wide range of add-ons being exclusive to the premium plans. On the contrary, while you can't access most add-ons on the free version, the premium plans may offer all 50+ Add-Ons. So you end up paying for a bunch of Add-Ons that you will never use.
Final Verdict
Finding themes with useful free features is getting harder and harder. But with Debutify, you get an all-in-one eCommerce tool instead of just a theme. While Debutify add-ons might only be available in the premium version, its free theme is more than sufficient for improving the look and feel of your store.
From product research to review management and multiple add-ons to scale and grow your Shopify store effortlessly, Debutify is a must-try in my books. And if you sign up now for a Debutify plan using my link, you get 30% OFF on the first two months of your subscription! 
Disclaimer: If you click on some of the links in this article and purchase a premium plan, I may receive affiliate commissions. Regardless, the goods and services I evaluate are some of the greatest ones I've tried, and I stand behind them. For more details, head over to my privacy policy & affiliate disclosure.
P.S. Check out my podcast (with 76 episodes currently and more on the way!) if you're interested in actionable growth marketing and hearing from actual marketers about how they develop their businesses.