Consistently creating content that ranks in SERPs takes time and effort. Moreover, the random suggestions about SEO best practices from random people don't help either. So, naturally, you raise the curious question: Is there a tool that helps me to write the best content that consistently ranks? 
If you have the same question, then Clearscope might be the solution you need. Clearscope is an outstanding SEO tool that optimizes your content, considering all the SEO best practices. It also tells you the quality of your content compared to your competitors. 
Over the past five years, I have helped three tech/SaaS startups achieve their first $1M+ in revenue with SEO. During my years of experience as an e-commerce growth marketer for brands such Poptin, Userpilot annd more, I could test many different SEO tools. Clearscope is one such tool that has helped me build a 7-figure business. Although, now I use SurferSEO and Frase.io for my Clearscope features but it was a good run (because it is expensive).
In this article, I'll dive into a full Clearscope review, one of the finest content optimization tools in the market. Keep reading to learn the key features, pros, and cons of Clearscope. You'll also know how this tool differs from other SEO tools like Ahref and Semrush.
Table of Content
TL;DR
Here's a summary of everything you will find in this article:
Clearscope is an SEO tool that excels in LSI keyword research, readability, and competitors analysis, i.e., content optimization in general. It analyzes the top 30 content in the Google SERP for a particular topic before presenting you with content suggestions.

Clearscope is best at detecting keywords that will be relevant in both the present and future. Apart from that, it excels in ease of use, optimization, superior customer service, and competitor analysis.

Clearscope can do a better job in providing content briefs, integrations to the software, and providing backlinks.

Clearscope is jampacked with different helpful features: creating reports in minutes that you can get back to anytime you want.  The reports suggest LSI keywords, readability, size of the content, and an overall content grade, etc., that you should hit for a particular keyword search. The reports also contain separate tabs for keyword and competitor insights if you want to dig deeper to generate more informational content.

Compared to other established SEO tools in the market, such as Ahref and SEMrush, Clearscope outperforms in optimization, search intent detection, theme, and sub-theme suggestion. It needs to catch up in categories of content briefs and detailed keyword analysis.

Clearscope provides excellent value for money and has helped me rank consistently in SERPs. When it comes to pricing, you can choose from three different tiers. 
Clearscope Review: What is Clearscope?
Clearscope is an SEO tool specializing in content optimization. It uses AI to drive search traffic and then suggests the best LSI keywords, content length, readability, etc., by analyzing the top 30 content articles for a particular keyword. Brands such as Adobe, Shopify, Youtube, etc., have worked with clearscope.
Content research can be tedious, and verifying that your content is better than the competitors' is even more challenging. Clearscope solves all these issues and ensures that your content is better than the top 30 content for the niche. 
Clearscope's features, such as content grade, keyword-ranking are pretty handy. It'll also tell you which keywords to include in the header tags, helping you rank higher organically.
Clearscope Review: Pros
Clearscope is full of useful features. Let us go through some advantages to understand why it's a fantastic tool for content teams.
Keywords for the future
You don't want to write content that's valuable only for now. Rather, creating content that consistently generates revenue over a long time is more efficient and profitable. Clearscope helps you do exactly that.
One of the best features of Clearscope is how it detects keywords that are relevant not only in the present but also in the future. This allows you to include those themes and sub-themes in the content that gives you a return and higher conversion rate in the future. That means you're earning more by doing less!
Ease of use
Clearscope is highly intuitive to use. The user interface is very user-friendly, which makes it easier for any content team to use effectively. 
The software features are intuitive, and the reports are easy to understand. So your company doesn't have to spend additional expenses on training.
Optimization
Clearscope's accurate AI ensures you get the best LSI keywords for your article. The keywords also rank according to their importance of usage and frequency.
As a writer, you only have to include those keywords semantically and focus on getting the best content grade. The content grade refers to the seamless optimization of your content.
Customer support
Clearscope is quick to respond to queries from customers. Moreover, the support team provides the same customer support regardless of your pricing plan. This is helpful as many other companies charge extra for fast services.
But it's worth noting that Clearscope provides customer service only during business hours, and their preferred mode of communication is email.
Competitor analysis 
A large chunk of your content's success depends on how accurately you can analyze your competitors. The process may typically take days, but Clearscope does it within 3 minutes. 
Clearscope analyzes the top 30 content of the SERPs for a specific keyword. On average, writers analyze the first 10-15. As a result, you might miss out on some perspectives. But Clearscope makes sure you consider every relevant keyword.
Clearscope Review: Cons
Like every SEO tool out there, Clearscope can improve some parts of it. These are what you should know before going for this tool:
No content brief and collaboration tool
Clearscope doesn't give you a detailed content brief for the article you are about to write. While it gives you enough information to write good content, you will require some prior understanding of SEO.
It also doesn't provide collaboration tools like editing and task assignments. At best, you can send the report to someone else to receive feedback. If you are looking for these features, there are other tools in the market you can look into. Content Harmony's content brief feature, as well as Fraise.io's feature, is a good example of what Clearscope could have added to their tool.
Doesn't provide backlinks
Backlinks are essential, and most SEO experts agree that backlinks matter in ranking content. So, you may want some backlinks for the content you write from the SEO tool you're using. 
However, Clearscope doesn't have that feature. So, you'll have to manage other ways to get organic backlinks for your content.
Integrations
Clearscope needs to catch up in the integrations feature as well. Content teams often integrate different tools into the SEO platform to enrich their content when they are writing it. The ability to add other tools is essential, especially when you are paying for the apps.
Clearscope only allows integration of WordPress and Google Docs. So if you're comfortable with using other integrations to formulate your content, there may be better options than Clearscope. Among similar Clearscope tools in the market, you'll get more flexibility in adding different integrations in tools like SurferSEO.
Clearscope Review: What Are Clearscope's Key Features, And How Do They Help You?
Now that you've seen the pros and cons of Clearscope. Let's dive deep into the key features and, more importantly, how to make the most out of those.
Reports
After deciding on the topic of your theme, the first thing you'll have to do is create a report using the specific keyword. So you have to insert the keyword in the Create Report tab. Then Clearscope takes a few minutes to make the complete report for you with its impressive AI.
The reports contain the platform where you'll write your content. Moreover, all your reports will be stored in the reports dashboard. You can check out previous reports, open a new one or send the reports to your colleagues for evaluation.
Every time you create a new report, Clearscope analyzes the top 30 articles for that specific keyword and gives you an idea of how your piece should look. When you click the "Optimize" button, you'll automatically go to the overview page, where you can either write your content or paste something you have already written.
Content optimization
When you create a new report, Clearscope optimizes the content based on a few factors: readability, semantic integration of LSI keywords, themes, and sub-themes. After evaluating everything, Clearscope assigns a particular content grade to your written content, and it also summarizes what the ideal content length and content grade should be.
The content grade is shown on the left side of the overview tab. Your current word count and the standard word count for competitors' articles are shown below the content grade. The readability also helps you to understand your target customers. Combining all these, you can create content that hooks the readers.
The relevant keywords are to the right of the writing space. Those contain typical usage, importance, usage in header tags, etc. Moreover, a tick sign shows up next to keywords you have already used. 
The more keywords you semantically use, the better your content grade will be. You can either write your content in the writing space or paste it after writing it elsewhere.
How accurate is Clearscope's Content Grade?
As an SEO expert, I now know the importance of guesstimating the user's search intent, i.e., focusing on "why" instead of "what." Clearscope automatically takes this into account when grading your content. 
Clearscope doesn't assign the content grade based on just "What matters now." Instead, it considers "What may happen in the future" as well.
From my experience, I've found the content grade to be very accurate. A content piece with an A+ (or, even better, A++) has helped me to rank in the SERPs.
Keyword search tab
Clearscope specializes in suggesting LSI keywords for your content. Even though the tab could be better (it misses out on many features competitors provide), it provides enough to get the job done.
For example, searching "content strategy" will provide a list of relevant keywords with monthly searches, competition, and CPC dollar figures.
The content volume helps you to justify whether targeting the market for the topic is worth it. The yearly volume report also allows you to find the seasonal relevance for the keyword, if there's any. As a result, you can save a lot of time throughout the process.

Competitors tab
Sometimes ROI depends on your ability to offer superior value compared to competitors. But first, you have to know what your competitors are doing in the first place.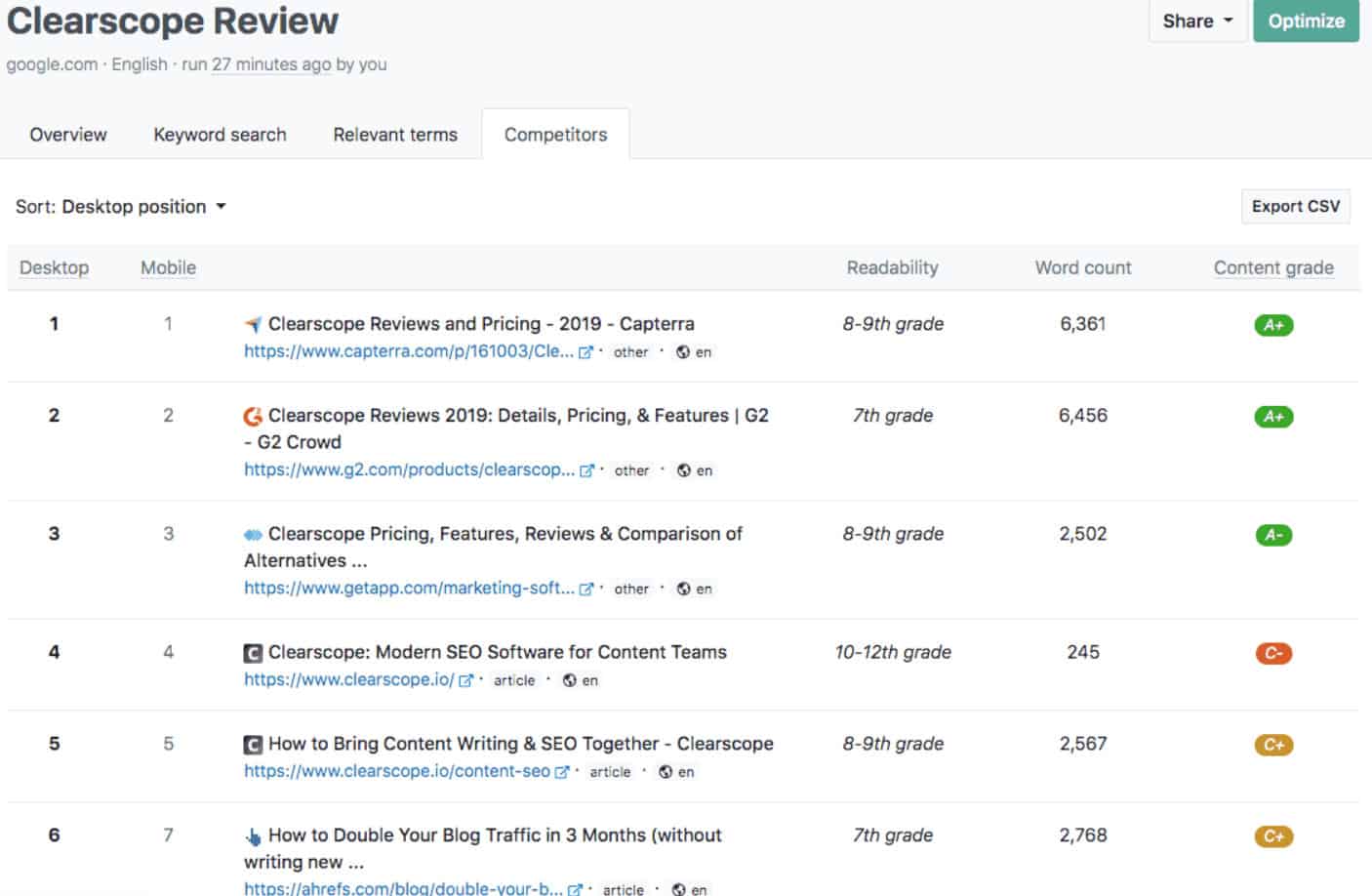 Clearscope's competitor's tab shows the readability, word count, and content grade for the top competitor's articles for a given keyword. They also provide the link to the website for you to further research.
Just combining competitors' articles and writing a refined version of it is not enough. Instead, you must work like a journalist and dive deep into research to offer maximum value to your readers. Clearscope will give you more than enough resources to do just that.
Clearscope Review: Pricing
Clearscope's pricing is on the higher end compared to other SEO tools. The essentials plan is the most basic plan that costs $170 per month. Next comes the business plan, which costs $1200 per month. If you're looking for something else, don't hesitate to contact Clearscope to customize the Enterprise plan based on your needs.
The ideal plan for you depends on your SEO budget. Besides, you can cancel the program anytime you want.
Clearscope Review: How is Clearscope Different from Ahrefs and SEMrush?
By this part of the article, you know everything about Clearscope. Now let us see how it's different from other popular SEO tools.
Optimization
Clearscope outperforms Ahrefs and SEMrush in the optimization section. In fact, Clearscope's relevance in the SEO tool market comes from its accurate optimization abilities.
Ahref and SEMrush, have their own optimization features. Frase.io uses AI to generate and optimize content. However, what sets clearscope apart is its superior natural language processing tool. Clearscope's platform is built on using world-class models from Google Cloud Natural Language, IBM Watson, and OpenAI's GPT-3.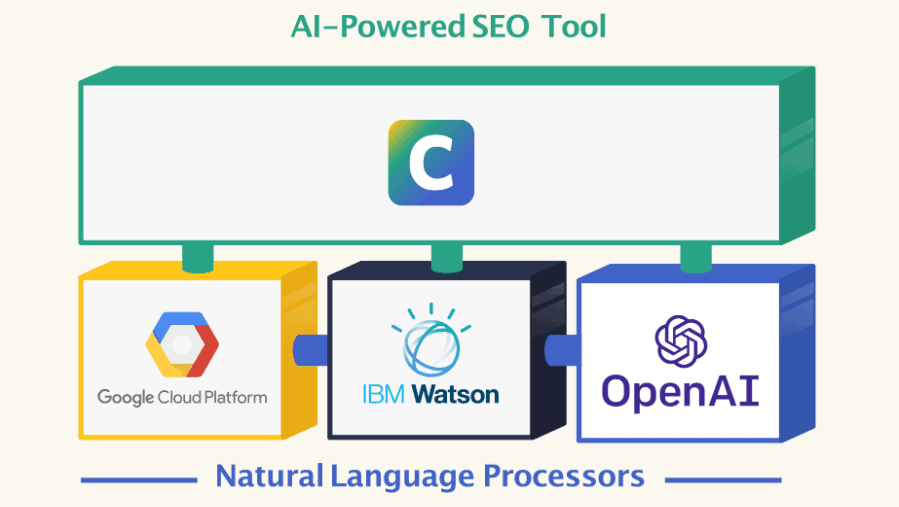 Backlink analysis
Ahref and SEMrush dominate in this sector. These tools help you to find suitable backlinks for your content, and SEMrush has a higher backlink index.
Link building is a very tedious part of SEO. That's why tools like Ahref and SEMrush will help you get backlinks in the quickest possible time. But Clearscope falls behind when it comes to backlinks. You will have to build links for the article using Clearscope manually.
Integrations
As I have mentioned before, Clearscope has limited options when it comes to integrations. It allows integration of Google Docs and WordPress. Ahref and SEMrush will enable a lot more in this sector.
For example, you can't use Grammarly when writing in Clearscope. However, copying a Grammarly-checked content piece and pasting it into the Clearscope writing space can get the job done.
Understanding themes
Clearscope dominates Ahref and SEMrush in determining relevant themes for the particular content.
Ahref and SEMrush give a much more comprehensive report on keywords. Content harmony's search intent feature also provides a solid grasp at detecting a user's intention for a particular topic. However, what Clearscope does is even better: It focuses more on the user's search intent to understand relevant themes and sub-themes for content, which helps the content rank higher on Google.
Final words
SEO is evolving very fast, and it takes a lot of work to generate content keeping track of everything. Moreover, the average consumer is becoming more intelligent. So the equation has become very simple: If you don't offer what the users want, they go elsewhere.
Clearscope provides an excellent solution to all the issues mentioned above. It does the heavy work for you so that you can focus more on other places like link building.
However, Clearscope can improve on a few things. I wish Clearscope had provided more channels in addition to email communication in their customer support. And it would have been nice if we could choose the number of top articles we want Clearscope to analyze.
But considering other features, especially its difference from established SEO tools like Ahref and SEMrush, Clearscope offers value for its price. Proof of that is how I made a 7-figure business using it, and I am sure you can do it too!
Full Disclosure: If you click on some of the links in this article and purchase a paid plan, I may receive affiliate commissions (at no cost to you!). Regardless, the products and services I review are some of the best I've tried, and I support them personally. To know more, head over to my privacy policy & affiliate disclosure.
P.S. Check out my podcast (with 78 episodes and more on the way!) if you're interested in actionable growth marketing and hearing from actual marketers about how they're taking their businesses forward.