Do you think Bonjoro is just what you need? Let's take a deeper dive to understand the full extent of what it can do with a comprehensive Bonjoro review.
With the simplicity of email marketing comes the probability of it becoming dull. Email advertising is a rather bland medium by nature. The typical email consists of a wall of texts with a few images here and there.
Due to the predictable format of most emails, people don't pay much attention to them. But then, what can you do to stand out? The answer might be more straightforward than you think.
Bonjoro is a video outreach platform that lets you send personalized videos to anyone on your email list. This platform brings a brand new dimension to email marketing. Sending personalized videos to your clients differentiates you from the competition.
Full transparency time: I may get some commission if you click on these links but it won't cost you anything. Also, these tools have not paid me to write this review. I use it every day and I support these projects regardless.
Moreover, Bonjoro allows you to be more engaging with your clients. Doing so not only creates a great first impression on new clients but also helps you retain previous ones.
Before analyzing everything Bonjoro offers, let's look at a TLDR for busy readers.
Your clients can reply to your videos, making the process interactive
There is a variety of templates to save time and effort
You can set up team inboxes that make collaborations easier
There are integrated sales and marketing tools
You can translate your video messages into more than 20 languages.
Only provides basic analytics
The dashboard can be a bit too simple at times
The price jump for upgrading plans can be pretty high.
Without further ado, let's dive into the details!
Bonjoro comes with all the essential features you expect from a video outreach platform. Besides that, it also has a bunch of features that make it stand out from the pack. Here's a list of some of Bonjoro's best features.
Desktop Recording: With Bonjoro, you can record your screen just with the click of a button.
Video Uploads: You can upload videos from any of your devices into the platform and use it to create your video message.
Chrome Extension: Bonjoro is available as a Chrome extension. So, you can instantly access it anytime and from any website.
Mobile App: Bonjoro also has a mobile application, which means you can use it on the go. This feature also allows you the opportunity to give customers a real-life context. Moreover, the app has Gmail integration which lets you send video emails seamlessly.
Language Support: Bonjoro supports over 20 different languages. You can also add a new language in less than 24 hours by request.
Built-in Analytics: Bonjoro provides direct sales and marketing analytics built into the platform. As a result, you can get better insight into how your emails are affecting your sales.
Team Inboxes: You can set up team inboxes for better coordination among teams. This feature saves you a lot of time and makes your workflow efficient.  
One of the hardest things in business is getting customers. What is even more complicated is retaining them.
Customers may feel unsatisfied with your services for various reasons, so a great way to keep customers is by humanizing your brand.
Bonjoro is a great tool to make your emails pop and stand out from the crowd. Its features can have a massive impact on customers.
Customers are more comfortable talking about their issues if they see your brand as a person rather than a corporation. Sending video messages to your clients gives your brand a face. As a result, customers are less likely to stop using your services without giving you a chance to resolve their issues.
Bonjoro also has a mobile application that saves you a lot of time. You can efficiently work on your phone from anywhere, anytime.
Using Bonjoro, your clients can quickly reply to your video messages. As a result, the entire process becomes much more engaging. This process adds to the "human" element of your brand. This is where Bonjoro excels compared to most other platforms. It gives you more interactive opportunities, which go a long way in maintaining customer relations.
Screen Record: Thanks to this built-in feature, you don't need to rely on third-party applications.
Templates: Bonjoro's templates give you a wide range of options for customization. Moreover, they save a lot of time and make making videos much more effortless.
Call-to-Action: You can easily add a CTA to your videos. This feature gets your message across to your clients in a concise manner. As a result, it minimizes chances for miscommunication and also helps retain your client's attention.
Compatibility: Bonjoro has a mobile application for both Android and iOS. Moreover, they also have a Chrome extension. As a result, you can use Bonjoro no matter what platform or operating system you use.
Customer Relationship Management: Bonjoro comes with CRM integration. So you can integrate your sales and marketing tools with Bonjoro to create a seamless workflow.
Seamless Teamwork: Due to the team inboxes, it is straightforward to coordinate tasks in Bonjoro. It is an ideal platform for team-based marketing and sales projects.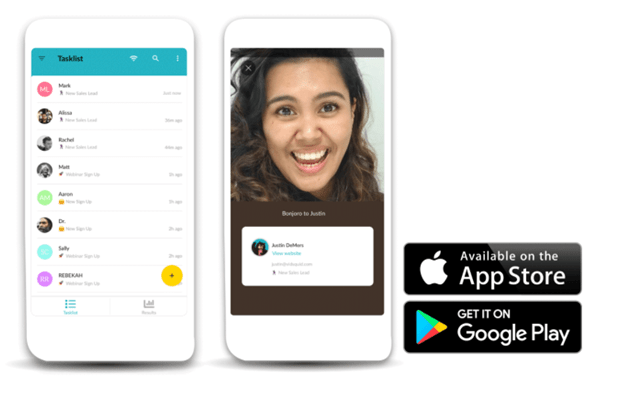 While Bonjoro is excellent, it does have its limitations. Here are some of the things I didn't like about Bonjoro:
Simple Analytics: The built-in analytics is too simple and only shows fundamental data.
Simple Dashboard: The dashboard is too basic and can often feel like it lacks features.
Pricing: Upgrading from one plan to another consist of significant price jumps. You would have to pay twice as much as a standard plan to get premium packages.
Bonjoro Review – Things I Wish Bonjoro Had
Here is a list of features that I believe could make Bonjoro a far superior platform than it currently is.
Professional Editing: Bonjoro's templates and simple editing options are user-friendly but lack depth. Having a pro editing mode can open doors to many more options.
Advanced Insights: Incorporating better analytical tools into the platform will significantly improve the user experience of marketers.
Affordable Packages: Currently, the packages cost far too much for smaller businesses. By offering better deals, Bonjoro can become accessible to a lot more people.
Looking for some more video marketing tools? Check out my take on Loom alternatives!
Final Thoughts
Bonjoro is a perfect tool for marketers looking to build an interactive and engaging relationship with their clients. If you fit the bill, Bonjoro might be the ideal platform for you.
Disclaimer: Please note, I may receive affiliate compensation for some of the links below at no cost to you if you decide to purchase a paid plan. However, these are the best tools I have tested for my video email marketing. You can read my affiliate disclosure in my privacy policy.